A classic "stuffing" for Mexican meatballs (albóndigas) is a hard-boiled egg. Once the meatballs are stuffed they are served in a rich and sometimes spicy red sauce (or salsa). You will sometimes see Mexican albóndigas made without the egg stuffing, and served as a soup (Caldo de Albondigas). This recipe however is for the stuffed meatball version, called Albóndigas Rellenas en Salsa.
Jump to:
What Distinguishes Mexican Meatballs?
The "Stuffing"
Ingredients
Video
How are Mexican Meatballs Different from Others?
The main difference between Mexican meatballs and meatballs from other cuisines is primarily around the spices or seasonings used in the meatball itself and then also in the sauce. With Mexican meatballs you will often see uncooked rice used as the binding agent rather than breadcrumbs.
The sauce or salsa that accompanies Mexican meatballs (whether they are the soup or salsa version) is usually smoky with a good amount of heat. I like to get this smoky heat from chipotles, but the specific chile peppers vary.
Albondigas are considered a Mexican comfort food, frequently served for lunch. Just know that lunch is often the "big" meal of the day in Mexico and these meatballs are certainly filling enough for the big meal!
Stuffing Used in Mexican Meatballs
As mentioned above, Mexican meatballs often use uncooked rice as a filler. The rice gets cooked slowly in the sauce or salsa. The meatballs end up being very tender this way, and they are frequently served with additional rice on the side.
Another name you might see associated with meatballs made with uncooked rice is "porcupine meatballs". Porcupine meatballs were a way that cooks stretched the ground beef during the Great Depression era, allowing the dish to have more meatballs for less money.
Adding uncooked rice to the meatballs makes for an easy and simple recipe. The key to making this work is to add liquid to the ground beef (water or bouillon) and cook the balls slowly. This allows the rice to absorb the moisture and causes the grains to soften.
Because the rice swells up it would often stick out of the sides of the meatballs, giving it the appearance of porcupine quills. Hence the name of porcupine meatballs.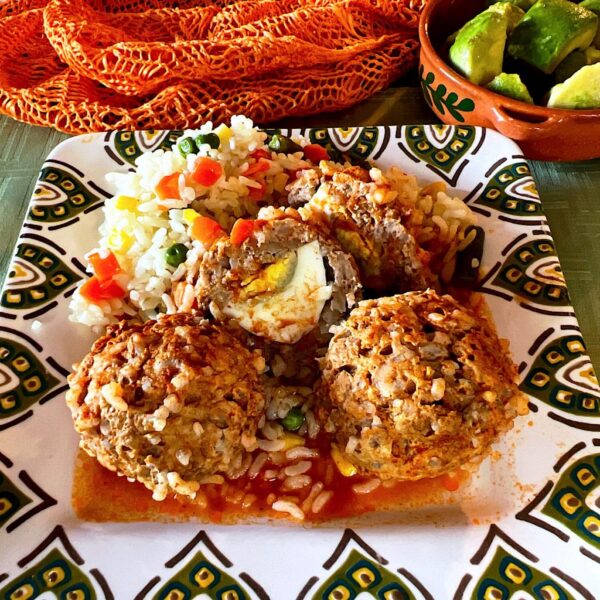 Hard boiled eggs are a traditional stuffing for this kind of meatballs in Mexico. Sometimes you will see cheese as a stuffing however (albondigas con queso) or stuffed with a potato (definitely not low carb!).
Actually, meatballs in general are a budget-friendly meal, and they freeze and reheat really well. This means you can can use them to make meatball sandwiches, or serve them with pasta and your favorite sauce.
Ingredients and Substitutions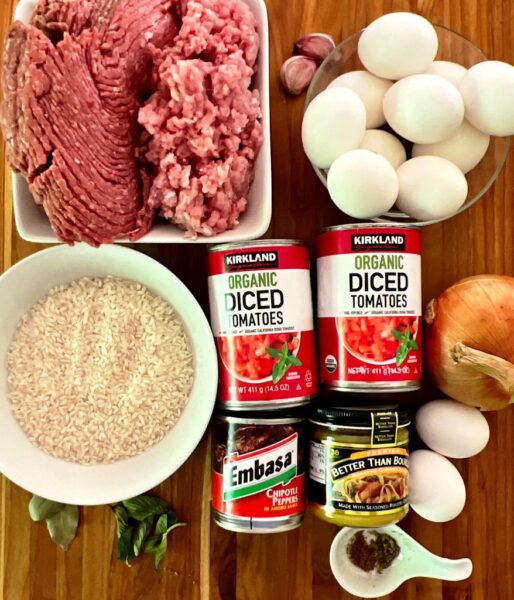 Meat:
I think the best meatballs are made with a mixture of ground beef and ground pork. Sometimes you will see it made with just the ground beef, and I'm sure some cooks will make them with ground chicken.
**Pro Tip: Don't overwork the meat mixture. Just use your hands and work it enough to blend the ingredients. Overworking can result in dry meatballs
Sauce:
The typical filler for these meatballs is uncooked rice (see above). If you want to remain low carb compliant, you could use ground up chicharrones instead.
The sauce is a mixture of chiles, tomatoes and broth. The classic chile pepper to use is the dried morita, but if you cannot find that pepper, you can use a mixture of anchos and chipotles. You do want to stick with the smoked chile peppers for the richest sauce.
Fresh tomatoes are always better of course, but we made this recipe in the Winter and therefore used canned tomatoes.
Fillers and seasonings:
Mexican oregano and salt is usually the only seasoning that is required, but feel free to spice it up with cumin or your favorite seasonings.
**Pro Tip: Try and make your meatballs a similar size to each other so they cook at the same time. We used a whole 1/2 of the hard-boiled egg as the stuffing so our meatballs were pretty large. You could quarter the eggs instead to get smaller meatballs.
Can you reheat meatballs?
The best way to reheat meatballs is in the oven with a bit of liquid in the baking pan and cover it. Meatballs tend to dry out and this will keep them moist.
Can you freeze this dish?
Freeze the meatballs in an airtight container for up to 4 months.
Video for Albondigas
Stuffed Mexican Meatballs (Albondigas)
Meatballs made with uncooked rice as a filler and stuffed with an egg and then cooked in a smoky, spicy tomato sauce.
Equipment
very large pot (or dutch oven)

medium pot for rice

Or rice cooker
Ingredients
For the Sauce
½

onion

2

Cloves

garlic

28

Ounces

Diced tomatoes (canned)

or 8 fresh roma tomatoes

3

Ounces

chipotles in adobo

3 of the peppers (with or without the adobo sauce)

2

Cups

chicken bouillon

2

bay leaves

3-4

yerba buena leaves

can use mint leaves
For the Meatballs
2

Medium

eggs

½

onion

Quartered or into eights

2

Cloves

garlic

optional

1.25

Pounds

ground chuck

1.25

Pounds

ground pork

1

Cup

uncooked rice

1

tsp

salt

8

hard boiled eggs

sliced into quarters
For the Rice/Vegetables (not low carb)
1

cup

cooked white rice

1 ½

cups

water or chicken broth

Salt and pepper to taste

10

Ounces

frozen mixed vegetables

Handful of fresh cilantro

optional
Instructions
Add the quartered onion, the garlic cloves the canned tomatoes and the chipotles to a blender and puree until smooth. Add the puree to a large pot or dutch oven.

To the pot add the chicken broth, bay leaves and yerba buena leaves. Stir it all together and cook over medium heat while you get the meatballs ready

Rinse the blender and add the remaining 1/2 onion (quartered), the 2 eggs and the garlic. Puree and set aside.

In a very large bowl, add the ground beef, ground pork and the uncooked rice. Mix together thoroughly with your hands.

Add the onion/egg puree to the meat and combine it all together with your hands.

Lightly wet the palms of your hands. You will need about 1/3 cup of the beef mixture flattened slightly in the palm of your hand. Place a quarter piece of hard boiled egg in the center. Carefully mold the meat around the egg to cover completely and make round.

Add the stuffed meatballs to the simmering sauce on the stove. Lower them in gently with a spoon so they do not fall apart.

Cook the meatballs in the sauce over medium-low heat (simmering heat) for 20-30 minutes. Taste sauce for salt and add if needed.

If making the side dish of rice and vegetables, sear the rice first in a hot pot. Then ad the liquid (water and/or bouillon) and bring to a low boil. Turn down heat to a simmer, add the frozen vegetables and cover. Cook for about 20 minutes or until liquid is absorbed.

Add some fresh cilantro and serve two albondigas per plate (or bowl) with plenty of sauce. If you are serving others not on a low carb lifestyle, serve with a side of rice and some fresh corn tortillas.

For low carb plating, serve the albondigas with a side of sliced avocados and some fresh cilantro.

Hibiscus tea is a refreshing drink to have with this comfort food.
Nutrition
Calories:
501
kcal
Carbohydrates:
30
g
Protein:
29
g
Fat:
29
g
Saturated Fat:
11
g
Polyunsaturated Fat:
2
g
Monounsaturated Fat:
12
g
Trans Fat:
1
g
Cholesterol:
263
mg
Sodium:
682
mg
Potassium:
638
mg
Fiber:
3
g
Sugar:
4
g
Vitamin A:
1794
IU
Vitamin C:
12
mg
Calcium:
89
mg
Iron:
4
mg
Did you make this recipe?
If you tried this recipe, please give it a star rating! To do this, just click on the stars above. Comments are always helpful also and I respond to all of them (except rude ones)