I wanted to make this remarkable cake for a fiesta party, but the first two attempts were total failures. The third time around was perfection and raves from the friends and family on the both the taste and the presentation. Learn from my mistakes below and get your layered, sweet Impossible Chocolate Flan to turn out perfect the FIRST time!
This post may contain affiliate links, and you can read our disclosure information here–
Jump to:
RECIPE
Why is it Called Impossible Cake
Ingredients and Substitutions
Illustrated Step by Step
How to Avoid Failure
Favorite Mexican Celebration Recipes
Why is it Called Impossible Cake?
This Mexican dessert is known by several different names…Flan Impossible, Impossible Chocolate Flan, el Pastel Imposible, and Chocoflan. The word "impossible" refers to the seemingly magical way the chocolate cake layer switches places with the flan layer as it bakes (hint: it's about density).
This layered dessert goes in the oven with the flan layer on top of the cake layer, but after baking, the layers magically switch places. The cake layer puffs up while baking and rises right through the heavier flan mixture that sinks to the bottom.
Once you flilp it onto a plate, the creamy flan sits on top of the chocolate cake, with a light layer of caramel on the very top. A stunning presentation and a delicious layered cake!
Ingredients & Substitutions
Probably the easiest substitution for a Mexican chocoflan is to use a boxed cake mix for the chocolate cake layer. My recipe makes the cake from scratch, mostly because I wanted to make sure and have a dense cake batter rather than a light fluffy chocolate cake. It seems to hold up better to the flan.
A few other substitutions could include:
using buttermilk instead of the butter and oranges (make sure and use a tested recipe for this however, like this one from Saveur)
some cooks do not use salt
regular granulated sugar is fine – you don't need fine sugar
use cajeta (a goats milk caramel) instead of dulce de leche
add a little cinnamon
use store-bought caramel topping rather than dulce de leche
add som instant coffee to the cake batter
exchange the vanilla with your favorite extract for baking (almond is a good one)
Here are the ingredients I used in the recipe below, which came out perfect: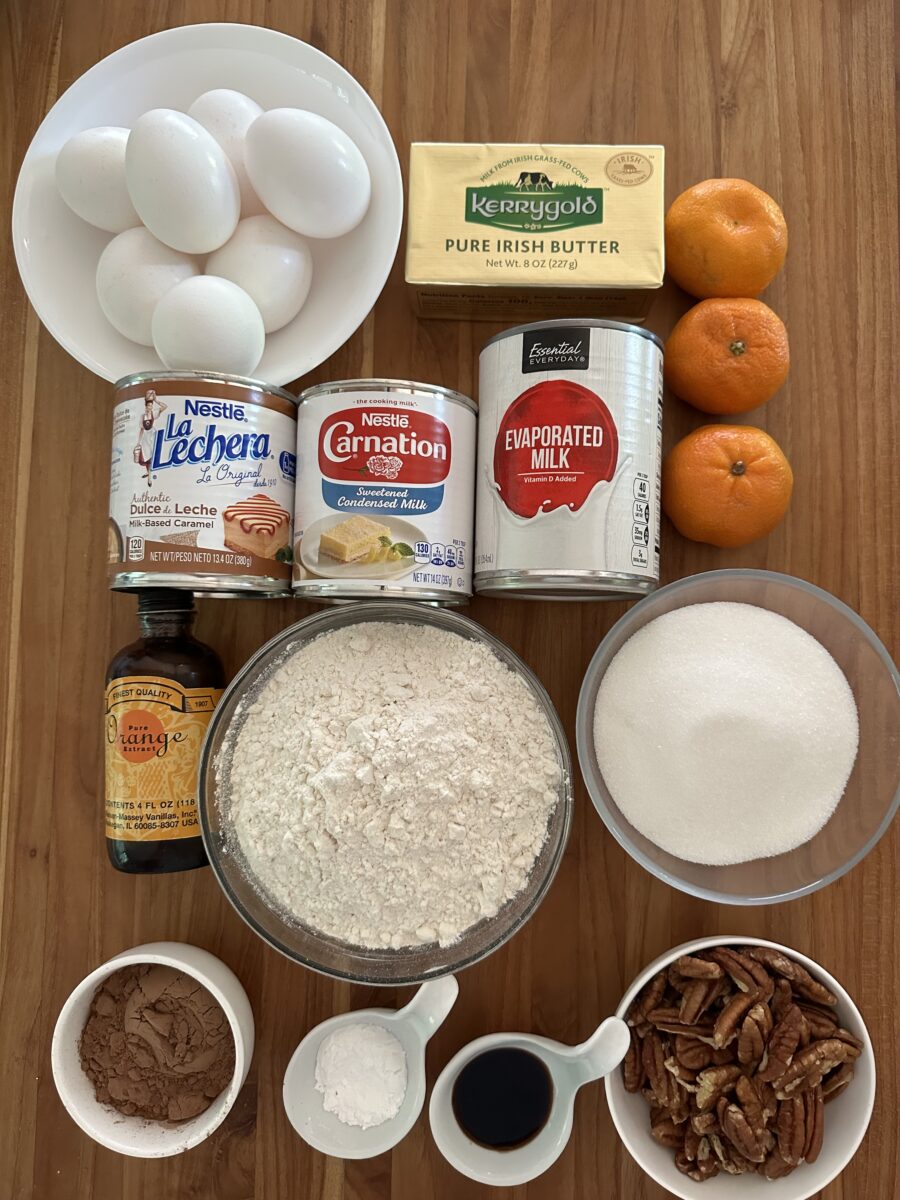 Illustrated Step by Step
Here are the illustrated step by step directions. For the details, check out the recipe card below.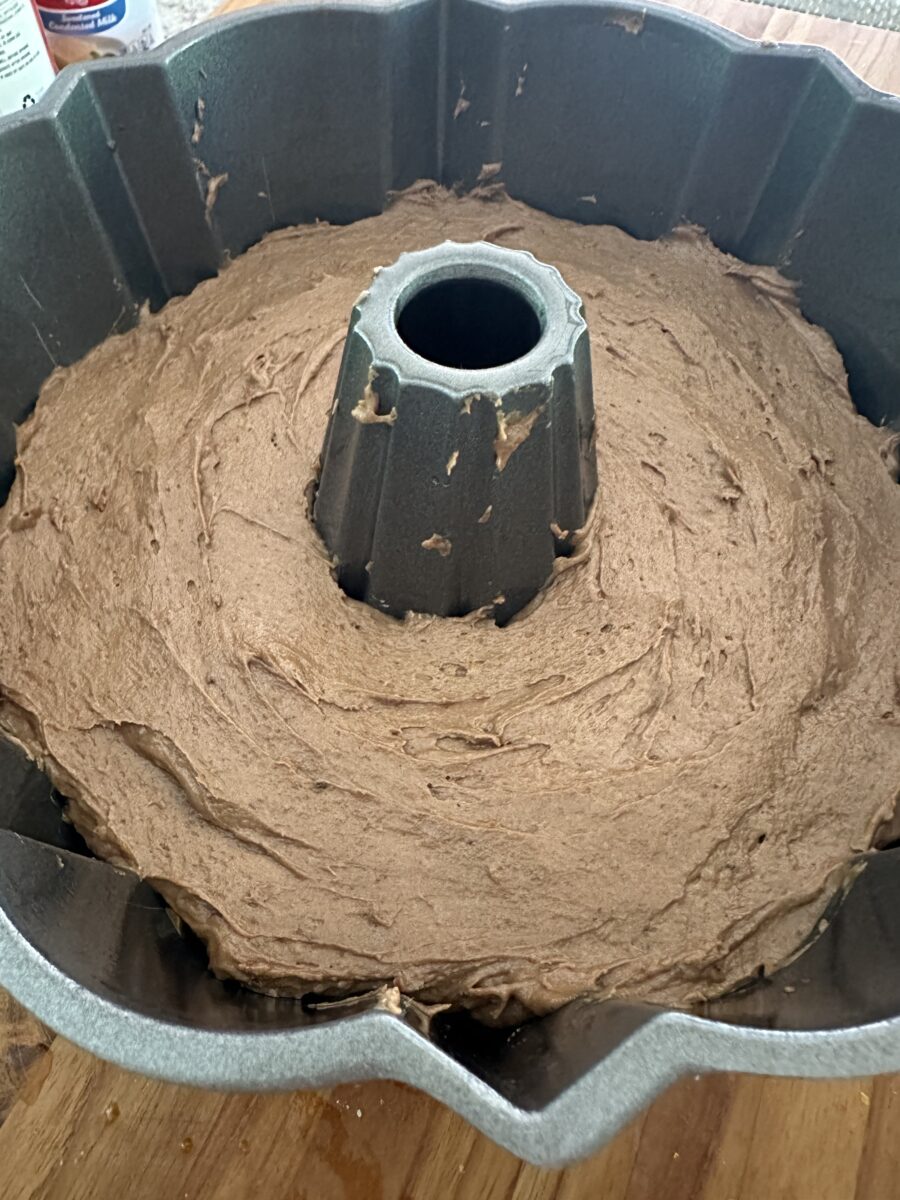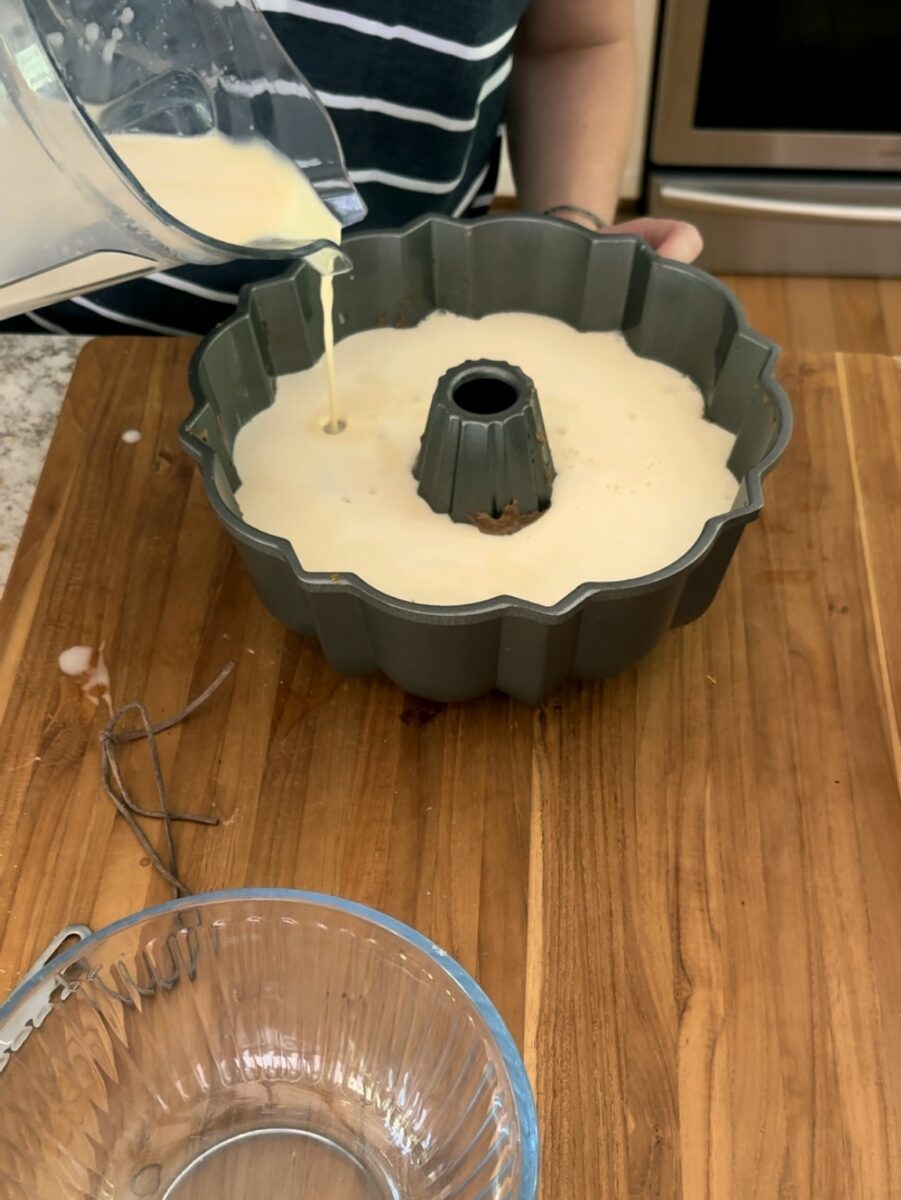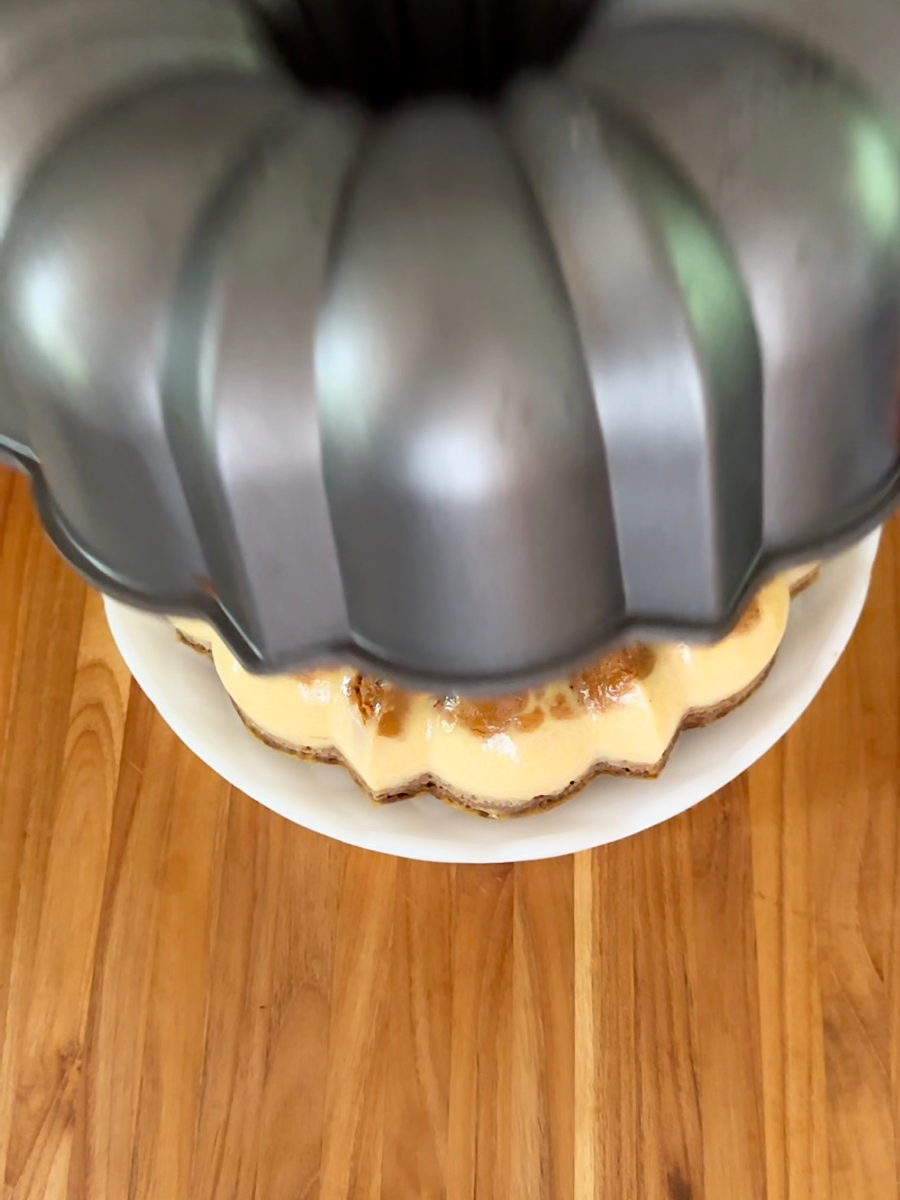 Tips to Avoid Failure
The first time I made this was with my daughter and it was a disaster that we got a lot of laughs about! We spent all day putting it together, took it to a fiesta party and when we lifted the bundt pan off the "cake" was a syrupy pudding that ran all over the counters!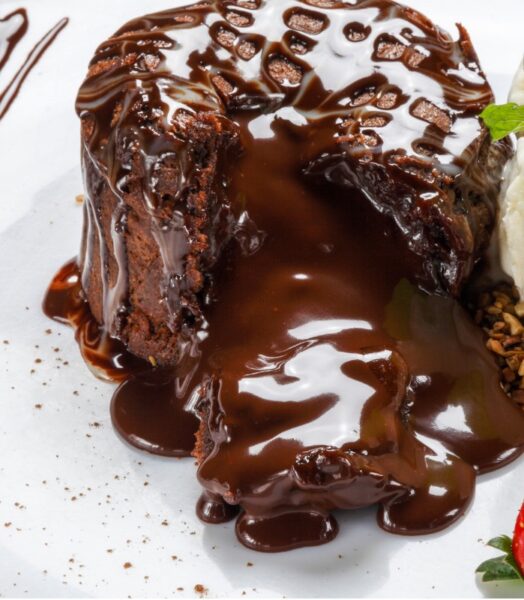 Not to be deterred however, we made it again a month later and this time it was perfection. Here are some of the mistakes we made….too bad we didn't get a photo as it was an amazing fail. The picture above is an approximation of how runny the failed chocoflan was!
We made a very light cake with not as much flour as most recipes called for. The cake did not puff up as much as it needed to and was not dense enough to pair well with the flan
Probably the main thing we did wrong was we didn't let it cool long enough. It really needs to solidify and cool for at least 4 hours.
We didn't coat the bundt pan enough with spray and the "flip" therefore didn't work well. Some cooks will say that using butter to grease the bundt pan works better. Perhaps this is right, but we did use cooking spray the second time and it was fine.
A few other things that might cause your impossible flan cake to fail include:
This recipe requires a 10-cup capacity bundt pan. Too large of a pan will make thin layers. You can use a 10-inch round cake pan, but it is not as stunning of a presentation.
The density of cajeta and the flan is much higher than most chocolate cake recipes. For that reason, the cake mixture you choose is important. A really dense cake will not be able to rise through the flan layer
**Tip: the dulce de leche layer often comes out unevenly on top. Have more on hand for drizzling.
Mexican Celebration Recipes
There are sooo many Mexican celebrations, accompanied by great (and sometimes specific) celebration foods. Here are a few of my favorites:
Frequently Asked Questions
Many recipes call for buttermilk. Is it necessary and will it taste better?
It is not necessary to use buttermilk. I chose not to use buttermilk as it is something I rarely have on hand. If you do want to use buttermilk, make sure and use a tested recipe like this one from Saveur)
How long does chocoflan last?
It will last covered in the refrigerator for 3 days until you're ready to serve. If you kept it in the bundt pan, bring to room temperature before flipping or inverting it onto the serving plate.
Impossible Chocoflan
This is a tested recipe for a Mexican dessert where there are 3 layers: a chocolate cake layer, a vanilla flan layer and a caramel top layer garnished with nuts. It is an impressive presentation but is much easier than it looks.
Ingredients
CAKE
1

cup

2 sticks of butter

room temperature

1

cup

Sugar

fine or extra fine

4

eggs

room temperature

2

cups

all-purpose flour

1

teaspoon

baking powder

4

tablespoons

cocoa powder

1

Tablespoon

orange zest

⅛

cup

orange juice

or clementines or tangerines

1

teaspoon

vanilla

1

teaspoon

orange flower water
FLAN
14

ounce

can sweetened condensed milk

11

ounce

can evaporated milk

3

eggs

room temperature

1

teaspoon

vanilla

½

teaspoon

salt
GARNISH
⅓

cup

chopped walnuts or pecans

Caramel topping or more dulce de leche

optional
Instructions
Preheat oven to 350° F. Generously grease the bottom, sides and center of a 10 cup Bundt pan. I used cooking spray but you can use softened butter also.

Spread the dulce de leche (or cajeta) over the bottom of the pan. You can heat it up slightly in the microwave so it is easier to spread. Spread it over the entire bottom and a little up the sides. Set aside.

Cut the softened butter into large pieces and add them, along with the sugar, to a stand mixer. Blend the butter with sugar until it's light and fluffy, almost white.

Whisk in eggs, one at time until well incorporated.

1 cup 2 sticks of butter,

1 cup Sugar,

4 eggs

In a bowl, sift together flour, baking powder, and cocoa. Remove the bowl from the stand mixer and slowly whisk in the zest, orange juice, vanilla and orange blossom water and mix until well combined.

2 cups all-purpose flour,

1 teaspoon baking powder,

4 tablespoons cocoa powder,

1 teaspoon vanilla,

1 Tablespoon orange zest,

1/8 cup orange juice,

1 teaspoon orange flower water

Pour cake batter into Bundt pan on top of cajeta or dulce de leche.

Make the flan: In a blender, add all ingredients and blend well. Pour flan batter very gently and carefully over the cake batter layer.

14 ounce can sweetened condensed milk,

11 ounce can evaporated milk,

3 eggs,

1 teaspoon vanilla,

1/2 teaspoon salt

Cover the bundt pan "loosely" with foil and place in a large baking dish. Fill the baking dish with hot water (simmering) so that it comes halfway up the sides of the bundt pan.

Bake for about 70 minutes or until a toothpick inserted into cake comes out clean.

Allow cake to cool for at least 4 hours or refrigerate overnight.

When you are ready to serve run a warm knife around edges of Bundt pan (including the center hole portion) and invert a large rimmed serving dish over Bundt pan. Carefully but rapidly flip the bundt pan over.

Sprinkle with chopped nuts and serve alongside additional dulce de leche.

Note: Store leftovers in fridge for up to 3 days.
Nutrition
Calories:
288
kcal
Carbohydrates:
33
g
Protein:
6
g
Fat:
15
g
Saturated Fat:
8
g
Polyunsaturated Fat:
2
g
Monounsaturated Fat:
4
g
Trans Fat:
0.4
g
Cholesterol:
93
mg
Sodium:
196
mg
Potassium:
206
mg
Fiber:
1
g
Sugar:
23
g
Vitamin A:
462
IU
Vitamin C:
2
mg
Calcium:
123
mg
Iron:
1
mg
Did you make this recipe?
If you tried this recipe, please give it a star rating! To do this, just click on the stars above. Comments are always helpful also and I respond to all of them (except rude ones)