Looking for a hot drink to serve for the holiday season? This year, let's skip the mulled wine and go for a warming classic from Mexico instead. Mexican ponche navideño is a traditional fruit punch bursting with comforting flavors and a spiced aroma that will make your home smell heavenly. Serve it like a tea or spike it with a little tequila!
Jump to:
RECIPE
What Is Ponche Navideño?
Ingredients & Substitutions
More Ponches To Try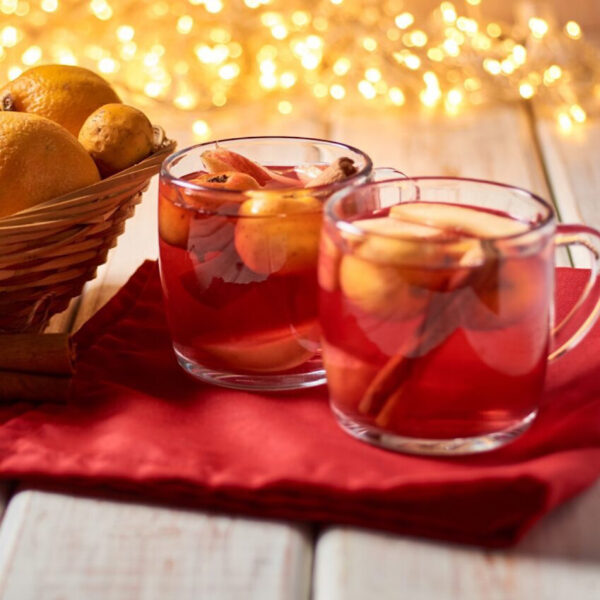 This post may contain affiliate links, and you can read our disclosure information here–
What Is Mexican Ponche Navideño?
In Mexico, Christmas is celebrated extensively. It's not just Christmas Eve and Christmas Day: the holiday starts on December 16th with the kick-off of Las Posadas. This nine-day celebration represents the nine months of Mary's pregnancy and is centered around nativity scenes and re-enactments.
Extensive dinners are a big part of Las Posadas, which of course means that plenty of warming holiday drinks are also required. That's where ponche navideño comes in!
According to historians, the concept of punch was brought to Europe from India. From there, the English adaptation containing dried fruits spread to Mexico, where local ingredients were added to make for a uniquely delicious result that's just perfect to warm up during the holidays (and beyond!).
Ponche con piquete
Although Mexican ponche navideño is often consumed like a hot fruit tea without alcohol, it's almost equally commonly spiked with a little liquor. The version with alcohol is referred to as ponche con piquete: punch with a sting.
Like most punches around the world, ponche navideño is quite versatile, and different types of alcohol are added depending on taste and local tradition.
For a ponche con piquete, Mexican and international recipes suggest the following, among others:
Tequila (which we'll be using in our ponche recipe today)
Mezcal (an excellent substitute)
Rum (white or brown)
Aguardiente (the Mexican version is made from sugarcane)
Whiskey
Herbal or fruit liquors (triple sec, licor de damiana)
Bourbon
Brandy
Sotol (made from the sotol plant)
Ingredients and Substitutions
Ponche Navideño is made using water as a base, adding all sorts of wonderful ingredients to reach incredible flavor. These add-in fruits and spices aren't removed upon serving, but ladled straight into the mugs along with the punch!
The Mexican fruit punch is traditionally prepared in a huge clay pot, but something like a big soup pot or even your crock pot would obviously work fine. The most important thing is to simmer the whole thing for at least 30 minutes, ideally an hour or more, to make sure all the flavors release.
Let's have a look at what you're going to need to make a big pot of fragrant Mexican Christmas punch. Being a typically Mexican drink, it does contain a few ingredients that are not as common here in the US. If you have a Mexican supermarket near you, you're in luck: they're likely to carry at least the majority of these items.
For those who don't have an easy way to obtain things like sugar cane and hibiscus flower, I'll suggest some alternatives that should work fine. Remember, punch is not a static concept. Everyone has their own recipe with specific tweaks, so you can do the same.
Fresh fruit
Yep, this fruit punch is brimming with a variety of fresh fruits. The "star", which is used in all recipes for ponche navideño, is a small, sweet and tart fruit called tejocote. A member of the hawthorn family, it's extensively used in Mexico but almost never seen in the US. Mexican stores might carry it fresh, frozen or canned.
If you can't locate tejocote, good replacements would be (crab)apples, pears or apricots. The first two are common additions to ponche anyway!
Other fruits popularly used in ponche are guava (alternative: strawberries), tamarind (alternative: pomegranate molasses), mandarins and oranges. Sugarcane is also often included and can be replaced by simply using cane sugar if you can't find it.
Dried fruit
For an added layer of flavor, Mexican ponche navideño uses two differerent dried fruits. Prunes (dried plums) really help lend depth to the final drink, while raisins add both sweetness and tartness.
Sugar & spices
It's not surprising that a typical holiday drink like this one would be nice and sweet, nor that it contains warming cinnamon sticks. The sweetness doesn't traditionally come from regular sugar, but from piloncillo, which are blocks of raw and unrefined cane sugar.
In a pinch, piloncillo can be substituted with brown sugar. White sugar is not the best option, as it doesn't have the same depth of flavor.
Lastly, color and acidity are added in the form of hibiscus flower, which gives the final drink its attractive red tinge. Often referred to as flor de Jamaica, this is another ingredient that should be easy to find in a Mexican store. If not, cranberries will work quite well as a substitute.
Alcohol
I do like my ponche navideño with a little sting! As discussed, ponche de piquete can be made with pretty much any type of alcohol. In this recipe we're going for tequila. It doesn't have to be expensive or fancy, but I do recommend avoiding the cheapest brands: they're often really just not very nice.
For a slightly more complex flavor and smokiness, you could also consider going for mezcal.
More Ponches To Try
If you thought Mexican fruit punch was the only type of ponche consumed in Central and Latin America, think again! Just like in Europe, you can find a range of different types of punches here.
Let's have a look at a few long-time favorites to try once your Mexican ponche navideño inevitably runs out!
Ponche dominicano (Dominican Eggnog)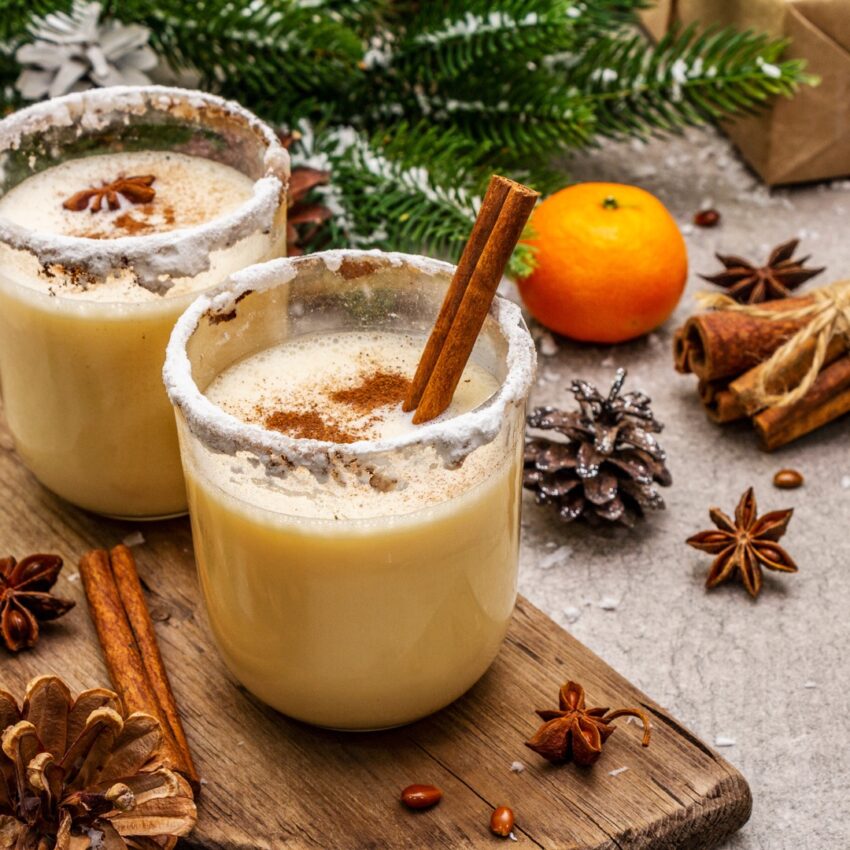 Fans of eggnog will love ponche dominicano, a Dominican riff on the classic. I'm a complete condensed milk addict, so this one's right up my alley.
As with all punch recipes, the exact ingredients vary, but ponche dominicano usually contains egg yolk, condensed milk (which is sweetened), evaporated milk (which is unsweetened), white rum, cinnamon sticks and nutmeg. More elaborate versions can also contain cloves, vanilla, lemon juice or even some cayenne.
If you don't feel like making this ponche yourself, there is a commercial drink that comes pretty close: Ponche Crema de Oro by the Isidro Bordas company in the Domican Republic.
Ponche guatemalteco (Guatemalan Fruit Punch)
Guatemalans favor a fruity drink that is more similar to the Mexican Christmas punch we're discussing in this post. However, ponche guatemalteco has its differences: it doesn't have tejocote, but is made with different varieties of fruits.
This ponche can contain papaya, pineapple, banana or plantain, coconut flesh, apple, orange peel and more. It also tends to have cloves, and possibly other spices as well.
Ponche puertorriqueño (Puerto Rican Coconut Eggnog)
This one's similar to ponche dominicano, but with a twist! Also called coquito, its name reveals its contents: it has coconut milk or cream for a subtle added coco flavor. Delish.
More Mexican Drinks for the Holidays
If you've tried all the punch variations discussed above and are still thirsty for more, why not circle back to Mexico? After all, ponche navideño isn't the only festive drink this huge country has to offer. It's home to many delicious hot and cold beverages, with or without alcohol.
Here are some of my favorite Mexican drinks for festive celebrations:
When summer rolls around, don't forget to check out Farm to Jar's round-up of refreshing Mexican drinks, which features traditional drinks like agua de Jamaica, raspado and many more addictive classics.
If you enjoy all types of Mexican food, check out this category of ALL Mexican recipes, where you will find over 40 Mexican recipes, from casual, to low carb, to fancy.
If you make and love this recipe, please leave a ★★★★★ review below and any comments others might find helpful. It means a lot to me when you try my recipes, and I'd love to know how it goes.
Mexican Ponche Navideño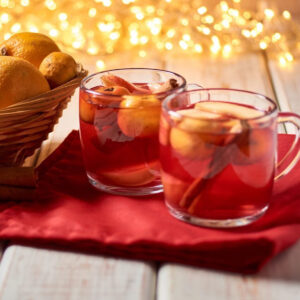 This classic Mexican fruit punch for the holidays is made by the gallon and enjoyed hot.
Equipment
1 Saucepan

festive mugs or glasses
Ingredients
1

gallon

water

4 quarts

1

cup

hibiscus flowers

or cranberries

3

cinnamon sticks

5

cloves

optional

1

cup

tamarind pods

optional

1

piloncillo cone

or 1 cup brown sugar

1

pound

tejocote

fresh is preferable, or crabapple, apricot

1

pound

guavas

peeled and cubed, or 1 lb strawberries

1

orange

sliced

1

apple

cubed

1

pear

cubed

1

cup

prunes

pitted and chopped

½

cup

raisins

2

5" sugarcane sticks

peeled and cut into chunks, or 1/2 cup cane sugar

1

oz

tequila

per serving
Instructions
Heat 1 quart water in the saucepan along with the hibiscus flower or cranberries. Once boiling, take off the heat and let steep for 20 minutes.

1 gallon water,

1 cup hibiscus flowers

Meanwhile, heat the rest of the water in the large pot. Add the cinnamon sticks, cloves, piloncillo or sugar, tamarind pods, and the tejocotes if you're using fresh. Let simmer for 15 minutes. You can use this time to chop the fruit.

3 cinnamon sticks,

5 cloves,

1 cup tamarind pods,

1 piloncillo cone,

1 pound tejocote

Strain the hibiscus or cranberry water and add it to the large pot. This way you don't get annoying hibiscus bits floating around in your cup later.

If the tejocotes you're using haven't been peeled and pitted yet, remove them from the pot and do so now before returning them.

Add in all the rest of the fruit: guava/strawberry, orange, apple, pear, prunes, raisins, sugarcane. Also add tejocotes now if you are using canned. Simmer for 1 hour.

1 pound guavas,

1 orange,

1 apple,

1 pear,

1 cup prunes,

1/2 cup raisins,

2 5" sugarcane sticks

Ladle the ponche into mugs or cups, making sure to include plenty of the fruit. Add a shot of tequila to each serving. Happy holidays!
Notes
1. Don't let the ingredient list intimidate you. Ponche is a hugely versatile drink, so you can use many different fruits and other add-ins. Refer to the Ingredients & Substitutions section of this post for ideas.
If you enjoy all types of Mexican food, check out this category of ALL Mexican recipes, where you will find over 40 Mexican recipes, from casual, to low carb, to fancy.
**Want more like this? Subscribe to our Sunday newsletter to get recipes, gardening guides and diet help. Let's go from Inspiration to Done!
Nutrition
Calories:
214
kcal
Carbohydrates:
53
g
Protein:
2
g
Fat:
1
g
Saturated Fat:
0.2
g
Polyunsaturated Fat:
0.2
g
Monounsaturated Fat:
0.1
g
Sodium:
21
mg
Potassium:
480
mg
Fiber:
5
g
Sugar:
39
g
Vitamin A:
944
IU
Vitamin C:
79
mg
Calcium:
53
mg
Iron:
1
mg
Did you make this recipe?
If you tried this recipe, please give it a star rating! To do this, just click on the stars above. Comments are always helpful also and I respond to all of them (except rude ones)