This is an easy, delicious way to bring a low carb fish dinner to the table in a hurry! This recipe uses ground pistachio nuts to form a crust, or the "breading", for fish filets. A nut crust is an great option for many kinds of fish (salmon, cod, red snapper, tuna). The recipe below uses the pistachio nut crust on tuna and pairs it with a sour cream sauce. There is also an example of using the nut crust on red snapper.
Jump to:
RECIPE
Best Fish for Nut Breading
Illustrated Step by Step
How to Tell When Tuna is Done
Best Nuts to Use for Breading
Complementary Side Dishes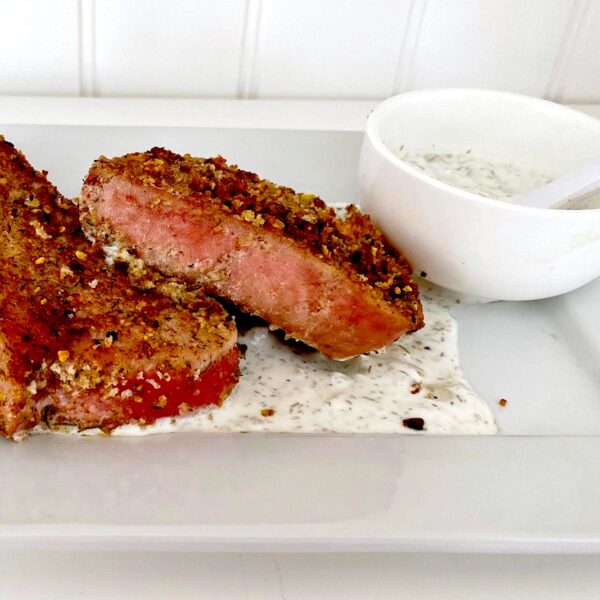 This post may contain affiliate links, and you can read our disclosure information here–
What kind of Fish is Best for Nut Crusts?
Just about any kind of fish filet can work with a nut crust. Just be aware of the thickness of the filets. Tilapia, sole, catfish, perch and other thin filets will cook very quickly, whereas salmon, cod and sea bass and sometimes red snapper tend to be thicker and will take longer to cook.
Cod is the most common type of fish filet to make with a nut crust. This is partially because it is a thicker filet and partially because it is fairly bland and needs dressing up.
I chose tuna for the recipe below because I had some in the freezer, and also because it is robust enough to stand up to a pistachio nut crust, which is the nut I wanted to use. Here are the ingredients for the pistachio crusted tuna along with the sour cream sauce:
Illustrated Steps:
These steps are the same no matter what fish you use. Below are the basic process steps using red snapper. With tuna the steps are the same but you will cook it for a slightly less time.
How Can You Tell When Fish is Done?
The trick with seafood is always how long to cook it. It is really easy to overcook fish and it can get very rubbery if overcooked.
The best way to tell if most fish fillets are done is by testing it with a fork (this excludes tuna). Insert the fork at an angle, at the thickest point, and twist gently. The fish will flake easily when it's done, and it will lose its translucent or raw appearance.⁠
Looking at the texture and the "translucency" is the easiest way to tell if your fish is done, and it gets easier with practice. Keep in mind that fish continues to cook for a couple minutes after you take it off the heat.
If you want to get more technical, a conservative rule of thumb is to cook fish to an internal temperature of 120 degrees. If your fish is freshwater or lake fish cook to a higher temperature (130 to 140 F), to avoid any potential parasites.
Also, know that medium-to-fatty fish with a firmer texture and richer flavor (like cod, salmon, or swordfish) can withstand more heat and therefore lend themselves to grilling or broiling.⁠
Tuna is a fish that is frequently undercooked to keep it's texture. Notice the pink color in the photos below.
Another excellent low carb tuna dish, but without a nut crust is this seared tuna with a balsamic glaze.
Key Tips for Using Nuts as Breading?
The caution for using nuts as a crust is they have a tendency to burn. Since the cooking process for fish is usually shorter it shouldn't burn, but if cooking on the stovetop, cook over medium-high rather than high heat.
Any ground up nut will work for the crust. Here are a few of the more popular nuts to use:
pistachio nuts
mix of pistachio and panko
pecans
walnuts
macadamia nuts
The ingredients for pistachio crusted fish filets are the same whether you use tuna or another fish filet. The photo below shows the ingredients when using red snapper.
What to Serve with a Nut-Crusted Fish Dinner
Making an entire healthy dinner with nut-crusted fish can be quick for weeknight dinners or a little more fancy for guests or special occasions. Below are some suggested side dishes that work well for casual or fancy!
Complementary Vegetable Side Dishes
Vegetables are the crux of a good Pesco Mediterranean diet (and most diets for that matter). Here are a few of my favorite veggies to pair with nut-crusted fish:
quinoa spinach salad
Moroccan carrots
bok choi
steamed broccolini
Complementary Grain Side Dishes
Because I am coming from a long-term lifestyle of low carb eating, I don't usually include grains with my dinners. If you are eating for health and not weight loss however, whole grain side dishes are great, especially if complemented with vegetables.
Couscous
quinoa
roasted potato wedges
brown rice
Complementary Sauces
The nutty crust of the fish pairs beautifully with a wide variety of creamy sauces. Here are a few of my favorites, from low carb to tropical to sweet:
Simple Dijon cream sauce: 1 cup heavy cream, 1/2 cup dijon mustard, salt and pepper — heated and stirred over low heat for 3 minutes
Tropical sauce of coconut milk, lime juice and jalapenos
Sweet mango sauce with pear juice and coconut cream (quite sweet)
Sour cream dill sauce: see recipe below
Enjoy this Recipe? Here are a Few More Healthy Fish Dinners:
Recipe for Pistachio Crusted Fish with Sour Cream Sauce
Pistachio Crusted Tuna
Using nuts as a "breading" for fish is a great way to add flavor and texture. This recipe uses ground pistachios as a crust for tuna filets, but any nut can be used with a wide range of different fish filets
Ingredients
For the Sour Cream Sauce:
¼

cup

chopped onion

finely chopped

2

bay leafs

½

cup

white wine

3

tablespoons

sour cream

2

teaspoons

fresh lemon juice

1

teaspoon

dried dill

1

teaspoon

Dijon mustard

¼

teaspoon

salt

Add more if desired
For the Tuna:
⅓

cup

shelled pistachios

finely chopped in food processor

¼

cup

panko

¼

Teaspoon

salt

1

Teaspoon

dried dill

1

Tablespoon

olive oil

4

4-ounce

tuna steaks

about 1-1 1/4 inches thick
Instructions
For the Sauce:
Place chopped onion, bay leafs and wine in a small saucepan and bring to a boil. Reduce over med-high heat until the wine is almost evaporated, about 3-5 minutes. Remove from the heat and discard bay leafs.

1/4 cup chopped onion,

2 bay leafs,

½ cup white wine

In a small bowl, stir together sour cream, lemon juice, 1 teaspoon dill, mustard and 1/4 teaspoon salt.

Add the reduced onion/wine mixture to the bowl and stir in. This is the sauce.

3 tablespoons sour cream,

2 teaspoons fresh lemon juice,

1 teaspoon dried dill,

1 teaspoon Dijon mustard,

1/4 teaspoon salt
For the Tuna:
Place pistachios in food processor or blender and pulse or mix until finely ground.

In a separate medium to large bowl, add the chopped pistachios, panko, the remaining 1 teaspoon dill and 1/4 teaspoon salt and stir together thoroughly.

Pat the tuna filets dry and then sprinkle a bit of olive oil over them and rub it in. Dredge both sides of the tuna in the pistachio mixture pressing it in so that it sticks.

1/3 cup shelled pistachios,

1/4 cup panko,

1 Teaspoon dried dill,

1/4 Teaspoon salt

Heat oil in a large nonstick skillet over medium-high heat. Add the coated tuna filets and sear until golden brown, adjusting the heat as necessary to prevent burning.

After 2 to 3 minutes flip the filets and cook the other side 2-3 minutes for medium-rare. Use tongs to turn over so that nut breading doesn't fall off.

Do not overcook. Serve with the lemon-dill sauce.

1 Tablespoon olive oil,

4 4-ounce tuna steaks
Notes
**NOTE: The caution for using nuts as a crust is they have a tendency to burn. Since the cooking process for fish is usually shorter and since the recipe below is baked vs. seared, it shouldn't burn. Just don't cook over too high of heat, use medium-high.
Nutrition
Calories:
209
kcal
Carbohydrates:
15
g
Protein:
6
g
Fat:
10
g
Saturated Fat:
1
g
Polyunsaturated Fat:
3
g
Monounsaturated Fat:
5
g
Cholesterol:
1
mg
Sodium:
672
mg
Potassium:
339
mg
Fiber:
3
g
Sugar:
3
g
Vitamin A:
189
IU
Vitamin C:
3
mg
Calcium:
66
mg
Iron:
2
mg
Did you make this recipe?
If you tried this recipe, please give it a 5-star rating! To do this, just click on the stars above.
Online Diet/Health Coaching:
Although I am not currently taking clients for diet & health coaching, I have been a coach for many years with the online service called coach.me. It is a great platform for all kinds of coaching – anything from specific diets, writing a blog, getting up early, or getting rid of that pesky procrastination.
There are some wonderful coaches and the testimonials will tell you what you need to know. Contact me at [email protected] to get a referral to some of the tested, experienced online coaches on Coach.me
If you'd like to start with a plan for a low carb or keto lifestyle, check out this detailed guide in ebook form. It may be all you need to lose weight on this lifestyle. Or it may be used as a supplement to one-to-one coaching.