After experimenting with different renditions of fish cakes, I found that fish cakes can be quite wonderful, or they can be as dry as cardboard. It came down to two keys… what kind of fish was used, and how thoroughly the fish was broken down in the mixing process. This post explains how the best fish cakes differ from the mediocre and the worst fish cakes.
Jump to Recipe
The Best Fish Cakes:
Inspired by one of Gordon Ramsey's shows, I first made the fish cakes with fresh-frozen fish filets. I used a mix of catfish and cod (he used black cod, but I used the filets I happened to have in the freezer).
They turned out wonderful. They were flaky, tender and mellow in flavor. I accompanied them with a harissa sauce to add some more robust flavor to the dinner.
Later on I developed a fish cake recipe that was low carb, and I used a mix of canned crab and frozen cod that I shredded with a knife. These cakes were baked instead of sautéed and they were my favorite overall, even better than the Gordon Ramsey recipe in my opinion.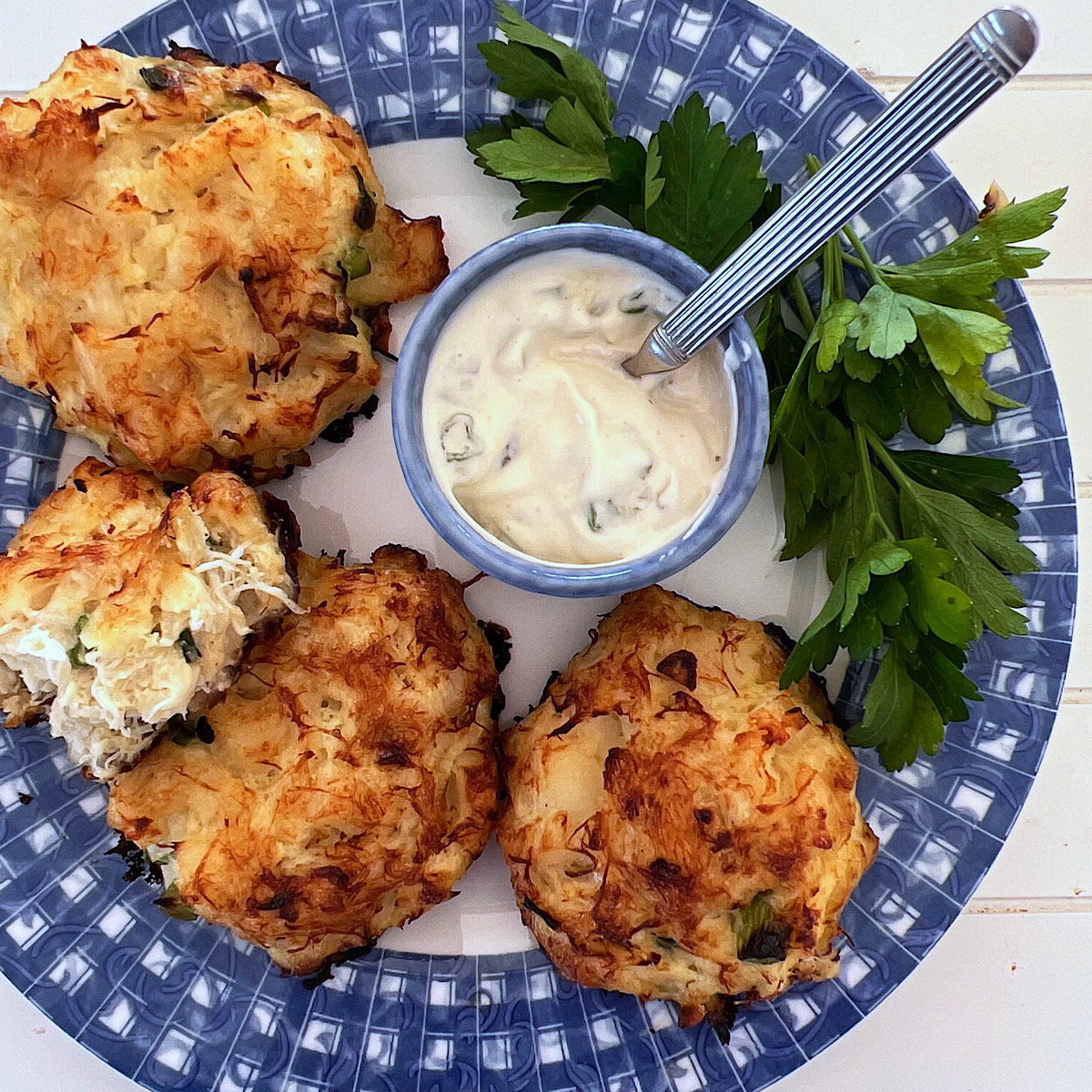 The Marginal Fish Cakes:
Next up I tried fish cakes with canned salmon. They were way too dry.
I think the texture of the canned fish was just so meaty from being packed and compressed into cans that it is difficult for the tender nature of the fish to come through. Salmon also has a much stronger flavor and doesn't allow the flavor of the dip to shine.
I have made crab cakes with canned crab before, and they were good, but the crab is packed into the cans much more loosely.
And even with the loose packing, the crab cakes didn't hold a candle to the fresh-frozen filet cakes.
The Horrible Fish Cakes:
My diet partner in crime (aka husband) thought tuna would be an inexpensive fish to try. So, being the accommodating sort, I tried it with canned tuna.
They were so dry they were almost inedible! I think processing the canned fish in the blender was part of the problem. When using the frozen filets, I shredded them with a knife, giving them a looser texture in the mix.
It pays to be gentle when mixing in the fish and avoid the blender.
Are Fish Cakes Low Carb?
The recipe below was made with panko, which is not low carb or slow carb compliant.
The Slow Carb Diet is my low carb lifestyle of choice, and I am definitely benefiting from it, but I am trying to incorporate more fish as the proteins.
To make fish cakes slow carb compliant, you need to eliminate the panko. Here is a low carb way of making fish cakes without panko or any breading. They are baked instead of sauteed, so they are lower in calories also.
Spicy Fish Cakes with Panko
These fish cakes incorporate catfish and cod, two inexpensive white fish options that can be shredded and make excellent fish cakes. Two dipping sauce recipes are also included
Equipment
bowls

measuring spoons & cups
Ingredients
The Fish Cakes
2

lbs.

skinless fish filets

I used catfish and cod; cut into small pieces

2

large eggs

3

Tbsp

scallions

sliced thinly

3

Tbsp

Italian parsley leaves

chopped

2

tsp

sea salt

½

tsp

freshly ground black pepper

white pepper if available

1

Tbsp

grated fresh ginger

¼

tsp

ground coriander

1

tsp

chipotle powder

(or any spicy chile powder)

squeeze of fresh lime juice

I used juice from 1/2 medium lime (2-3 wedges)

¼

tsp

fish sauce

¾

cup

Panko crumbs

*note: not slow carb compliant

2

Tbsp

Refined olive oil

refined olive oil has higher smoke point than extra virgin
Best Tartar Sauce
1

cup

mayonnaise

olive oil based

3

Tbsp

capers

3

Tbsp

fresh lemon juice

2

Tbsp

chopped dill pickles

finely chopped

1

Tbsp

chopped scallions

¼

tsp

black pepper
Spicy Dipping Sauce
1-2

Tbsp

fish sauce

provides salty umami

1

Tbsp

rice wine vinegar

more mellow than other vinegars

1

Tbsp

fresh lime juice

juice from 1/2 lime

1

Tbsp

ground coriander

1

tsp

chopped green chile pepper

your favorite in terms of heat (anaheim to jalapeno to serrano)
Instructions
Preheat oven to 200°F.

Combine all ingredients for the fish cakes in large bowl and mash together with fork or hands until well blended

Alternatively, you can combine in blender fitted with blade attachment and just pulse lightly about 5 pulses – DO NOT OVERBLEND!). What you are aiming for is a mixture of small, medium and large chunks of fish.

2 lbs. skinless fish filets,

2 large eggs,

3 Tbsp scallions,

3 Tbsp Italian parsley leaves,

2 tsp sea salt,

1/2 tsp freshly ground black pepper,

1 Tbsp grated fresh ginger,

1/4 tsp ground coriander,

1 tsp chipotle powder,

squeeze of fresh lime juice,

1/4 tsp fish sauce,

3/4 cup Panko crumbs

Using your hands, form small balls of the fish mixture into patties about 1/2 to 1 inch thick and about 2-3 inches in diameter (about 1/3 cup each). Set aside on a plate.

Heat 2 Tbsp oil in large skillet (cast iron if you have it), until lightly smoking (about 3 minutes).

Place patties in skillet starting at 6:00 direction and moving clockwise, so you remember which ones to turn over first. Do not crowd the patties; leave a little room between each one.

Cook patties until browned and crispy on one side (about 3-5 minutes). Do not move them around while they are browning. Flip, starting at the 6:00 fish cake, and brown about 3 minutes or less on the other side

Remove the fish cakes to a baking sheet and place in oven to keep warm. Add more oil to skillet if needed and repeat process with remaining patties.
Dipping Sauces
Combine dipping sauce ingredients in bowl and stir until thoroughly blended. Cover and refrigerate until ready to use.

1 cup mayonnaise,

3 Tbsp capers,

3 Tbsp fresh lemon juice,

2 Tbsp chopped dill pickles,

1 Tbsp chopped scallions,

1/4 tsp black pepper,

1-2 Tbsp fish sauce,

1 Tbsp rice wine vinegar,

1 Tbsp fresh lime juice,

1 Tbsp ground coriander,

1 tsp chopped green chile pepper
Notes
** Please note that nutrition calculations are for fish cakes only, and do not include dipping sauces.
Nutrition
Calories:
303
kcal
Carbohydrates:
11
g
Protein:
42
g
Fat:
9
g
Saturated Fat:
3
g
Polyunsaturated Fat:
3
g
Monounsaturated Fat:
3
g
Trans Fat:
1
g
Cholesterol:
213
mg
Sodium:
1420
mg
Potassium:
939
mg
Fiber:
2
g
Sugar:
1
g
Vitamin A:
682
IU
Vitamin C:
8
mg
Calcium:
90
mg
Iron:
2
mg
Did you make this recipe?
If you tried this recipe, please give it a 5-star rating! To do this, just click on the stars above.