Roasted, boneless leg of lamb is an impressive dish often reserved for Easter or Spring celebration dinners. If you can plan ahead however it can be an easy family dinner at any time of the year. It requires several hours cook time, but the hands-on time is minimal. This recipe lays the deboned leg of lamb out flat, seasons it with a spice rub, and finishes by rolling the lamb back up and slow roasting it in the oven.
Jump to:
RECIPE
Facts About Lamb
How to Cook Lamb
Trussing Leg of Lamb
Spices & Rubs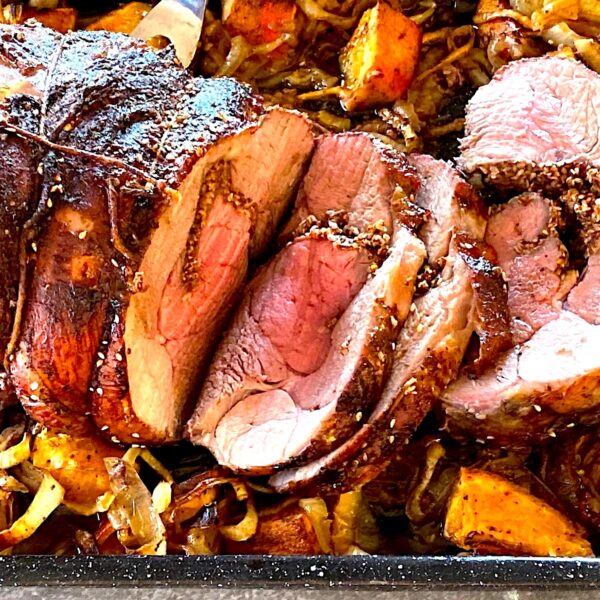 Why is Lamb Considered a Spring Meat?
Although you can get frozen lamb any time of the year, fresh lamb is only available in the Spring. My husband, a previous biology major, explained it this way:
"Traditionally, a lamb is designated by the break joint in the front leg becoming ossified (i.e., goes from soft bone to a hard bone). Once this transformation occurs the lamb is then considered mutton. This transformation occurs 4-6 months after birth."
However, the definition has been expanded to include a designation of "lamb" for up to either 14 months or time of sexual maturity. The industry tries to birth lambs early so they are ready for Easter.
Culturally, there are many traditions around the "innocence" of lamb, which is a different from the designation of the biological definition of maturity.
Because we now have refrigerated shipping methods, fresh lamb can be available year-round to the US from New Zealand and Australia, where Spring in these countries is opposite that of the US.
Where to get Boneless Lamb Roasts
I got a great 5 lb. leg of lamb at Costco. It was already de-boned and was easy to butterfly (lay out flat).
I imagine you can get it at many grocery stores or butcher shops in the Spring when it is popular, but it may be a little more difficult to find in the "off-season".
If you are going to roll up your roast, just be sure it does not have the bone in. That is, unless you want to de-bone it yourself!
How Long to Cook Leg of Lamb?
This of course depends on whether you want it rare, medium rare, or medium. Most lamb that is served in restaurants or made by chef-types is cooked rare.
You'll notice with the photo above that rolling a leg of lamb actually offers the ability to have the inside rare and the outer portions medium. This is a plus if you are trying to satisfy a group of people with different tastes.
The best way to get your desired "doneness" is to use a digital thermometer. Here is a guide for judging doneness with a thermometer (it assumes you will be "resting" the roast for 15 minutes):
Guide to Internal Cooking Temperature for Leg of Lamb
Rare: 120 to 125 degrees F – center is bright red, pinkish toward the exterior portion
Medium Rare: 130 to 135 degrees F – center is very pink, slightly brown toward the exterior portion
Medium:140 to 145 degrees F – center is light pink, outer portion is brown
Medium Well:150 to 155 degrees F – not pink
Well Done:160 degrees F and above – meat is uniformly brown throughout
If you don't have a thermometer, you can use the guide below on cook time per pound. Just know two things:
Different ovens may have a slightly different temperatures, so you may need to adjust;
meat (lamb) will continue to cook after you take it out of the oven and let it rest. This resting step is important to preserve the juicy flavors so don't skip it. Start checking internal temperature 1/2 hour before cooking time ends.
Guide to Cooking Time per Pound
Weight
Rare (120-125 degrees F)
Medium-Rare (130-135 degrees F)
Medium (140-145 degrees F)
Well Done (160-165 degrees F)
1 Lb
15 minutes
20 minutes
25 minutes
30 minutes
2 Lbs
30 minutes
40 minutes
50 minutes
60 minutes
3 Lbs
45 minutes
60 minutes
1 Hour and 15 minutes
1 Hour and 30 minutes
4 Lbs
60 minutes
1 Hour and 20 minutes
1 Hour and 40 minutes
2 Hours
5 Lbs
1 Hour and 15 minutes
1 Hour and 40 minutes
2 Hours and 5 minutes
2 Hours and 30 minutes
6 Lbs
1 Hour and 30 minutes
2 Hours
2 Hours and 30
(Sear for 15 minutes in pre-heated 450 degree oven then adjust roasting temperature to 325 degrees F for remaining cooking time) –
Servings per Pound
A good rule of thumb would be to include 1/2 pound of lamb per person. The lamb I bought at Costco was 5 lbs. and is a pretty typical size. Five pounds should serve 10 people if you include side dishes at your dinner.
For more than 10 people, I would buy 2 legs of lamb (boneless). It is better to have leftovers than leave someone wanting!
How to Truss a Rolled Roast Leg of Lamb
This is not easy to explain in text, and there are several different ways of tieing a truss. It does not have to be complicated knots. Watch the video in the recipe card to see how to tie the lamb together with kitchen twine.
The basic steps for trussing are as follows;
lay a boneless leg of lamb out flat on a cutting board. This is called "butterflying".
After spreading the spice rub and salt on the surface of the lamb, start at one of the short ends and roll into an oblong shape.
Secure the lamb into the roll by first tightly wrapping the center of the roll crosswise with a piece of twine and tying in a knot to hold.
Working in 2-3 inch intervals continue tying crosswise out from the center
When lamb is secured crosswise, wrap a piece of twine down the center of the lamb lengthwise and secure with a knot
Spices and Rubs for a Rolled Leg of Lamb
The classic spice blends for Easter lamb is usually comprised of rosemary and garlic. Other common rubs or stuffings include mint and garlic, tomatoes and olives or walnuts and dates.
The recipe below includes both a rub and a stuffing mixture. The rub is a Mexican spice blend of chocolate, coffee, cinnamon and smoked chile peppers. This is similar to a mole spice blend, adding a bitter and spicy complexity to balance the richness of the lamb.
The stuffing includes other classic Mexican mole-type ingredients of sesame seeds, orange zest and Mexican chocolate.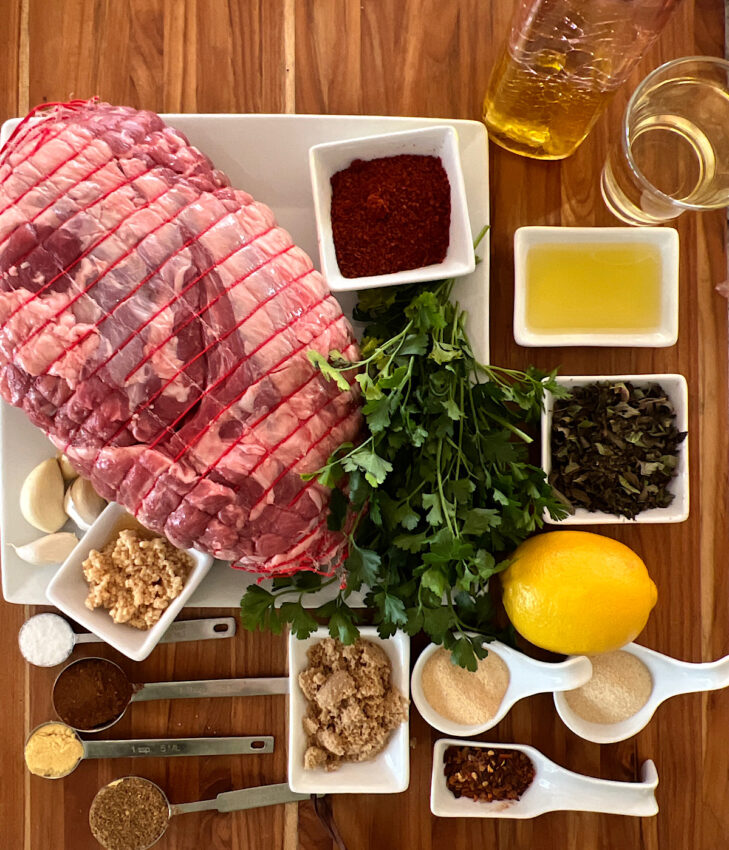 After rolling the lamb in the spice rub and stuffing and trussing it up, you place the whole thing on a bed of onions, oranges and additional spice rub.
Another rub that I have used and love is a sumac spice rub. The photo below shows the ingredients for this rub along with the ingredients for a mint-chimichurri sauce. Details for the sumac rub are in the notes section of the recipe card.
More Easter or Early Spring Recipes to Enjoy
Recipe for Leg of Lamb with Mexican Spices
Roasted Rolled Leg of Lamb with Mexican Spice Rub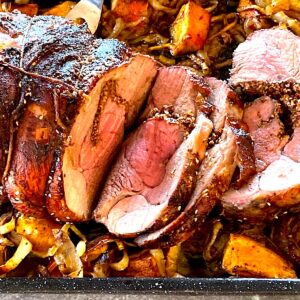 This elegant leg of lamb is enhanced with spices typical of a Mexican mole. It is a show-stopping centerpiece for Easter.
Ingredients
5

lbs

leg of lamb

boneless

1

tsp

cocoa powder

1

tsp

ground coffee

1

tsp

ground ginger

1

tsp

ancho powder

1

tsp

chipotle spice

2

oranges

⅓

cup

sesame seeds

¼

cup

grated Mexican chocolate

3

onions

peeled and sliced

olive oil

kosher salt
Instructions
Remove the lamb from the refrigerator and remove the netting and let it sit out at room temperature for 30 minutes.

While the lamb is coming to room temperature, preheat the oven to 350° and make the spice rub and the stuffing as shown below

For the spice rub: If you are making your own spice rub, blend together in a bowl the cocoa powder, ground coffee, ginger, ancho spice and chipotle spice. Skip this step if you are using a pre-made mole rub.

1 tsp cocoa powder,

1 tsp ground coffee,

1 tsp ground ginger,

1 tsp ancho powder,

1 tsp chipotle spice

For the stuffing: zest 2 oranges into a small bowl and stir in 1/3 cup white sesame seeds and 1/4 cup grated Mexican chocolate

2 oranges,

1/3 cup sesame seeds,

1/4 cup grated Mexican chocolate

Slice 3 onions, cut the zested oranges into wedges and place both ingredients into a large roasting pan. Sprinkle with 1 Tbsp of the spice rub blend. Drizzle with olive oil and mix everything together thoroughly with your hands. Set aside.

Open the lamb onto a cutting board and sprinkle the inside generously with salt. Sprinkle the mole spice rub on top of the salt (save a little to rub on the outside). Add the stuffing mixture to the inside of the roast (on top of the spice rub). Now, starting at the short end of the lamb leg, roll the lamb up tightly and secure with twine. (See video or instructions in the post for how to secure (or truss) the lamb with twine

Place the rolled lamb on top of the onion/orange/spice mixture in the roasting pan and place in oven. Roast for 1 hour rotating the pan halfway through. If it starts to dry out, add 1/2 cup water and baste every 20 minutes if desired. Insert a meat thermometer into the thickest part of the roast, and when it registers 125°F, roast about 30 minutes longer. See temperature and timing per pound charts in the above post.

Let the lamb rest at room temperature for 30 minutes before untying and carving it into thin slices. Serve with the onions and pan juices.
Notes
For the Sumac Rub:
1/3 cup powdered sumac
2 Tablespoons minced garlic
2 Tablespoons granulated onion
3 Tablespoons kosher salt
3 Tablespoons ground/dried mustard
3 Tablespoons chile blend (chipotle, ancho, etc.)
3 Tablespoons brown sugar
4 teaspoons smoked paprika
2 Tablespoons dry oregano
2 Tablespoons toasted, ground coriander
Nutrition
Calories:
263
kcal
Carbohydrates:
10
g
Protein:
31
g
Fat:
11
g
Saturated Fat:
4
g
Cholesterol:
92
mg
Sodium:
94
mg
Potassium:
560
mg
Fiber:
2
g
Sugar:
5
g
Vitamin A:
118
IU
Vitamin C:
16
mg
Calcium:
78
mg
Iron:
4
mg
Did you make this recipe?
If you tried this recipe, please give it a 5-star rating! To do this, just click on the stars above.
Step-by-step Video
Online Diet/Health Coaching:
Although I am not currently taking clients for diet & health coaching, I have been a coach for many years with the online service called coach.me. It is a great platform for all kinds of coaching – anything from specific diets, writing a blog, getting up early, or getting rid of that pesky procrastination.
There are some wonderful coaches and the testimonials will tell you what you need to know. Contact me at [email protected] to get a referral to some of the tested, experienced online coaches on Coach.me
If you'd like to start with a plan for a low carb or keto lifestyle, check out this detailed guide in ebook form. It may be all you need to lose weight on this lifestyle. Or it may be used as a supplement to one-to-one coaching.