Beets, although not the lowest carb in the category of vegetables, are a tasty way to get a lot of nutrients. Dried beet chips can be baked or made in a dehydrator. They make an easy, nutritious afternoon snack- and the hardest part is keeping your pantry stocked with them!
Jump to:
RECIPE
Best Dehydrators
Best Dried Veggies
Storing Beet Chips
Are they Healthy?
Serving Suggestions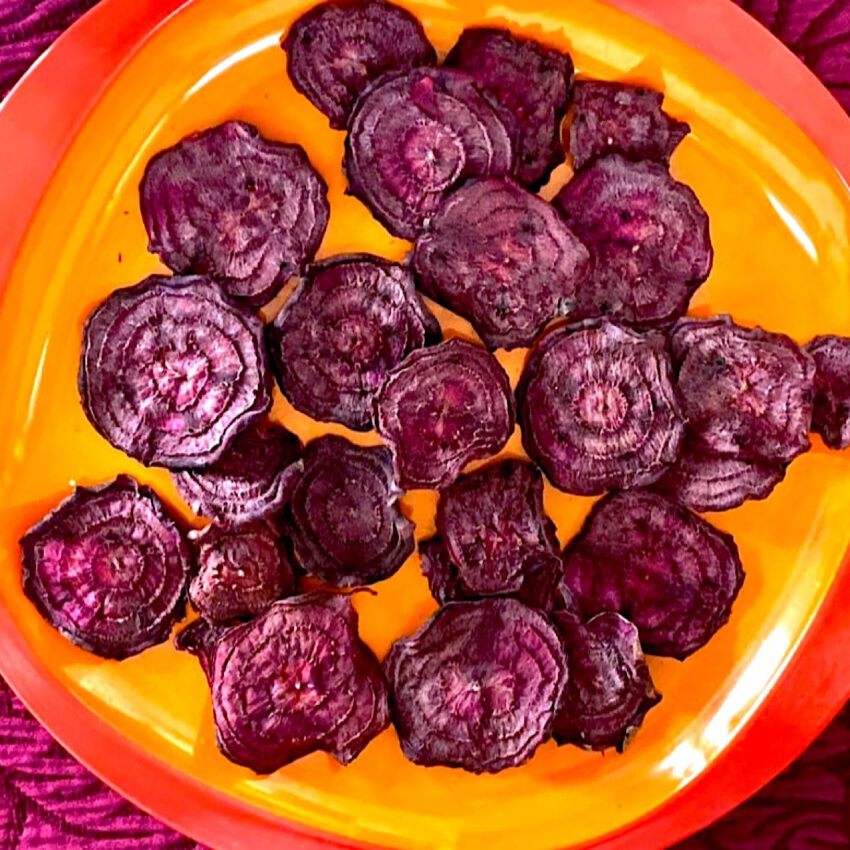 *Note: This is a post from Tesla Stainbrook (my millennial daughter). Her video tutorial is at the end of this post.
This post may contain affiliate links, and you can read our disclosure information here–
Best & Worst Dehydrators
A few months ago I downloaded the NextDoor app- not really having any idea how I'd use it. Well I found the "free" section, and I was hooked! Not even a week into using the app, I found myself the proud new owner of a dehydrator.
Of course, I scoured Pinterest and good ol' Google for recipes. The only thing I knew you could dehydrate was apples- and I'm not very fond of dehydrated apple chips myself.
If you are just starting dehydrating, go for something inexpensive until you see whether you will like the taste of dehydrated food. If you find you're really into it, I would recommend one of the Nesco dehydrators, like the Gardenmaster below. My mom has tried a number of them and this one lasted the longest and produced the best chips.
Just make sure you get one with a temerature control that allows a range of temeratures. Caveat: stay away from Ivation brand….doesn't last and terrible customer service.
Best Vegetables to Dehydrate
After a super quick search on Pinterest I realized you can pretty much dehydrate anything (dehydrated watermelon, anyone?!) I found a list of options on Pinterest and decided to make my way through the massive list. Well, that didn't work out very well since I got to the Salt & Vinegar cucumber chips and just made them over and over again.
I did get around to trying the beet chips however, and although this was the first time I made these beet chips- it will definitely not be the last!
Because my parents typically follow a low carb diet, we are going to have to explore all the different low carb vegetables in the dehydrator.
Next up, I plan on getting my parents as hooked on the salt and vinegar cucumber chips as I am, and then maybe some of the cauliflower popcorn. I'm also curious to try the jerky recipes! The possibilities are endless!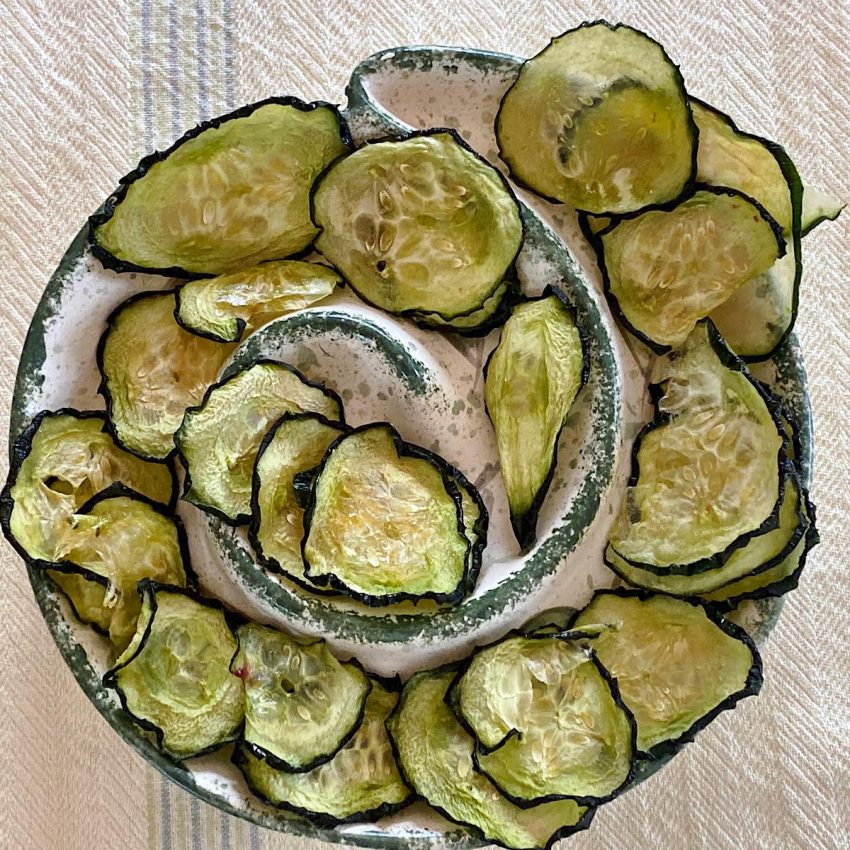 How to Store Dried Beet Chips
Prior to working remotely during the 2020 quarantine, I loved to take snack type items to work at the high school. These days, they don't travel as far, but the beet chips are still the perfect snack in between my many work from home meals.
One other snack I rely on heavily (although not made in the dehydrator) is these roasted harissa chickpeas.
I typically store my dehydrated items in a large mason jar, though I know many people will store them in Ziploc bags. We are trying to reduce waste, plastic and unnecessary trips to the store, so if I was going to store the chips in a bag, I would probably get cloth, breathable bags like these that my principal swears by.
However, for the beet chips I prefer using a mason jar or other glass container so they don't get squished or broken up in the bags.
Are Beet Chips really Healthy?
Beets are chock full of nutrients such as fiber, Vitamin C and folates. They are also low calorie and have been proven to lower blood pressure.
So yes, beets are very healthy, but if you are on a low carb diet, they don't work well as a compliant vegetable. They are considered a starchy vegetable, as are most root vegetables, and that's a no-no on low carb diets.
Although you can buy beet chips in the store, as with other processed foods, there are many additives and preservatives added to the packaged versions. With just beets and salt in the ingredient list, these beet chips are a tasty, crunchy alternative to the store bought versions and much healthier than potato chips or processed vegetable chips.
How to Serve Beet Chips
Even though there are so many great ways to serve beet chips, I think my favorite is just straight out of the dehydrator!
If you're not a fan of them straight up, here are some other great options for serving these beet chips:
With a side of hummus or baba ghanoush
On a cheese board or with charcuterie
For all my fellow Midwesterners, ranch or french onion dip would be a "taste treat" (as my dad says)
Beet chips would be a great lower carb alternative for croutons in salads
As a topping for a cold beet gazpacho/ soup
Although I dried these in slices to eat as a "chip", you could also make the dried beets into a beetroot powder. I love adding the beetroot powder to smoothies, both for the color and taste, as well as the nutrition.
Similar Recipes You'll Love
Check out the following recipes for more ideas for low carb snacks we love (and we think you will too):
Recipe for Dehydrating Beet Chips
Low Carb Beet Chips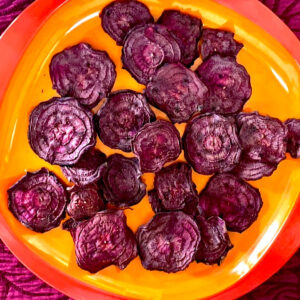 Beet chips are a crunchy, healthy alternative to potato chips
Ingredients
4

medium- large beets

1

tbsp

salt

or to taste
Instructions
Peel and slice beets using the mandolin (or thinly slice with a knife).

Lay beets out on dehydrator trays in a single layer.

Turn on dehydrator to 135 degrees Fahrenheit and leave the dehydrator on for 8-10 hours.
Nutrition
Calories:
35
kcal
Carbohydrates:
8
g
Protein:
1
g
Fat:
1
g
Sugar:
6
g
Did you make this recipe?
If you tried this recipe, please give it a 5-star rating! To do this, just click on the stars above.
Online Diet/Health Coaching:
Although I am not currently taking clients for diet & health coaching, I have been a coach for many years with the online service called coach.me. It is a great platform for all kinds of coaching – anything from specific diets, writing a blog, getting up early, or getting rid of that pesky procrastination.
There are some wonderful coaches and the testimonials will tell you what you need to know. Contact me at [email protected] to get a referral to some of the tested, experienced online coaches on Coach.me
If you'd like to start with a plan for a low carb or keto lifestyle, check out this detailed guide in ebook form. It may be all you need to lose weight on this lifestyle. Or it may be used as a supplement to one-to-one coaching.