Pickled Beet Eggs are so pretty to the eye and a fantastic portable, healthy snack. They are also easy to modify to a low carb diet, a slow carb diet, or just a generally healthy diet, making them the ultimate snack. Works well as a lunch for the office or snack for road trips!
Jump to:
RECIPE
Are Beets Low Carb?
Finding Store-bought Low Carb Snacks
How to Lower Carbs in Pickled Eggs
No-cook Pickled Eggs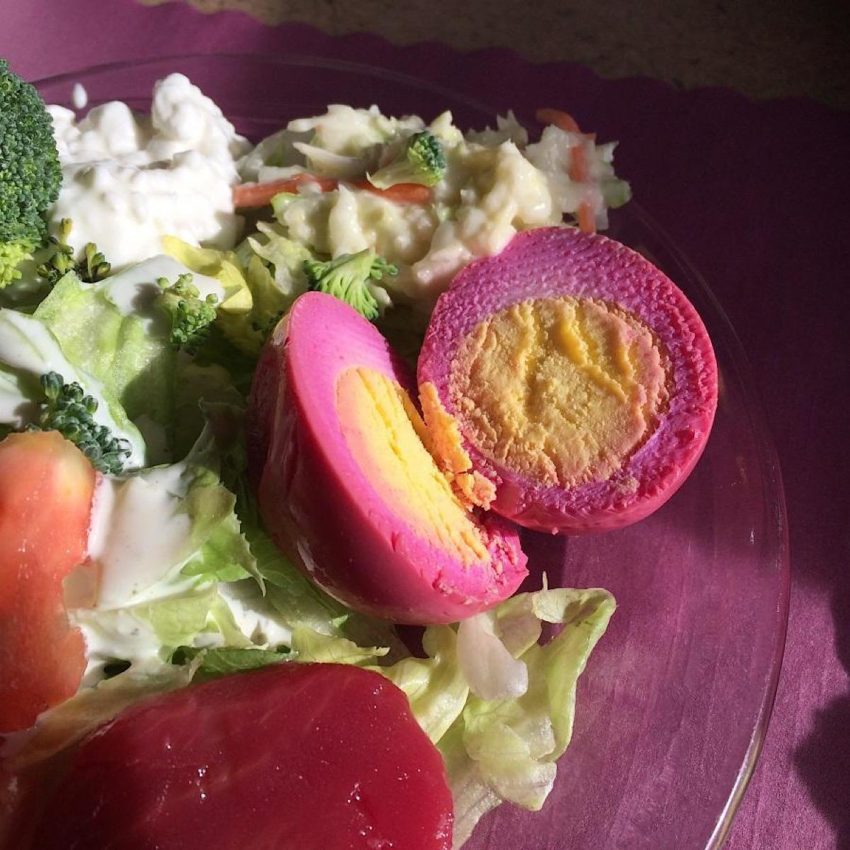 This post may contain affiliate links, and you can read our disclosure information here–
Are Beets Low Carb or Slow Carb?
Beets themselves are not 100% compliant with a strict slow carb or keto lifestyle (too much sugar in them), but the amount of beet juice clinging to the pickled beet eggs in this recipe is minimal.
Pickled beet eggs would be fine for most low carb diets in my opinion if you stick with the beet juice on the eggs and avoid eating the whole beets.
If you are worried about the beet juice, I have included pickled red cabbage eggs as an alternative low carb or keto pickled egg option.
The red cabbage keto rendition is just as tasty as the red beet version and just as beautiful. Oh, and one more plus to pickled eggs as a low carb snack…..they're easy to make!
Finding Low Carb Snacks While Traveling
It is really challenging to find tasty low carb snack options when traveling, whether you are in an airport, driving along the highway on a road trip, or just on a long commute to the office.
I first experienced pickled eggs on a road trip out East to visit my son in Connecticut, where he was going to host his first Thanksgiving dinner in his new apartment. He was 22 years old and this was kind of a big deal for all of us.
The road trip took 2 days and it was quite challenging, to say the least, to find low carb or slow carb snacks at America's pit stops along the highway.
At one point in Pennsylvania as we stopped for gas, I scoured a truck stop for something to tide us over until dinner. It was looking grim until I happened upon these red hard-boiled eggs called "beet eggs". After a quizzical group shrug we decided to give it a go. The consensus was "not bad", in fact "pretty good".
Apparently, they are a popular item in Pennsylvania, as well as other regions where Amish and Mennonites have settled.
How to Lower the Carbs in Pickled Eggs
Well, pink pickled eggs are now firmly established in our Minnesota household as a portable, convenient low carb snack, except that I sometimes make them with red cabbage instead of beets if I am counting calories and/or carbs.
Using red cabbage instead of beets is a riff on the beet eggs from Jamie Oliver, and since red cabbage is compliant with slow carb and ketogenic diets, I often lean toward Oliver's version.
Essentially he shreds the cabbage and adds it to the spiced brine instead of beets. Check out the notes section of the recipe card below for the exact ingredients he uses.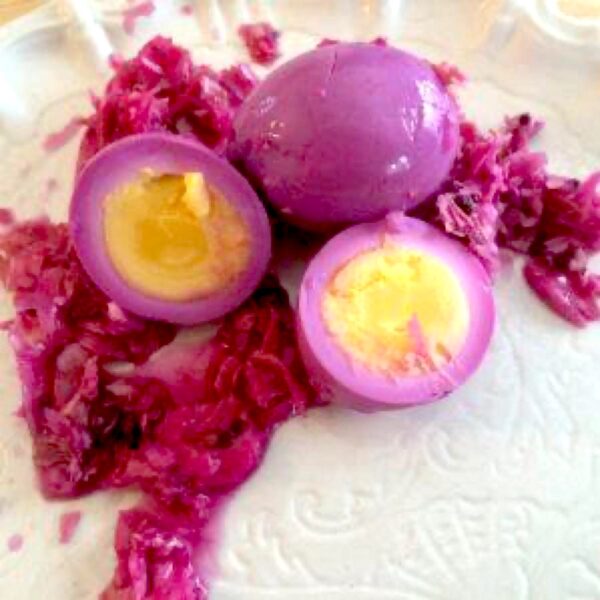 Both the beet eggs and the red cabbage eggs are excellent in flavor and ease. Although beets do have sugar in them, there isn't a lot of it that stays on the eggs.
The problem with the beet eggs and a low carb diet is what to do with the beets themselves after the eggs are done. Beets are definitely not compliant with low carb, so just know this going in and use them for the juice. Give the whole beets to a friend or family member that isn't following low carb strictly.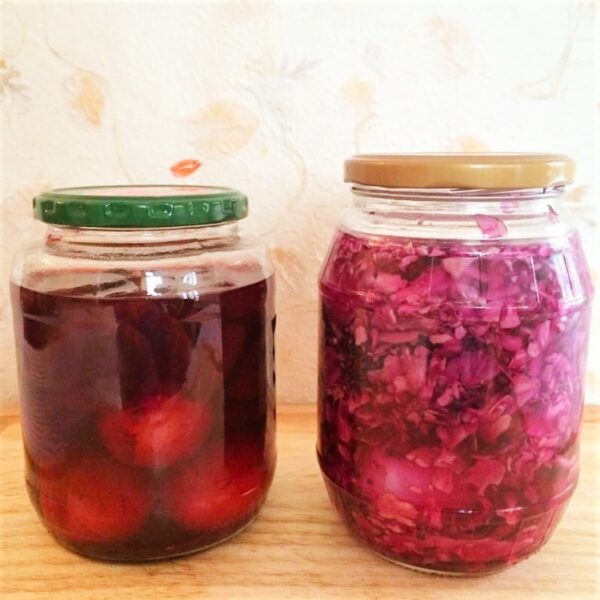 No-Cook Pickled Eggs
If you don't cook at all and don't like the idea of peeling a dozen eggs, you could buy some pre-peeled hard-boiled eggs in the grocery store, a jar of pickled beets and toss them together with some spices for the "I don't cook" method. It will elevate plain hard boiled eggs to a beautiful new high.
Similar Recipes You Will Love
Recipe for Low Carb Pickled Beet Eggs
Low Carb Pickled Beet Eggs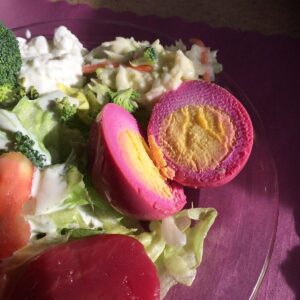 An easy DIY for making pickled beet eggs to enjoy as a portable, healthy, low carb snack
Equipment
Heat proof large jars

large bowl for ice water
Ingredients
8

hard-boiled eggs

peeled

1

cup

canned (or jarred) sliced red beets

with their liquid

½

cup

apple cider vinegar

½

cup

water

3

whole cloves

2-4

cloves

garlic

1

bay leaf

1

tsp

sugar

½

tsp

salt

⅛

tsp

ground allspice
Instructions
To hard boil & peel eggs: Gently lower the eggs into a pot of cold water. Turn the burner on high and bring to a boil. When the water comes to a boil, turn off the burner, cover the pot and let the eggs sit in the pot for 5-7 minutes.

To peel hardboiled eggs: Meanwhile get a large bowl and fill with ice water. When the eggs have sat in the covered pot for 5-7 min. ladle them out into the bowl of ice water. When cool enough to work with, peel the shells off under running cool water (shells come off more easily if you start with older eggs – not really fresh).

To pickle: Place peeled hard-boiled eggs in a quart-sized mason jar (or any other heatproof container).

Combine remaining ingredients in a saucepan and bring to a boil. Reduce heat and simmer for 3-5 min. Pour warm mix over eggs, cover tightly and refrigerate.

1 cup canned (or jarred) sliced red beets,

1/2 cup apple cider vinegar,

1/2 cup water,

3 whole cloves,

2-4 cloves garlic,

1 bay leaf,

1 tsp sugar,

1/2 tsp salt,

1/8 tsp ground allspice

Chill for at 2 days before serving. Will keep for about 2 weeks in the refrigerator.
Notes
For the Red Cabbage Pickled Eggs:
Make the 8 hard boiled eggs as in the directions above for the beet eggs.
In a dry skillet, over gentle heat, toast 2 star anise, 1 tsp cloves and 1/2 tsp mustard seeds, Bring 1 cup of water to a boil and when spices start to smell nutty and toasty (about 5 minutes), add bay leaves and the 1 cup boiling water.
Simmer for about 3 min. and then stir in 1 cup red wine vinegar and 2 heaping tsp of salt. Remove from heat.
Shred about 10 oz cabbage and add to the pot. Stir in and leave alone for 10 min.
Layer the cabbage mixture and the eggs into your mason jar and pour any extra pickling juice in to fill up the jar.
Place jar in refrigerator and leave alone for 24 hours. They will last up to two weeks.
Nutrition
Calories:
84
kcal
Carbohydrates:
1
g
Protein:
6
g
Fat:
5
g
Saturated Fat:
2
g
Polyunsaturated Fat:
1
g
Monounsaturated Fat:
2
g
Cholesterol:
187
mg
Sodium:
209
mg
Potassium:
77
mg
Fiber:
1
g
Sugar:
1
g
Vitamin A:
260
IU
Vitamin C:
1
mg
Calcium:
28
mg
Iron:
1
mg
Did you make this recipe?
If you tried this recipe, please give it a 5-star rating! To do this, just click on the stars above.
There you go. Ready for the next road trip, hockey trip, airline travel, etc. Great, portable low carb snack!
Online Diet/Health Coaching:
Although I am not currently taking clients for diet & health coaching, I have been a coach for many years with the online service called coach.me. It is a great platform for all kinds of coaching – anything from specific diets, writing a blog, getting up early, or getting rid of that pesky procrastination.
There are some wonderful coaches and the testimonials will tell you what you need to know. Contact me at [email protected] to get a referral to some of the tested, experienced online coaches on Coach.me
If you'd like to start with a plan for a low carb or keto lifestyle, check out this detailed guide in ebook form. It may be all you need to lose weight on this lifestyle. Or it may be used as a supplement to one-to-one coaching.