Looking for a gift for that person in your life who can't get enough of cooking and eating oysters, lobster, fish, crab, mussels and all the other seafood under the sun? We're huge on seafood here at Farm to Jar, so we know exactly what you need. Whether it's Christmas, a birthday, a wedding or just because: here are our favorite gifts for seafood lovers.
This post may contain affiliate links, and you can read our disclosure information here–
Seafood tool set
If your friend or family member loves eating crab or lobster but doesn't have a shellfish tool set yet, you're about to make their culinary experiences a lot better. No more pieces of shell all over the place, no more claws slipping from buttery fingers and no more time wasted trying to dig out those last bits of meat.
This crab and lobster tool set by Toadfish is beautifully packaged, ergonomic and sturdy. As an added bonus, the company is on "A Mission To Put 'Em Back": they are dedicated to supporting the regeneration of important coastal oyster beds.
Sizzlefish seafood box subscription
What's better than a beautiful box full of fresh, delicious seafood? Well, what about the same thing, but every month?
Sizzlefish is a company that lets you put together boxes of every kind of high-quality seafood imaginable and have them shipped wherever you want on a monthly basis. That way, your loved one can discover and enjoy new things for a while to come!
If you don't want to gift a subscription, Sizzlefish also offers a variety of one-time gift boxes, as well as physical and e-gift cards.
Go for a wild fish sampler pack, holiday specialties gift box or even a smoked fish set… and hope you get invited to share.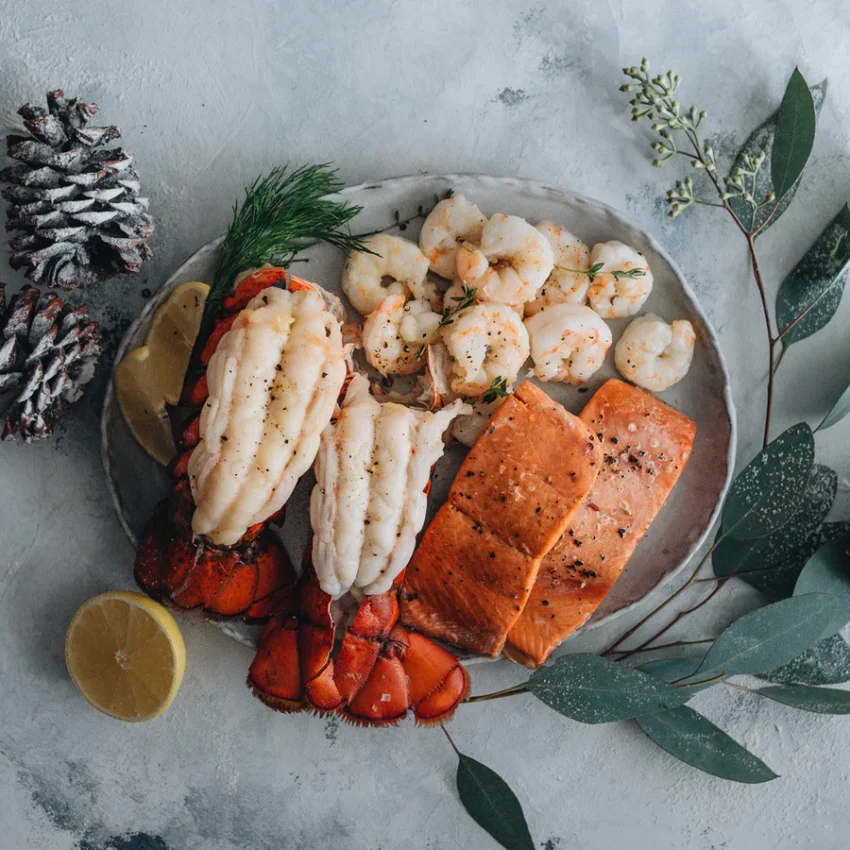 Paella pan
Although Spanish paella can be made with meat, its most famous iteration is 'de mariscos': with seafood. As I discuss in the full article about making paella, this rice-based dish is versatile and perfect for a crowd.
I think a paella set for outdoor cooking, including pan (also known as paellera) and burner, makes the perfect gift for folks who like to cook for others!
For the beginning paella chefs who might be intimidated by the idea of cooking on a big portable gas hob, there are also individual paella pans available.
These can be used on the stove or even on a campfire, which actually happens to be the most traditional way to make a paella.
Tinned fish & seafood variety sample pack
We mainly know the Spanish for their paella, but did you know they're also world champions in canned seafood? Any Spanish supermarket will have an entire aisle dedicated to tinned mussels, squid, octopus, every fish you could think of and more. This is not your average canned tuna, but world-class in terms of quality.
Gift the taste of Spain with a nice tinned fish and seafood sample pack.
This one by Matiz contains all the classics: sardine (various flavors), mackerel, bonito, octopus, mussels and cockles. Plenty for a fun little tasting party along with some crackers and a glass of white.
Seafood recipe book
Even if your friend or family member is an accomplished cook with plenty of experience cooking seafood, there are always new horizons to explore.
When it comes to seafood cookbooks, I think it doesn't get much better than The Joy of Seafood by Barton Seaver.
This book contains more than 900 recipes for almost 100 different (shell)fish types, so even the most experienced cooks are bound to find something new in there.
Seaver, an award-winning chef, shares everything from basic seafood recipes (tuna melt anyone?!) to show-stoppers for big holiday dinners. He also includes tips, universal techniques and other thoughts about everything that comes from the ocean.
Bamboo steamer
Steaming is a fantastic way to enjoy fish and seafood, especially if you're into cooking Asian food. If your seafood-loving friend or family member doesn't own a steamer yet, this bamboo one by DealzNDealz makes the perfect gift.
Much prettier than a steel one, and just as easy to use!
For an extra touch, you could gather some steamed seafood recipes and create a little booklet to go along with the steamer.
I discuss more about steaming in my post about red snapper, and here are some more recipes that I think would work well:
serving board
One of my favorite gifts for seafood lovers is a nice serving board. A big seafood platter is one of the top ways to enjoy fish, crustaceans and everything else the ocean has to offer!
If you really want to take things to the next level, prepare a (shell)fish grazing board for the occasion, using the board. You can find more tips in my full post on preparing a seafood platter, but here are some basic things you could include:
Smoked salmon
Canned mussels
Surimi salad
Garlic shrimp
Oysters or scallops on the half shell
Pickles
Crackers
…and don't forget some champagne!
Fish spatula
If you're looking for a gift for a beginning seafood enthusiast, take a stealthy peek in their kitchen the next time you visit and check whether they already have a fish spatula. It's a must-have to make preparing fish easier, so if they're still missing one, that's your gift sorted.
The reason a fish spatula is so handy is because it's thinner and more pliable than a regular one. This way, even the more fragile and flaky types of fillets are easy to flip. The slots in the spatula allow oil or liquid to drain easily.
Fish and seafood spice blend
Fish without spices is just… fish. It needs a little help to bring out its potential! The same goes for pretty much any seafood, like crab, shrimp, clams and more. That's why a quality fish and/or seafood spice blend makes a perfect budget gift for seafood lovers.
We sell small-batch, farm-grown spices over at Heathglen Farms, including a delicious spice blend for fish and shrimp. Its base is fresh smoked chipotle powder, so it adds the perfect kick to Mexican seafood dishes like fish tacos, shrimp fajitas, and much more.
If your loved one isn't a fan of spicy food, that's not a problem either… you can never go wrong with an extra-large jar of Old Bay.
Squid jerky
This one's for the Asian seafood lovers… or if you want to challenge your loved one's taste buds with a seafood-themed gag gift! As the name suggests, squid jerky is dried squid and/or cuttlefish.
It's a classic snack in places like Japan, Korea and even Hawaii. The flavor is an acquired one: it's way too "squid-y" for me, but I know many folks love it.
This squid jerky by Madamera comes in a variety pack of four different flavors. If you think it might be a little over the top (or you don't want the house smelling like squid for days), you could also go for tuna jerky. It's not quite as pungent and a lot more accessible than the squid version.
Lobster oven mitts
Pinch, pinch… if you're in search of something with a little more sense of humor, these lobster oven mitts by Boston Warehouse are perfect for the seafood enthusiast in your life. They do everything oven mitts are supposed to do, but just make it a bit more fun.
For folks who aren't fans of lobster, the same mitts also come in Rainbow Trout, Salmon, Shark and Tropical Fish. You can even combine two different ones!
Trip to seafood country
Why bring the seafood to your loved one when you can also send your loved one to the seafood? If this is a big gift for a special occasion like a wedding or graduation, a trip to a prime seafood destination would be a fantastic idea.
Whatever the closest seaside gastronomy hub to you is – Georgetown, Maine? New Orleans, Louisiana? Chesapeake Bay, Maryland? San Francisco, California? – the freshest (shell)fish is enjoyed right where it's caught.
Organize a weekend away or make it a full holiday including trips to all the markets and a little spending money!
**Want more like this? Subscribe to our Sunday newsletter to get recipes, gardening guides and diet help. Let's go from Inspiration to Done!