Those of us who like to host during the holidays will know the struggle between wanting to serve something fancy and keeping things stress free. Here are 3 DIY seafood platters that range from an easy, inexpensive tinned seafood plate to a minimal prep elegant platter with shellfish to a luxury platter or tower for the seasoned cook. Two dynamite seafood dip recipes included!
Table of Contents: Recipe for Fresh Platter & 2 Dips | Pro Tips for All Food Platters | Tinned Seafood Platter | Luxury Platter | Dips & Accompaniment Ideas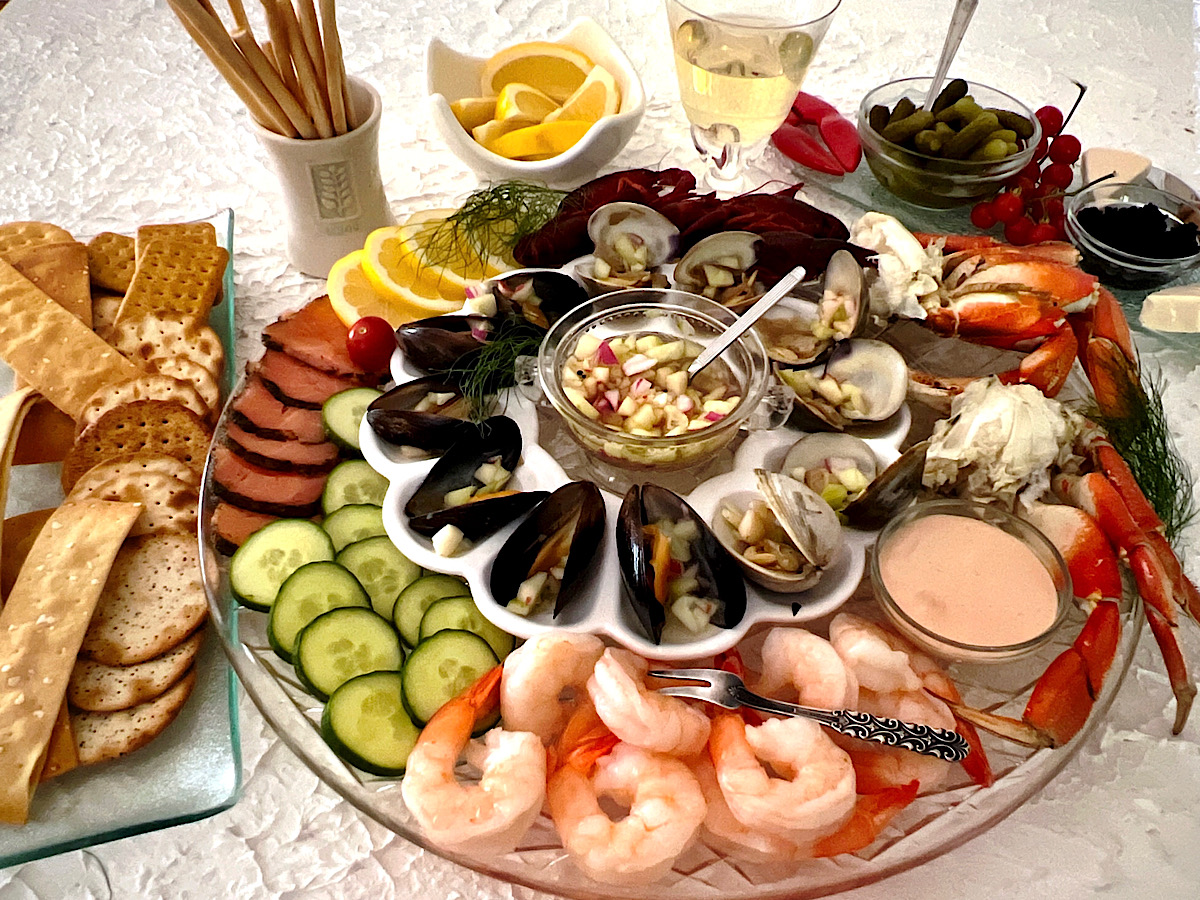 This post may contain affiliate links, and you can read our disclosure information here–
How to Prepare a Holiday Seafood Platter?
A seafood platter can be the perfect holiday appetizer, or even a main course if you upscale it to XL size! It feels luxurious, especially with the right presentation, but you can make it as simple or extravagant as you want.
Prep for a seafood platter is limited and many of its components can be made ahead or even bought. This way, you only have to assemble everything. No more worrying about whether things are done on time: just sit down with your friends and family and enjoy.
Pro Tips for Assembly of Food Platters & Boards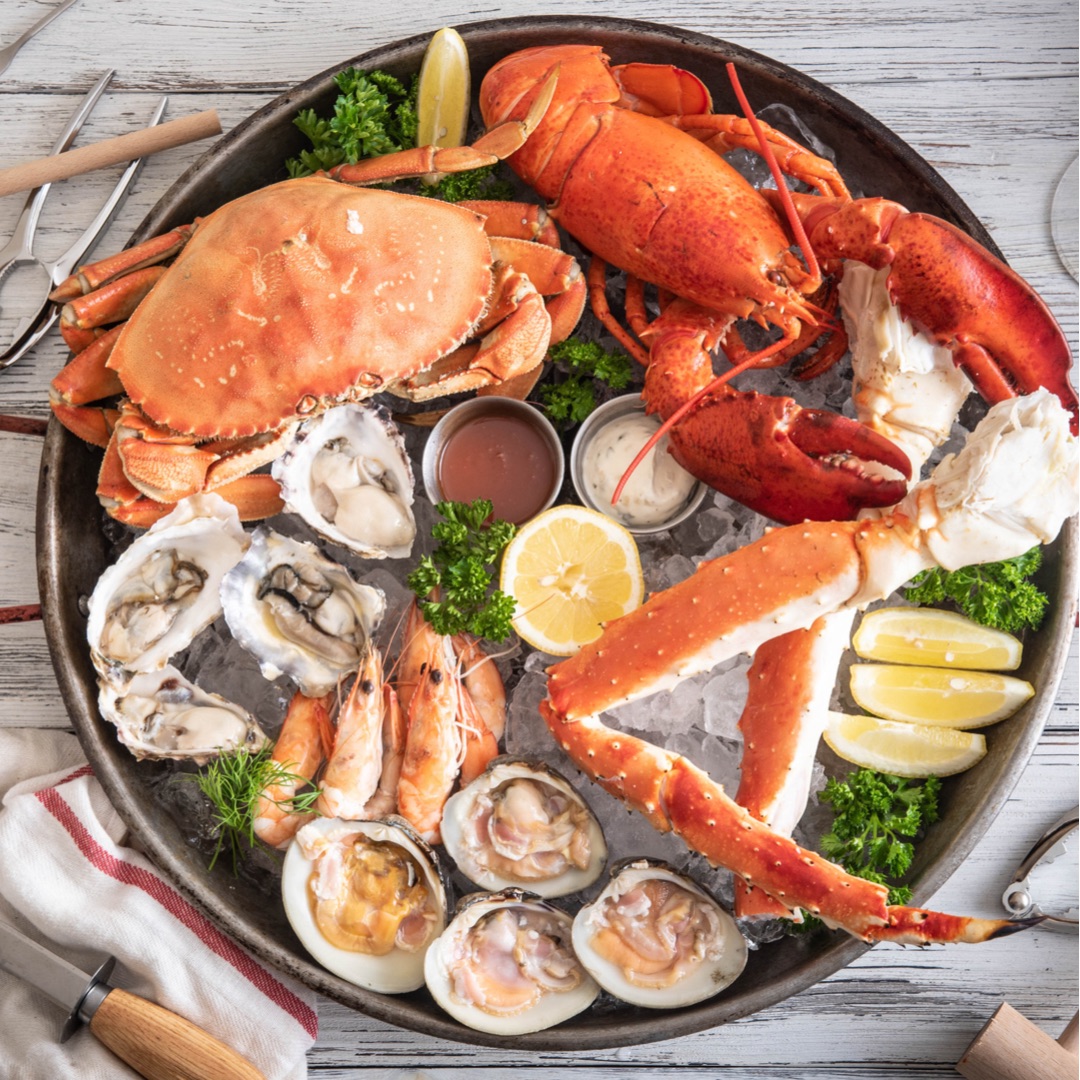 Think of a theme before you start. It'll help guide you in terms of both components and presentation. Do you want a Spanish tapas board, a breakfast board, a classic cheese & charcuterie platter or maybe even a dessert board? In this case, we're going for a seafood platter, and since it's the holidays, we do want to make it look a little extra fancy.
The superstar (or focal point). Whether it be a perfect crab leg or oysters on the half shell, you want the most eye-catching item where it stands out. If you are building a seafood tower, this would be on the top layer. Complement the focal point by surrounding it with items of different colors and textures. This is trial and error, but the nice thing about boards is you can rearrange things easily until you get the look you want.
Pairings (dips & spreads). Cheeses want jams (check out this cheese & jam pairing guide), veggies want hummus and seafood wants something fresh and bright. You can make sauces and dips at home, but you can also go for store-bought to take time.
Fresh accent pieces. Just like a cheese board doesn't only have cheese, a seafood platter will need fresh accent pieces to complement it. Herbs, lemons, or fresh and colorful vegetables bring the plate alive.
Assembly. I find it easiest to start with anything that goes in bowls (shallow bowls). Then, I arrange my main ingredients in central spots and use accompanying ingredients like veggies, fruit and garnish to fill the gaps. Place all the items close to each other for that feel of abundance.
What is the Best Seafood for Holiday Platters?
Here are some of my favorite seafoods to include in a holiday platter. You can pick three to five options for a smaller plate or an appetizer platter and finish with some bread, pickles and veg. Or, go crazy and go for up to 10 if you're serving a crowd!
As a little tip to keep things manageable, I like to pick most of my options from the "serve & go" section, but also include 1-2 components with some prep time.
Then, I add one superstar from the "going all out" section and make a simple dip or salad or two on the side. That way, I don't spend too much time on my platter, but know I'll still wow my guests with the result.
Easy Tinned Seafood Platter
Tinned seafood is very popular right now and there is nothing easier than opening tins of fish and surrounding them with crackers, cheese and store-bought dips. Add some pre-cooked shellfish and you have a platter that will please all of your guests.
Here are the ingredients I used for the platter above, followed by some additional options or substitutions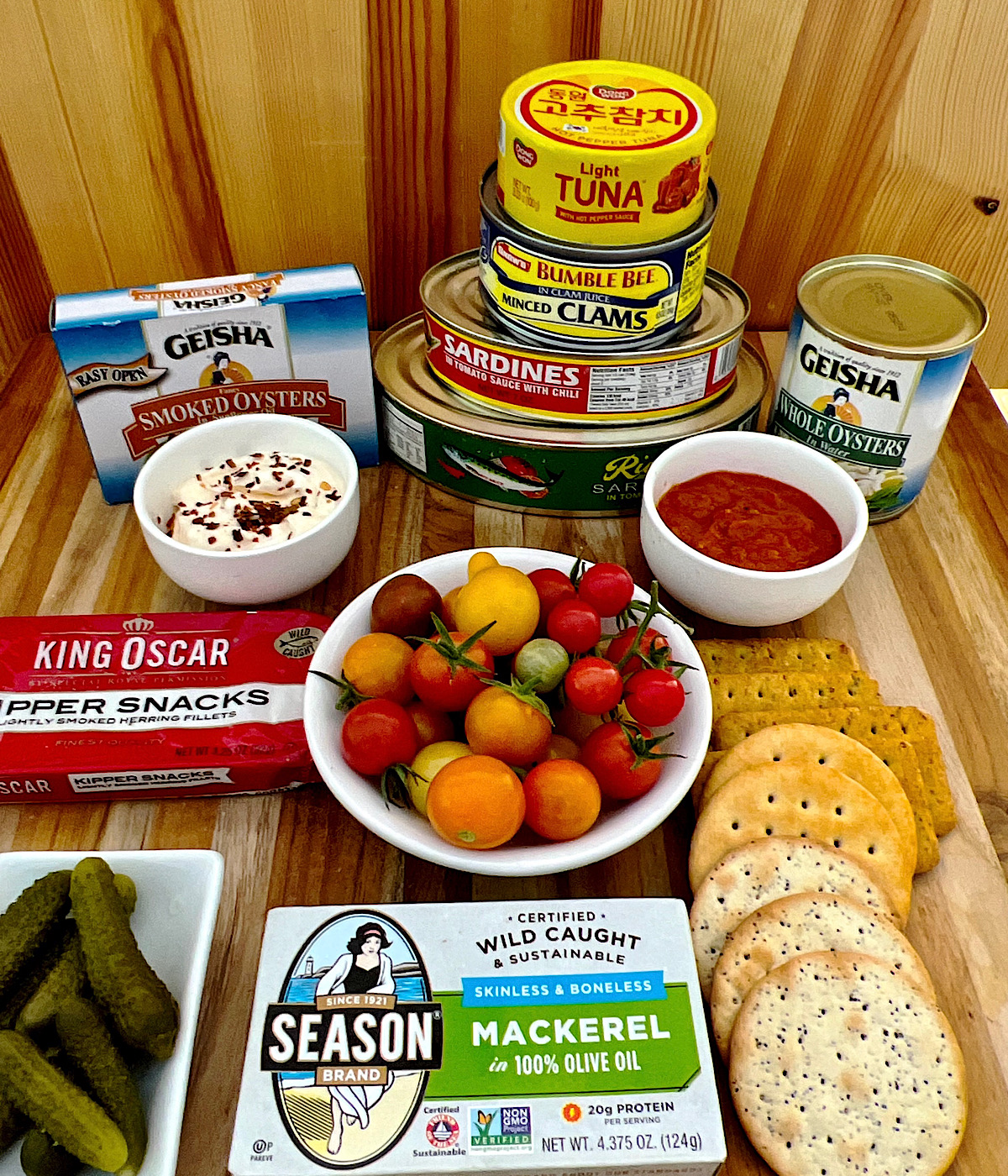 Pre-sliced smoked salmon
Smoked mackerel*
Pickled herring*
Pre-cooked (garlic) shrimp
Pre-cooked crab legs
Raw oysters
Canned sardines or anchovies
Canned clams or mussels
Store-bought (shell)fish salads
Store-bought sashimi (salmon, tuna)
Store-bought roe (fish eggs)
Drink Recommendations
There are 3 beverages that are perfect with a tinned seafood platter: a dry rose wine, a hard cider or some dry sherry. For non-alcoholic drinks a sparkling water enhanced with a shrub syrup or simple syrup is delicious and festive.
Elegant with Minimal Prep Time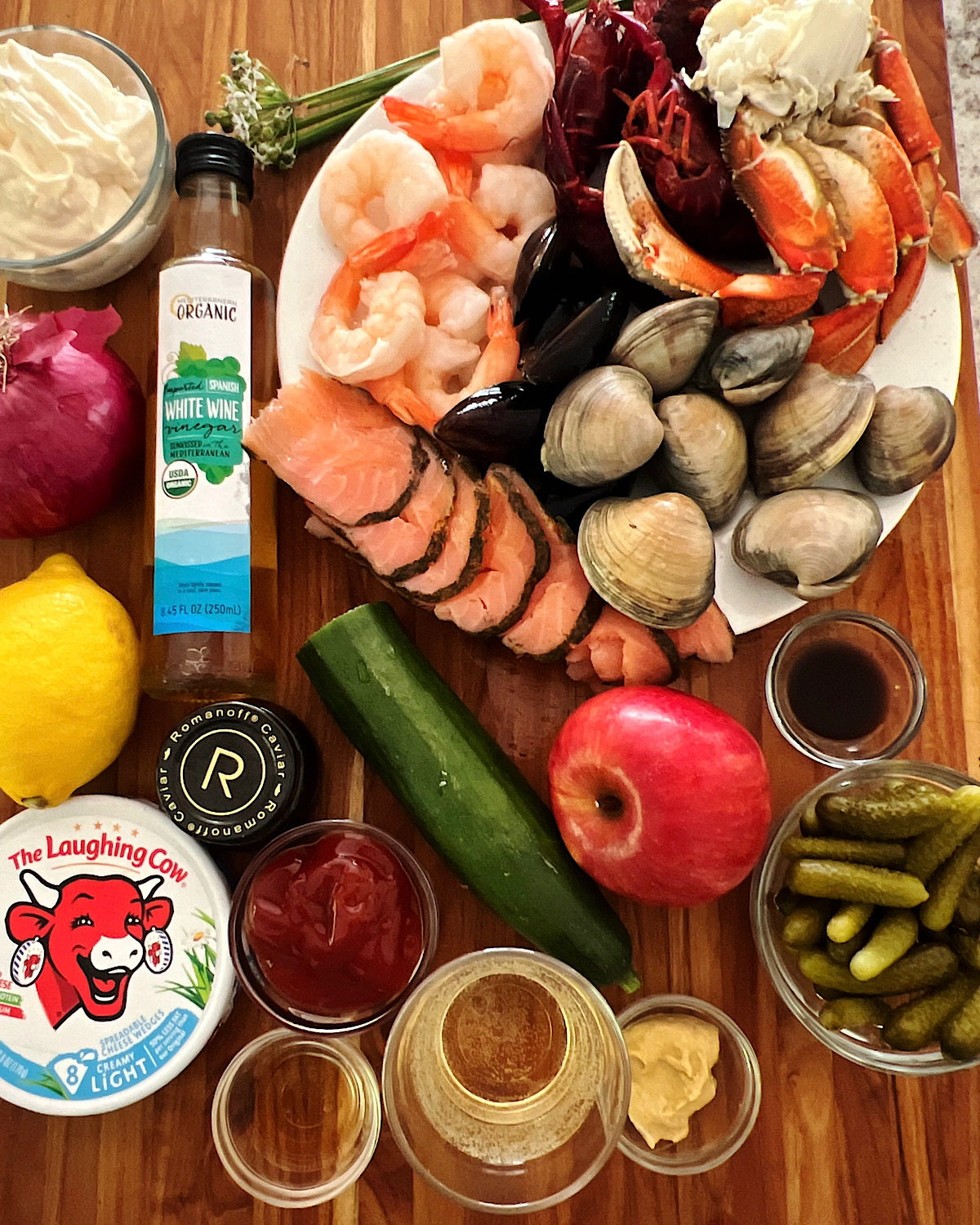 You can put together a pretty luxurious platter or seafood tower with a little work ahead of time that gives the wow factor but allows you to enjoy your company without stress. Here are the optional ideas:
Simple steamed mussels or cockles
Steamed lobster tails
Steamed crab legs
Boiled sea snails (whelks, periwinkles)
Simple homemade (shell)fish salads
Pan-seared scallops (serve in the shell)
Simple poached salmon
Wakame (seaweed) salad
Tuna-stuffed olives
Salmon and cream cheese roll-ups
Smoked fish dip
Fish roe dip
Drink Recommendations:
Dry white wine is a classic with cold seafood. I personally love a good Pinot Grigio which is a bit sweeter than some of the whites.
Luxury Seafood Platters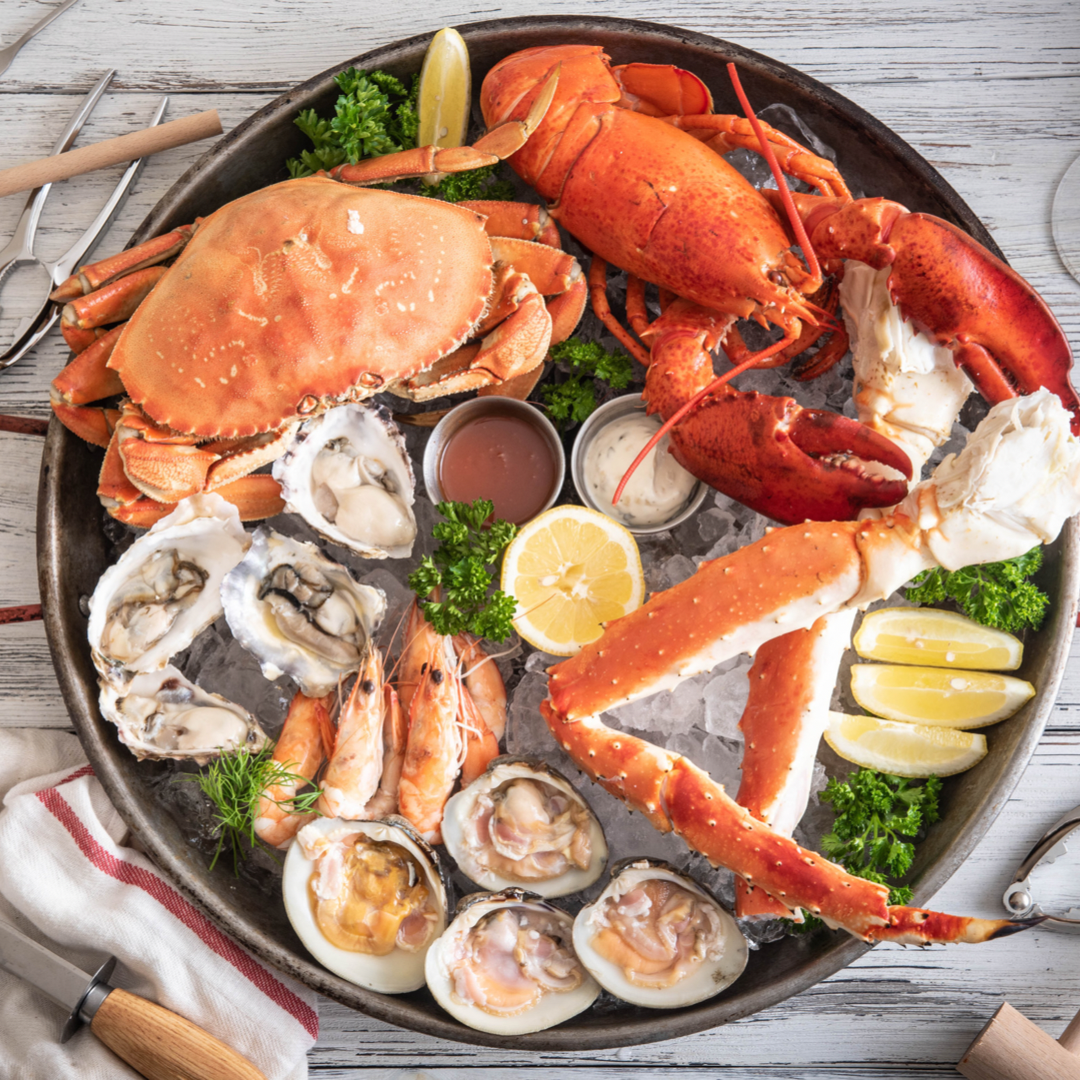 Other luxurious seafood options that might require additional cooking skills include:
Grilled whole lobster
Spanish-style fish fry (battered and fried squid rings, shrimp, white fish, whole anchovies)
Homemade garlic butter shrimp
Crab cakes or fritters
Charred octopus
Tuna tataki (seared tuna with ginger and citrus soy sauce)
Whole grilled sea bass
Drink Recommendations:
Well, a luxury seafood platter typically calls for a Champagne or a dry sparkling white wine. Some seafood lovers often prefer cold beer. Just go for a microbrew if you want to stay with the luxury theme.
Cooked Seafood vs Raw
Going for cooked vs raw seafood can be a bit of a difficult one. Both have their advantages and downsides. After all, cooked seafood involves more prep time, but the handy thing is that you can make most options the day before.
Raw seafood is ready to be served, but can be risky in terms of storage. You have to make sure you buy fresh, and your best option would be to buy it on the day itself, which can make things more stressful during the holidays. All in all, I personally tend to go for a mix.
One little hack to make things as easy as possible is using an online seafood delivery service. Because it's 2022, so of course that's a thing! Companies like Sizzlefish let you put together a box of everything you can think of (fish, shrimp, scallops, crab, lobster…) and they'll ship it to you frozen. Easy-peasy.
What Accompaniments go with the Seafood?
In addition to the options listed below you will definitely need a couple of dips. The recipe in this post includes two of our favorite dips: a mignonette dip and a basic cocktail sauce:
Now for the options to customize your platter:
The prettiest platters don't contain just seafood. For added color and to complement the flavors, add some pickles, vegetables, different dips and bread or crackers. Choose options that are tangy, fresh and garlicky, as that's what tends to go well with the platter's stars.
Here are a few of my personal favorites:
Veggies & pickles
Lemon wedges
Pickles
Capers or giant caperberries
Boiled or roast corn
Boiled or baked potato
Radish
Chicory
Cherry tomatoes
Cucumber
Avocado
Dips
Guacamole

Greek tzatziki
Cream cheese
Red tomato salsa
Mignonette (vinegar, pepper and shallot dip)
Homemade cocktail sauce**
**Check out the recipe card below for an easy homemade dipping sauce recipe that will make you never want to go for store-bought again!
Bread & crackers
Sliced baguette
Garlic bread
Sourdough bread
Cheese crackers
Cream crackers
Thin breadsticks
________________________________________________
Recipe for Minimal Prep Seafood Platter with Dips
Holiday Seafood Platter with Dips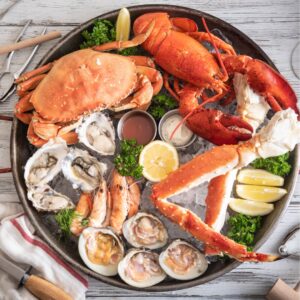 Find out to build a seafood platter for 6 the holidays, including a classic cocktail sauce and a tangy cucumber apple mignonette.
Equipment
mixing bowls

small bowls for dips
Ingredients
For the platter
1 – 2

crab leg clusters

Steamed ahead or precooked

6 – 10

jumbo shrimp

pre cooked and shelled

6

crawfish

precooked, shell on

1

Pound

live clams

Steamed ahead

4

oz

smoked Norwegian salmon slices

Or similar smoked salmon

1

tin

fish roe

1

pound

mussels

steamed, can be frozen

6

lemon wedges

1

cup

mini pickles

(cornichons)

½

cucumber

sliced

1

bunch

fresh dill or parsley

for garnish
For the pink cocktail sauce
1

cup

mayonnaise

¼

cup

ketchup

2

tsp

mustard

optional, but goes well with seafood

1

tsp

whiskey, cognac or brandy

1

crack

black pepper

Worcestershire sauce

to taste

lemon juice

to taste
For the mignonette
¾

cup

champagne or cava vinegar

2

tbsp

shallot

minced

1

quarter

apple

minced

½

cucumber

minced

2

tbsp

chives

finely chopped

1

tsp

white pepper

ground

salt

to taste
Instructions
For the platter
Assemble your platter in your preferred manner. I like to place some items in small bowls, and others directly on the board or plate. Garnish with dill/parsley, lemon wedges and pickled onion. Be sure to provide a "waste" plate for the seafood shells and used lemon wedges.

1 – 2 crab leg clusters,

6 – 10 jumbo shrimp,

6 crawfish,

1 Pound live clams,

4 oz smoked Norwegian salmon slices,

1 tin fish roe,

1 pound mussels,

6 lemon wedges,

1 cup mini pickles,

1/2 cucumber,

1 bunch fresh dill or parsley
For the cocktail sauce
Mix the mayonnaise, ketchup, mustard and whiskey/cognac/brandy and pepper together. Season to taste with Worcestershire sauce and lemon juice.

1 cup mayonnaise,

1/4 cup ketchup,

2 tsp mustard,

1 tsp whiskey, cognac or brandy,

1 crack black pepper,

Worcestershire sauce,

lemon juice
For the mignonette
Combine all the ingredients in a small, decorative bowl and whisk. Refrigerate before serving and use for the oysters. Keeps for up to 3 days in the fridge.

3/4 cup champagne or cava vinegar,

2 tbsp shallot,

1 quarter apple,

1/2 cucumber,

2 tbsp chives,

1 tsp white pepper,

salt
Additions
Crackers or breads of your choice
Notes
** The nutrition analysis is for the seafood only and does not include the dips or crackers or cheeses.
** Tinned seafood platters are currently quite popular. For a range of options for an easy tinned seafood platter, see the ideas listed in the post above.
Nutrition
Calories:
153
kcal
Carbohydrates:
6
g
Protein:
25
g
Fat:
3
g
Saturated Fat:
1
g
Polyunsaturated Fat:
1
g
Monounsaturated Fat:
1
g
Trans Fat:
0.002
g
Cholesterol:
72
mg
Sodium:
722
mg
Potassium:
556
mg
Fiber:
1
g
Sugar:
1
g
Vitamin A:
272
IU
Vitamin C:
17
mg
Calcium:
83
mg
Iron:
3
mg
Did you make this recipe?
If you tried this recipe, please give it a 5-star rating! To do this, just click on the stars above.