There is no better Fall breakfast than rich, velvety pumpkin butter slathered on toast with a cup of coffee. This homemade pumpkin butter is made with apple cider, aromatic spices, sliced ginger and a bit of orange liqueur. A video of how to can it for holiday gift giving is included.
Jump to:
Recipe
Cooking Method
Ingredients & Substitutions
Canning vs Refrigerated
This post may contain affiliate links, and you can read our disclosure information here–
As a long-time preserver, I make about 100 jars of pumpkin butter each Fall. I've made it with canned pumpkin and fresh pumpkin and I usually can it in a water bath to make it shelf stable for holiday gifts.
Here are the methods and ingredients that I think make the absolute best pumpkin butter based on my experiences.
Cooking Method
If you are making a large batch at one time, an oven roaster or a large slow cooker is best. You want a lot of surface area or it will take forever for the pumpkin butter to get thick enough to be a spread.
The recipe below was made my old GE oven roaster, which I use for all fruit butters and chutneys. It is a workhorse that never dies.
The only thing to watch is that it doesn't get too hot on the sides. Unlike a slow cooker, you should stir and scrape sides occasionally with a rubber spatula. Here is a newer version of a large oven roaster with a few more bells and whistles.
The key is to get the butter to become thick enough to spread but still retain its silky smooth texture (see photo below for what texture should look like).
For small batches you can make pumpkin butter in a large pot or a dutch oven, but you will need to check on it more often and stir more consistently. You also can't control the temperature as accurately as in an oven roaster or slow cooker.
Ingredients & Substitutions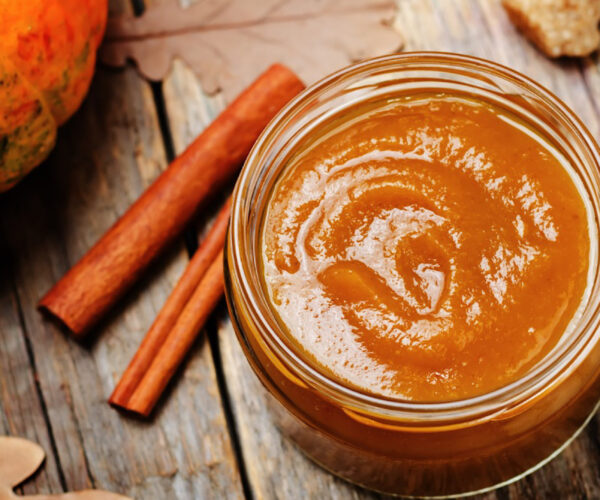 Pumpkin:
I have a small farm so I initially made the pumpkin butter with one of our Winter squashes. Sugar pie pumpkins work well, but butternut squash is what is typically used in many pumpkin recipes.
After taste testing many of these I decided that after you add spices, sugar and apple cider it is almost impossible to tell the difference between canned 100% pumpkin and fresh cooked pumpkin.
It is quite a bit easier to use canned pumpkin, which is often butternut squash in the can. Just make sure it is 100% pumpkin and not pumpkin pie filling.
Spices:
The recipe below uses a blend of aromatic spices, including cinnamon, coriander, allspice, nutmeg and ginger. If you want to keep it simple just use a pumpkin pie spice blend from the store.
The fresh spices of course allow more flexibility and flavor, especially important if you are making these as holiday gifts.
Special Flavors:
Two ingredients that take this pumpkin butter over the top is the addition of fresh apple cider and orange liqueur. The white pepper adds a bit of zing without being too spicy and the orange liqueur is a real taste treat.
You can use expensive Grand Marnier or inexpensive Triple Sec, but the orange background really adds a great flavor enhancement. If you don't want any alcohol just add some fresh orange juice instead.
And don't forget the salt! Salt is not just for a salty flavor, but it works to enhance the sweet flavors also.
Shelf Stable vs. Refrigerated
If you are giving pumpkin butter as a holiday gift, you want to make sure it is shelf stable. This means you will need to run it through a water bath for at least 10 minutes.
The recipe below gives you directions for making a large batch of pumpkin butter and the option of just refrigerating it for short term use or canning it if you intend to keep it shelf stable for a while.
Recipe for Homemade Pumpkin Butter
Homemade Pumpkin butter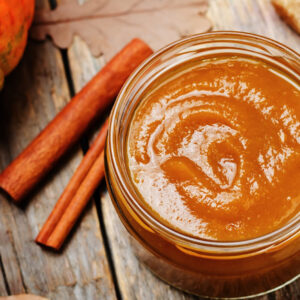 How to make pumpkin butter in a slow cooker or oven roaster.
Ingredients
9

Cups

pureed pumpkin

canned or fresh

5 ½

Cups

apple cider

1 ½

Cup

white sugar

1

Cup

brown sugar

packed

½

Cup

lemon juice

fresh

1 ½

Teaspoon

kosher salt

½

Teaspoon

white pepper

2 ½

Teaspoon

vanilla

½

Cup

orange liqueur

2

Teaspoon

cinnamon

2

Teaspoon

coriander

2

Teaspoon

allspice

2

Teaspoon

nutmeg

2-3

Teaspoon

ginger

alternatively use 1 cup fresh ginger but this would need to be removed before jarring up.
Instructions
In a large oven roaster or large slow cooker, combine all ingredients and stir together. Turn heat to about 350 and bring pumpkin mixture up to 180° F, uncovered stirring every so often.

9 Cups pureed pumpkin,

5 1/2 Cups apple cider,

1 1/2 Cup white sugar,

1 Cup brown sugar,

1/2 Cup lemon juice,

1 1/2 Teaspoon kosher salt,

1/2 Teaspoon white pepper,

2 1/2 Teaspoon vanilla,

1/2 Cup orange liqueur,

2 Teaspoon cinnamon,

2 Teaspoon coriander,

2 Teaspoon allspice,

2 Teaspoon nutmeg,

2-3 Teaspoon ginger

Reduce heat if the edges of the roaster are getting too dark and cook until spread is thick enough for a spread. If you take a spoonful of the mixture and turn it sideways, it should stay on the spoon rather than drip off (see video below)

Using a funnel, spoon mixture into jars and either let cool and then refrigerate or place in waterbath for canning
For Canning:
When pumpkin mixture is cooking, heat your jars in oven and place canning lids in simmering water to soften rubber. Get the water bath kettle up to boiling.

When pumpkin mixture is done, and while it is still hot, ladle pumpkin butter into jars, place hot lid on top and secure with the ring. Place jars in the boiling waterbath for 10 minutes.

Remove and let cool.
Nutrition
Serving:
2
Ounces
Calories:
32
kcal
Carbohydrates:
7
g
Protein:
0.2
g
Fat:
0.1
g
Saturated Fat:
0.04
g
Polyunsaturated Fat:
0.01
g
Monounsaturated Fat:
0.01
g
Sodium:
31
mg
Potassium:
53
mg
Fiber:
1
g
Sugar:
6
g
Vitamin A:
2860
IU
Vitamin C:
1
mg
Calcium:
8
mg
Iron:
0.3
mg
Did you make this recipe?
If you tried this recipe, please give it a star rating! To do this, just click on the stars above. Comments are always helpful also and I respond to all of them (except rude ones)