This buttery galette dough makes a free-form tart that is not only easy but is crisp and flaky and can be made ahead by several days without drying out. The filling is the popular New England combination of apples and cheddar cheese, along with aromatic Fall spices.
Jump to:
RECIPE
Ingredients & Substitutions
Illustrated Step by Step
Make Ahead Dough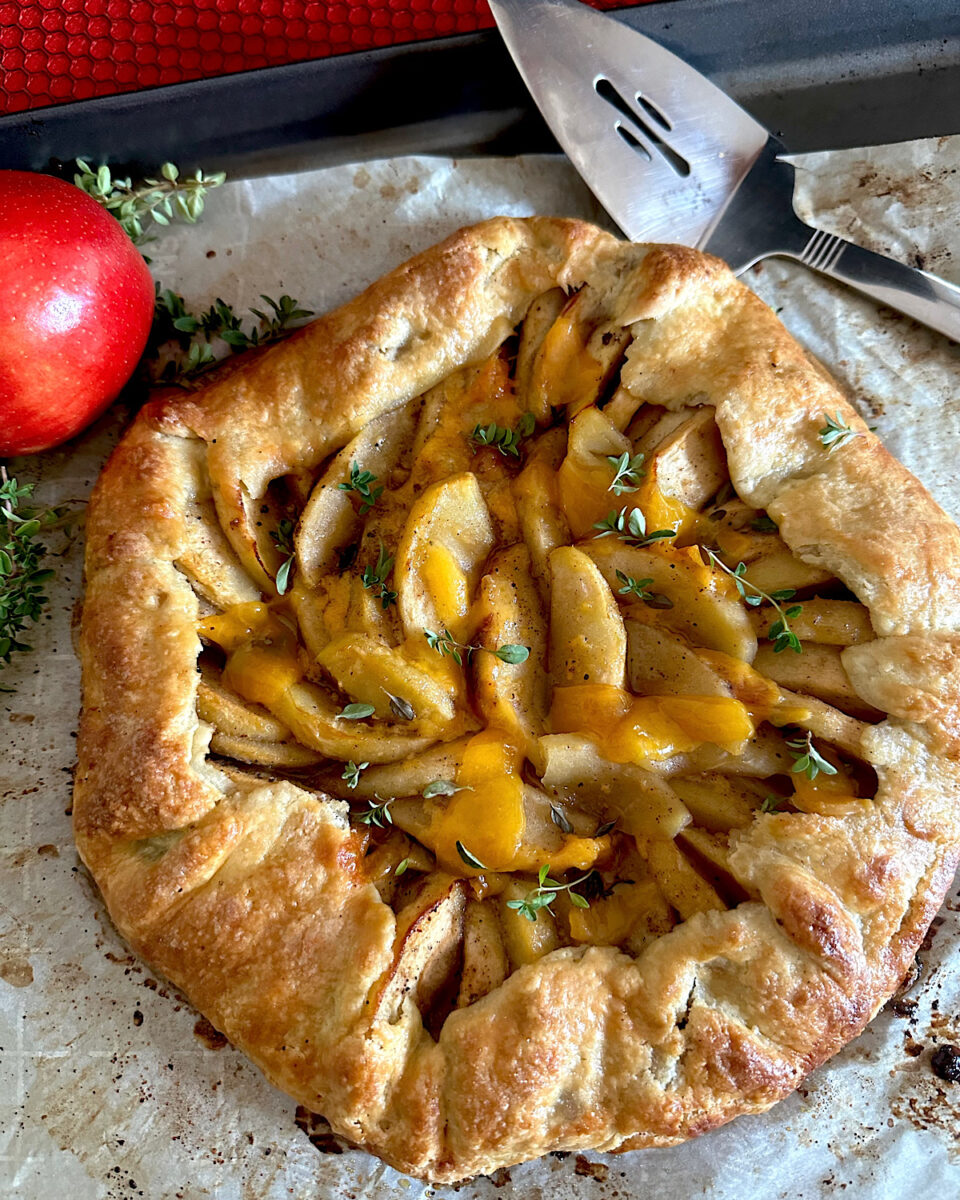 This post may contain affiliate links, and you can read our disclosure information here–
Galette vs Crostata
A galette is a rustic freeform crust that only partially encloses the filling; a filling which can be sweet or savory. Unlike a pie which is baked in a pie pan, often with a top crust, galettes are baked right on the baking sheet.
The difference between a galette and a crostata is indistinguishable for all intents and purposes. Crostata is the term that Italians use for the galette, but they are basically the same thing.
Ingredients & Substitutions
There are as many variations of a galette crust as there are for pie crusts. The recipe below made an incredible crisp and buttery crust with just a touch of sugar.
I am not a baker, but I was so pleased with this crust that I couldn't stop sharing (and bragging a bit). It's going on our Thanksgiving table for sure.
Once you find a crust that works I wouldn't mess with substitutions. The apple filling however can stand up to many substitutions. Here are a few that would work:
Substitutions for the Apple Fillling
Spices: I love cardamom and cinnamon is a must with apples. Many cooks prefer ginger, allspice, cloves, nutmeg and any of the other warming spices. Customize to your preferences!
Apples: any firm apple that is not too sweet. I wouldn't use Delicious apples, but all others or a mix is fine
Sugar: I used brown sugar, but white is fine
Cheese: Medium cheddar or sharp cheddar is the classic match with apple pie. It's a New England tradition that I wouldn't mess with
Thickener: I used corn starch, but some cooks will use tapioca or flour as a thickener. The corn starch held the tart together nicely
Illustrated Step by Step
Detailed directions can be found in the recipe card below. Here is a visual summary of the directions: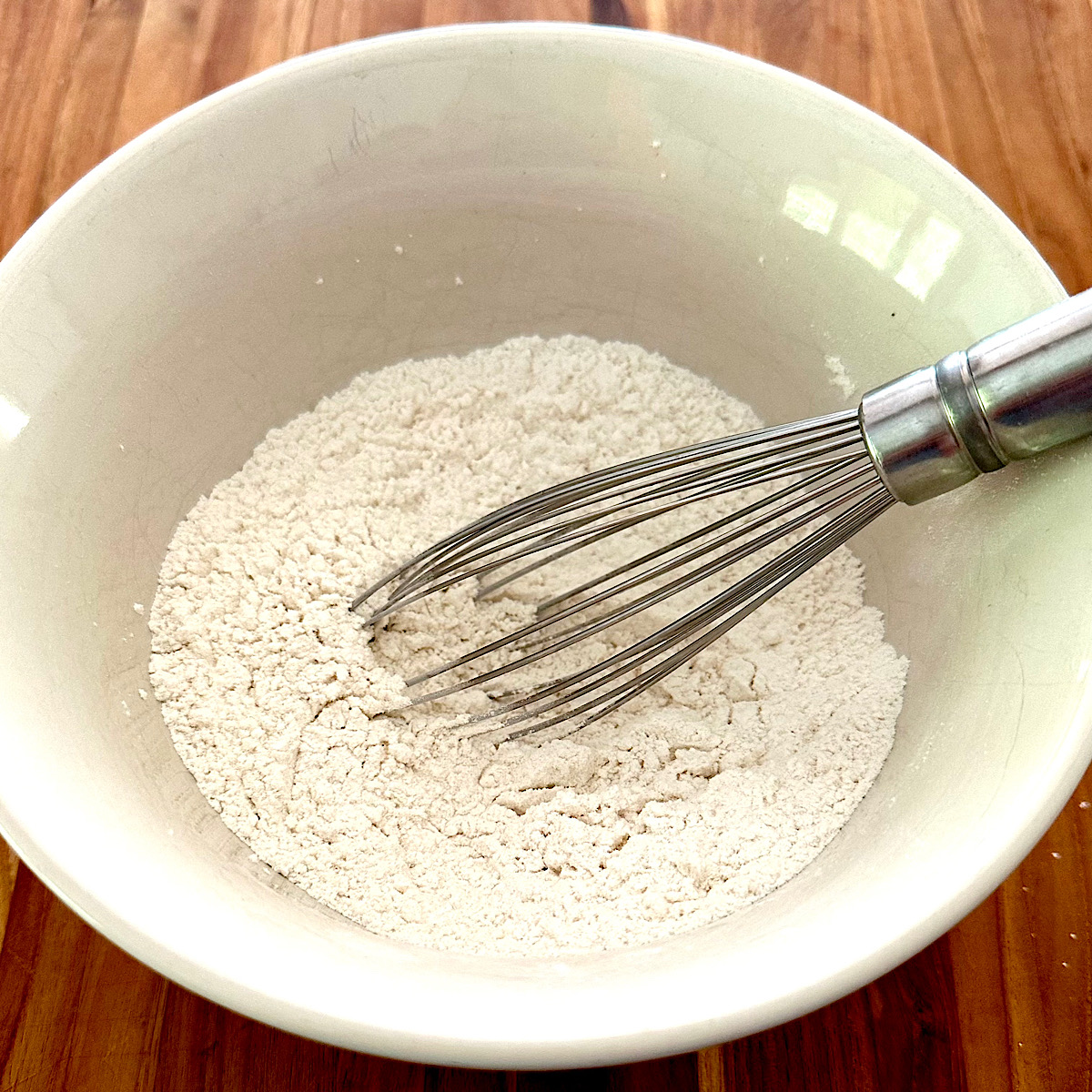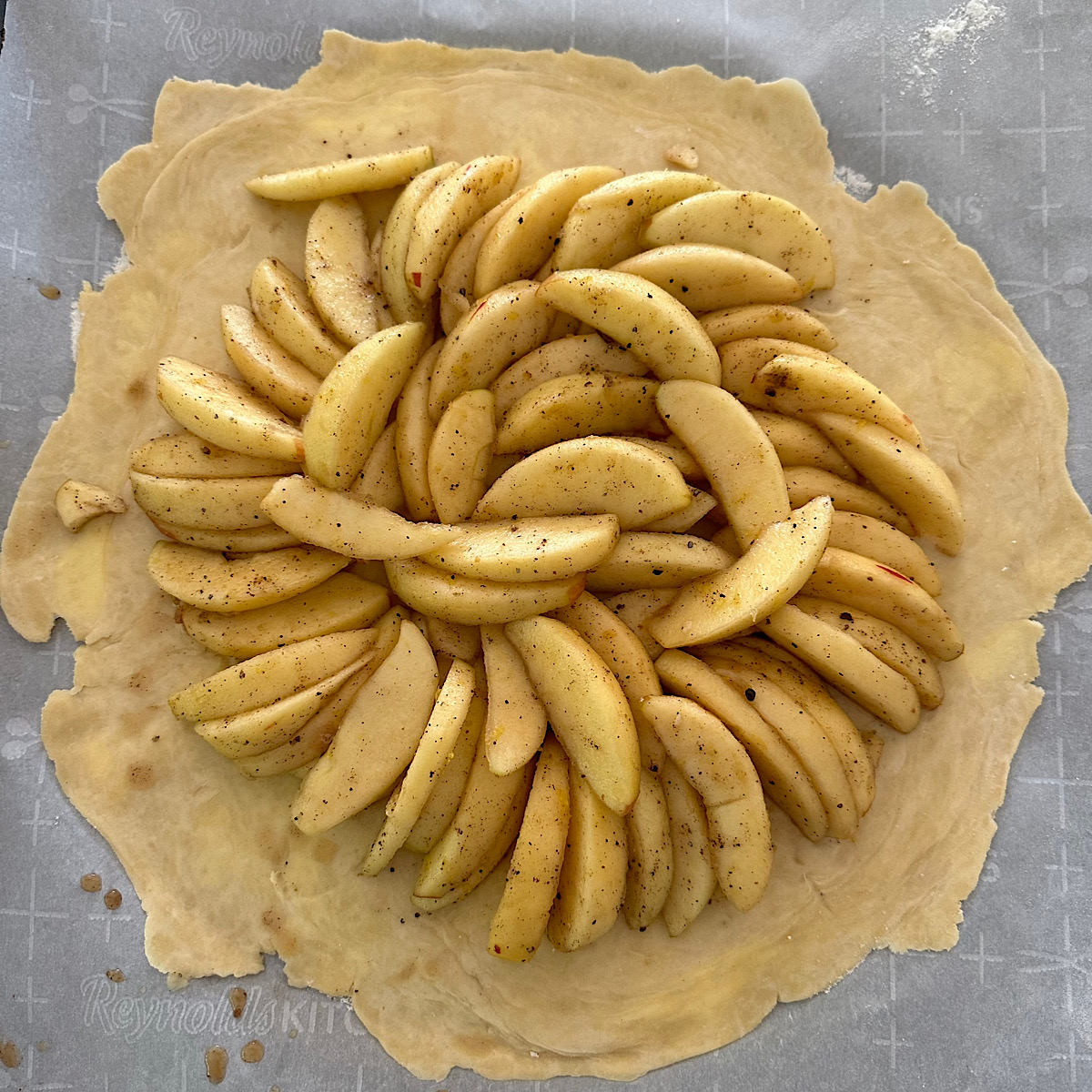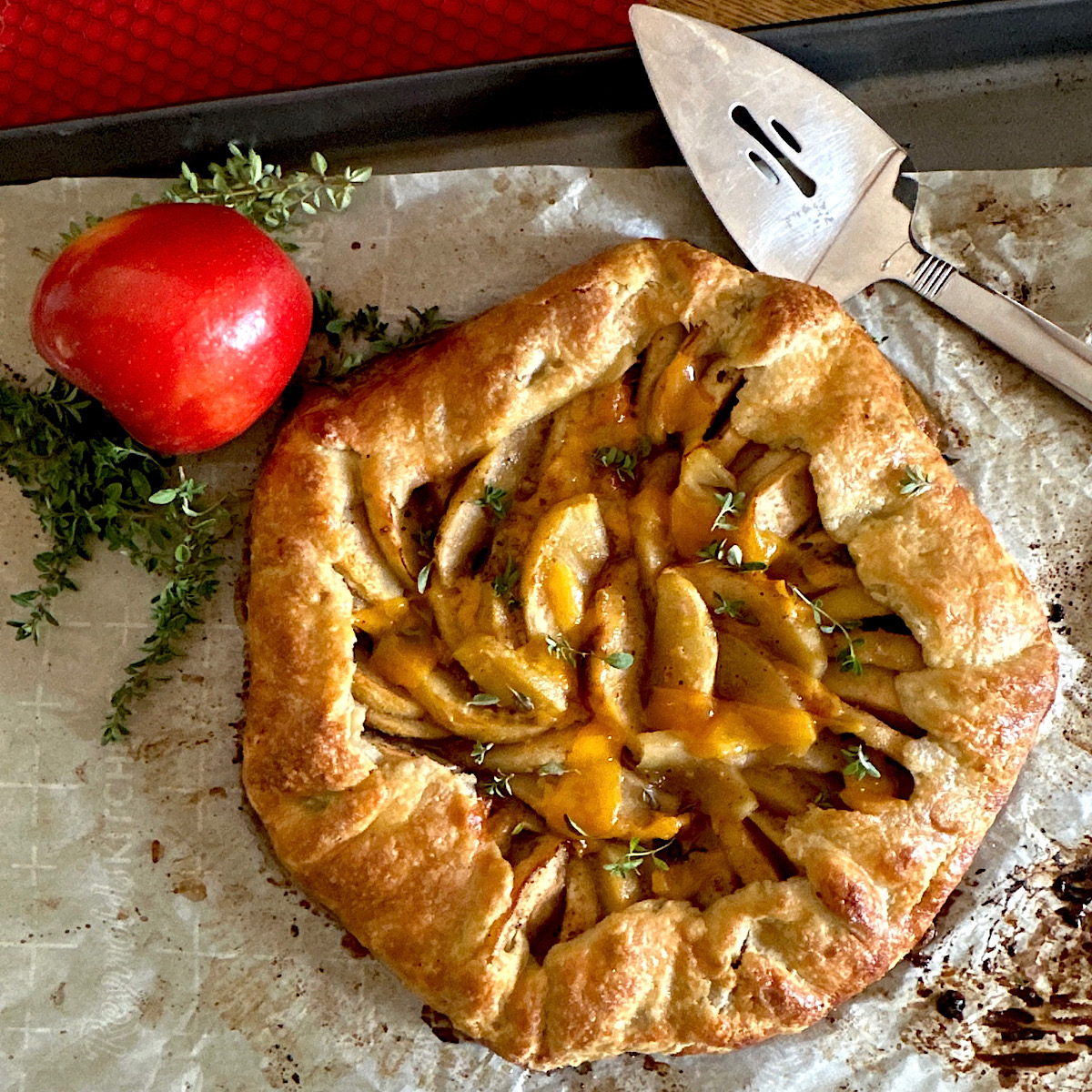 Tip: The filling of the galette shouldn't be very high. It is somewhat of a flat desert with just the right about of dough and filling. A 12-14 inch round is enough to enclose 2 pound of fruit.
Make Ahead Dough for Apple Galette
Make ahead dough: This dough can be made 3 days ahead, wrapped in cling wrap, and kept chilled, until ready to roll out.
To freeze dough: wrap tightly with cling wrap to prevent freezer burn. Freeze up to 3 months. Thaw overnight in the refrigerator and warm slightly on the counter before rolling out.
To store baked galette: keep the galette at room temperature on the day it is baked. Wrap leftovers in plastic wrap or foil and place in fridge
If you make and love this recipe, please leave a ★★★★★ review below and any comments others might find helpful. It means a lot to me when you try my recipes, and I'd love to know how it goes.
Apple Cheddar Galette
A rustic flaky tart made with apples and cheddar cheese, a combination popular in New England.
Ingredients
For the Crust:
1 ½

cups

all purpose flour

1 ½

teaspoons

sugar

¾

teaspoons

kosher salt

12

tablespoons

butter

(1 1/2 sticks); 3/4use high fat butter (Plugra/Kerrygold)

¼

cup

water

up to 1/3 cup
For the Filling:
1 ¾

pounds

apples (not Delicious)

about 5 medium apples

½

lemon

juiced

¼

cup

brown sugar

packed

½

teaspoon

cinnamon

½

teaspoon

cardamom

½

teaspoon

allspice

1

tablespoon

corn starch

½

teaspoon

lemon zest

1

egg

coarse sugar

optional

½

cup

cheddar cheese

grated

fresh thyme leaves

optional
Instructions
In a large bowl, whisk together flour, sugar and salt.

Cut the chilled butter into small pieces and add to the bowl. Mix together with your hands, squeezing the butter as you blend it into the flour. There will be bits of butter still showing.

Alternatively use a stand mixer with the paddle attachment and pulse the butter into the dry ingredients.

1 1/2 cups all purpose flour,

1 1/2 teaspoons sugar,

3/4 teaspoons kosher salt,

12 tablespoons butter

Add 1/4 cup to 1/3 cup water to the dough and work it into a ball with your hands. Do not overwork; the butter will still show up in the batter as not thoroughly incorporated.

Wrap dough ball in cling wrap and place in refrigerator to chill for at least 1 hour (up to 2 days).

After the dough has chilled at least 1/2 hour start making the filling.

Peel, core and quarter the apples and place them in a bowl of water with the lemon juice added to keep them from discoloring.

Slice the apple quarters into 1/4 slices putting them back in the lemon water after slicing.

1 3/4 pounds apples (not Delicious),

1/2 lemon

Drain the apples thoroughly and place in a bowl. Add the sugar and spices and gently mix in to the apples. Add the corn starch and lemon zest and gently mix into the spiced apples.

1/4 cup brown sugar,

1/2 teaspoon cinnamon,

1/2 teaspoon cardamom,

1/2 teaspoon allspice,

1 tablespoon corn starch,

1/2 teaspoon lemon zest

Remove dough from fridge and let it warm slightly. Flour a large piece of parchment paper and flour the rolling pin and start rolling out the dough. Roll into a 12-14 inch round (it will be 1/8 to 1/4 inch thick).

When it is rolled out to the right size, slide the parchment paper onto a baking sheet and start arranging the apples on the dough. Arrange them overlapping in a concentric circle, leaving 2 inches all around the perimeter. (see illustrated steps in the post above).

Now, use the edges of the parchment paper to bring the dough up and around the apple filling, peeling the paper back down to the baking sheet. You will be pleating it every so often to make sure the filling is enclosed in the crust.

Lightly beat the egg with a touch of water and use a pastry brush to coat the crust edges. Sprinkle with sugar (coarse sugar if you have it).

Bake at 400 F for 15 minutes. Lower heat to 375 and bake another 20 – 25 minutes (crust should be golden brown. Sprinkle the filling with cheddar cheese and bake another 5 minutes or until cheese is melted. Crust should be deep golden brown.

Garnish with fresh thyme and let cool on a baking rack for 30 minutes so juices can thicken.

Best served within 2 days.

1/2 cup cheddar cheese,

fresh thyme leaves
Notes
NOTES:
A lot of recipes suggest working the flour and butter until you have uniform "pea-size" pieces. You actually want uneven pieces of fat, and the dough is already overworked if all the fat is pea-size.

I like to make dough with my hands but you can use a stand mixer with the paddle if you prefer. Just be sure not to overwork it.

Work quickly to form the dough ball and keep it chilled while making the filling. If the dough rolls out crumbly and cracked at the edges, it will be difficult to pleat; too wet and it will tear; Cold dough is the key to a successful galette, as well as the secret to extra-flaky, extra-crispy crust.
Nutrition
Calories:
411
kcal
Carbohydrates:
37
g
Protein:
7
g
Fat:
27
g
Saturated Fat:
16
g
Polyunsaturated Fat:
1
g
Monounsaturated Fat:
7
g
Trans Fat:
1
g
Cholesterol:
97
mg
Sodium:
547
mg
Potassium:
87
mg
Fiber:
1
g
Sugar:
10
g
Vitamin A:
837
IU
Vitamin C:
5
mg
Calcium:
96
mg
Iron:
2
mg
Did you make this recipe?
If you tried this recipe, please give it a star rating! To do this, just click on the stars above. Comments are always helpful also and I respond to all of them (except rude ones)