Move over, fake-tasting and sugary supermarket vanilla vodka! Find out how to make delicious vanilla vodka yourself at home using just two ingredients: vodka and real vanilla beans.
Jump to:
RECIPE
Ingredients
Method
Ideas for Drinks
This post may contain affiliate links, and you can read our disclosure information here–
I love playing around with making my own liqueurs! Whether it's something summery like blueberry-infused liqueur or a more wintery recipe like this vanilla vodka, homemade pretty much always beats store-bought.
Vanilla vodka is the perfect addition to a range of cocktails and drinks (scroll down for a bunch of delicious recipe ideas). It also makes a nice and thoughtful gift for the holidays. Not a lot of work involved either: just a few simple ingredients, and most importantly, time.
Vanilla Vodka Ingredients
Vanilla Beans Or Extract?
Although adding vanilla extract to a bottle of vodka results in a nicely vanilla-ish liqueur, I don't feel it gives the same level of depth that using real vanilla beans does. I know they're a bit pricey, but they're worth it!
Any type of vanilla pod will work for this recipe. You'll need one for every 2 cups of vodka.
Regular Or Top Shelf Vodka?
Although you don't need a bottle of pricey Grey Goose for your homemade vanilla vodka, it's not a good idea to use bottom-shelf stuff either. After all, the vodka does take center stage in this recipe, so the quality of the booze you use does really affect the flavor of the final product.
I used Smirnoff for my vanilla vodka, as it's neutral in flavor. Just go with your own favorite vodka brand!
Sugar Or No Sugar?
Ahh, that is the question! I have opted not to use sugar for my vanilla vodka, as I feel it makes for a more versatile liqueur.
After all, you can add simple syrups when you make a cocktail, but you can't take the sugar out of the vodka if you want to make a drink that doesn't taste sweet.
If you like your drinks sweet all the time, feel free to use sugar. About 1/4 cup per 2 cups of vodka should work, or double that if you have a sweet tooth.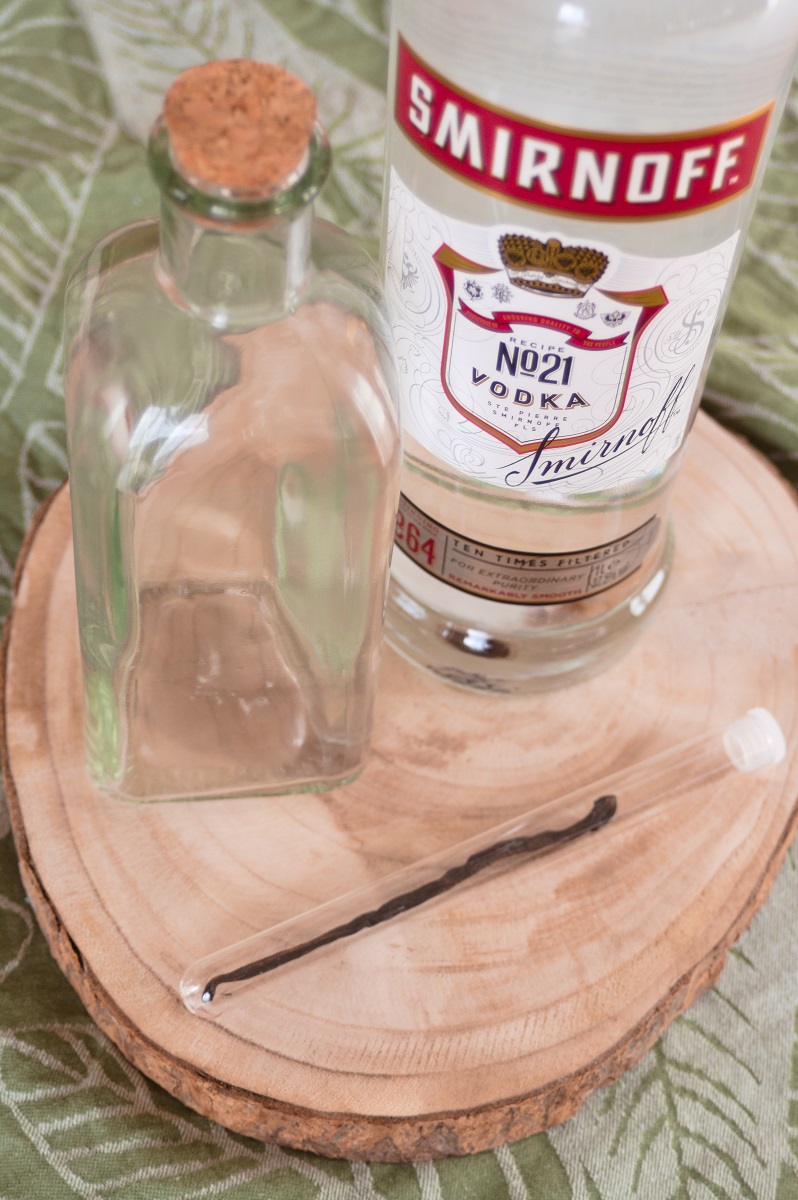 Vanilla Vodka Method
The one thing I love most about these homemade liqueurs is that they're a breeze to make. It just takes time, plus a nice sealable bottle to store your final product in.
Here's how to make vanilla vodka:
Score the vanilla bean(s) lengthwise with a knife to release their flavor.
Pour the vodka into the resealable bottle and add the vanilla bean(s), plus sugar if you're using it.
Give the whole thing a good shake and set aside.
Shake every 1-2 days.
After 2 weeks, you can give your vanilla vodka a taste. Leave it for longer for stronger flavor, up to a month.
Remove the vanilla bean.
That's all there is to it! Your homemade vanilla vodka is ready to use.
Vanilla Vodka Drink Ideas
Espresso martini: add a touch of vanilla to this classic! Vanilla vodka works especially well for flavor variations like the chai espresso martini.
Orange creamsicle: combine vanilla vodka with orange soda or orange juice and whipped cream for a cocktail that tastes just like an orange popsicle.
Porn star martini: it's totally back in style! Vanilla vodka, passionfruit liqueur, fresh passionfruit, and a shot of champagne or sparkling wine on the side.
Blackberry & vanilla vodka lemonade: totally refreshing and perfect for summer, this one is made with vanilla vodka, fresh lemonade, and blackberry syrup.
Spiked Mexican coffee: you can use my spicy Mexican coffee recipe and pour in a cheeky shot of vanilla vodka for a boozy, warming drink to have by the fireplace.
Blueberry martini: vanilla vodka + blueberry simple syrup + triple sec + lemon juice = a fancy-looking and delicious "martini".
White Russian: vanilla vodka, coffee liqueur, and cream are all you need for this highly decadent classic.
Shots with vanilla vodka:
Vanilla vodka Jell-O shots: just Jell-O, vanilla vodka and water!
Pineapple upside-down cake shots: these layered shots with grenadine, pineapple juice and vanilla vodka just look very pretty, especially with a cheeky maraschino cherry on top.
Apple pie shots: made with vanilla vodka, apple cider, cinnamon whiskey and cinnamon-sprinkled whipped cream on top, these do taste just like liquid apple pie.
Give them a try and be sure to leave a comment telling me which one was your favorite!
If you make and love this recipe, please leave a ★★★★★ review below and any comments others might find helpful. It means a lot to me when you try my recipes, and I'd love to know how it goes.
How To Make Vanilla Vodka
Homemade Vanilla Vodka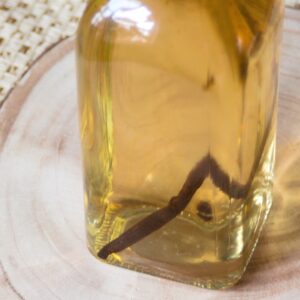 Real vanilla beans make the best vanilla-flavored vodka, and it's easy too!
Ingredients
16

oz

vodka

1

vanilla bean

see notes

¼

cup

sugar

optional
Instructions
Score the vanilla bean lengthwise with a knife.

Pour the vodka into your resealable bottle, then add the vanilla bean, plus sugar if you're using it.

16 oz vodka,

1 vanilla bean,

1/4 cup sugar

Shake well. Set aside and shake every other day or so.

Taste after 2 weeks. Remove the vanilla bean if you're happy with the flavor, or leave it for up to two more weeks.

Use your homemade vanilla vodka in your favorite cocktail recipes. Cheers!
Notes
There are loads of different types of vanilla beans out there: Madagascar, Tahiti, Uganda, and more. Their flavors are subtly different, but for this recipe, it doesn't matter too much. Just use whichever you can find.
Nutrition
Calories:
132
kcal
Carbohydrates:
0.2
g
Fat:
0.1
g
Sodium:
1
mg
Potassium:
1
mg
Iron:
0.01
mg
Did you make this recipe?
If you tried this recipe, please give it a star rating! To do this, just click on the stars above. Comments are always helpful also and I respond to all of them (except rude ones)