Got blueberries to spare or some in the freezer? Or maybe a questionable bottle of vodka that needs a little help? Making blueberry infused vodka at home is a breeze. It makes a fun gift and a great addition to a bunch of refreshing summer porch cocktails!
Jump to:
Blueberry Vodka Lemonade RECIPE
Ingredients for Blueberry Vodka
Method for Infused Vodka
Cocktail Ideas for Blueberry Vodka
This post may contain affiliate links, and you can read our disclosure information here–
Homemade Blueberry Infused Vodka
Ingredients
One of the reasons I love making my own blueberry infused liquors is that you don't need a bunch of different ingredients. The recipe is very basic, but it tastes great. And since the end result will last at least a year, it's also a great way to preserve your blueberry harvest!
Here's what you'll need for one bottle of blueberry infused vodka:
Blueberries (2 cups): Use your own harvest or store-bought. Frozen blueberries, as I'm using here, are absolutely fine. Even dried ones should do the trick!
Vodka (700cl bottle): Since we're adding our own flavorings, it doesn't have to be top-shelf. Mid-range is absolutely fine, and this method can even help you make bad vodka taste acceptable.
Sugar (1/2 cup): Flavored liquors are usually sweetened. You don't have to add sugar, but it does really help the blueberry flavor come through.
Lemon juice (1 lemon): Another addition that makes the blueberries shine.
Vanilla extract: I think it pairs wonderfully with blueberries! You can use your own favorite herbs, spices or extracts, though.
You'll also need a nice bottle or jar to store your infused vodka in. It should be slightly larger than the original vodka bottle, as it'll have to accommodate the blueberries as well as the booze. I found a pretty 1L gin bottle that worked perfectly for mine.
Method for Infusing Fruit into Alcohol
Gathering the ingredients is the most time-consuming part of making your own blueberry infused vodka. The rest of the preparation takes just a minute: simply cram the blueberries into your bottle or jar, add the other flavorings and then pour in the vodka.
After this, it's a matter of patience. Leave the blueberries to infuse for at least two weeks, giving the bottle a gentle shake on a regular basis. The berries will turn pale as their flavor is released into the vodka.
Once you're happy with the flavor, you can strain out the blueberries, although it's also fine to just leave them in. Place in a pretty container with a tag as a nice gift, or use your infused vodka to make a variety of different summer cocktails – like blueberry vodka lemonade, for which you can find a recipe below!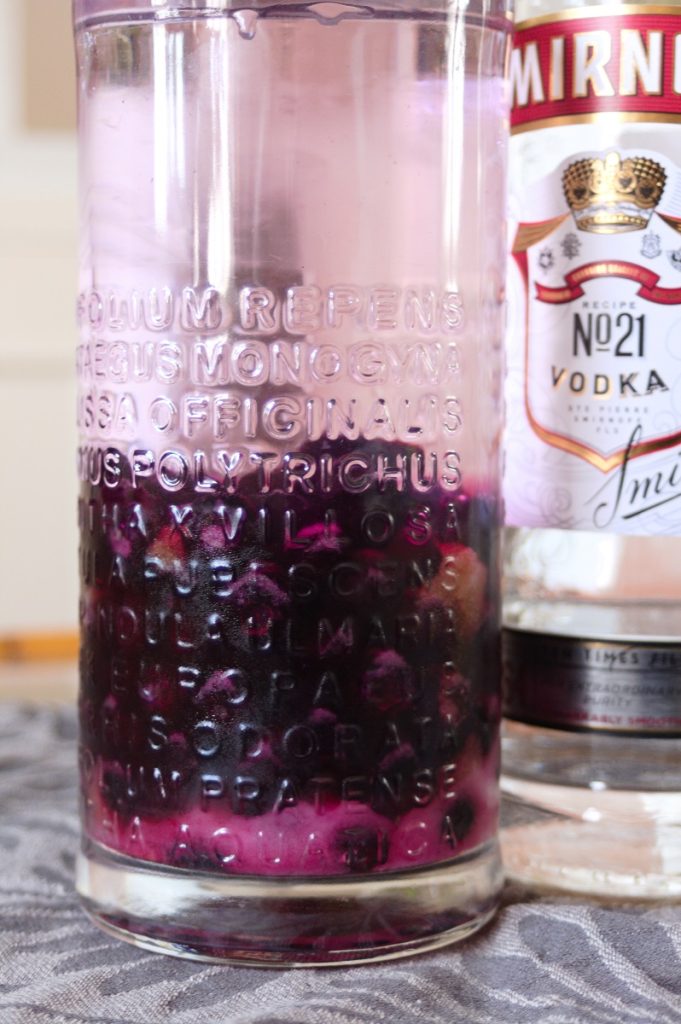 Cocktail Ideas Using Blueberry Vodka
Sweet and tart blueberry vodka goes well with a lot of things, but here are a few of my favorite ideas for cocktails:
Blueberry martini (blueberry vodka + Cointreau + simple syrup + lemon juice)
Blueberry prosecco (blueberry vodka + prosecco + fresh blueberries)
Blueberry Moscow mule (blueberry vodka + ginger beer + lime juice)
Blueberry vodka lemonade (recipe below!)
Bonus: Blueberry Vodka Lemonade Recipe
I've tried my homemade blueberry infused vodka in a bunch of recipes (as well as straight from the bottle, because you gotta make sure the flavor is right!), but there's one that stands out for me. This blueberry vodka lemonade is the perfect balance of tart, sweet and ultra-refreshing, perfect for hot summer days.
In my recipe, I make my own lemonade, which is easy as pie and highly recommendable to take your cocktails to the next level. If you're short on time, though, you can also just use store-bought.
Other than the lemonade and blueberry vodka, all you'll need are some extra blueberries, lemon slices for garnish, ice, and sparkling water to top it all off.
Blueberry Vodka Lemonade
Homemade blueberry-infused vodka adds a kick to refreshing, summery lemonade.
Equipment
2 cocktail glasses

I like gin-tonic glasses

1 cocktail muddler
Ingredients
For the lemonade
1

cup

water

1

cup

sugar

1

cup

lemon juice
For the cocktail
3

oz

blueberry-infused vodka

see notes

2

tbsp

fresh blueberries

for muddling and garnish

3

cups

lemonade

see above or see notes

2

cups

sparkling water

2

lemon slices

for garnish

ice
Instructions
For the lemonade
Place the sugar and water in a small saucepan. Bring to a boil, stir until the sugar has dissolved and let simmer for 5 minutes to make your simple syrup. Let cool.

Stir the lemon juice into the simple syrup.
For the blueberry vodka lemonade
Add half the blueberries to your cocktail shaker with the vodka and muddle.

3 oz blueberry-infused vodka,

2 tbsp fresh blueberries

Add lemonade and a few ice cubes. Shake vigorously.

Fill the cocktail glasses with the desired amount of ice and strain the liquid into them.

Top with sparkling water. Garnish with lemon slices and blueberries. Cheers!

2 cups sparkling water,

2 lemon slices
Notes
Don't have time to wait around for blueberries to steep in a bottle of vodka? Don't fret! You can buy premade blueberry vodka or mix regular vodka with blueberry syrup. Heck, you can even make the blueberry syrup yourself – it's easy and quicker than infusing vodka.
And of course, if you don't feel like making your own simple syrup for homemade lemonade, you can absolutely use store-bought for that as well. Or if you want to go half-homemade, you can even mix store-bought simple syrup with fresh lemon juice!
Nutrition
Calories:
642
kcal
Carbohydrates:
141
g
Protein:
1
g
Fat:
1
g
Saturated Fat:
0.1
g
Polyunsaturated Fat:
0.1
g
Monounsaturated Fat:
0.02
g
Sodium:
71
mg
Potassium:
155
mg
Fiber:
1
g
Sugar:
133
g
Vitamin A:
23
IU
Vitamin C:
50
mg
Calcium:
25
mg
Iron:
0.3
mg
Did you make this recipe?
If you tried this recipe, please give it a star rating! To do this, just click on the stars above. Comments are always helpful also and I respond to all of them (except rude ones)