While blueberries are great on their own (or in smoothies), adding some sort of crunchy "crust" enhances the flavor by 10x. Check out these tips for making an easy crust that adds crunch and flavor to your berry crisp (recipe includes low carb version). And it's easy to freeze in large batches!
Jump to:
RECIPE
Crumbles vs Crisps vs Cobblers, etc.
Pro Tips for Flavor
Keeping the Topping Crisp
Video of Recipe
More Low Carb Berry Desserts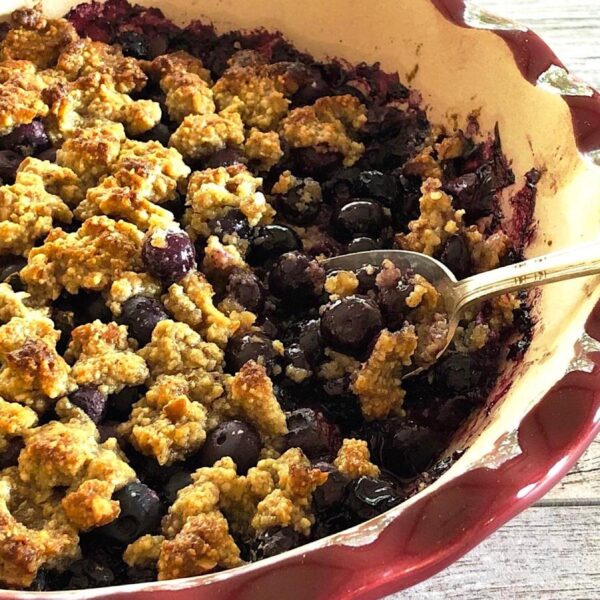 This post may contain affiliate links, and you can read our disclosure information here–
Difference between crisps, crumbles, cobblers, buckles & bettys
So, like all information these days there are many views and much debate over the "authentic truth". Rather than promote any particular opinion, I am going to give you the run down from the Farmers' Almanac. These desserts go way back in time so I figure the old time Almanac is as close to truth as it gets.
Crisp: A crisp is fruit dessert with a topping made of a combination of oats, flour, butter, and sugar (and sometimes nuts). The topping completely covers the fruit and is baked. It is also sometimes called a crumble. This Blackberry Apple Crisp is my all time favorite crisp (not low carb though).
Crumble: Crumbles are very similar to crisps, but the name originated in England. Both contain fresh fruit and are covered with a streusel topping that gets baked. Crumble toppings, however, usually do not contain oats, whereas crisp toppings do.
Cobbler: Cobblers are a fruit dessert baked with biscuit-style topping. It's called a cobbler because its top crust is not smooth like a pie crust but rather "cobbled" and coarse. It's usually dropped or spooned over the fruit, then baked, as in this strawberry-rhubarb cobbler.
Buckle: A buckle consists of fruit and cake baked together, with a streusel topping. As it bakes the fruit and streusel topping makes the cake "buckle." It very much resembles a coffee cake.
Brown Betty: A Brown Betty (as in "Apple Brown Betty") is similar to a crisp, but has no oats in its buttery crumb topping. And rather than having the topping solely on top of the fruit, it's layered throughout, then baked.
I'm calling the recipe below a "crumble" even though it does have nuts.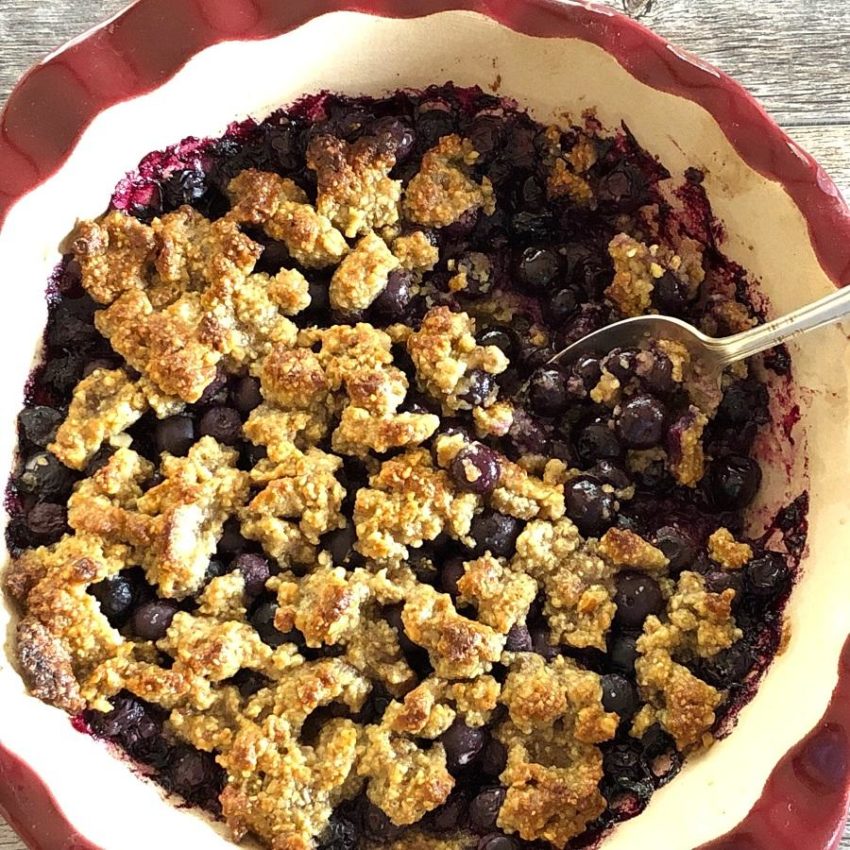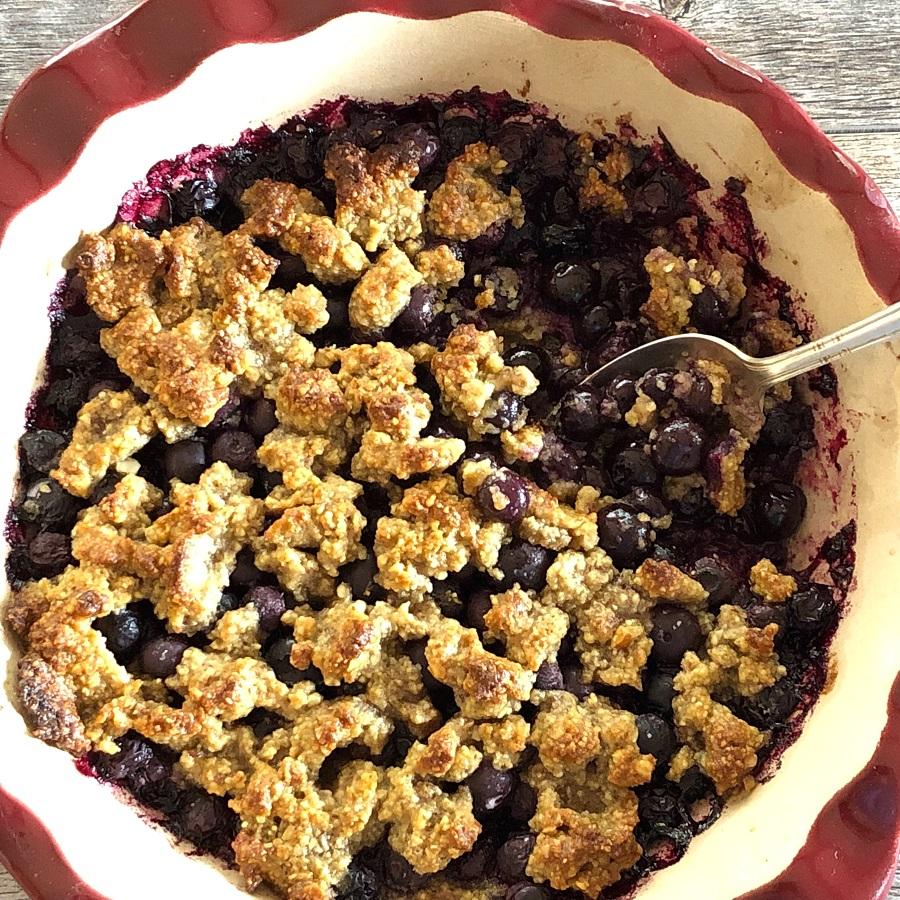 Tips for making the "best" low carb blueberry crumble
Add some nuts for crunch
Don't fret about cosmetics. These are "rustic" desserts and are not meant to have perfectly formed or fluted or criss-crossed crusts. The taste is what matters here and just try for a balance between creamy blueberry filling and a crunchy crust.
Check out the video for a great way to grate the butter into the crumble topping. You can also use a pastry cutter or a fork and knife, but the grater method is pretty slick
Xanthum gum is the thickener I used instead of cornstarch. You don't really need to use either one. Just know that the filling won't be as thick without one of those thickeners. Still good, but more runny
You can use frozen berries if you don't have fresh. You can use a mix of different berries. You can also use stone fruit like peaches. Remember it's rustic and rustic gives you a lot of leeway to experiment without failure
Lastly, you can freeze the crumble mixture and pull it out any time you have some fruit to work with.
(See video below for the step-by-step way to make this delectable dessert)
Pro Tip: This recipe is low in sugar. If your berries are sweet you can decrease the sugar even more. If your berries are tart you may want to add sugar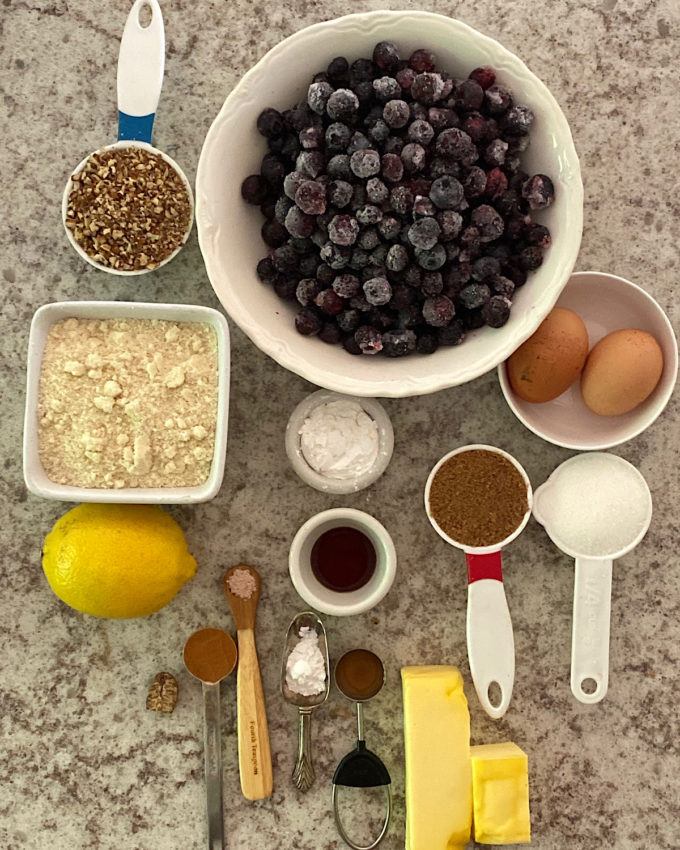 How to Keep the Topping Crisp
If the topping and the berry filling cook together for the same amount of time, the butter in the topping will often mix with the berries, causing it to lose some of its crispness.
I have found it helpful to make the topping ahead of time (it can be refrigerated or frozen) and add it to the dish for the last 15 minutes of baking. It stays "crisper" that way.
Best Accompaniment: Whipped Cream with Soft Peaks
Whipped cream can be a low carb (not low calorie) accompaniment to crisps and crumbles. You can quickly and easily make delicious whipped cream by whipping up some heavy whipping cream. Check out this DIY whipped cream post on how to get soft peaks vs. stiff peaks.
You don't need to add sugar to the whipped cream at all if you don't want to. It's still wonderful.
Ice cream also makes a great accompaniment, but it's tough to find no-sugar ice cream in the store or as a DIY with an ice cream maker. I'll stick with soft fluffy whipped cream (maybe with a touch of bourbon).
Freeze the Topping for Easy Future Crisps and Crumbles
The crumble topping freezes beautifully so you can make spur of the moment fruit desserts any time the urge strikes. Make it in a large batch, freeze for up to 4 months, and use it to top off a baking dish filled with sweetened fresh or frozen fruit.
Alice Waters writes in Chez Panisse Fruit: "ordinarily we disapprove of freezer storage and cooking in large quantities, but it is a great thing to have a container of crisp topping handy…quadruple this topping recipe and keep it in your freezer."
Sounds like a great plan.
Details on Growing Your Own Blueberries
More Berry Recipes:
Low Carb Blueberry Crumble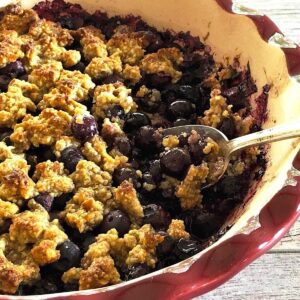 Fresh creamy blueberry filling with a low carb crunchy crust makes for a delicious, rustic dessert
Equipment
2 bowls

hand grater

measuring spoons and cups
Ingredients
1 ½

cup

almond flour

½

cup

pecans

chopped

¼

tsp

salt

pink himalayan if possible

¾

tsp

baking powder

1

tsp

cinnamon

¼

cup

swerve brown sugar

or other sugar substitute

¾

cup

unsalted butter

frozen

1 ½

tsp

vanilla

1

tsp

apple cider vinegar

2

egg yolks

4

cups

blueberries

about 2 lbs.

3

Tbs

cornstarch

1.4 tsp xanthum gum if low carb

¼

cup

truvia

or other sugar substitute

1

tsp

lemon zest

or zest from 1 lemon

2

tsp

lemon juice

or juice from 1/2 lemon

¼

tsp

ground nutmeg
Instructions
Preheat oven to 375 °F. To make crumble: In a large bowl add almond flour, chopped pecans, salt, baking powder, cinnamon and Swerve brown sugar. Stir together with a wire whisk or fork.

1 1/2 cup almond flour,

1/2 cup pecans,

1/4 tsp salt,

3/4 tsp baking powder,

1 tsp cinnamon,

1/4 cup swerve brown sugar

Take the butter out of the freezer and place a hand grater over the bowl of dry ingredients. Grate the frozen butter into the bowl, stopping and stirring in to the dry ingredients every so often. Repeat until all butter is mixed in.

Add vanilla and vinegar and egg yolks to the bowl and stir together until well blended. Set aside

1 1/2 tsp vanilla,

1 tsp apple cider vinegar,

2 egg yolks

In another large bowl, combine the blueberries, cornstarch (or xanthan gum), truvia, lemon zest, nutmeg and lemon juice. Stir together well with a spoon.

4 cups blueberries,

3 Tbs cornstarch,

1/4 cup truvia,

1 tsp lemon zest,

2 tsp lemon juice,

1/4 tsp ground nutmeg

Divide the crumb mixture in half and place half of it in bottom of a pie plate. Pat in and gently spread over bottom of pie plates with your hands. Add the blueberry mixture on top of the bottom crumb mix and then take the remaining half of the crumb mixture and use your hands to place the dollop over the top of the blueberries. The topping will probably be in clumps of dough. Just drop it over the blueberries in small uneven clumps. You will probably have some crumb dough left over and that can be frozen.

Bake in oven at 375 degrees for 45 minutes or until fruit is bubbling in the center and the topping is crisp and well browned.

Cool slightly and serve warm with ice cream, whipped cream or alone. Garnish with mint if you have any.
Video
Low Carb Blueberry Crisp or Crumble
Nutrition
Calories:
386
kcal
Carbohydrates:
25
g
Protein:
6
g
Fat:
34
g
Saturated Fat:
13
g
Cholesterol:
95
mg
Sodium:
79
mg
Potassium:
140
mg
Fiber:
5
g
Sugar:
9
g
Vitamin A:
637
IU
Vitamin C:
8
mg
Calcium:
87
mg
Iron:
1
mg
Did you make this recipe?
If you tried this recipe, please give it a star rating! To do this, just click on the stars above. Comments are always helpful also and I respond to all of them (except rude ones)