Scallops are way up there on my list of favorite foods, and they couldn't be quicker or easier to cook. This recipe for grilled scallops with heirloom tomato jam is served over cheese polenta or a corn puree for over-the-top delicious!
Jump to Recipe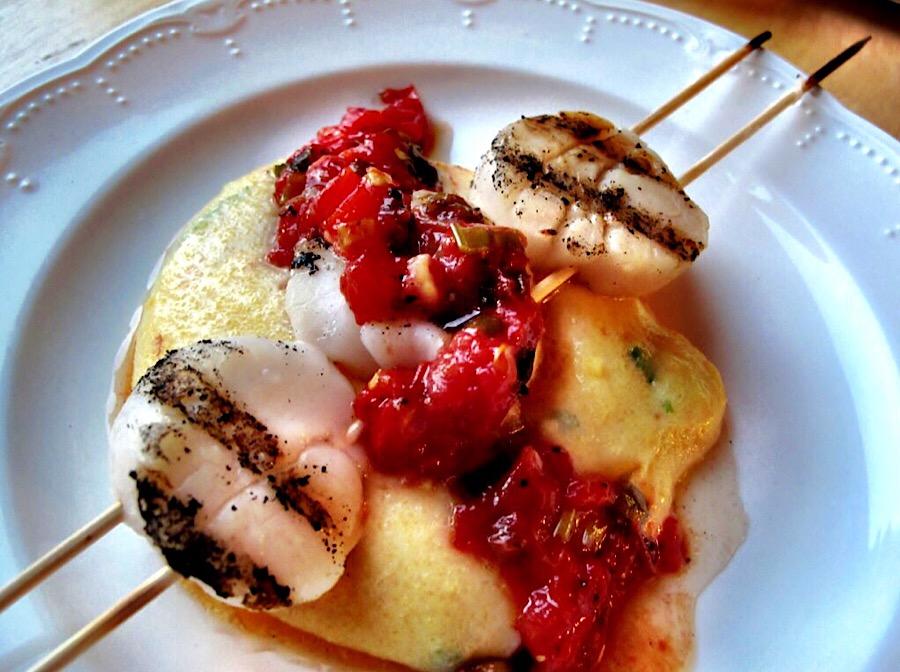 Tips for Making Great Polenta
Although I have always loved eating polenta, I have never actually made it, thinking it was too fussy to deal with. This polenta was as easy as could be however, and cooked up perfect in 30 minutes with a little stirring involved.
If you want to cut the time, use a finely ground cornmeal, or grind you coarse meal in a food processor. Some people will make a slurry of cornmeal and water ahead of time to hasten the process.
The main thing is you don't really want it to be "gritty". It should be creamy with a bit of chew. That comes from stirring it in liquid enough to hydrate all of the kernels.
Water or Milk for Polenta?
Water is the classic Italian preference, mainly so that the corn flavor of the polenta is not masked by a heavier liquid. Some people prefer using milk, which gives you a really rich cornmeal mush that may not be desirable to many. I opted for mostly water with a tad bit of milk.
Either way the liquid should be a ratio of approximately 5:1, liquid to polenta.
An alternative to polenta which would be just as scrumptious would be a fresh sweet corn puree
The Tomato "Sauce"
Since we make and sell the heirloom tomato jam, I just used a jar of our jam off the shelf and heated it up for the sauce. It was excellent and added a bit of sweetness that melded nicely with the savory cornmeal, the salty bacon and the mild-tasting scallops.
The Scallops
Scallops are one of the quickest, easiest, tastiest things to make in my mind. I placed 4 scallops on a skewer and placed them on a preheated indoor grill (Cuisinart griddler) just before the polenta was done. Scallops only need about 2 minutes to cook. Too long and they become rubbery.
Other Recipes Using Scallops
This low carb, fennel-crusted scallop dinner with creamed spinach is a definite winner. Yummmm.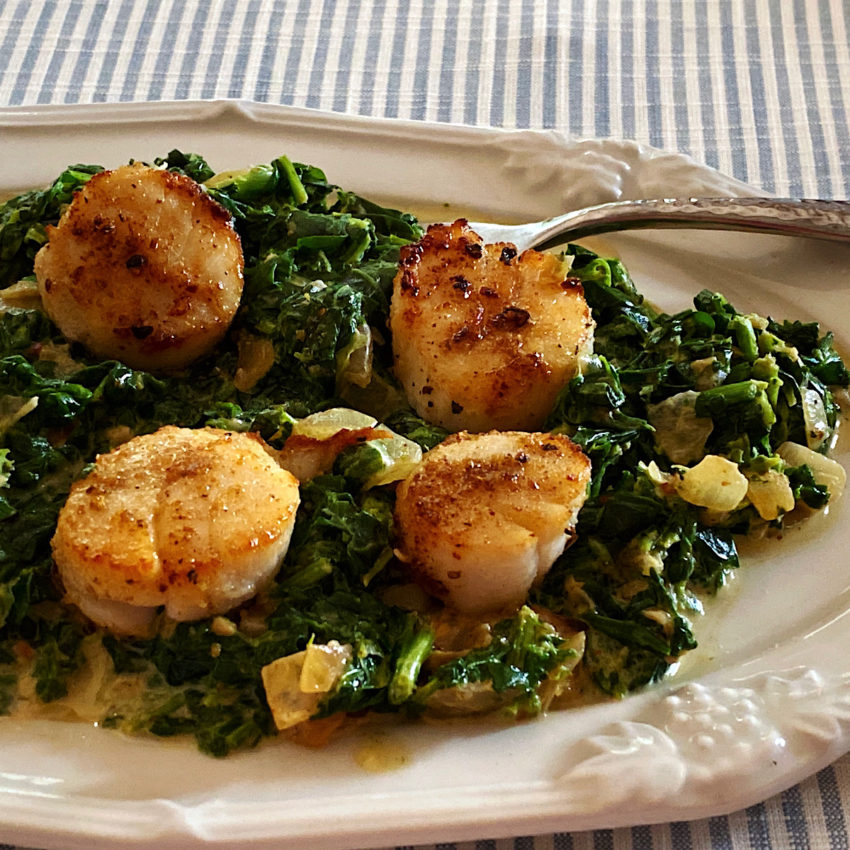 Or try this low carb scallops with a grapefruit sauce…..very unique!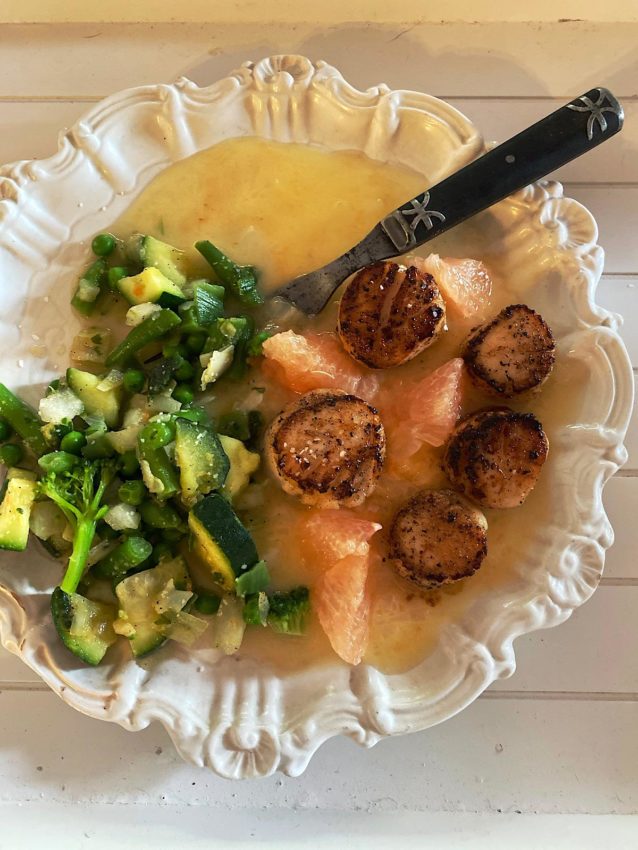 Grilled Scallops with Heirloom Tomato Jam over Polenta
This recipe is an all-around winner. The jam adds a slight sweetness, the polenta adds texture and creamy substance and the scallops are done in minutes. Delicious for weeknight or an elegant dinner!
Equipment
whisk

griddler or indoor grill

Skewers
Ingredients
4

Strips

bacon

optional; cooked ahead and crumbled

¼

cup

scallions

optional; finely chopped

12

Large

sea scallops

8

oz.

jar tomato jam

see end of post for a DIY tomato jam sauce

4 ½

cups

water

¾

cup

milk

½

tsp

kosher salt

¾

cup

yellow cornmeal

½

cup

shredded cheese

Sharp cheddar, parmesan or gouda all work well
Instructions
Fry bacon pieces in large skillet, if using (they are optional). Crumble and put aside. Mince scallions and set aside with bacon. Skewer the scallops (4 to a skewer) and dust with salt and any seasoning you prefer (ground fennel is my favorite). Set aside.

Start polenta: Bring water and milk to boil in large saucepan over medium heat.

Start polenta: bring water and milk to boil in lsarge saucepan over medium heat. Add salt. When water-milk mixture has come to boil, very gradually whisk in cornmeal. Cook, stirring often, until polenta is thick, about 30 minutes with coarse cornmeal and about 10 minutes with ginely ground cornmeal.

Stir every 5-10 minutes until it is thickened to your desired consistency.

While polenta is thickening, heat 8 oz jar of tomato jam in a small saucepan over low heat until it is the consistency of sauce (alternatively make your own tomato jam sauce as detailed In the notes section of this recipe card).

Turn on indoor griddler to get to temp.

When polenta is 5 minutes or so from your desired thickness, place scallops on griddler and grill for a couple of minutes (do not overcook).

Stir polenta again and if thick enough for you, remove from burner and add shredded cheese.

To serve: Place a serving of polenta on each plate and top with scallop skewer. Drizzle tomato jam-sauce over scallops and polenta.

Sprinkle with chopped scallions and chopped bacon bits if desired.
Notes
To make Tomato Jam-Sauce:
Ingredients:
2 Tbsp olive oil
2 Tbsp apple cider vinegar
2 Tbsp. sugar
2 Tbsp minced scallions
1 1/2 tsp lime juice
1/4 tsp red pepper flakes
2 medium tomatoes, diced
sea salt and freshly ground black pepper to tasteThank
Nutrition
Calories:
472
kcal
Carbohydrates:
41
g
Protein:
29
g
Fat:
21
g
Saturated Fat:
8
g
Polyunsaturated Fat:
3
g
Monounsaturated Fat:
8
g
Trans Fat:
1
g
Cholesterol:
69
mg
Sodium:
1612
mg
Potassium:
800
mg
Fiber:
5
g
Sugar:
7
g
Vitamin A:
650
IU
Vitamin C:
7
mg
Calcium:
201
mg
Iron:
3
mg
Did you make this recipe?
If you tried this recipe, please give it a star rating! To do this, just click on the stars above. Comments are always helpful also and I respond to all of them (except rude ones)
Online Diet/Health Coaching:
Although I am not currently taking clients for diet & health coaching, I have been a coach for many years with the online service called coach.me. It is a great platform for all kinds of coaching – anything from specific diets, writing a blog, getting up early, or getting rid of that pesky procrastination.
There are some wonderful coaches and the testimonials will tell you what you need to know. Contact me at [email protected] to get a referral to some of the tested, experienced online coaches on Coach.me
If you'd like to start with a plan for a low carb or keto lifestyle, check out this detailed guide in ebook form. It may be all you need to lose weight on this lifestyle. Or it may be used as a supplement to one-to-one coaching.