Sweet potato casseroles are often way too sweet for many palates, especially when they are served around the holidays with an abundance of other rich dishes. This casserole, or side dish, gets all of it's sweetness from the sweet potato itself and enhances the flavor by roasting it with ginger and fresh lime juice. It is a traditional favorite at our house!
Jump to: Recipe | Yams vs Sweet Potatoes | Are they Low Carb? | What to Serve With Sweet Potatoes | Best Temperature to Cook? | Differences in Soy Sauces | Common Questions |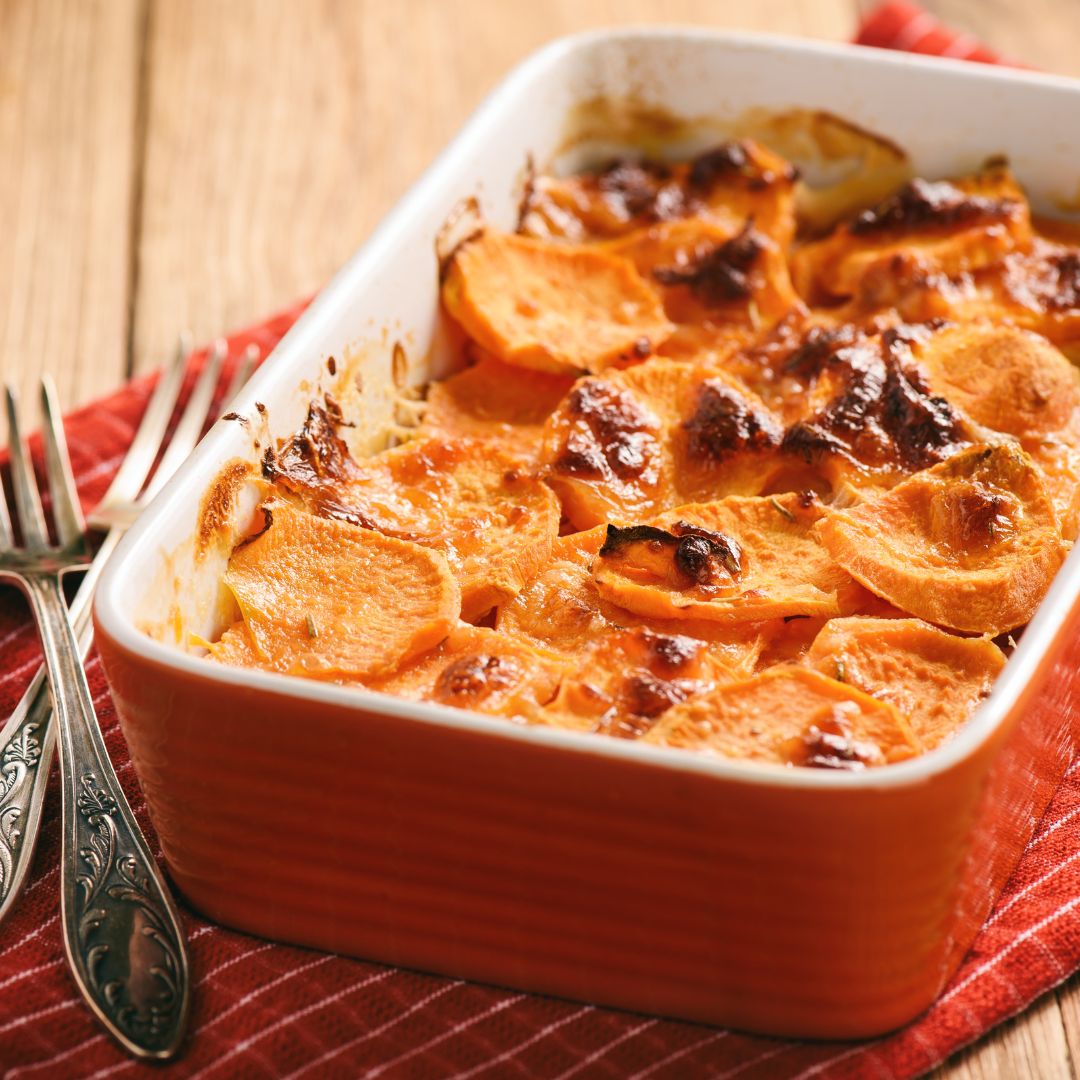 This post may contain affiliate links, and you can read our disclosure information here–
Yams vs orange sweet potatoes vs white sweet potatoes
First of all, yams and sweet potatoes are not the same. It is not uncommon for grocery stores to label sweet potatoes as yams, but true yams are rarely found in American grocery stores. Even the canned "yams" available in US stores around the holidays are actually sweet potatoes.
Yams have dark brown skin and the texture and flavor of their flesh is dry and starchy like a regular potato. Sweet potatoes have reddish skin, orange flesh and their flavor is much sweeter.
The reason sweet potatoes are labeled as yams in US stores is that in the 1900's the Southern US potato growers want a way to distinguish them from their regular potatoes. Since this label worked for differentiating the two potatoes, it stuck around to this day.
Yams are not really potatoes, but rather a stem tuber that belongs to a different botanical family. They have pale white flesh and can become very, very large. Unlike a sweet potato they have an earthy, neutral taste.
The copper-colored potato with orange flesh is probably what comes to mind when you think of the sweet potato, but there are many other varieties. Some of these types are even labeled as yams, but they aren't true yams. You'll find three major types of sweet potatoes at North American grocery stores:
There are many varieties of sweet potatoes, but the most common ones in the grocery stores are Jewel or Garnet. I always go for the dark red ones and they never disappoint with their natural sweetness.
If you prefer a similar type of dish to a sweet potato casserole, but with pumpkin or squash instead, this Mexican celebration dish of candied pumpkin is an alternative side dish for the holiday table.
What to serve with sweet potatoes?
Although many people tend to add more sweetness to sweet potato side dishes, I think they are plenty sweet on their own and benefit by pairing with savory dishes or spices. Here are a few of my sweet and savory pairings for sweet potatoes:
feta butter
apples
cinnamon
maple syrup
steak fajita fillings
chorizo
black beans
chicken
pork (chops, ribs, etc.)
Can you have sweet potatoes on a low carb diet?
While sweet potatoes have a lot of health benefits, they are not low carb. If you are on a low carb diet and want to include sweet potatoes, you would need to make sure the rest of your meals that day are essentially carb-free. Low carb does not mean no-carb (unless you are doing strict keto).
Although sweet potatoes have fairly high carbs and sugar content they are also rich in fiber, vitamins, minerals and antioxidants. They're also incredibly rich in beta-carotene, which is converted to vitamin A to support good vision and your immune system. Here is a nutritional rundown:
One cup (200 grams) of baked sweet potato with skin provides:
Calories: 180
Carbs: 41.4 grams
Protein: 4 grams
Fat: 0.3 grams
Fiber: 6.6 grams
Vitamin A: 769% of the
Daily Value (DV)
Vitamin C: 65% of the DV
Manganese: 50% of the DV
Vitamin B6: 29% of the DV
Potassium: 27% of the DV
Pantothenic acid: 18% of the DV
Copper: 16% of the DV
Niacin: 15% of the DV
What temperature to cook sweet potatoes at?
I love roasted caramelized vegetables and roasting sweet potatoes at a high temperature really brings out the flavor. The recipe below roasts the sweet potatoes for 50 minutes at 425 degrees F.
Differences in Soy Sauces
I am no expert in this, but I am learning that there is quite a bit of differences in soy sauces. Soy sauce is basically a seasoning that adds umami and saltiness to a dish. Here are a few tips on flavor that have some consensus among chefs:
Japanese soy sauce is sweeter. Referred to as black soy sauce, they are thicker and sweeter. A recommended brand from Annie at Seattle's Kitchen s ABC brand
Tamari is a gluten free soy sauce that is more refined and has a saltier taste as the soy doesn't mask the salt
Niki Nakayama, owner of Michelin-starred restaurant n/naka notes that the type of soy sauce she uses depends on the dish, but in general, at n/naka, they reach for "Yamasa for our regular soy sauce and seasoning when we cook things," and "Higashimaru's Usukuchi soy sauce for light colored soy for soups." Yamasa is the soy sauce I am currently using for most of my dishes.
You can get very expensive soy sauces (up to $75 per bottle), but those are generally reserved for specialty dishes like sushi.
Frequently Asked Questions
Why is my sweet potato casserole runny?
This seems to be a question that arises frequently with sweet potato casseroles.

Whether baking or boiling your sweet potatoes, make sure to cut your potatoes into equal sized pieces so they cook at the same rate. As you can see in the video, I used a mandolin which ensures same size slices.

If you are boiling sweet potatoes for your casserole, make sure not to overcook. They absorb water which can result in a watery filling. This is another reason to make sure they are cut to the same size so that you bake your casserole long enough to soften everything at the same time without overcooking.
Recipe for Ginger Lime Roasted Sweet Potatoes
Ginger Lime Roasted Sweet Potatoes
This side dish is the perfect blend of sweet and savory. Sweetness from the sweet potatoes and a bit of brown sugar, and savory from the soy sauce and lime juice. Perfect for the holidays or everyday dinners.
Ingredients
3

lbs

sweet potatoes

about 10 cups after slicing

⅓

cup

flour

all-purpose

¼

cup

butter

⅓

cup

brown sugar

packed, I used light brown sugar

1

Tablespoon

lime rind

grated rind from 1 large lime

2-3

Tablespoons

fresh lime juice

1

Tablespoon

orange rind

grated rind from 1 medium orange

1-2

Tablespoons

grated ginger

heaping Tablespoon

1

Tablespoon

soy sauce

secret ingredient: use good quality

1

teaspoon

kosher salt

decrease salt if your soy sauce is a salty variety
Instructions
Preheat the oven to 425° F and grease or spray your baking dish

Use a mandolin or a sharp knife to slice sweet potatoes into thin pieces. Try and make sure they are the same thickness so they will get done at the same time. Loosely measure out 10 cups of sliced sweet potatoes into a large bowl

Sprinkle flour over the sweet potatoes and get them coated as thoroughly as possible. Use your hands to mix the flour and potatoes and get in between the slices.

Melt the butter in a small pot over medium low heat. When melted, stir in sugar, citrus rinds and juice, grated ginger, soy sauce and salt (add a pinch of pepper if you want). Whisk this together over the heat until sugar has dissolved and all ingredients are combined.

1/4 cup butter,

1/3 cup brown sugar,

1 Tablespoon lime rind,

2-3 Tablespoons fresh lime juice,

1 Tablespoon orange rind,

1-2 Tablespoons grated ginger,

1 Tablespoon soy sauce,

1 teaspoon kosher salt

Pour the butter/sugar mixture over the sweet potatoes and toss together well (hands work best). Spoon everything into your prepared baking dish, cover and cook at 425°F for 60 minutes, or until tender. Remove from oven and let it rest for 10 minutes.
Notes
*Notes: There are a huge range of soy sauces, from sweet to salty to no flavor. Buy the best variety that budget allows for this dish, as it makes a big difference in flavor.
If you choose a salty variety of soy sauce, back off a bit on the kosher salt.
Nutrition
Calories:
204
kcal
Carbohydrates:
38
g
Protein:
3
g
Fat:
5
g
Saturated Fat:
3
g
Polyunsaturated Fat:
1
g
Monounsaturated Fat:
1
g
Trans Fat:
1
g
Cholesterol:
12
mg
Sodium:
384
mg
Potassium:
481
mg
Fiber:
4
g
Sugar:
13
g
Vitamin A:
19451
IU
Vitamin C:
5
mg
Calcium:
51
mg
Iron:
1
mg
Did you make this recipe?
If you tried this recipe, please give it a 5-star rating! To do this, just click on the stars above.
Online Diet/Health Coaching:
Although I am not currently taking clients for diet & health coaching, I have been a coach for many years with the online service called coach.me. It is a great platform for all kinds of coaching – anything from specific diets, writing a blog, getting up early, or getting rid of that pesky procrastination.
There are some wonderful coaches and the testimonials will tell you what you need to know. Contact me at [email protected] to get a referral to some of the tested, experienced online coaches on Coach.me
If you'd like to start with a plan for a low carb or keto lifestyle, check out this detailed guide in ebook form. It may be all you need to lose weight on this lifestyle. Or it may be used as a supplement to one-to-one coaching.