Italian Puttanesca is a bold, robust sauce typically served over a bowl of pasta. If you substitute in spaghetti squash for the pasta you have a low carb Puttaesca that rivals the original. This recipe uses smoked tomatoes for a little more bold flavor, but it is equally delicious with tomatoes that are not smoked.
Jump to: Recipe | What is Puttanesca? | Ingredients & Substitutions | Spaghetti Squash vs Pasta |
This post may contain affiliate links, and you can read our disclosure information here–
What is Puttanesca?
Puttanesca is usually associated with Naples as its place of origin. The term itself translates roughly to "lady of the night." (aka prostitute), and some say therefore that the dish originated in the brothels of the Spanish Quarters.
Others claim it was invented in the 1950s at a famous Ischia restaurant (Rancio Fellone) late at night to satisfy a group of customers who complained that they were hungry.
They supposedly told the co-owner (Annarita Cuomo) to just make something simple with whatever he had left over that night.
The co-owner had some tomatoes, olives and capers which ended up forming the base of a sauce that became quite popular in the restaurant.
From this story, puttanesca came to be referenced all over Italy as a pasta sauce that was easy to cook, without frills or complicated preparation.
It's made by combining anchovies, capers, olives, and optional ingredients like garlic, red pepper flakes, chile peppers, and tomatoes into a truly tasty gravy.
The dish itself was considered a humble dish, made with common cupboard ingredients.
Key Puttanesca Ingredients
The dish itself was considered a humble dish, made with common cupboard ingredients. The sauce is typically made by combining anchovies, capers, olives, and optional ingredients like garlic, red pepper flakes, chile peppers, and tomatoes into a robustly flavored gravy.
Within the different regions of Italy, a Sicilian version of this sauce has green peppers and one from Palermo has anchovies, raisins and olives. The most famous Neopolitan version has anchovies and oregano.
The base however is most often the same, with bold, salty ingredients of olives, capers, tomatoes and garlic.
Pasta Puttanesca Pugliese with Tomatoes
For all things Italian my first inclination is to go to Lynne Rossetto Kasper's recipes, so I went back to one of her earlier cookbooks that focused on Italy's Farmhouse Kitchens, The Italian Country Table.
A recipe for a vibrant, spicy "streetwalkers pasta" (aka prostitutes' pasta) sounded like a good starting place.
Kasper's dish was called "Pasta Puttanesca Pugliese" and it sounded great but it was more of a fresh raw dish and I was looking for a warm cooked recipe. Her recipe was easy to modify and it turned out wonderful.
Since the ingredients were so robust, I decided they could handle the additional boldness of smoked tomatoes. The intense smokiness of the tomatoes paired well with the salty umami from anchovy fillets, black olives, and Romano cheese.
Hard to go wrong with those ingredients. It did my smoked heirloom tomatoes proud. If you want to get the smoky tomato flavor in your dish, try this smoked tomato vinegar.
Spaghetti Squash for the Pasta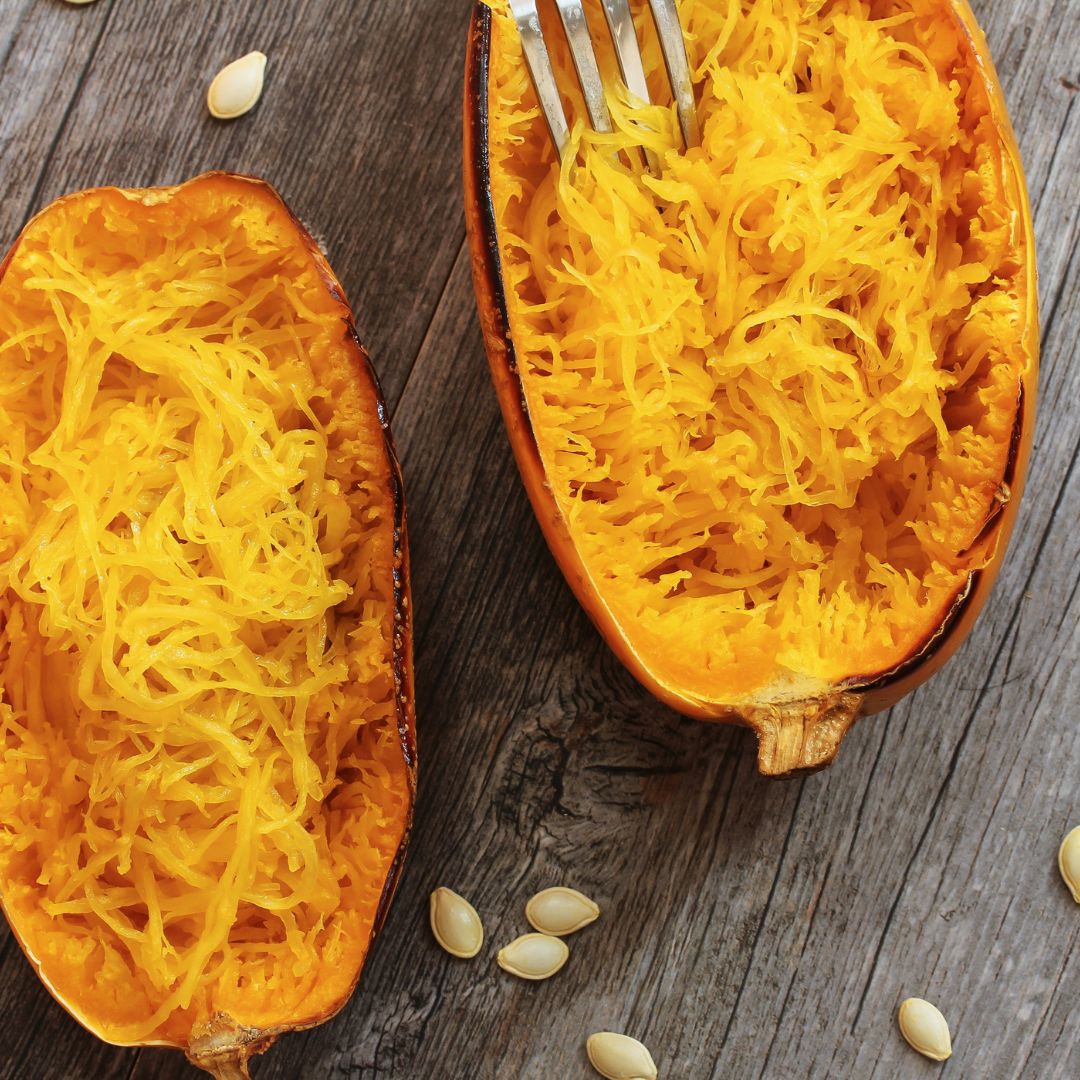 Now of course pasta is not low carb and this rich tomato sauce needs a bed of some sort of "noodle" to soak up all the goodness and give it some "chew".
There are zucchini noodles and other alternatives available for low carbers, but I prefer spaghetti squash.
Using spaghetti squash as a bed of noodles allows a mild medium that won't distract from the puttanesca sauce, but still has enough heft to add the desired texture. The slight squash flavor is a nice addition also.
Spaghetti squash also makes a great side dish and pairs perfectly with this pork ragu. Or try it using the shells as a bowl for this low carb lasagna or this low carb chicken enchilada.
I made a non-low-carb version using penne noodles, just to test the difference. It was good, but I actually preferred the spaghetti noodles. Here is what it looked like with penne.
I see Mark Bittman also includes a version of puttanesca in his "How to Cook Everything" book, but it does not include anchovies.
Alternatives to Using Smoked Tomatoes
This dish is excellent with regular tomatoes, so don't feel that you need to purchase smoked tomatoes or smoke your own. It was just a twist I wanted to try.
If you do want the smoky tomato flavor you can also purchase a Smoked Tomato Vinegar (aka shrub) from our store. Just a 1/4 cup of this smoky tomato vinegar will enhance the Puttanesca.
Recipe for Puttanesca with Spaghetti Squash
Low carb Italian Puttanesca
This is a low carb version of the Italian dish of Puttanesca which is a rich tomato based dish with anchovies, olives, capers and spices generally served with pasta. This recipe uses spaghetti squash as the bed for this bold, rich Puttanesca.
Ingredients
¼

cup

fresh basil leaves

tightly packed

1

tsp

red pepper flakes

3

cloves

garlic

1

tsp

coarse salt

2

Tbsp

olive oil

1

medium

onion

chopped

28

oz

peeled, plum tomatoes

2

fresh tomatoes

if available

2

tsp

anchovy paste

or two anchovy filets, chopped

½

cup

olives

pitted & coarsely chopped

2

Tbsp

capers

3

tsp

smoked tomato vinegar

alternatively use 2 tsp red wine vinegar

1

Tbsp

tomato paste

1

tsp

freshly ground black pepper

1

spaghetti squash

If not low carb, use 1 lb of pasta of your choice

½

cup

Parmesan cheese

grated (can use Romano cheese)
Instructions
With a sharp knife, mince together the basil, garlic, and hot pepper flakes with the coarse salt and set aside (Alternatively, mash together with a mortar and pestle)

1/4 cup fresh basil leaves,

1 tsp red pepper flakes,

3 cloves garlic,

1 tsp coarse salt

In a large skillet or dutch oven heat the olive oil over medium high heat. Add the onion and saute until soft and lightly caramelized, about 6- 10 minutes.

Add the garlic-herb mix and cook an additional 2 minutes.

Add the tomatoes and the remaining 6 ingredients through the pepper and simmer until the sauce is thickened and slightly reduced (about 15 – 20 minutes). This can simmer while baking the spaghetti squash (or cooking the pasta).

2 Tbsp olive oil,

1 medium onion,

28 oz peeled, plum tomatoes,

2 fresh tomatoes,

2 tsp anchovy paste,

1/2 cup olives,

2 Tbsp capers,

3 tsp smoked tomato vinegar,

1 Tbsp tomato paste,

1 tsp freshly ground black pepper

Bake the spaghetti squash in the oven for about an hour at 375 F. Using a fork, remove the strands of squash.

If using pasta instead of squash: Cook the pasta in rapidly boiling water, stirring often, until there is no raw flour taste (about 7-10 minutes for penne). Drain the pasta if using pasta

Put the spaghetti squash strands (or the drained pasta) in a large pot and place over medium heat. Spoon most of the Puttanesca sauce into the pot and cook a few minutes, or until the liquid is absorbed.

Taste for seasoning, and garnish with some chopped basil and grated parmesan or romano cheese and serve. Place small bowls of extra sauce, and extra cheese to pass around for individual tastes.
Video
Low Carb Puttanesca on a bed of Spaghetti Squash - A Cooking Tutorial
Nutrition
Calories:
229
kcal
Carbohydrates:
26
g
Protein:
8
g
Fat:
12
g
Fiber:
7
g
Sugar:
12
g
Iron:
2
mg
Did you make this recipe?
If you tried this recipe, please give it a 5-star rating! To do this, just click on the stars above.
Online Diet/Health Coaching:
Although I am not currently taking clients for diet & health coaching, I have been a coach for many years with the online service called coach.me. It is a great platform for all kinds of coaching – anything from specific diets, writing a blog, getting up early, or getting rid of that pesky procrastination.
There are some wonderful coaches and the testimonials will tell you what you need to know. Contact me at [email protected] to get a referral to some of the tested, experienced online coaches on Coach.me
If you'd like to start with a plan for a low carb or keto lifestyle, check out this detailed guide in ebook form. It may be all you need to lose weight on this lifestyle. Or it may be used as a supplement to one-to-one coaching.