Italian Pasta Puttanesca with Smoked Tomatoes
Every time I open the freezer door I see the beautiful heirloom tomatoes that I smoked and then froze last year, just waiting for the perfect dish. Smoked tomatoes have an intense aroma and flavor, and I wanted to use these in a dish that would be bold enough to hold up to their unique flavor. Italian Pasta Puttanesca was the perfect recipe – robust, bold, and salty. This rustic dish is full of umami and equally delicious with regular tomatoes that are not smoked.
For all things Italian my first inclination is to go to Lynne Rossetto Kasper's recipes, so I went back to one of her earlier cookbooks that focused on Italy's Farmhouse Kitchens, The Italian Country Table. A recipe for a vibrant, spicy "streetwalkers pasta" (aka prostitutes pasta) sounded like a good starting place for something bold, except that I did want a cooked dish for dinner rather than raw. No problem. Using Lynne Rosetto Kasper's "Pasta Puttanesca Pugliese" as a starting point, it was easy to adapt it to my dinner needs.
Turned out wonderful! The intense smokiness of the tomatoes, the salty umami from anchovy fillets, black olives, and Romano cheese, and the bitter crunch of endive. Hard to go wrong with those ingredients. It did my smoked heirloom tomatoes proud.
Alternatives to Using Smoked Tomatoes
This dish is excellent with regular tomatoes, so don't feel that you need to purchase smoked tomatoes or smoke your own. It was just a twist I wanted to try.
If you do want the smoky tomato flavor you can also purchase a Smoked Tomato Vinegar (aka shrub) from our store. Just a 1/4 cup of this vinegar will enhance the Puttanesca.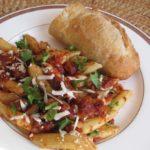 Print Recipe
Italian Pasta Puttanesca
Ingredients
1/4

cup

fresh basil leaves

tightly packed

1

tsp

red pepper flakes

3

cloves

garlic

1

tsp

coarse salt

2

Tbsp

olive oil

1

medium

onion

chopped

28

oz

peeled, plum tomatoes

2

fresh tomatoes

if available

2

tsp

anchovy paste

or two anchovy filets, chopped

1/2

cup

olives

pitted & coarsely chopped

2

Tbsp

capers

3

tsp

smoked tomato vinegar

alternatively use 2 tsp red wine vinegar

1

Tbsp

tomato paste

1

tsp

freshly ground black pepper

1

lb.

pasta

I used penne, she suggested orecchiette pasta

1/2

cup

Parmesan cheese

grated (can use Romano cheese)
Instructions
With a sharp knife, mince together the basil, garlic, and hot pepper flakes with the coarse salt and set aside.

In a medium to large pot heat the olive oil over medium high heat. Add the onion and saute until soft and lightly caramelized, about 6 minutes. Add the garlic-herb mix and cook an additional 2 minutes. Add the tomatoes and the remaining 6 ingredients through the pepper and simmer until the sauce is thickened and slightly reduced (about 15 – 20 minutes). This can simmer while the pasta is cooking.

Cook the pasta in rapidly boiling water, stirring often, until there is no raw flour taste (about 7-10 minutes for penne). Drain into a colander

Put the drained pasta back in the pot and place over medium heat. Spoon most of the Puttanesca sauce into the pot (you do not need to use all of the sauce, just cover the pasta with as much sauce as you like and stir). Cook a few minutes, or until the liquid is absorbed.

Taste for seasoning, and garnish with some chopped basil and grated parmesan or romano cheese and serve. Place small bowls of extra sauce, and extra cheese to pass around for individual tastes.
Nutrition
Calories:
505
kcal
|
Carbohydrates:
81
g
|
Protein:
19
g
|
Fat:
12
g
|
Fiber:
7
g
|
Sugar:
9
g
This was the first time I had heard of Puttanesca. Do you have a version that is similar? I see Mark Bittman includes a version in his How to Cook Everything book, but it does not include anchovies.