The cooler temperatures of Fall seem to cry out for those robust, hearty flavors and beautiful Fall colors in our home and in our food. A pork and smoked tomato ragu with a side of golden spaghetti squash speaks to quintessential Fall, and this dish lends itself perfectly to a Slow Carb, or Low Carb Keto lifestyle.
Jump to: RECIPE | What Food is Good Smoked?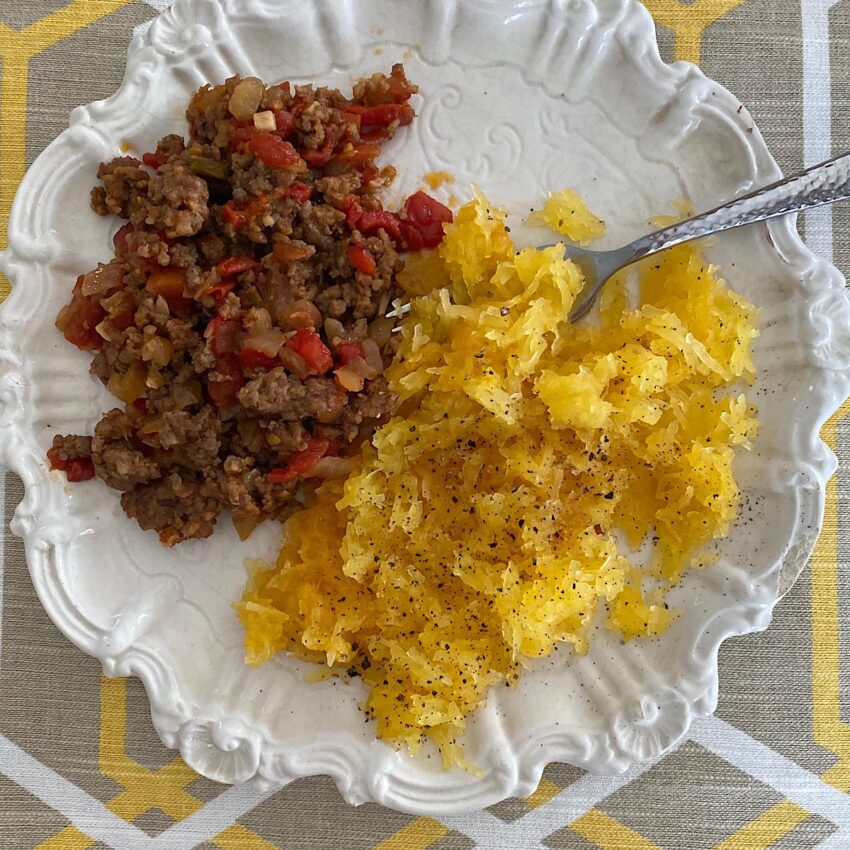 This post may contain affiliate links, and you can read our disclosure information here–
Smoking Food to Add Complexity to Recipes
I received a Bradley smoker from my husband one birthday in an attempt to make smoking peppers and tomatoes easy and efficient. I've since added three more Bradley smokers and we use them for everything from meat to tomatoes to smoked sea salts.
Smoking food adds a distinctive flavor profile that is loved by many. The trick is to get the perfect amount of smoked flavor, as it can become overpowering if used to excess. It is definitely an art.
This post is not a tutorial on how to smoke food in a Bradley smoker, but rather an introduction on the type food and recipes that benefit from smoking. Here are some of the ingredients we have smoked with success:
Meats include: pork butt, chicken wings, beef brisket, ribs (pork and beef) chicken thighs, lamb or mutton
Fish include: salmon (or other oily fish), shellfish like oysters and mussels
Vegetables: tomatoes, peppers, zucchini & squash, eggplant, corn on the cob;
Fruit: cherries, lemons, peaches, apples
Miscellaneous: flake salt, hard or semi-hard cheese
How to Store and Use Smoked Tomatoes
After my tomatoes are smoked I store them in one of 3 ways, each with their own culinary uses: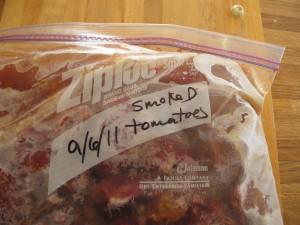 Freeze them (whole or halved) in a freezer bag and use in sauces or stews over the winter. It is so wonderful to thaw out that bag and smell the rich aroma of smoked tomatoes. They don't seem to lose any of the smokiness in the freezing process.
Dry them and grind them up into a tomato powder to sprinkle on eggs or chile, or side dishes in the Winter for concentrated tomato flavor;
Shrub Syrup: Simmer them down with some sugar and vinegar to make a shrub syrup. Tomato shrub syrup is great as a salad dressing, a marinade or in a bloody mary.
Here is a DIY article on how to make shrub syrups if you want to do your own Tomato Shrub Syrup. It's for a blueberry shrub, but the process is transferrable to most fruits (yes, tomatoes are a fruit).
You'll find a smoked tomato shrub syrup will take your Bloody Mary. to new heights!
Adding Smoky Flavors
The Ragu recipe below uses the smoked tomatoes straight from the freezer. You can use regular canned or fresh tomatoes instead of course, and it is still wonderful. Some people do not care for smoky flavors and the flavor of the recipe below does not suffer with non-smoked tomates.
If you don't have tomatoes to smoke and you want to achieve the smoky flavor, I would try adding a little smoked sea salt or even some liquid smoke.
Another dish that really benefits from smoked tomatoes is this Italian Puttanesca on a bed of spaghetti squash. Or make a smoked tomato homemade shrub syrup and have it in your Bloody Mary for a real treat!
Recipe for Pork Ragu with Spaghtti Squash
Pork ragu with Spaghetti Squash
A low carb dinner of pork ragu and a side of spaghetti squash. Can be made with or without smoked tomatoes
Ingredients
1

spaghetti squash

2

Tablespoons

olive oil

1

onion

Chopped

3-4

cloves

garlic

minced

1 ½

cups

Red bell pepper

Chopped and seeded

1 ½

lb

ground pork or Italian sausage

I used a mix of sweet and hot Italian sausage

2

cups

Tomatoes

Either smoked chopped tomatoes or 28 oz. can crushed tomatoes

2

Tablespoons

balsamic vinegar

1

teaspoon

kosher salt

½

teaspoon

sugar

leave out if on slow carb diet

½

teaspoon

smoked paprika

½

teaspoon

smoked sea salt

optional: if using, decrease amount of kosher salt to 1/2 tsp
Instructions
Cut spaghetti squash in half lengthwise and scoop out the seeds. Either roast (flesh side down) in a sheet pan in a 375 degree oven for about 45 minutes or cook in the microwave for about 10 minutes.

If roasting, brush the tops of the squash with a little oil so it doesn't dry out. If microwaving, I just turn the squash flesh-side-down on a plate and microwave for 10-12 minutes. Either way, just cook until it is tender enough to easily stick a fork in it. Leave it in the microwave or oven until ragu is done.

While the squash is cooking, heat the oil in a large skillet over medium high heat. Add the onion and cook for about 3-5 minutes, or until translucent. Add the garlic and cook quickly (30 seconds). Add the bell pepper and cook until softened, about 5 minutes.

2 Tablespoons olive oil,

1 onion,

3-4 cloves garlic,

1 1/2 cups Red bell pepper

Increase the heat to medium high and add the ground pork. If using Italian sausage, cut the casings open and spread out the sausage throughout the pan, chopping it with your spatula to break it up. Cook until the pork is browned, about 5 minutes

1 1/2 lb ground pork or Italian sausage

Add the crushed tomatoes (or smoked tomatoes), balsamic vinegar, salt, paprika and sugar and bring to a boil. Reduce the heat to low, cover and simmer, stirring occasionally for anywhere from 15 minutes to 30 minutes until it is reduced to your desired thickness.

2 cups Tomatoes,

2 Tablespoons balsamic vinegar,

1 teaspoon kosher salt,

1/2 teaspoon sugar,

1/2 teaspoon smoked sea salt,

1/2 teaspoon smoked paprika

Scrape out the flesh of the spaghetti squash with a fork or spoon onto a plate (use a potholder to hold the squash if it is still hot). Spoon the ragu sauce over the squash or serve the squash on the side with plenty of butter and salt and pepper.
Nutrition
Calories:
632
kcal
Carbohydrates:
27
g
Protein:
32
g
Fat:
45
g
Saturated Fat:
15
g
Cholesterol:
122
mg
Sodium:
726
mg
Potassium:
1098
mg
Fiber:
6
g
Sugar:
13
g
Vitamin A:
2796
IU
Vitamin C:
91
mg
Calcium:
102
mg
Iron:
3
mg
Did you make this recipe?
If you tried this recipe, please give it a 5-star rating! To do this, just click on the stars above.
Online Diet/Health Coaching:
Although I am not currently taking clients for diet & health coaching, I have been a coach for many years with the online service called coach.me. It is a great platform for all kinds of coaching – anything from specific diets, writing a blog, getting up early, or getting rid of that pesky procrastination.
There are some wonderful coaches and the testimonials will tell you what you need to know. Contact me at [email protected] to get a referral to some of the tested, experienced online coaches on Coach.me
If you'd like to start with a plan for a low carb or keto lifestyle, check out this detailed guide in ebook form. It may be all you need to lose weight on this lifestyle. Or it may be used as a supplement to one-to-one coaching.