While it is totally compliant with keto or low carb diets to fry proteins and veggies in olive oil, coconut oil, butter or ghee, it is difficult to enjoy a lot of fried food without some sort of breading. This breading mixture allows the texture of breaded, fried fish or vegetables without all the carbs. The recipe below is a great example using it with fried fish.
Jump to: RECIPE | For Fish or Vegetables | Substitutions for Pork Rinds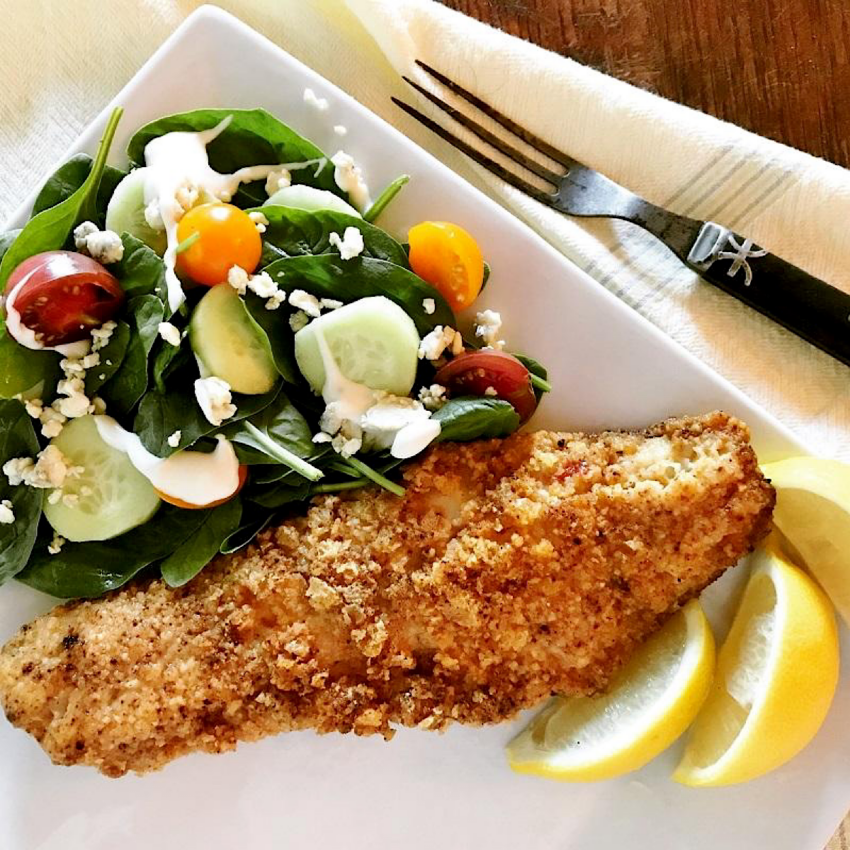 This post may contain affiliate links, and you can read our disclosure information here–
What Food Works Best with Low Carb Breading?
The main food that people say they miss most when on a low carb or keto diet is bread. In fact there is some science indicating that the "mouthfeel" of breads and starches may indeed be the "sixth" discovered taste sensation (following the five tastes of sweet, sour, bitter, salty and umami).
Low Carb Breading for Fish Recipes
I've been on a high-protein-low-carb diet for years now (nuanced versions of slow carb, low carb, & ketogenic) and early on in this way of eating my dinner proteins focused on chicken, beef and pork.
I like fish and it is reallly quick and easy to cook, but often the fish dishes tasted pretty blah, especially if made without sauces or added ingredients.
Using this breading mix on white fish truly enhanced the flavor and is a go-to dish now for quick and easy week-night dinners. It's also a great foil for the walleye and crappies our friend brings us (thanks Greg!)
I have a food memory of a Fried Oyster Po'Boy from San Francisco that I'd like to emulate sometime soon. This breading mix might be perfect for that dish!
Low Carb Breading for Vegetables
The low carb breading mix also works well on a range of vegetables. My favorites include:
fried zucchini sticks,
fried cheese sticks,
vegetable fritters,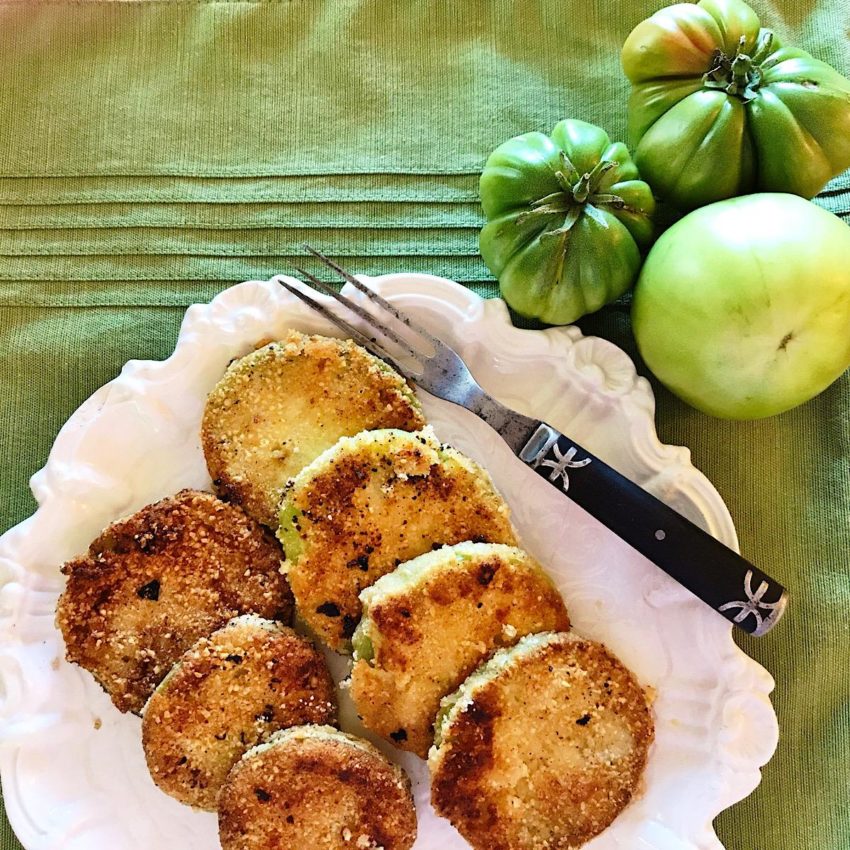 Substitutions for Pork Rinds in the Mix:
The recipe card in this post uses pork rinds (chicharonnes). If you don't like pork rinds this combination of ingredients works well also:
3 Tbsp Parmesan cheese
2 Tbsp golden flaxseed meal
1 Tbsp almond flour
Based on the current information on flaxseed, I don't use it anymore, but the above combination is tasty if you prefer flaxseed and are not a fan of pork rinds.
Follow the same directions for either list of ingredients. Feel free to add seasonings to match your tastes or the protein you are using. Old bay works well with fish. Some people like garlic powder, onion powder or seasoning salt.
Me, well I prefer this spice blend we developed specifically for fish and vegetables.
Recipe for Low Carb Breading Mix
Low Carb Breading Mix (used on fish filets)
This is a low carb breading mix that works well when sautéing fish or vegetables and you want a little crunch.
Equipment
2 mixing bowls

Spatula

Fish spatulas are good but not necessary
Ingredients
½

cup

crushed pork rinds

aka chicharonnes

⅓

cup

shredded Parmesan cheese

1

tsp

pepper

or to taste

1

large egg

2

Tbsp

olive oil

use ghee if you have it for high temp cooking; if not use "refined" olive oil

4

6 oz

fish filets

I used cod but any white fish is fine
Instructions
Place the pork rinds in a Ziploc bag and crush with the bottom of a glass or a heavy small plate (or a rolling pin)

1/2 cup crushed pork rinds

Combine the crushed pork rinds, the shredded Parmesan cheese and the pepper in a medium sized bowl. Mix well.

1/3 cup shredded Parmesan cheese,

1 tsp pepper

In another bowl, use a whisk or fork to stir up the egg (use 2 eggs if your filets are large)

Heat the oil over medium-high heat in a non-stick skillet. Extra virgin olive oil is a low temperature oil so don't heat it to the smoke point.

If you do want to heat the oil higher and therefore crisp the breading more, use refined olive oil (sometimes called "lite") or ghee. Heat the oil hot enough that when you add a drop of water to the pan it sizzles)

Dip the fish filet into the egg mixture and then dip it into the pork rind mixture. You can use tongs for this or your hands. If it is not thoroughly coated you might want to do a double dip (repeat the egg dip and the pork rind dip for the filet). Place all of the dipped filets on a plate.

When the oil is hot (sizzles when a drop of water added), gently place the filets in the skillet.

Do not move them around or try to flip them right away. You want the crust to get crisp. After a few minutes, gently lift the edge of a filet and see if it is brown and crisp. If so gently turn it over to the other side.

The fish will cook quickly (only a couple of minutes on each side).

Remove with spatula or tongs to a plate lined with paper towels. Serve with a salad or vegetable and enjoy!
Nutrition
Calories:
134
kcal
Carbohydrates:
1
g
Protein:
6
g
Fat:
11
g
Saturated Fat:
3
g
Polyunsaturated Fat:
1
g
Monounsaturated Fat:
6
g
Trans Fat:
0.01
g
Cholesterol:
52
mg
Sodium:
227
mg
Potassium:
41
mg
Fiber:
0.1
g
Sugar:
0.05
g
Vitamin A:
136
IU
Vitamin C:
0.03
mg
Calcium:
83
mg
Iron:
0.4
mg
Did you make this recipe?
If you tried this recipe, please give it a 5-star rating! To do this, just click on the stars above.
Online Diet/Health Coaching:
Although I am not currently taking clients for diet & health coaching, I have been a coach for many years with the online service called coach.me. It is a great platform for all kinds of coaching – anything from specific diets, writing a blog, getting up early, or getting rid of that pesky procrastination.
There are some wonderful coaches and the testimonials will tell you what you need to know. Contact me at [email protected] to get a referral to some of the tested, experienced online coaches on Coach.me
If you'd like to start with a plan for a low carb or keto lifestyle, check out this detailed guide in ebook form. It may be all you need to lose weight on this lifestyle. Or it may be used as a supplement to one-to-one coaching.