Never one to ignore the food trends, I thought I'd try my hand at growing and cooking the trendy "perfect appetizer" that the chefs and foodies are raving about. The cooking of these sweet, crunchy peppers couldn't be easier. And I've yet to have that one-in-ten of the peppers that turns out surprisingly spicy. Red or green, these shishito peppers are a delight at home, at the bar, or served up as tapas.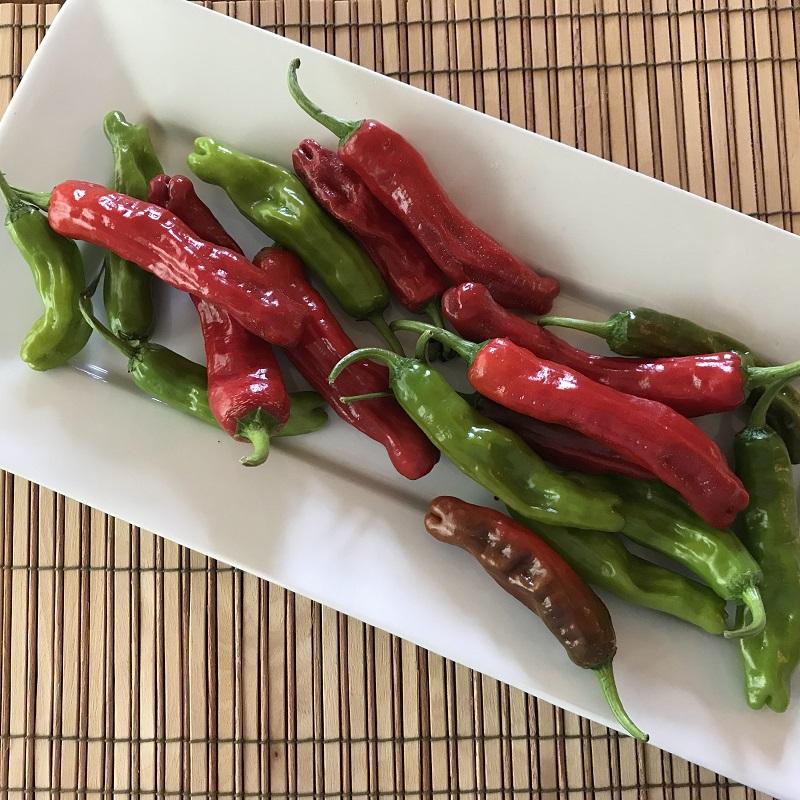 Why are these peppers so Popular?
Sautéed shishitos are absolutely the best thing to nibble on with drinks, making them popular with the bar crowd or as tapas. They have really thin walls, so they're also easy to grill at home or use in a stir-fry, adding robust flavor to a quick week-night dinner.
The fresh pepper is a bright, flavorful sweet chili, and although it looks like a hot pepper in appearance, you rarely bite into one with any significant heat.
The fun part is that one in twenty peppers pack a fiery punch and you never know which bite that is going to be. They have grown immensely popular as a quick-to-cook appetizer or side.
Red vs Green Shishito Peppers
The slender, finger-sized peppers are bright green in color, and like most bell peppers they will turn red when mature.
Most photos you see on the internet show Shishito peppers cooked in their green stage. I tried both and they are both wonderful, but the sweetness is a bit more intense with the red, mature peppers.
Padrón peppers are a stand-in for the Japanese Shishito variety and can be treated exactly the same way.
Spicy or Sweet?
Although they resemble many hot chile peppers, the typical Shishito pepper is much milder than a Jalapeno (13 to 160 times milder) and a bit spicier than the zero-heat bell pepper.
Even if you were to get the one out of every ten to twenty that is hot, it will still be milder than a jalapeno. It's just a bit surprising, and fun, when you're munching on sweet peppers and all of a sudden there is a spicy one in the bunch.
Padrón peppers are a stand-in for the Japanese Shishito variety and Padrón peppers have a similar "Russian roulette" tendency, which adds to the fun when serving s an appetizer.
Easy Recipe for Cooking Shishito Peppers
The skin on Shishito peppers is usually quite tender so a quick sear is all that's needed for cooking.
I use a cast iron skillet to sear the peppers. Most recipes call for adding oil to the pan before adding the peppers, but they are a bit too oily for me that way. Searing in a dry pan works just as well.
Adding a slice of lemon or lime to the skillet adds a really nice flavor boost to the peppers (alternatively squeeze the citrus on the peppers after cooking).
**Pro Tip: Leftovers are great stirred into scrambled eggs, hummus or any soup or stew.
Shishito Pepper Saute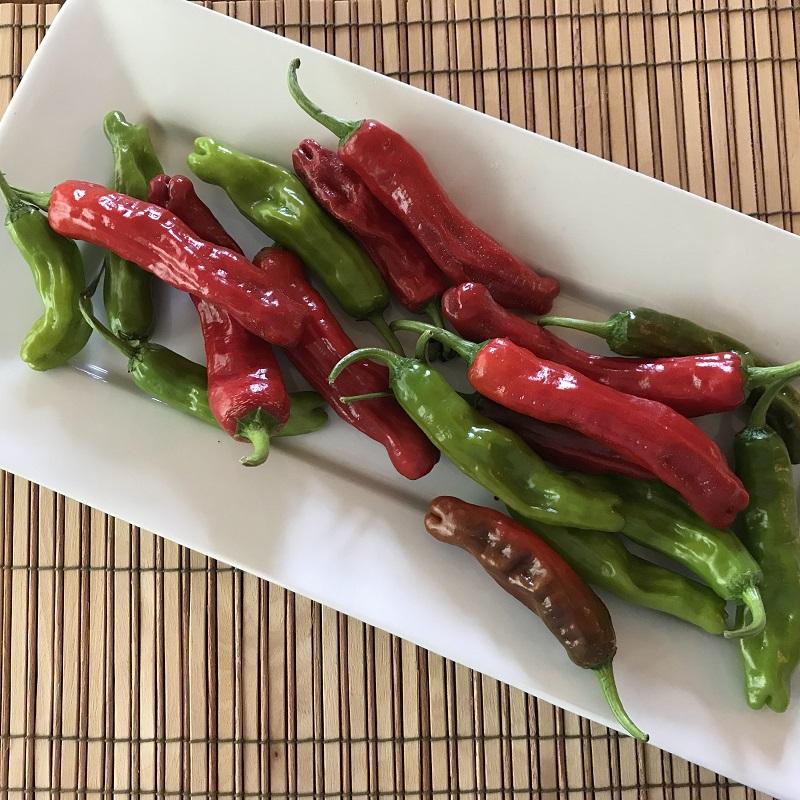 Shishito peppers are a great low carb appetizer. Quick and easy with a bit of heat.
Ingredients
6-10

shisito peppers

½

lemon or lime

1

Tablespoon

refined olive oil

Kosher or flavored salts

to taste
Instructions
Heat a large cast iron skillet (or a wide sauté pan) over high heat until the pan is hot but not smoking (with or without a couple Tbsp olive oil) If you are using olive oil, use a refined olive oil because extra virgin olive oils do not have a very high smoke point.

1 Tablespoon refined olive oil

Add the peppers to the hot skillet, turn the heat down a bit and cook the peppers, turning occasionally as they blister. They shouldn't char except in places. Don't rush. It takes 10 to 15 minutes to cook a panful of peppers.

When they're done, toss them with sea salt and add a few squeezes of fresh lemons or limes.

½ lemon or lime,

Kosher or flavored salts

Transfer to a serving bowl and drizzle with a little olive oil (if you didn't use it in the skillet).

Place them in a bowl with extra salt and lemon or lime wedges for anyone that wants more. You pick them up by the stem end and eat the whole thing, (minus the stem
Nutrition
Calories:
18
kcal
Carbohydrates:
4
g
Protein:
1
g
Fat:
0.2
g
Saturated Fat:
0.02
g
Polyunsaturated Fat:
0.1
g
Monounsaturated Fat:
0.01
g
Sodium:
4
mg
Potassium:
145
mg
Fiber:
1
g
Sugar:
2
g
Vitamin A:
428
IU
Vitamin C:
65
mg
Calcium:
6
mg
Iron:
0.5
mg
Did you make this recipe?
If you tried this recipe, please give it a star rating! To do this, just click on the stars above. Comments are always helpful also and I respond to all of them (except rude ones)