Weekday breakfasts….try as I might, it just seems plain wrong to hop out of bed and start cooking when I don't even have an appetite yet. Intermittent fasting is more routine for me during the week. For the weekend however, a poached egg atop some oatmeal and enhanced with a bit of hot pepper jelly is a healthy taste treat that I make time for.
Jump to:
RECIPE
Best Kind of Oatmeal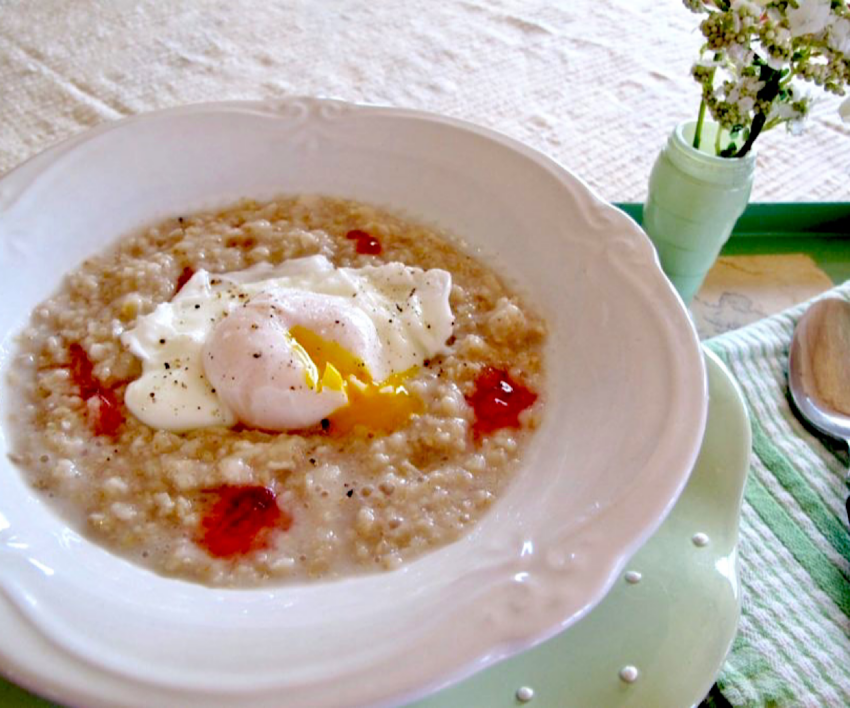 Using Hot Pepper Jelly to Sweeten Oatmeal
I sell artisan fruit preserves and I'm always looking for unique ways to use jams and jellies beyond toast. A while back I made a concoction of oatmeal with Raspberry Habanero Jelly and a poached egg on top, and it was wonderful! It was sweet and savory with a lot of creamy full-bodied texture (aka mouthfeel).
What Kind of Oatmeal Works Best?
I have tried this breakfast with steel cut oats, with regular Quaker Oats, and with instant oatmeal. The hot pepper jelly is a delightful alternative to brown sugar or maple syrup, and really adds to the overall combination.
The recipe below shows you how I put my new "breakfast of champions" together quickly and easily, with a how-to on poaching eggs also.
The other way I love oatmeal is with berries and brown sugar. It's not as unique as using hot pepper jelly and poached eggs, but it is luxurious and homey at the same time.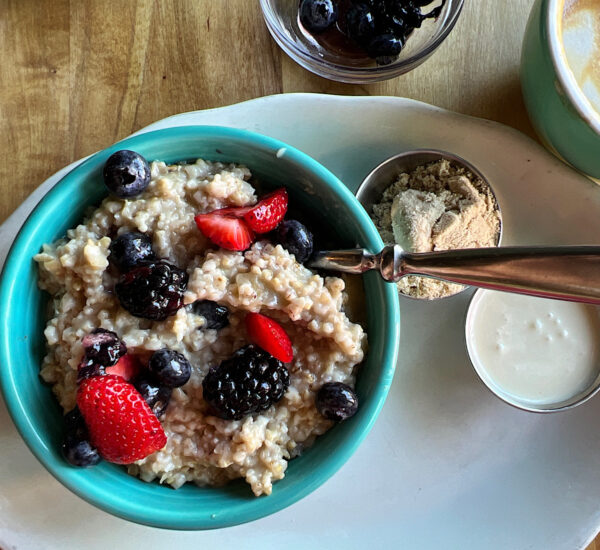 I love berries and oatmeal in the high Summer season, but if you want a creative breakfast later in the season and into the Fall, try these Mexican baked eggs in a chile verde sauce.
How to Make a Perfectly Poached Egg
There are several good photo tutorials on poached eggs (see Smitten Kitchen for one), but the recipe below is the process that consistently works well for me.
By the way, the nice thing about poaching eggs is that you can poach a lot of them if you are feeding a crowd, put them aside to drain, heat them slightly when ready to use, and not lose any of the flavor or texture.
Recipe for Oatmeal Breakfast with Poached Egg and Hot Pepper Jelly
Perfectly Poached Egg on Oatmeal (with jelly)
How to make a perfectly poached egg to top off some of your favorite oatmeal. Add some hot pepper jelly to really make it special!
Equipment
Medium sized pot

Slotted spoon

small bowl
Ingredients
MAKING YOUR OATMEAL
6

Ounces

oatmeal

Bowl of oatmeal made by your favorite method (keep warm)
POACHING THE EGGS
1-2

Tablespoons

white vinegar

1

egg

½

Teaspoon

salt

pepper if desired
PUTTING IT ALL TOGETHER
1

Tablespoon

hot pepper jelly
Instructions
Make a bowl of oatmeal using your favorite method (can be instant or steel cut oats or any kind you like). The nutrition analysis here is for steel cut oats. Keep it warm on a back burner while poaching egg.

Add a splash (1-2 tablespoons) of white distilled vinegar to a medium size pot of water and turn up to medium-high heat

1-2 Tablespoons white vinegar

Keep an eye on the water because one of the most important steps of getting a perfect poached egg is to have the water at the right temperature when you add the egg. It should NOT be boiling.

It should be at the stage where you can see bubbles starting to form on the bottom of the pot, but they are not breaking the surface. If the water is boiling when you add the egg, the white part will fly all over the pot and not come together in a pretty, succinct little egg.

Break your egg(s) into a small bowl or cup

When you see the small bubbles starting to form in the pot, turn it to medium to maintain that temperature.

Using a spoon, start to swirl the water in the pot in a clockwise direction to form a sort of a swirling eddy. This "eddy" will help to keep the white part of the egg close to the yolk as it forces the white to wrap around the center yolk until everything solidifies a bit.

Gently pour the egg from the cup into the center of the swirling water. Don't hold the egg up high and pour it in; get it as close to the water as possible and ease it in.

Sit back and watch. It takes about 3 minutes

Remove the egg with a slotted spoon and leave it to drain on a paper towel until ready to use.

To serve: Place egg on top of warm oatmeal, slit yolk open with a knife and swirl in hot pepper jelly to taste.

Add more jelly if you like your breakfast sweeter and then enjoy some wonderful, nutritious comfort food on a cold morning.

1/2 Teaspoon salt,

1 Tablespoon hot pepper jelly
Nutrition
Calories:
187
kcal
Carbohydrates:
21
g
Protein:
10
g
Fat:
7
g
Saturated Fat:
2
g
Polyunsaturated Fat:
2
g
Monounsaturated Fat:
2
g
Trans Fat:
1
g
Cholesterol:
164
mg
Sodium:
1232
mg
Potassium:
180
mg
Fiber:
3
g
Sugar:
1
g
Vitamin A:
238
IU
Calcium:
42
mg
Iron:
2
mg
Did you make this recipe?
If you tried this recipe, please give it a star rating! To do this, just click on the stars above. Comments are always helpful also and I respond to all of them (except rude ones)
Online Diet/Health Coaching:
Although I am not currently taking clients for diet & health coaching, I have been a coach for many years with the online service called coach.me. It is a great platform for all kinds of coaching – anything from specific diets, writing a blog, getting up early, or getting rid of that pesky procrastination.
There are some wonderful coaches and the testimonials will tell you what you need to know. Contact me at [email protected] to get a referral to some of the tested, experienced online coaches on Coach.me
If you'd like to start with a plan for a low carb or keto lifestyle, check out this detailed guide in ebook form. It may be all you need to lose weight on this lifestyle. Or it may be used as a supplement to one-to-one coaching.