Sheet pan dinners are the darling of the busy cook. It's an easy way to get a great dinner on the table with minimal fuss and minimal cleanup. Using good rubs (pastes, mustards, or spice blends) can take the lowly sheet pan dinner to new delicious heights while maintaining that ease that we all love. This recipe uses a tomato mustard rub but includes a number of alternative spice blends.
Jump to Recipe
Can Sheet pan dinners take the place of Fast Food?
In the 70's the quick and easy dinner darling was Hamburger Helper. In the 80s the crockpot was the way to go, as long as you added a spice packet of Lipton's French Onion Soup. The 90's were all about foods in pocket form, packaged salads and lunch kits, and things you could cook in the microwave or toaster (pizza bagels, pizza pockets, toaster strudels).
Somewhere around the 2000's farmers' markets really started to come into their own (in the US anyway), and the number of farmers markets offering fresh local produce has grown to the level of abundance. You can often find a good farmers market within 50 miles of your home these days.
The problem is our knowledge of how to cook with all this fresh produce is a bit rusty and the grandmothers are not always nearby anymore. Sheet-pan dinners might be the rescue dinner of the 2000's. They are certainly gaining in popularity right now, and rightfully so.
Dinners that are Easily Modified to Low Carb or Keto Lifestyles
One of the biggest obstacles I have seen in coaching people on a range of different diets is the challenge of cooking whole foods at home. In particular cooking vegetables. It seems dieters these days fall into one of 3 camps:
a stressed out professional who doesn't have time;
a busy parent (often a working parent) who needs to get something on the table without fuss;
a non-cook who just isn't familiar with cooking and is either intimidated to learn or has no interest
The thing everyone seems to have in common however, is we all like to eat. And we prefer eating something that tastes good! I have heard of some people that really don't enjoy food or eating, but so far in my fairly lengthy life I have not met any of them.
The Best Pan to use
Historically, sheet pans were a tool seen mostly in professional kitchens. You can get good ones in any kitchen store these days and they typically measure 18 x 13 inches with a lipped edge. This Large Sheet pan: is my favorite.
Sometimes called cookie sheets, these cooking trays are really helpful for one-pan dinners (called sheet pan dinners or traybake dinners) . You'll often find them labeled as half sheet pans. If you have a pan at home that is a different size, don't worry about it. As long as you have enough space to spread things out into a single layer, everything will be fine.
The "How-To" Template for any Sheet Pan Dinner
The idea around sheet-pan dinners is that they are easy and it allows you to be creative with whatever you have available. The idea is to get proteins and vegetables that cook up golden, crisp and roasted — not steamed and mushy.
The best way to achieve this wonderful crispy ideal is a combination of high heat (usually around 400-425 F) and enough food to fill in the space in your pan. Try this recipe if you want a spice blend with some heat on your chicken.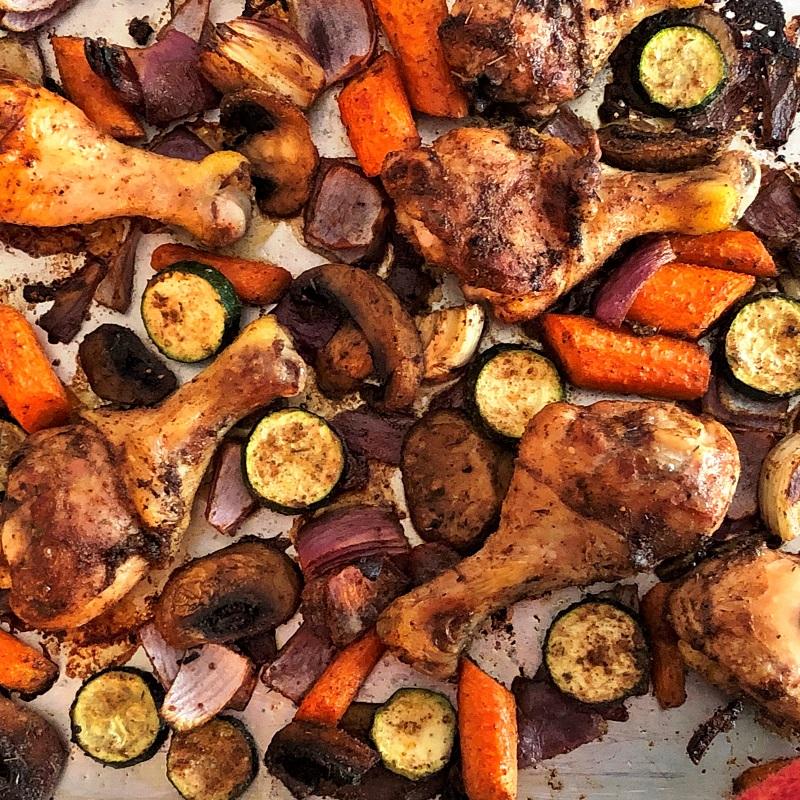 The main trick is to select proteins and veggies that will cook at approximately the same time. For chicken, this would be:
Root vegetables like carrots, beets, daikon radishes, sweet potatoes, jicama, etc.
Brassicas like broccoli, cauliflower, or brussel sprouts
sweet or hot peppers,
asparagus,
garlic
lemon halves
Juicy tomatoes or more leafy vegetables might have to be held out of the roasting until the last 10 minutes.
Just don't forget to spice it up! My favorite spice blends for a rub are smoked paprika or harissa. If you want to go spicier, try the jerk seasoning or the Peruvian Ultimate Hot (really hot!)
A good Mexican version of a sheet pan dinner might involve spreading adobo sauce over the chicken and vegetables before cooking.
In the recipe below I used a tomato mustard as a rub, but there are many sauces that can stand in for rubs, from spicy to mild.
Tips and Tricks to Sheet-pan Cooking
If you want crispy proteins, leave the skin on chicken thighs or choose meat that will render its own fat.
Use a piece of parchment paper to line your sheet pan with for fast and easy clean-up
Frozen vegetables can be tossed onto the sheet pan without having to wait for them to thaw.
Eggs and beans are great additions to make it something like a hash.
I like to add some lemon wedges to use to squeeze over the dish at the end. The fact that they are broiled lemon wedges makes them even more powerful of a taste treat.
Last week a neighbor brought us some lake fish (sun fish and croppies) and that went onto the sheet-pan with some chard, garlic, lemon wedges and fennel.
This week I went with chicken thighs, brussel sprouts, carrots, fennel, lemon and rosemary (see above photo).
It is really the simplest way to be a creative cook that I have seen in a long time. Not to mention I finally have a way to easily make all those vegetables from the farmers' markets!
Cooking Tutorial for Sheet pan dinners
If you prefer seeing it done rather than reading, check out this video which walks you through one recipe (with a few diet tips at the end).
Chicken Sheet Pan with Tomato Mustard
This is an easy, economical, low carb dinner that can be modified any number of ways by using your favorite paste, sauce, mustard or spice blend
Ingredients
7-8

chicken legs (skin on)

(could use thighs also)

5-6

carrots

peeled and cut coarsely into bite-size pieces

1

Large

daikon radish

peeled and cut coarsely into bite-size pieces

1

fennel bulb

rinsed & quartered

1

onion

peeled and quartered

2-3

red peppers

sliced into bite-size pieces

1

Bulb

garlic

unpeeled and whole

1

Tablespoon

kosher salt

2

Tablespoons

olive oil

6-8

Tablespoons

coarse tomato mustard

DIY recipe is in notes below or you can order from Heathglen. Alternatively use harissa paste or your favorite spice blend
Instructions
Preheat oven to 400° F.

Place chicken legs and all of the prepared vegetables on the sheet pan in a single layer. Sprinkle salt over the ingredients and then drizzle with oil. If you are using a spice blend rather than a sauce or mustard, sprinkle the spice over all ingredients also.

Using your hands toss all the ingredients together on the pan, trying to get the oil and salt distributed. Then spread everything out in a single layer (but close together)

Using a spoon, drop some tomato mustard (or other sauce) on the chicken pieces, being careful not to contaminate the spoon if you are reusing the jar of mustard (i.e., don't let the spoon touch the chicken)

Spread the mustard over the chicken pieces using a pastry brush or knife.

Place the sheet pan in the oven and roast for about 35 minutes or until chicken is no longer pink and you have a nice char on the vegetables.

Serve with more of the mustard or sauce in a side dish.
Notes
For DIY Tomato Mustard
Ingredients:
3/4 cup pulsed tomatoes (we smoke our tomatoes but you don't need to)
1/4 cup tomato sauce
1/2 tsp ground chipotle spice
1/2 cup apple cider vinegar
1/3 cup yellow mustard seeds
1 1/2 tablespoon mustard powder
1/2 teaspoon kosher salt
1/2 teaspoon garlic granules
1/2 teaspoon onion granules
1/2 tablespoon dried oregano
1/2 teaspoon sugar
Directions:
Add mustard seed and vinegar to a jar and let soak overnight
Combine all ingredients in food processor and pulse until well mixed
Add to a large pot and heat to 165 to 175 degrees F (until thickened)
To purchase the smoked version of this in an 8 oz jar, click here
Nutrition
Calories:
649
kcal
Carbohydrates:
23
g
Protein:
41
g
Fat:
44
g
Saturated Fat:
11
g
Polyunsaturated Fat:
9
g
Monounsaturated Fat:
21
g
Trans Fat:
1
g
Cholesterol:
210
mg
Sodium:
2285
mg
Potassium:
1337
mg
Fiber:
8
g
Sugar:
12
g
Vitamin A:
14904
IU
Vitamin C:
109
mg
Calcium:
123
mg
Iron:
3
mg
Did you make this recipe?
If you tried this recipe, please give it a 5-star rating! To do this, just click on the stars above.