There are two main problems with fried foods on a low carb diet or ketogenic diet: the type of oil and the type of coating. Baked chicken legs with a coating of Dijon mustard, crumbled pork rinds, and a little Parmesan takes care of both of those problems and gives you low carb or keto "fried" chicken legs.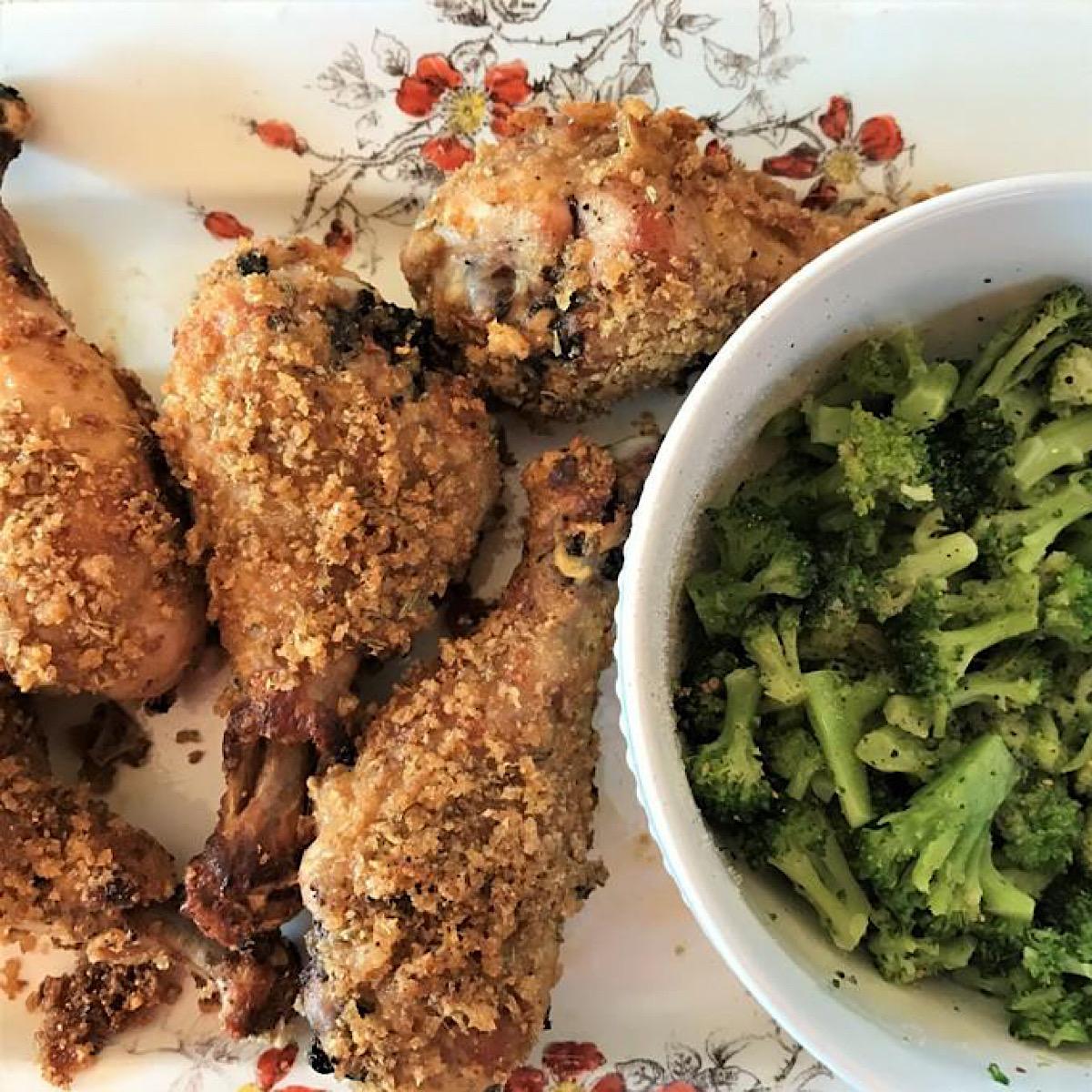 Jump to Recipe
The use of Oil for Fried Foods on a Low Carb or Keto Diet
While olive oil, coconut oil and butter are all great fats for low carb, and keto diet lifestyles, their smoke point means they don't do well at the high heat required for deep-fried food. While I don't miss breads and pasta on a low carb diet, I do miss fried chicken, fried fish cakes, hush puppies and the like.
The main thing to know about cooking with different oils at high heat, is to use oils that are stable and don't oxidize or go rancid easily. When oils undergo oxidation, they react with oxygen to form free radicals and harmful compounds that you definitely don't want to be consuming.
So, you'll want to make sure you're using fats with smoke points at or above 400°F when cooking at high temperatures. That's all fine and good, but most people cooking fried foods on a low carb, keto diet also want to use oil that is neutral in flavor. The problem is that an oil with neutral flavor (i.e., canola oil, vegetable oils) generally means it will be a highly refined oil, rather than a "virgin" or "cold-pressed" oil, and the refinement process of these oils includes high-temperature heating, bleaching and extracting, resulting in oils that might not be the best for health.
The bottom line is finding the best oil for high temperature cooking on a low carb diet is tricky. I tend to use peanut oil, but it is a refined oil and I'm not always comfortable with that so I don't use it often. A very good primer on the various oils and how to use them in cooking can be found at this site.
The easiest way to simulate fried foods on a low carb diet without all the worry about which oil to use is to skip the frying altogether and bake it! Baking chicken legs and thighs with a low carb coating can not only replace fried chicken but has become the preference at our house. Maybe it will be at yours also. Try it!!
Alternative for Low Carb Breading or "Coating"
Most fried foods are dipped in eggs (which is fine), but then covered with flour or panko or some sort of breading (not fine). Crushed pork rinds mixed with a bit of grated parmesan to the rescue! Many low carb people or those on a keto diet have discovered this delicious way of breading things.
Don't like pork rinds (aka chicharonnes)? Often people that don't like pork rinds out of the bag find that they are quite different in taste when used as a coating mixed with a little parmesan cheese added. I personally like them all ways. A favorite lunch of mine is using pork rinds as a dipper into a tub of guacamole. Not for everyone I know, but I love them this way.
Low Carb or Keto Fried Chicken Legs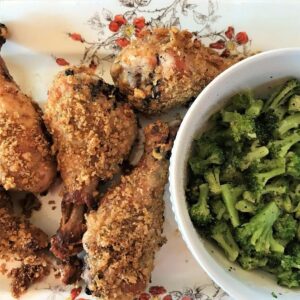 Ingredients
8-10

chicken legs

½

tsp

salt and pepper

plus extra, to taste

3

tbsp

extra virgin olive oil

1

tbsp

fennel seeds

ground in a coffee or spice grinder

1

cup

pork rinds

crushed

2-4

tbsp

dijon mustard
Instructions
Preheat the oven to 400 degrees F. Rinse the chicken legs and pat dry. Season generously with salt and pepper.

Heat 1 Tbsp of oil in a skillet or sauté pan over medium-high heat and brown the chicken well on both sides (3-4 minutes per side). This is not high temp deep-frying, but rather med.-temp sautéing.

Transfer the chicken to a roasting pan or large sheet-pan (line it with parchment paper for easy clean up). Bake 15 minutes.

While the chicken is cooking, mix together fennel, the remaining 2 Tbsp olive oil, the pork rinds, 1/2 tsp salt and a pinch of pepper.

Remove the chicken from the oven and raise the oven temp to 500 degreesF. While the oven is heating up, use a pastry brush to brush on side ofthe chicken legs with mustard and then press the crumb mixture on to of themustard. Turn the legs over and repeat on the other side.

Bake until the crumb crust turns golden, about another 10 minutes.

Serve with a green vegetable, roasted tomatoes or cauliflower mash.
Nutrition
Calories:
554
kcal
Carbohydrates:
1
g
Protein:
38
g
Fat:
43
g
Sugar:
1
g
Did you make this recipe?
If you tried this recipe, please give it a 5-star rating! To do this, just click on the stars above.
So, there ya go! Let me know if you have used the pork rind breading on any other proteins. I've used an almond and mustard breading on fish, but this pork rind coating might be good to try there also.
If you want some delicious mock mashed potatoes with these chicken legs instead of the green broccoli, click on this recipe.
Online Coaching Available:
Although I am not currently taking clients for diet & health coaching, I have been a coach for many years with the online service called coach.me. It is a great platform for all kinds of coaching – anything from specific diets, writing a blog, getting up early, or getting rid of that pesky procrastination. Explore the site through the link below. There are some wonderful coaches and the testimonials will tell you what you need to know. You can always contact me to get referrals also. Click here to get to my profile and then explore others from there.