Oyster stew is a classic dish for Christmas Eve, but it is also a great comfort food dish that will get you through any cold evening. Fresh oysters are ideal for this creamy soup, but canned oysters can work almost as well.
Jump to: The Recipe | Tips for Success | Fresh vs Canned Best Dairy to use | Freezing & Reheating
Tips to Perfect Oyster Stew
You can purchase oyster stew in a can from some grocers, but it really isn't very difficult to make from scratch.
The main thing is to not curdle the milk.
Here are some keys to making a perfect stew:
Use fresh oysters if possible (see below on when and where to get them); if you can't find fresh, canned oysters are a fine alternative. No smoked oysters though if you want to stick with the traditional creamy stew. Smoked oysters have a pretty strong flavor
If you are using potatoes, you don't need to add a flour or cornstarch paste. The potatoes will help thicken it.
Be sure and reserve the juice that you drain from the oysters. This is called the oyster "liqueur" and it adds a lot of flavor
Oyster stew is typically mild in flavor. The herbs and spices you use are what will give it a lot of distinction. We used rosemary, garlic and Old Bay seasoning. Some people add some heat with a variety of chile spices
The most important thing is to take care not to curdle the dairy you use. We used heavy cream and almond milk and heated it over medium low. Don't leave the stove while the dairy is coming up to a simmer. You don't want to let it boil as it will curdle and/or scorch the milk.
Fresh Oysters vs. Canned Oysters
Fresh oysters are "typically" best, but good ones can be difficult to find at certain times of the year.
There is a general rule that you should only buy oysters during the months that have an "R" in their name (January, February, March, April, September, October & November)
In Minnesota, where I live, I am only able to find fresh oysters in the grocery stores in November and December. I think that is due to the popularity of oyster stew Christmas Eve. We never see them outside of these two months.
The rationale behind the "R" month rule is steeped in debate of course. All of the reasons I have read about make some sense however. Here are a few of the most often repeated reasons for this rule:
The origin of the month with letter R resulted from the lack of adequate refrigeration in earlier times and the cool/cold weather inherent in those months was seen as a safety factor for keeping the oysters from spoilage .
During the warmer months, certain algae blooms – the dreaded red tide which carries a toxin that can be deadly to people. One reason often given is that the months that don't have an R are the months that oysters breed and because they soak up red tide those months should be avoided. It should be noted that red tide is heavily monitored these days is not always present during the warm months.
A reason given in the Chesapeake Bay area is that the summer months are for crabbing. The same watermen are responsible for both oysters and blue crabs. Although these days many of both are raised in "farms" year round or harvested from southern states thus blurring the season
What kind of "Milk" is best to use?
There are many types of cream or milk that work in making oyster stew. Most of them are a matter of diet or taste preferences but the type of dairy you use may need some modifications to the recipe.
We used a mix of heavy cream and almond milk. Heavy cream gives the stew some body but 6 cups of heavy cream would make the stew richer and thicker than we like, so we used 2 cups of heavy cream and 4 cups of almond milk.
I have read recipes that use coconut milk, half and half, evaporated milk, 2% milk and low fat milk. The main thing to be aware of is that exclusively using a low fat dairy product will make for a thin soup.
If you want it thicker, and are not on a low carb diet, don't boil it longer but rather add potatoes, or cornstarch or a flour roux.
Boiling it longer to try and thicken may end up just curdling or scorching the milk you are using.
Speaking of curdling, make sure and cook the dairy over low heat. Enzymes in the oysters will make milk curdle faster if the temperature is too high.
How to Freeze and/or Reheat
Most soup recipes (including this one) are made in a large pot and there is often leftovers. Just make sure the leftover stew is kept refrigerated and then reheat slowly over medium low heat and it's even better the next day.
It should last 2-3 days if kept refrigerated.
I wouldn't freeze oyster stew, as the milk products would separate. If you find fresh oysters however, shucked oysters can be frozen for up to 6 weeks.
I found some great oysters at Costco in November, but they were gone in a flash. Grab some when you find them fresh and at a good price so you can enjoy them after Chrismas Eve is long gone but the weather is still cold.
Other Great Cold Weather Recipes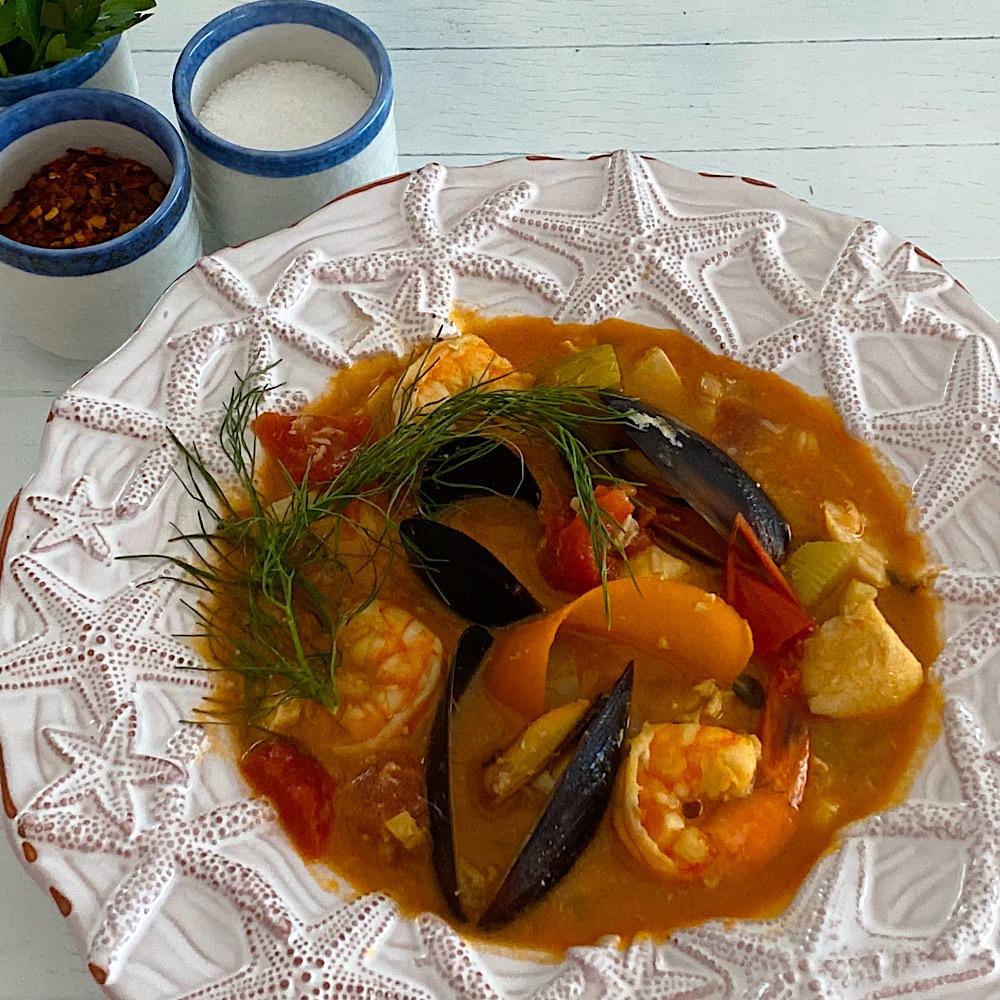 Here are a few of my favorite recipes for cold weather cooking:
This post may contain affiliate links, and you can read our disclosure information here–
Recipe for Oyster Stew
Oyster Stew
This oyster stew is made with a base of bacon and vegetables, slow cooked with dry sherry and oyster "liqueur" and then simmered with fresh oysters, heavy whipping cream and almond milk. It is a perfect cold weather comfort food!
Ingredients
4-5

Cups

Fresh oysters

Drain liquid and reserve

1

Pound

Bacon

Diced

1

Large

Onions

Chopped

2-3

Cloves

Garlic

Minced

2 -3

Sprigs

Fresh rosemary

about 4" sprigs, removed from stem and minced

3

Tablespoons

Old Bay seasoning

2

Large

Russet potatoes

Scrubbed, and then chopped coarsly with skin on

4

Stalks

Celery

Diced

1

1/2 cups

Diced baby carrots (peeled)

1

Cup

Dry sherry

Extra dry

2

Cups

Heavy whipping cream

Fluid cream

4

Cups

Almond milk

Can substitute other "milks" here

3-5

Tablespoons

Butter
Instructions
Use a strainer to drain the oyster juice (liqueur) into a bowl. Set the oyster liqueur aside, cover the remaining oysters and put them in the refrigerator while making the rest of the soup.

Dice the bacon and start cooking it over medium to medium high heat, stirring occasionally. (To dice, lay the pound of bacon on the cutting board and cut across the grain horizontally in 1/2" dice.

Chop the onion and add it to the pot while the bacon is cooking. Cook over medium for about 5 minutes or until onions are soft and translucent. While onions are cooking chop the scrubbed potatoes, celery and carrots.

After the onions are soft, add the garlic, rosemary and Old Bay and stir in for about 1 minute to blend together. Then add the potatoes, celery and carrots to the pot and stir everything together.

2-3 Cloves Garlic,

2 -3 Sprigs Fresh rosemary,

3 Tablespoons Old Bay seasoning,

2 Large Russet potatoes,

4 Stalks Celery,

1 1/2 cups Diced baby carrots (peeled)

Add sherry and oyster liqueur to the pot of vegetables and cook over medium to medium low heat for about 45 minutes

Remove oysters from refrigerator and add to the pot. Add the cream and the milk and stir together gently. Add butter and bring everything to a simmer. Watch the pot at this point so that the milk does not boil or curdle. It should take about 5 minutes to get it all up to a simmer. Once heated through and simmering it is ready to serve.

2 Cups Heavy whipping cream,

4 Cups Almond milk,

3-5 Tablespoons Butter

Serve with oyster crackers or some robust bread and enjoy!
Nutrition
Calories:
617
kcal
Carbohydrates:
24
g
Protein:
12
g
Fat:
51
g
Saturated Fat:
24
g
Cholesterol:
135
mg
Sodium:
632
mg
Potassium:
672
mg
Fiber:
2
g
Sugar:
2
g
Vitamin A:
1173
IU
Vitamin C:
8
mg
Calcium:
243
mg
Iron:
2
mg
Did you make this recipe?
If you tried this recipe, please give it a 5-star rating! To do this, just click on the stars above. And don't forget to tag me at @dorothy_stainbrook_heathglen, if you share a picture on Instagram! You can also tag me at #heathglen!