The classic Mexican posole is a rich stew made with hominy, pork butt, a chile sauce made with dried chiles and flavored broths. While it is a simple dish, preparing the dried chile sauce can sometimes deter people from making it. This slow cooker recipe uses a smoky ancho/pasilla powder to season the broth for easy cooking, and substitutes navy beans for hominy to keep it slow carb compliant.
Jump to: Recipe | Brief History | Dried Anchos vs Ancho Powder | Slow Carb Substitutes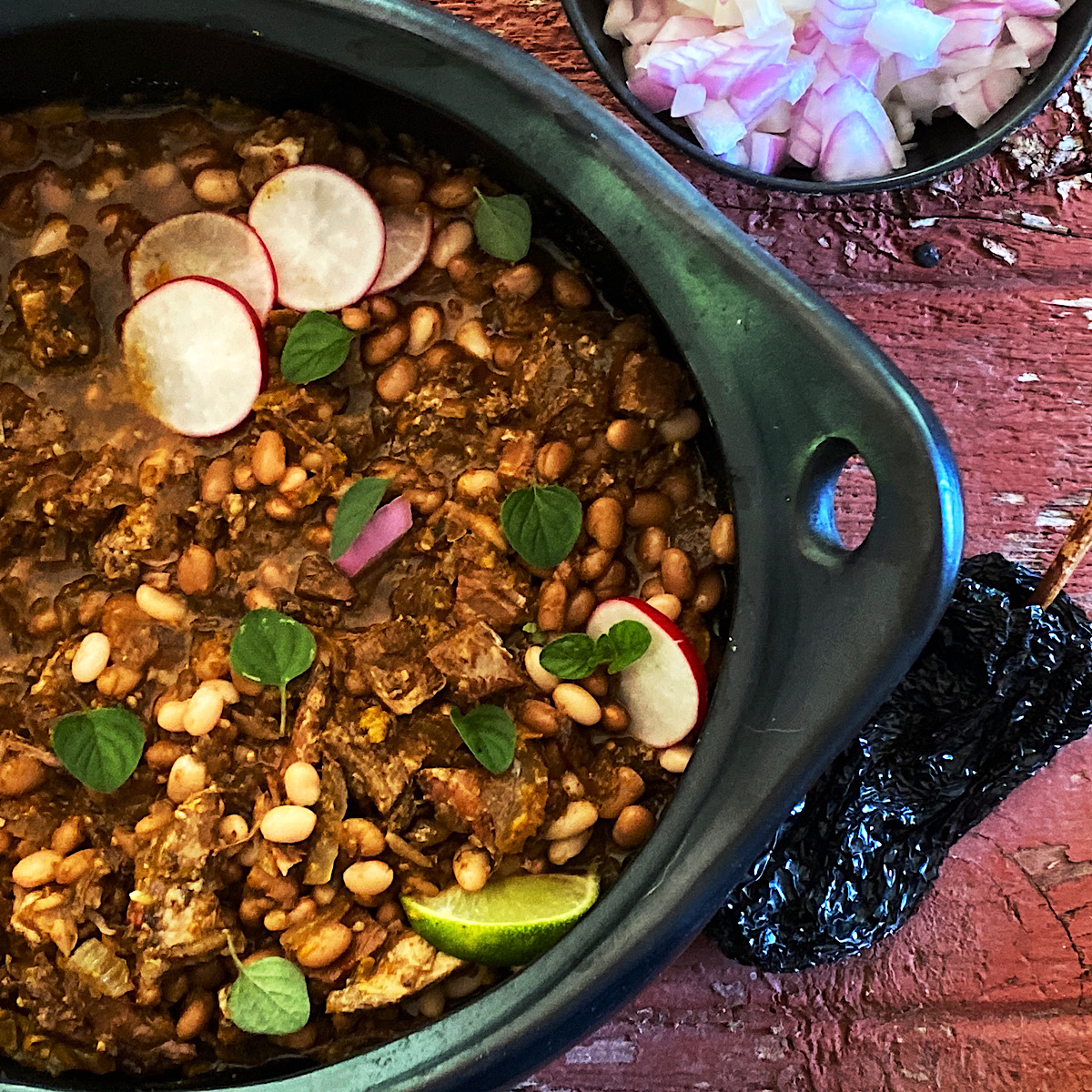 This post may contain affiliate links, and you can read our disclosure information here–
Is it Posole or Pozole?
The word posole derives from pozolli, the Nahuan word for hominy. And not surprisingly – when prepared traditionally – hominy is one of the major components of this popular Latin stew.
Nahuan is an ancient Aztecan language, giving you a major clue as to the origins of this dish – Mesoamerica. If you research this dish, you will see it referred to as both posole and pozole.
Both spellings are considered correct, with posole being the older version. Whether you spell it with an 's' or a 'z', this dish is a well-loved comfort food across Mexico and Central America.
Festive Fare or Everyday Meal?
Just like your family has a classic recipe for their favorite stew, every Mexican household has their family's prized version of posole. And make no mistake, this dish is beloved by all.
While popular in home kitchens, you can also find posole on the menu of most Mexican restaurants throughout Latin America. Some elevate it with their own little twist and others serve it as a straightforward home-cooked meal.
Traditionally this dish is served for celebrations. You will find it on the table at Christmas, New Year's, Mexican Independence Day, or any occasion reserved for merrymaking.
In some regions of Mexico it is traditional to serve this ultimate comfort food every Thursday or Saturday. It is so delicious people crave eating it weekly. You might be surprised and find it becomes a regular menu item in your house too!
See the links below for some more Mexican celebration dishes!
Dried Ancho Chiles vs Ancho Powder
Dried ancho peppers are frequently used by Mexican cooks in making posole. Dried ancho peppers are found in most Mexican and Latin grocery stores, but you must plan ahead to use them.
Since they can't be used straight from the package, you must first reconstitute them by soaking them. Once they have become pliant, you need to carefully clean and seed them. Both of these steps can be time consuming and are a bit of a pain when you want to get straight to cooking.
If you want to save time and still keep the wonderful flavor profile of the ancho peppers, ground ancho chile is the key. Just be sure to get "fresh" ancho powder from a reputable spice vendor.
Sometimes dried spices have been languishing on the grocery store shelf or the warehouse for so long that the distinctive spice has lost its punch.
You can usually find ground ancho chile at Mexican or Latin grocery stores. The turnover of ingredients you buy there will be more frequent and you might be surprised to find other wonderful ingredients with which to experiment.
I do offer an excellent ancho powder to purchase that is grown on our farm and smoked over pecan wood on the farm.
All poblanos and pasilla peppers are harvested fresh in the Fall and smoked the next day. Check out our Smoky Mix, which is a blend of smoky anchos, pasilla peppers, and chipotles.
It is excellent for the posole recipe below, as well as many other Mexican dishes that call for ancho chiles.
TIP: Ancho chile powder is not the same things as the generic "Chili Powder" you get at the grocery store. Generic chili powder is usually a blend of multiple ingredients such as cumin, oregano, garlic powder, and ground chiles and the ratio of each ingredient varies widely between brands. Generic chili powder is not a good substitute for this recipe.
If you like your posole with more heat, try substituting chipotle spice for the ancho spice powder. The smoky flavor you'd get with ancho powder still comes through, but you'll be pleasantly surprised with the extra kick.
Customizing Posole with Garnishes
One of the best parts of this dish for many is the variety of side garnishes that are laid out on the table for people to customize their preferred flavor enhancements.
Depending on the occasion where you are serving posole, you can make the layout of the garnishes as fancy or simple as you choose. You could put your accompaniments on a Lazy Susan and let people spin to their favorite toppings.
Chips are usually included on the table, but of course these are not low carb, slow carb or keto. A few of the more traditional garnishes which "are" low carb include:
thinly sliced red radish
shredded cabbage
cilantro
diced avocado
Queso Fresco
lime slices/lime juice
Chile de arbol peppers for more heat
TIP: All your dishes will taste best if your spices are fresh. It may be tempting to purchase a large quantity of a particular spice because it is cheaper per ounce, but if you can't use that quantity up in approximately one year the spice will begin to lose its potency. What seemed to be a bargain will turn out to be a waste.
How to Store or Freeze Pozole
This recipe for slow carb pork posole makes a lot. It's great for sharing with family or friends, but it is also perfect for the type of batch cooking that gets you several meals over the course of a week.
Refrigerated, the leftovers will keep for approximately one week. Or better yet, freeze the leftovers so you have a delicious meal ready for an evening when you don't feel like cooking.
Place the prepared pozole in freezer bags, remove as much air as possible to prevent freezer burn and seal. Mark your container with the date you put the leftovers in the freezer and they will keep fresh for up to three months.
To serve, thaw overnight in the fridge, and warm over low heat on the stovetop. Voila, dinner is served!
TIP: All spices should be stored in a cool, dry, dark environment. But did you know that for maximum freshness red spices, such as chile powders, should be stored in the refrigerator? This is especially important if you live in a hot and humid locale.
Why are Navy Beans Allowed on a Slow Carb Diet?
Slow carb diets allow beans as a protein source that does not derail weight loss. Substituting white beans or garbanzo beans for the hominy is therefore a modification that works for slow carb diets without losing the delicious flavor of posole.
Legumes and beans have a lot of fiber and protein and because of this they are considered a "slow carb" that can offer a form of energy that will not spike your insulin levels like a refined carb.
You don't need beans with every meal, in fact too many beans can stall your diet, as they are fairy dense in calories.
An in-depth study on longevity in regions across the world (the Blue Zones Solution) found that the one diet component that all of the various cultures shared was beans. This study, along with Tim Ferris's slow carb diet recommends beans as a healthy way to get in recommended amounts of protein.
A keto diet, on the other hand, does not include beans. If you want to make posole and stay keto compliant, you could make pozole without hominy or beans (a pork and chile stew essentially) and garnish with a lot of cabbage and radish. It will change the texture of posole more so than beans, but it is still a tasty alternative.
A similar slow carb version of posole using garbanzo beans rather than navy beans is this Seared Pork Posole with Garbanzo Beans.
If you want to celebrate with pozole and are not following a slow carb diet this traditional version of pozole rojo is excellent.
More Latin American Celebration Dishes
This Camarão (pumpkin with shrimps) is a centerpiece dish from Brazil that is full of incredible flavor and ever-so-beautiful
Or try this "rolled leg of lamb with Mexican spices" for a Spring celebration
And herald in Summer with this popular Mexican street food of fruit and veggies sprinkled with Tajin
Recipe for Pork Pozole with Ancho Powder