Lunch on a low carb or ketogenic diet is always tricky. People are busy and it's often a huge chore to make it out the door in the morning with a decent breakfast, let alone a pre-planned portable lunch. It is definitely getting easier to find low carb options in restaurants now (thankfully), but it is still questionable as to what is in the sauce, soup base or the salad dressing. Bringing something from home is usually the best option if you have some time to plan ahead, and this Egg Avocado Salad is perfect!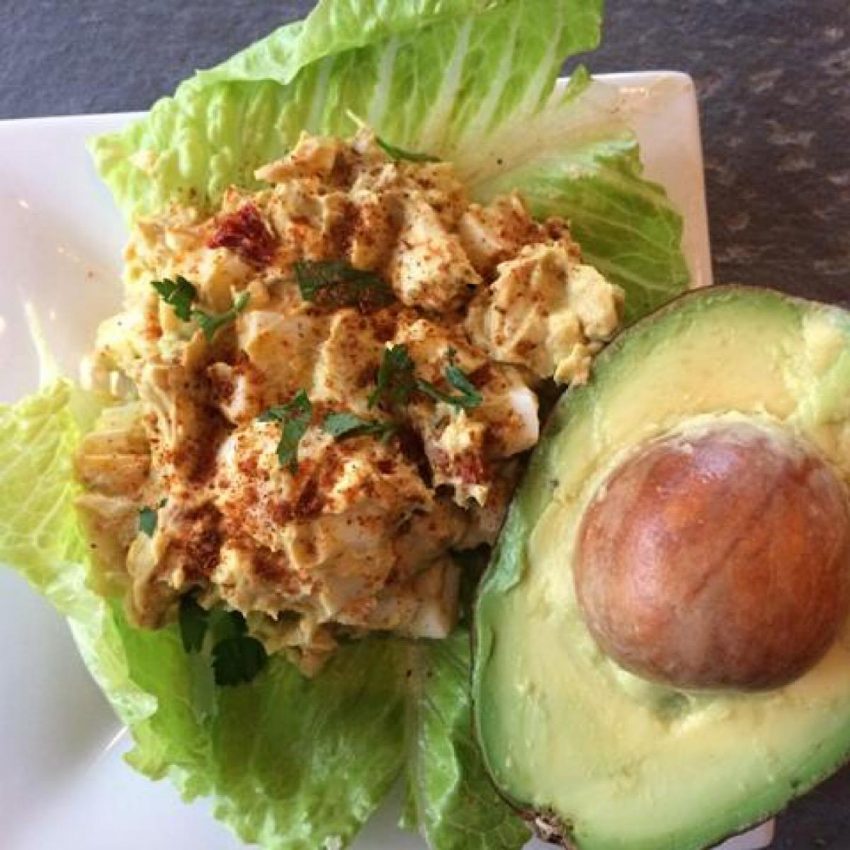 If your refrigerator is full of low carb or ketogenic ingredients, it really is not that hard to throw a bunch of them in a lunch bag and put them in the refrigerator when you get to work. Easier still is to make this salad the night before or on the weekend and put it into portable containers to grab on your way out the door. If you work at home, so much the better! Busy stay-at-home parent? This type of salad doubled and mixed up in a big bowl will cover you for days.
Peeling Hard-Boiled Eggs:
If you make your own hard boiled eggs on the weekend the taste is better, but I've been so busy lately that I just pick up peeled hard boiled eggs at the grocery store. I know, kind of lazy, and they don't taste as quite as good, but I tend to get overly frustrated dealing with all those finicky eggshells. Seems like one out of three eggs actually peels with anything close to ease. I do have a method for hard boiling eggs that is considered "fool proof" and you can find it here. If the eggs aren't extremely fresh it works most of the time (good tip: make hard boiled eggs with older eggs for easier peeling).
At any rate, I bought the peeled hard-boiled eggs from the grocery store and if you grab a couple of eggs, an avocado, a small container of sour cream and some paprika or hot spice, you can quickly make a great and filling egg avocado salad for lunch. Here's the recipe, such as it is:
Egg Avocado Salad for a Low Carb or Ketogenic Lunch:
Ingredients:
2-3 hard-boiled peeled eggs
1 avocado, chopped or mashed
2-4 Tbsp sour cream
Salt and pepper to taste
Paprika or hot chile pepper spice
Directions:
Place all the ingredients in a large mixing bowl and toss delicately until well combined.
Enhancements for the Egg Avocado Salad
There are a ton of additions you can make to this simple salad to enhance it or change it up. Here are a few suggestions:
lemon or lime juice
chopped onions
Dijon mustard
horseradish
bacon bits
dill
capers