Fall is a favorite time of the year for so many people. The shorter cooler days call out for comfort food, and fruit butters are the ultimate in comfort food. Accompanied by some piping hot tea and a cozy blanket and you're all set for what the Danes call "hygge"..
Jump to: What is Hygge? | What is a Fruit Butter? | Plum Amaretto Butter Recipe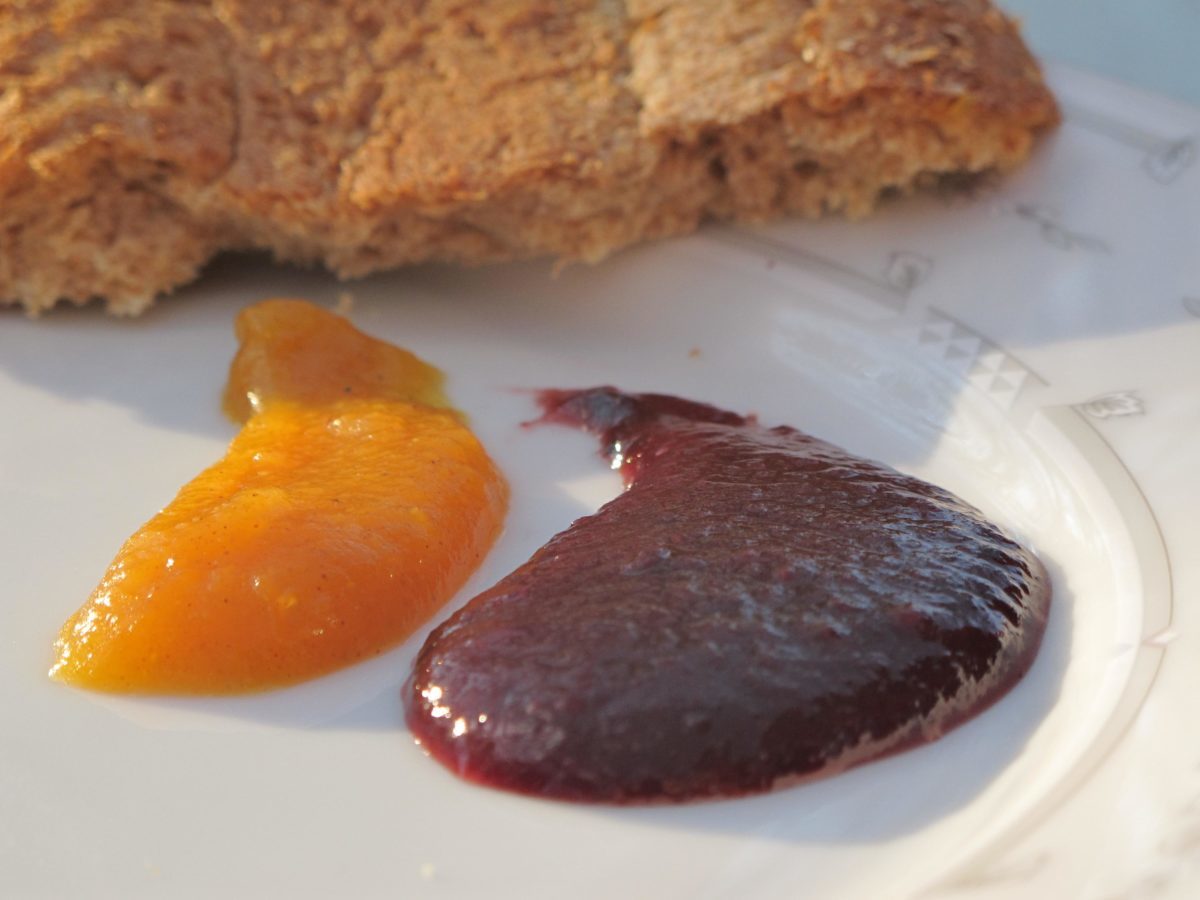 Fruit Butters and the "Hygge" cozy Winter Lifestyle
While "hygge" is an old Danish (and Norwegian) concept, it has taken hold in the US as of late. Pronounced "hue-guh", it is translated to mean a feeling of cozy contentment and well-being.
Hygge also refers to intimacy, either with yourself, friendsI or your home. It is the idea of security, comfort, kinship and simpleness.
The concept of hygge is particularly compelling in the cold Winter months and around the holidays when family and friends are near. You probably already practice hygge in a many ways, but here are some ideas to consider to enhance the feeling of hygge in your home this winter.
Reading a good book indoors while it is snowing or raining outside
enjoying a cup of hot cocoa while wrapped in a warm blanket
making a ritual of brewing some turmeric tea and enjoying it in a special pottery mug
Stopping by the flower shop on your way home from work to pick up some fresh flowers
playing scrabble or a board game with family or friends while drinking mulled wine with star anise and cardamom
wearing cashmere socks or old favorite sweatpants around the house
gathering around a fireplace with friends and telling stories
baking some bread and relishing the smells
and of course, eating creamy, silky, rich fruit butters on warm rye bread
What are some of the ways you practice hygge? Please share in the comments below!
What is a Fruit Butter?
Fruit butters are a very old way of preserving the fall fruit harvest and they seem to be a uniquely American preserve, with fruit curds, fruit pastes and the like favored in European countries.
Plum butter might be the exception, as there is a Polish classic spread called powidla sliwkowe which is very similar to a fruit butter and is used on bread, in sauces, and as a glaze on pork or duck. In general, three things distinguish a fruit butter from jams, jellies, compotes and other fruit preserves.
First is texture

.
Fresh fruit is simmered for hours with a little sugar and maybe some juice until it softens enough to puree it. It is then further simmered with spices and flavorings until it forms into a soft spread with a texture similar to butter (hence the name).
Second is sugar content

.
Fruit butters generally have half as much (or less) sugar than a jam. Jellies and jams need a certain amount of sugar to generate the chemical reaction with acid and pectin needed to form a gel (unless you use a low-sugar pectin or boil the jam for so long that the sugar content ends up being concentrated and actually results in a deceptively high sugar content).
Third is a spice combination.
Most fruit butters are made and eaten in the cool fall and winter months, and they are usually made with rich wintery aromatics like cinnamon, cloves, allspice and nutmeg.
I like to add vanilla beans and I very often will add a little flavorful "substance" like Amaretto, Grand Marnier or maybe Apple Brandy.
Fruit butters are easy to make and easy to modify to your tastes, as they are very forgiving (another difference from a jam or jelly).
Just be warned, they can be very messy, you need to stick around and keep an eye on them so they don't scorch, and they take quite a bit of fruit (although the fruit can be quite ripe).
By the way, these two pieces of equipment make fruit butters quite a bit easier: a stick blender and a roaster oven.
Below is a recipe for the plum amaretto butter
For another cozy dessert that is lower in carbs and sugar try this Cherry Clafoutis
Plum Amaretto Fruit Butter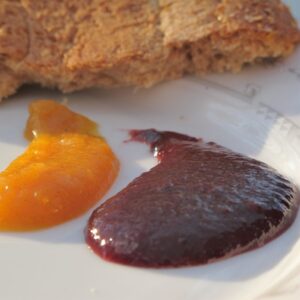 A smooth silky plum butter with a background of almond-flavored Amaretto
Ingredients
9

cups

plums

pitted and halved

2

cups

sugar

may need 3 cups, depending on sweetness of fruit

⅓

cup

Amaretto liqueur

1

orange

zest and juice

1

vanilla bean

1

bay leaf

1

tsp

allspice

1

tsp

cinnamon

½

tsp

salt
Instructions
Simmer halved plums in roaster oven or on stovetop until soft (some people will use a crock pot which works, but just takes a long time). If they are dry you can add a little water.

When soft, puree. I use a stick blender but you could also put them in the processor (messy business though)

Put the puree back in the roaster oven or pot over med-low heat and start adding the sugar, a cup at a time until it is the sweetness that you prefer. Stir in each cup of sugar until well-blended and taste, keeping in mind the Amaretto will be a little sweet.

Add Amaretto

2 cups sugar,

1/3 cup Amaretto liqueur

Zest the orange into the mix and add the orange juice and the bay leaf and spices.

1 orange,

1 vanilla bean,

1 bay leaf,

1 tsp allspice,

1 tsp cinnamon,

1/2 tsp salt

Simmer the mix over medium heat until it starts to thicken (this usually takes about an hour on the stove, less in the roaster oven because it is spread out over a large surface, and may take several hours in the crock pot).

Adjust spices, sugar and Amaretto as you go. Taste-adjust-taste-adjust….

This is how you will know it is ready: take a spoonful of the fruit butter and put it on a clean plate. Drag your finger through the middle of it and if it doesn't run back into the groove made by your finger, it is done. Ladel into jars and either water bath or refrigerate.
Notes
**Note: Fruit butters are very forgiving and easy to adjust to your own tastes. In the Fall, apple butters are popular. We also make a pumpkin and Grand Marnier butter in the Fall which is incredible.
Nutrition
Calories:
127
kcal
Carbohydrates:
31
g
Protein:
1
g
Fat:
0.3
g
Saturated Fat:
0.02
g
Polyunsaturated Fat:
0.04
g
Monounsaturated Fat:
0.1
g
Sodium:
59
mg
Potassium:
131
mg
Fiber:
1
g
Sugar:
29
g
Vitamin A:
272
IU
Vitamin C:
11
mg
Calcium:
9
mg
Iron:
0.2
mg
Did you make this recipe?
If you tried this recipe, please give it a 5-star rating! To do this, just click on the stars above.