I always make room in the garden for an heirloom tomato called Principe Borghese. They are the best for drying, bar none. Two reasons: 1) they are small with fairly thick skins and can be easily dried by cutting in half, and 2) Once dried they add the most intense tomato flavor to any tomato-based dish you may be making. This skillet pizza with sun dried tomatoes is a perfect example of an easy and delicious way to use the dried tomatoes!
Jump to:
RECIPE
How to Dehydrate
Best Tomatoes for Drying
How to use Sun-Dried Tomatoes
Favorite Easy Flatbread Pizza Dough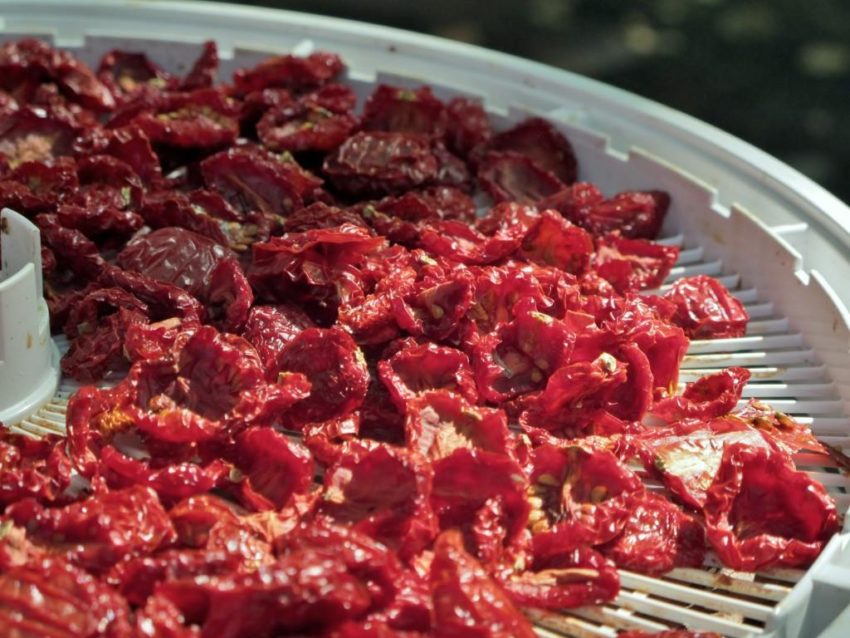 How to Dehydrate the Tomatoes
Any kind of meaty tomato can be dried in a dehydrator, or the sun for that matter. Smaller plum types of tomatoes, however tend to dry more readily and keep the intensity of flavor. Here is a brief tutorial for how to dry tomatoes.
In Italy they may be able to dry them in the sun, but here in Minnesota, the dehydrator is really the only way to go. I've tried many dehydrators with the produce that we grow on our farm, from the inexpensive kind from Walmart to a very high-end one (that only lasted one season).
While not the cheapest dehydrator around this Nesco Gardenmaster dehydrator has been the all-around best for us, hands down. It has lasted 10 years now and has controls for customizing the needs of specific fruits or veggies. It's the only one I'll ever use going forward.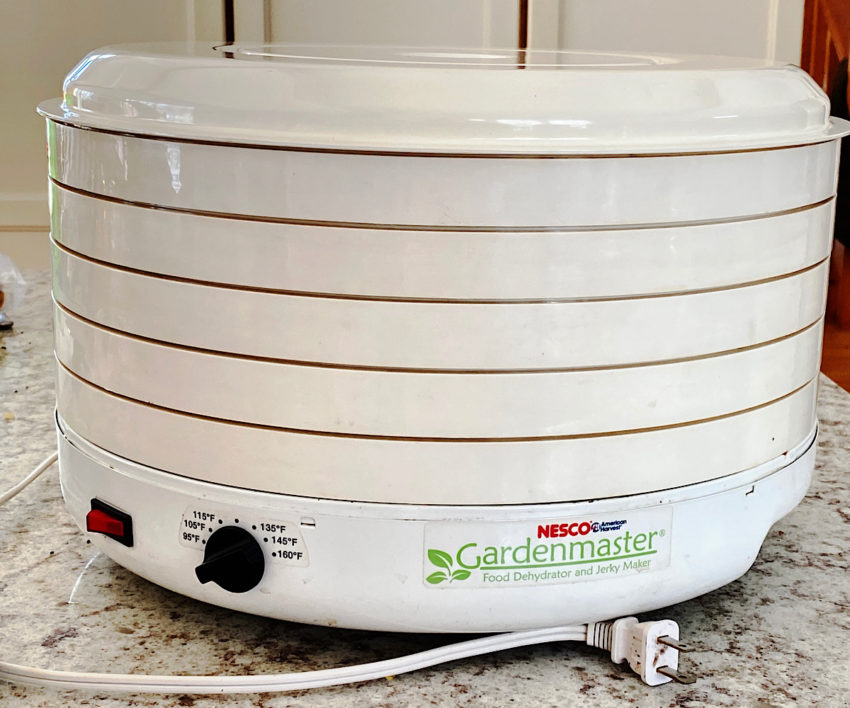 If you don't want to use the dried tomatoes as rehydrated tomatoes, you can grind them in a coffee grinder, add a little salt and use as a tomato "powder" for rubs and seasonings.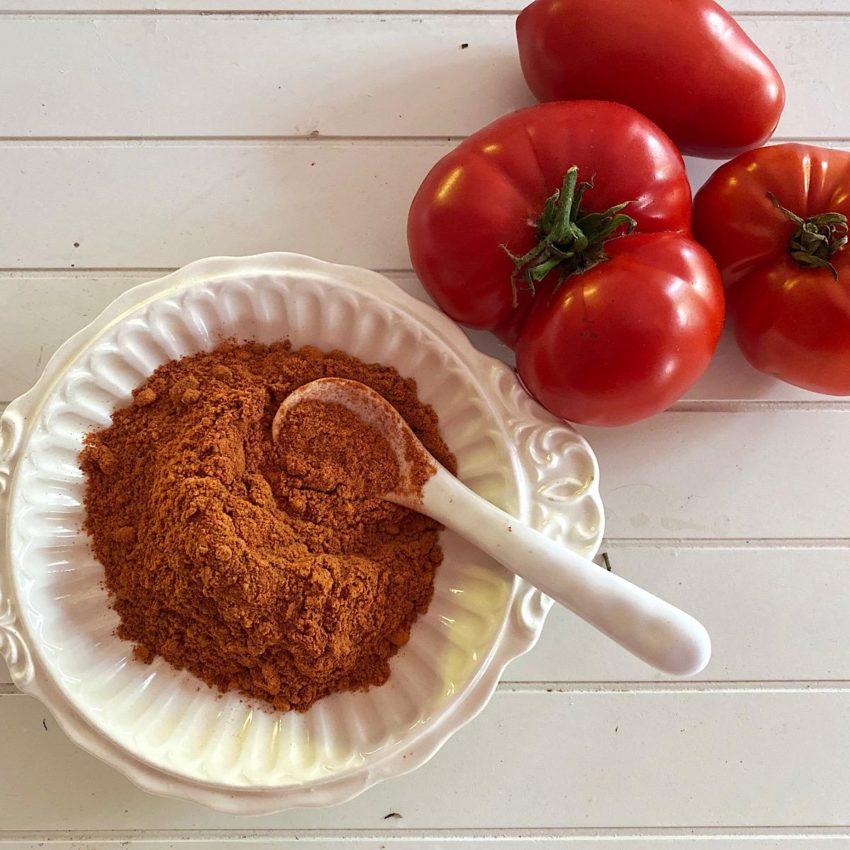 Best Tomatoes for Drying
The reason I prefer the Principe Borghese heirloom variety of tomato for drying is two-fold:
the flavor is an intense classic acid tomato flavor that you get with larger globe tomatoes. It is not the sweet or mild cherry tomato flavor, which is wonderful for eating out of hand and in salads but not intense enough for cooking with in my opinion.
they are the perfect size for drying, and they are meaty rather than juicy. You can just cut them in half, place them on the drying rack and they dry quickly, keeping their bright color.
If you can't find this variety of tomato, I have also had success drying the following varieties:
Grappoli d'Inverno Italian variety
Juliet plum tomato (hybrid)
Purple Russian (black Russian type)
San Marzaon (roma type)
Opalka (roma type with superb flavor, meaty, but large so you need to quarter it)
Favorite Uses for Dried Tomatoes
Tomatoes dried by any method are often called "Sun-dried tomatoes", whether dried in the hot sun or in a good dehydrator. They are tasty winter treats when the grocery store tomatoes taste like cardboard.
Just soak them for about 20 minutes in warm water, drain, dry and they're ready for cooking (and keep the drained tomato water for other uses, like tomato martinis).
Rehydrated or still in their dried state, they have a multitude of delicious uses. Here are a few of my favorites:
toss into a marinara sauce to add more robust flavor
chop or mince and add to dips
use the tomato water from rehydrating for a tomato martini
Add to deviled egg filling
Mix into scrambled eggs
Add to biscuits, cornbread, or savory muffins
use on a pizza (like the recipe below)
Best Dough for Skillet Pizza
I used this beer pizza dough recipe because….
it was quick with few ingredients
I like the idea of using a little beer to get the yeast taste, and
there is nothing wrong with having a half bottle of brown ale left over to drink with the pizza.
It made a really nice crisp, tasty dough…almost like a flatbread.
I loved the intensity of the sun-dried tomatoes on this pizza. I plan on trying it with other dough recipes also, but it was just right with this thin, crispy crust.
How long do sun-dried tomatoes last?
It depends on the drying process and how you store them. If you did not get them thoroughly dried out, they may get some mold after several weeks. If they were thoroughly dried and kept in a sealed jar, they can keep for quite a long time. I have kept mine sealed in the pantry for a year with no degradation.

Make sure to store them properly. You can keep them in a glass jar (or a zip lock bag with the air pushed out), and they will last for at least 3 months. For longer-term storage, keep bags of these in the refrigerator or freezer.
What is the difference between oven-dried tomatoes, tomatoes dried in a dehydrator and sun-dried tomatoes?
If you are drying them yourself, the names are basically interchangeable in terms of use. Oven-dried tomatoes will end up darker in color and take longer, while tomatoes dried in a dehydrator will maintain the bright red color and you have more control over how pliable they will be.

Actual "sun-dried tomatoes" are not something many people do themselves. When you buy sun-dried tomatoes from the store you are looking at processed tomatoes. They wash the ripened tomatoes and then usually put them through a water bath containing sulfur dioxide. They are then put into drying trays in the sun for seven to ten days. Thereafter they are cut and packaged.
Do you need to soak dried tomatoes?
Usually they need to be soaked to make them pliable before cooking with them. A rule of thumb is to cover sun-dried tomatoes with warm water and soak for two hours at room temperature.

If you are adding them to a sauce that will be cooked for a while on the stove, they can be rehydrated in the sauce, so that you don't lose any of the tomato essence. Sometimes (rarely though) you can finely mince the dried tomatoes and add them to a dip if you are looking for a "crunch"
Recipe for Skillet Pizza with Sun-Dried Tomatoes
Skillet Pizza with Sun Dried Tomatoes
Easy skillet pizza enhanced with the robust flavor of sun-dried tomatoes and simply topped with mozzarella cheese and scallions
Ingredients
1

cup

sun-dried tomatoes

3

Tbsp.

olive oil

9

round of thin pizza dough

see link in notes to my favorite pizza dough recipe

½

cup

diced tomatoes

drained

4

oz.

buffalo mozzarella cheese

torn into 1″ pieces

2

cloves

garlic

finley minced

¼

cup

green scallions

chopped
Instructions
Soak the dried tomatoes in warm water to cover for about 20 minutes while you are making the dough (see notes below for dough recipe).

Drain the tomatoes, reserving the tomato water for later uses. Dry the tomatoes a little with a paper towel.

Heat 3 Tbsp olive oil in a large cast iron skillet until just smoking

Place the rolled-out dough round in the skillet and cook over med heat for about 3 minutes. While it is cooking, poke the bubbles that form with the tines of a fork to release the air and keep the dough flat.

When the bottom of the dough begins to crisp and brown (about 3 min.), use a pair of tongs to turn the dough over in the skillet

Place the rehydrated tomatoes and the diced tomatoes on top of the dough and the mozzarella on top of the tomatoes. Sprinkle with the garlic and the scallions.

1/2 cup diced tomatoes,

4 oz. buffalo mozzarella cheese,

2 cloves garlic,

1/4 cup green scallions

Cover the skillet and turn the heat to med-low. Cook covered about 5 minutes, or until the cheese has melted.
Notes
Pizza Dough Recipe:
I used this beer pizza dough recipe because….
it was quick with few ingredients
I like the idea of using a little beer to get the yeast taste, and
there is nothing wrong with having a half bottle of brown ale left over to drink with the pizza.
Nutrition
Calories:
1553
kcal
Carbohydrates:
292
g
Protein:
52
g
Fat:
23
g
Saturated Fat:
7
g
Polyunsaturated Fat:
5
g
Monounsaturated Fat:
1
g
Cholesterol:
15
mg
Sodium:
4382
mg
Potassium:
696
mg
Fiber:
11
g
Sugar:
44
g
Vitamin A:
353
IU
Vitamin C:
10
mg
Calcium:
127
mg
Iron:
18
mg
Did you make this recipe?
If you tried this recipe, please give it a 5-star rating! To do this, just click on the stars above.