I always make room in the garden for an heirloom tomato called Principe Borghese. They are the best for drying, bar none. Once dried they add the most intense tomato flavor to any tomato-based dish you may be making. This skillet pizza with sun dried tomatoes was an easy and delicious way to use the dried Principe Borghese tomatoes!
Jump to Recipe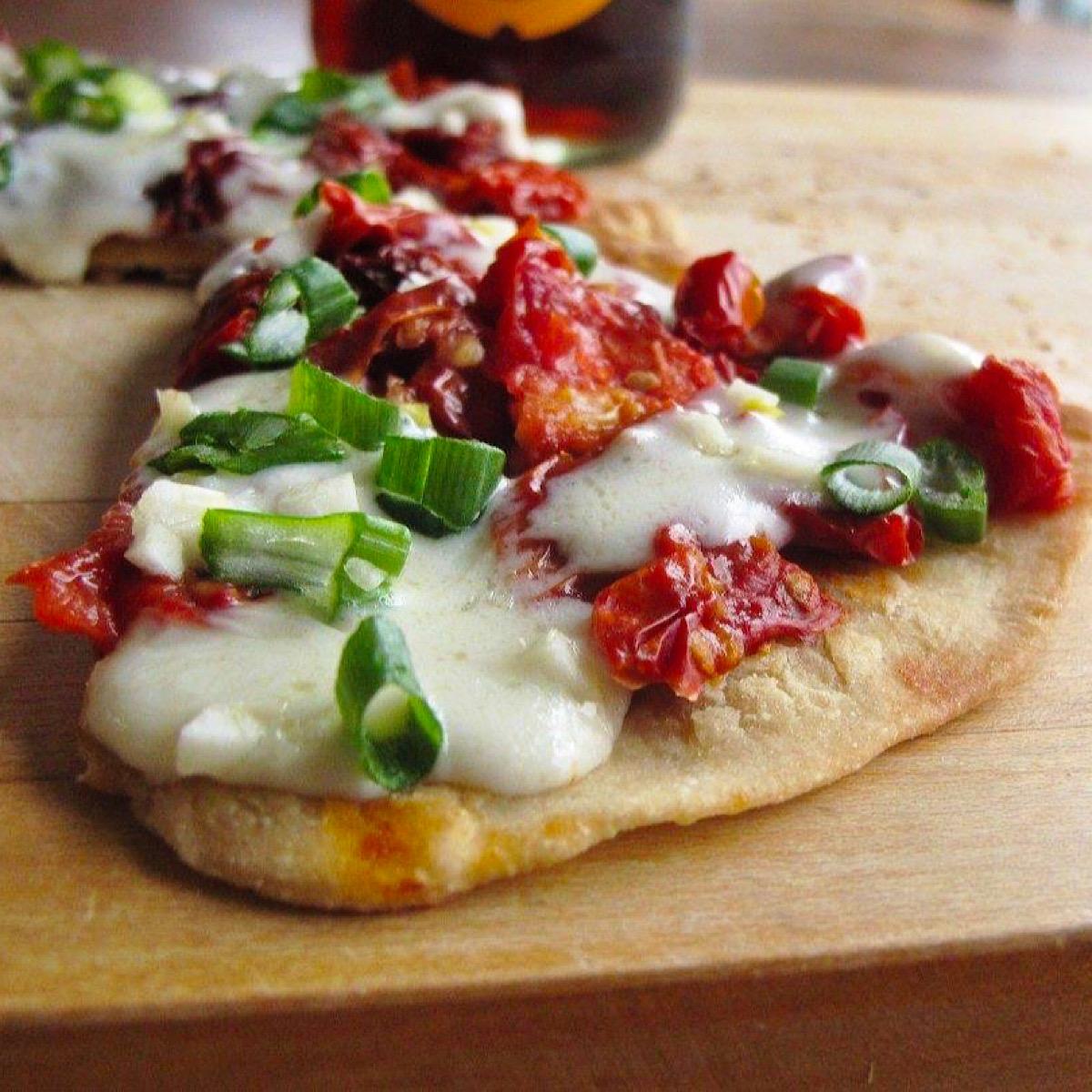 How to Make "Sun-Dried" Tomatoes
Any kind of meaty tomato can be dried in a dehydrator, or the sun for that matter. Smaller plum types of tomatoes, however tend to dry more easily and keep the intensity of flavor. For a short tutorial on how to dry tomatoes, click here.
The reason I prefer the Principe Borghese variety of heirloom tomato for drying is two-fold:
the flavor is an intense classic acid tomato flavor that you get with larger globe tomatoes. It is not the sweet or mild cherry tomato flavor, which is wonderful for eating out of hand and in salads but not intense enough for cooking with in my opinion.
they are the perfect size for drying, and they are meaty rather than juicy. You can just cut them in half, place them on the drying rack and they dry quickly, keeping their bright color.
Other Uses for Dried Tomatoes
Tomatoes dried by any method are often called "Sun-dried tomatoes". Whether dried in the hot Italian sun or in a good dehydrator, they are tasty winter treats and they are really easy to use.
Just soak them for about 20 minutes in warm water, drain, dry and they're ready for cooking (and keep the drained tomato water for other uses, like tomato martinis).
Sun-dried tomatoes are great to toss into sauces, use on a pizza (like the recipe below), or chop and add to dips.
One of the first things I tried in the winter with the dried tomatoes was a skillet pizza.
Best Dough for Skillet Pizza
I used this beer pizza dough recipe because….
it was quick with few ingredients
I like the idea of using a little beer to get the yeast taste, and
there is nothing wrong with having a half bottle of brown ale left over to drink with the pizza.
It made a really nice crisp, tasty dough…almost like a flatbread. And here is the Recipe for the Skillet Pizza with Sun Dried Tomatoes:
I loved the intensity of the sun-dried tomatoes on this pizza. I plan on trying it with other dough recipes also, but it was just right with this thin, crispy crust.
Skillet Pizza with Sun Dried Tomatoes
Ingredients
1

cup

sun-dried tomatoes

½

cup

diced tomatoes

drained

3

Tbsp.

olive oil

4

oz.

buffalo mozzarella cheese

torn into 1″ pieces

2

cloves

garlic

finley minced

¼

cup

green scallions

chopped
Instructions
Soak the tomatoes in warm water to cover for about 20 minutes while you are making the dough. Drain the tomatoes, reserving the tomato water for later uses. Dry the tomatoes a little with a paper towel.

Heat 3 Tbsp olive oil in a large cast iron skillet until just smoking

Place the rolled-out dough round in the skillet and cook over med heat for about 3 minutes. While it is cooking, poke the bubbles that form with the tines of a fork to release the air and keep the dough flat.

When the bottom of the dough begins to crisp and brown (about 3 min.), use a pair of tongs to turn the dough over in the skillet

Place the tomatoes on top of the dough and the mozzarella on top of the tomatoes. Sprinkle with the garlic and the scallions.

Cover the skillet and turn the heat to med-low. Cook covered about 5 minutes, or until the cheese has melted.
Nutrition
Calories:
185
kcal
Carbohydrates:
14
g
Protein:
7
g
Fat:
12
g
Sugar:
8
g
Did you make this recipe?
If you tried this recipe, please give it a 5-star rating! To do this, just click on the stars above. And don't forget to tag me at @dorothy_stainbrook_heathglen, if you share a picture on Instagram! You can also tag me at #heathglen!