When a good cook finds a knife that works well with their own hands for their individual cooking purposes, it is a beautiful thing. Those knives are cherished and cared for. Never placed in the dishwasher and always kept sharp. Or at least that is the goal. Sharpening knives can be a bit elusive at times for the home cook. The summary below takes you through three popular methods, listing the pros and cons.
Jump to:
Chef's knives
Specialty knives
Knife Sharpening Methods
This post may contain affiliate links, and you can read our disclosure information here–
Favorite Chef's Knives:
a) The knife on the far left is a Cutco Chef's Knife and the most expensive one I own. It is very comfortable to hold and is a bit heavier than the Henckel. The weight is nicer for times when you are cutting something using the method with the tip left on the board (i.e., mincing garlic). This is generally my "go-to" knife for most cooking tasks;
b) The Henckel Chef's Knife is next to the Cutco and it is also really comfortable but quite a bit lighter. I use this one when I'm chopping a large amount of produce and don't want to wear out my wrist (i.e., for stir fry);
c) The knife on the far right is one that I purchased at a garage sale for $1.00 and I have come to love it for certain tasks. It is a stainless steel Japanese knife called "Old Homestead" and it is great for cutting pizza, squash and anything larger or bulky.
The wood handle is not too comfortable, but the length and depth of the knife makes it great for the big cuts. I find myself reaching for this knife more and more often as it is so long that it makes chopping vegetables and herbs faster. I don't see a link to purchase it on Amazon, but this Old Hickory Ontario knife on Amazon looks very similar. It is only $20 and as long as you keep it sharpened, it does a great job. I've had mine for 10 years now and who knows how long the original owner had it!
**Note: Chef Tom Douglass has an excellent weekly foodie podcast called Seattle's Kitchen which I never miss. He has mentioned several times that he likes to buy inexpensive knifes and trade them in when they are dull rather than keeping expensive knives sharpened and honed. It's certainly an option!
Favorite Specialty Knives:
Boning Knife
This is a boning knife that I have had for ages, but the size and style of this knife are just right for slicing citrus peels, taking pith off, and slicing small soft fruit. It works far better for me than a paring knife or anything else I have tried. It is also a must have for boning wild game.
The one I have been using is an inexpensive boning knife from Chicago Cutlery, but some of the newer ones with a non-wood handle look good also.
Heavy Duty Cleaver (Butcher Knife)
I love this old cleaver that I picked up at a garage sale (I'm a thrift store/garage sale fanatic). I always had trouble cutting through large winter squash and pumpkins until I found this big guy. I also just love the look of it, and the thoughts of its past history whenever I use it. It makes me feel a little connected to some old Italian butcher with gnarly hands and chickens running around outside.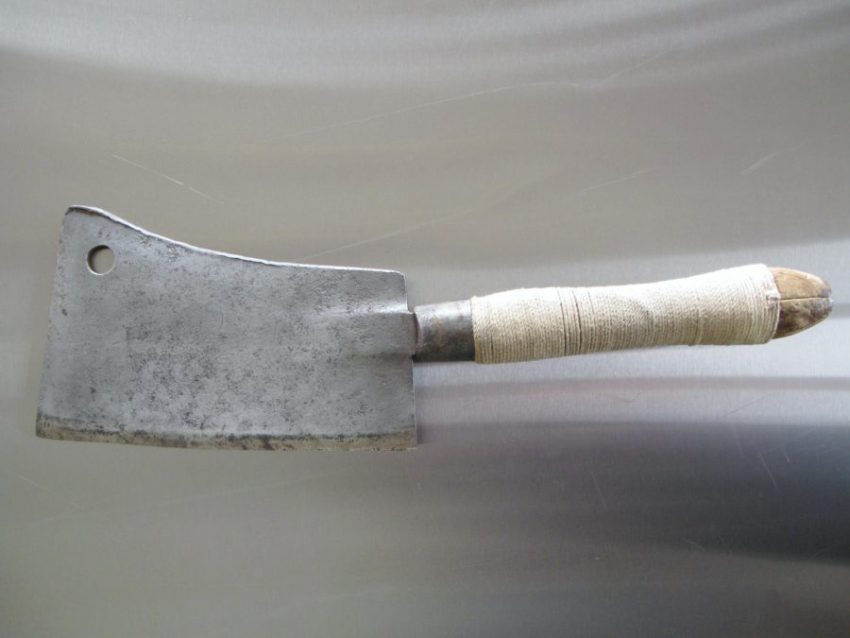 There are many options for this type of cleaver, from the inexpensive ($14) Utopia Kitchen 7-inch cleaver to the more expensive ($129) heavy duty 9-inch Dalstrong meat cleaver.
Sharpening Knives: 3 Different Methods
Sharpening Knives with a Sharpening Steel:
I've always been a bit mystified at how quickly and efficiently chefs sharpen their knives with a sharpening steel. I know the value of a consistently sharp knife in the kitchen, but knowing the correct angle and bevel for each particular knife and deftly achieving that angle with a sharpening steel, has always been a bit of an elusive holy grail for me.
My cooking/science guru Dave Arnold explained the process in a way that made sense in one f his podcasts Cooking Issues. He went into quite a bit of detail for sharpening Japanese Knives, Western knives and hybrid knives, and I thought I'd try the process for Western knives on my own knives. The question is: For the home cook, is this process really that much better than the very straightforward use of a good manual or electric sharpener?
Here's a summary of my non-scientific test using information I gleaned from Dave Arnold's podcast:
Step #1: Mark the manufacturer's bevel: A traditional Western knife has an identical bevel on both sides. This would be considered a 50/50 percentage bevel. The trick is to get the angle right when using a steel. First, mark the edge of the blade with a sharpie on both sides of the knife.
Step #2: Take the knife gently, but firmly across the steel/stone until you see that the sharpie marking is worn away flat and evenly down the blade.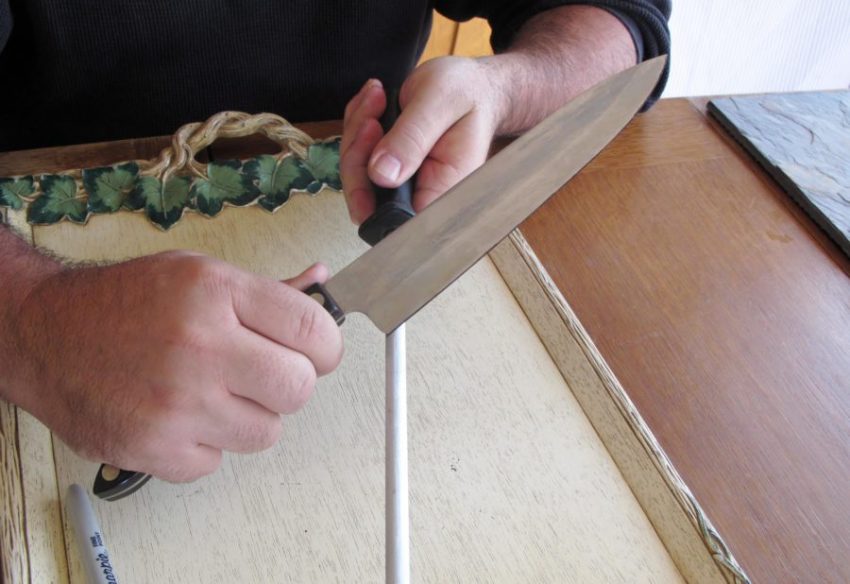 Step #3: When the sharpie is worn down evenly flat across the blade, you have achieved the same angle as the manufacturer had.
*Notes: Dave Arnold explains that the bigger the angle, the less fragile the blade but the duller the knife is. He notes that 17 degrees is common for newer knives and 30 degrees for older knives.
Sharpening Knives with a manual sharpener:
While the use of the sharpening steel was much clearer to me now, I still wondered if it was that much better than just using a manual sharpener (for the home cook's purposes anyway)? Yes, it looks really cool to see chef's expertly sharpening their knives, but was the benefit in sharpness worth the room for error?
I had done a little research over Christmas on finding the best manual sharpener, and ended up getting the Chefs Choice 450 (note: I recently upgraded to this Chefs Choice manual knife sharpener when my old one pictured below bit the dust)
Sharpening Knives with an Electric Sharpener
My go-to favorite knife sharpener is the Chefs Choice electric knife sharpener. It is quick and easy and it angles the knife for you as you run it through the sharpener. This gives me much more confidence of getting a good edge than using a steel or a manual sharpener. It's also a heck of a lot easier.
Summary of Results
I'm sure with practice, the sharpening steel is more accurate (and more fun) once you know what you are doing. For me, the confidence that I was getting a sharp angle on both sides, and the ease of use was worth the cost of a good electric knife sharpener. I love my knives, and I love working with sharp knives, but for now I'll just watch the chef's sharpen their knives on TV and secretly sharpen my own with the electric sharpener.