A common question I get at the farmers' markets is "What do I do with marmalades?". Well, other than slathering them on English Muffins or toast, there is quite a range of uses, from sweet to savory. Sandwiching a great marmalade between shortbread or ginger cookies and dipping them in chocolate ranks right up there in my world as one of the best (and easiest) uses in the sweet category.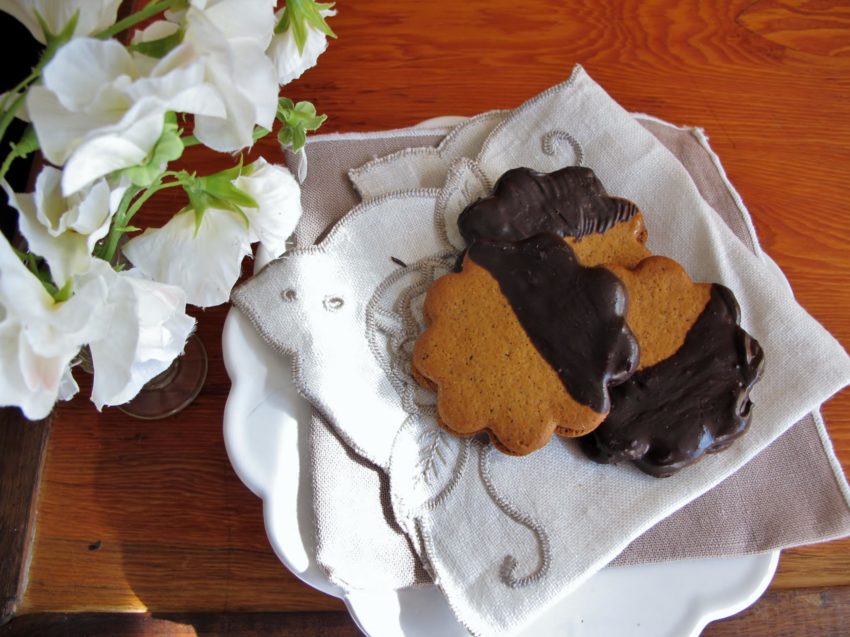 No-Bake Cookies with Awesome Flavor
When my kids were in college I was determined to send them a care package for each holiday (no one was going to forget mom!). Most of the time these care packages involved home-made treats, but one Easter I found myself crunched for time.
I took some inspiration from an old newspaper clipping I had been carrying around for years which was a recipe for Orange Marmalade Ladyfingers Dipped in Bittersweet Chocolate.
Since we make jams and marmalades in our commercial farm kitchen, I had marmalades ready at hand. All I needed was some thin cookies (so the marmalade taste would come through) and some dipping chocolate. Not wanting to read about tempering chocolate and which kind of chocolate to use ( in a hurry), I picked up a Ghirardelli Candy Making & Dipping Bar at the store. Voila!
These wonderful cookies came together in a snap and they were so good they almost didn't make it to the kids. My mom loved them and kept saying, "There's something in these that is so good that I can't distinguish…what is it?" Hint: it's the marmalade. Use a good marmalade for the best cookies.
The Quick Version Recipe:
Ingredients:
Directions:
Heat the chocolate in a microwave or over a double burner until soft. Let it cool slightly.
Spread the marmalade on one side of a cookie and place another cookie on top of it to form sandwich cookie
Dip in semi-cool chocolate and lay on wax paper to dry.
The Home-made Version with Ladyfingers:
This recipe is from Amy Jermain, a chef in Portland, Oregon. I got the recipe out of the Oregonian newspaper years ago.
Orange Marmalade Ladyfingers Dipped in Bittersweet Chocolate
makes 20 cookies
Ingredients:
3 eggs, separated
6 Tbsp sugar (divided)
1/4 tsp cream of tartar
1/2 cup sifted cake flour
1/8 tsp vanilla
about 3/4 cup orange marmalade
5 oz bittersweet chocolate
Directions:
Preheat oven to 325 degrees F. Butter and flour 2 large baking sheets.
Beat egg yolks with 3 Tbsp of the sugar until pale yellow and fluffy. In a separate bowl, beat egg whites with the cream of tartar until stiff peaks form. Then add remaining 3 Tbsp of sugar until they again hold their peaks.
Fold flour, salt and vanilla into the egg yolk mixture. Then careful fold in egg white mixture.
Use a pastry bag with a large round tip to form the batter into "finger"-like cookies, about 3″ long, or use the back of a spoon to make 3-inch circles. Bake for 12 to 15 minutes until edges begin to brown. Let cool completely. If making ahead, store with wax paper between layers.
Spread your favorite marmalade on one cookie and top with another cookie. Repeat using remaining cookies.
Place chocolate in a double boiler, or in a bowl set over a pan of boiling water. Very careful melt the chocolate until smooth and let cool to a manageable temperature (the chocolate will begin to solidify a little). Dip half of each marmalade cookie into chocolate. Place on wax paper until chocolate sets. Store tightly covered at room temperature.
I think I better look Amy Jermain up and see where she is today. My quick version of marmalade-filled, chocolate-dipped cookies, inspired by her home-made version was excellent and I thank her for the inspiration!
Online Diet/Health Coaching:
Although I am not currently taking clients for diet & health coaching, I have been a coach for many years with the online service called coach.me. It is a great platform for all kinds of coaching – anything from specific diets, writing a blog, getting up early, or getting rid of that pesky procrastination.
There are some wonderful coaches and the testimonials will tell you what you need to know. Contact me at [email protected] to get a referral to some of the tested, experienced online coaches on Coach.me
If you'd like to start with a plan for a low carb or keto lifestyle, check out this detailed guide in ebook form. It may be all you need to lose weight on this lifestyle. Or it may be used as a supplement to one-to-one coaching.