Okra is quintessentially Southern and you most often hear of it being used in a gumbo. We grew okra in our Minnesota garden this year, and used it instead of filé powder to thicken our gumbo recipe. There's a reason why okra and seafood gumbo is such a classic! It's easy to make and frozen seafood works just fine in this creole (or cajun) stew.
Jump to: Recipe | Ingredients and Substitutions | How to Thicken | Common Questions
What is Gumbo?
The term "gumbo" comes from an African word for okra, and classic Louisiana gumbos typically include okra. Okra is a delicious pod that adds flavor, but also helps to thicken the soup.
Gumbo is basically a hearty stew that's served hot over rice. The combination of meats and seafood used in gumbos has many variations, but gumbos always include the trinity (onions, bell peppers and celery), a cajun or creole spice blend, and either a roux, or okra or a filé powder to thicken it.
Gumbo is a symbol of Louisiana cuisine, but its origins are varied and its history complex. I will leave it to the Gregory restaurant and their detailed post on Cajun and Creole cuisine to explain the history.
Cajun vs Creole Gumbo
Generally speaking, Creole cuisine often uses tomatoes, while Cajun food does not. The spice blend used in creole and cajun gumbos also differs a bit. Creole versions use more paprika and will also often include a handful of other ingredients, such as sweet basil, celery seed and white pepper.
There are many other nuanced differences between creole and cajun cooking. The Gregory restaurant in Baton Rouge, Louisiana has a detailed description of the differences which I found to be truly interesting.
I will just say that Cajun and Creole gumbos typically share the combination of a roux and a sautéed trinity (onions, bell peppers and celery) as the base of most Creole and Cajun stews and gumbos.
Ingredients and Substitutions
Although a gumbo can contain any combination of seafood or various meats, the recipe below is for seafood gumbo made with shrimp and white fish. Here are some alternatives and substitutions for the classic ingredients:
The proteins:
For a seafood gumbo you can use any combination of fish and shellfish, but shrimp is essential to a classic gumbo. Chicken, sausage or ham is often added. Here are some substitutions that you can mix and match.
smoked ham
crayfish
chicken
crab
oysters
white fish (halibut, cod, etc.)
The Cajun trinity
You'll hear lots of Louisiana cooks talking about the "trinity." They're not talking theology. In Shreveport Louisiana, where my mother is from, the trinity means onions, green bell peppers, and celery, and these are the basic ingredients to lots of traditional Cajun dishes.
The spice
Many cooks think a "good" gumbo should always have a mild smoky flavor. Often this smoky flavor comes from smoked ham. If you don't want to add smoked ham to your gumbo, you can get the smoky flavor by adding smoked chile powders.
The amount of heat from a cajun spice blend is highly variable. I have provided my favorite DIY cajun spice blend recipe in the recipe notes below. I consider this blend to be medium hot, but it does use cayenne peppers, which some people find to be extremely hot. This is an area where your heat preference comes into play.
This post may contain affiliate links, and you can read our disclosure information here–
The thickener: (filé powder vs roux vs okra)
The way that a Louisiana gumbo is thickened is, in large part, what distinguishes it from other stew or soups. Basically, there are 3 ways to thicken gumbo: a filé powder, a roux or with okra. Here's a summary of each.
Filé powder:
Many traditional Louisiana gumbo recipes use a filé powder to thicken the soup. Filé powder is made up of ground sassafras leaves and when used in gumbos it is frequently mixed with cream and parsley.
Filé powder works as a thickener by whisking in a tablespoon at the very last minute, after you've taken the soup off the heat.
Filé powder Gives gumbo a distinctive, pine-like flavor, but it can be difficult to find in many grocery stores.
Dark roux:
The roux used in gumbo is quite different from the roux used in classic French cuisine. Louisiana gumbo roux is a mixture of flour and some kind of fat (often bacon fat), but it is cooked much longer than French roux.
The color of gumbo roux depends on how long it is cooked. It ranges anywhere from light brown to brownish-red to almost black. The longer it is cooked, the darker and nuttier it becomes. It does, however become thinner as the cooking time and darkening increases.
When using a roux in seafood gumbos, you will usually see the darker roux. This darker roux has the most flavor but is also the thinnest.
A really dark roux can take up to 40 minutes of constant stirring, so it is more labor intensive than the other methods of thickening.
The deeply colored brown roux is often used in gumbos that include ham. A heavily smoked ham (tasso in New Orleans) adds a lightly thickened, smoky base which can be further thickened with the addition of okra.
Okra: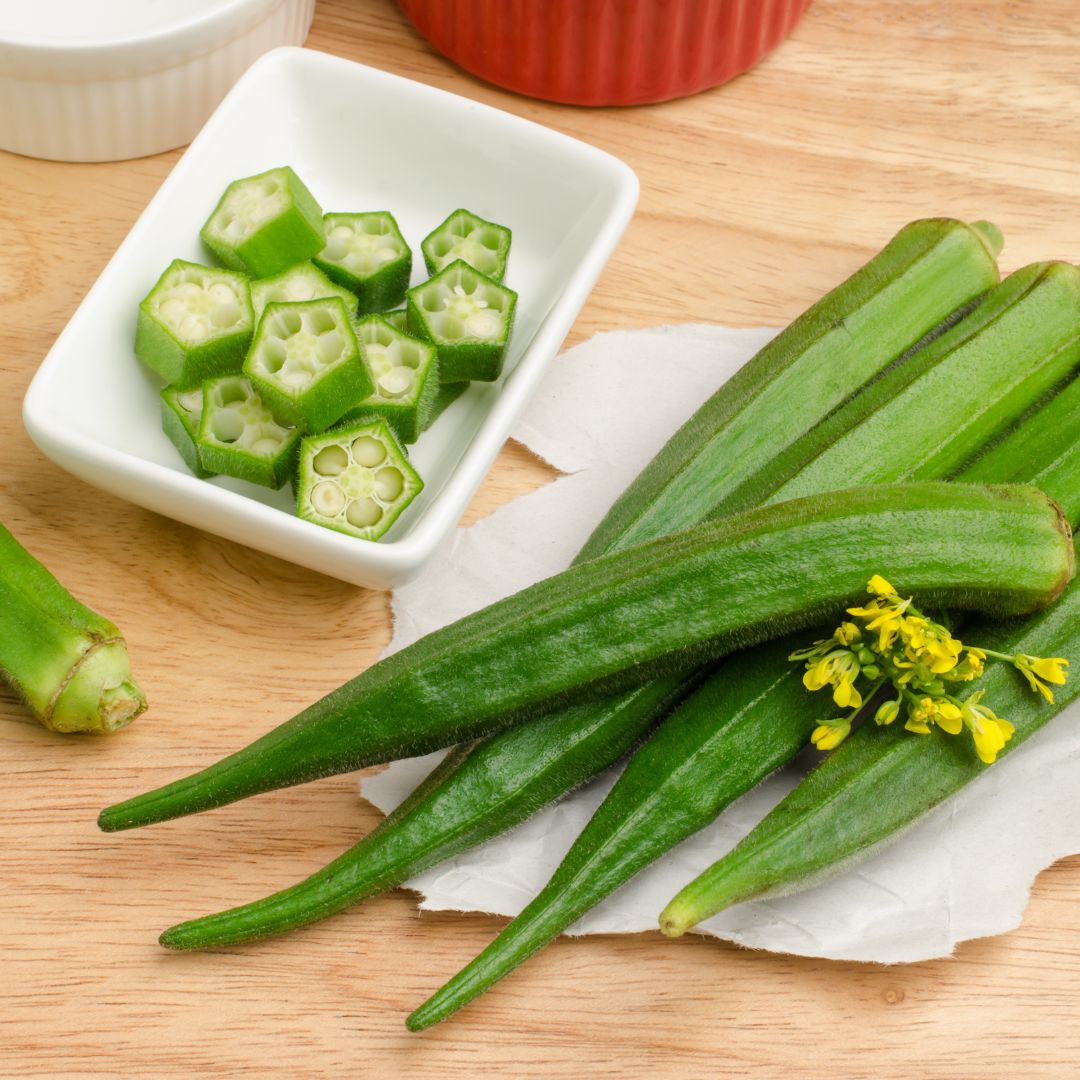 Okra (usually chopped) is a classic gumbo ingredient, giving it a special texture and body. Okra is relatively easy to find (you can use frozen) and it gives a different texture to the soup than a roux.
Okra has the distinctive reputation of being slimy, and while this sounds negative, okra is a key ingredient for most seafood gumbos. While a slimy texture is not desirable for a side dish of sautéed okra, it's signature texture is what helps thicken the gumbo.
If you try to cook the slime out before adding it to the gumbo, it doesn't really work, as the okra releases it "mucilage" even after cooking it first.
**Pro Tips: A few tips that might help okra be less slimey include:
Cooking it at high heat before adding to the gumbo
Make sure the okra is completely dry before cooking it
The liquid that makes okra feel slimy comes out when you cut the okra, so try to limit how much you cut the vegetable
You can try poking holes in the top of the pod right beneath the stem and let some of the mucilage out. Then chop the okra the way you want it.
Use frozen okra and cut it up while still frozen
Soak in vinegar 1/2 hour before cooking; rinse and pat dry
Embrace the slime and view it as a nutritious gumbo thickener
Combination thickeners
Normally gumbo is thickened by roux and okra, or roux and filé powder. Okra and filé powder rarely appear together.
Common Questions
How to store and/or freeze
Gumbo can be made a day or two ahead of time and kept in the refrigerator. It will keep frozen for a month. If your gumbo is fairly thick you can add water when reheating the frozen version.
How to Serve:
The traditional way to serve gumbo is over rice. For plating it in the classic New Orleans way, fill a cup with rice, invert the cup into a wide soup bowl. When you remove the cup you have a mound of rice and the gumbo is then ladeled around the rice.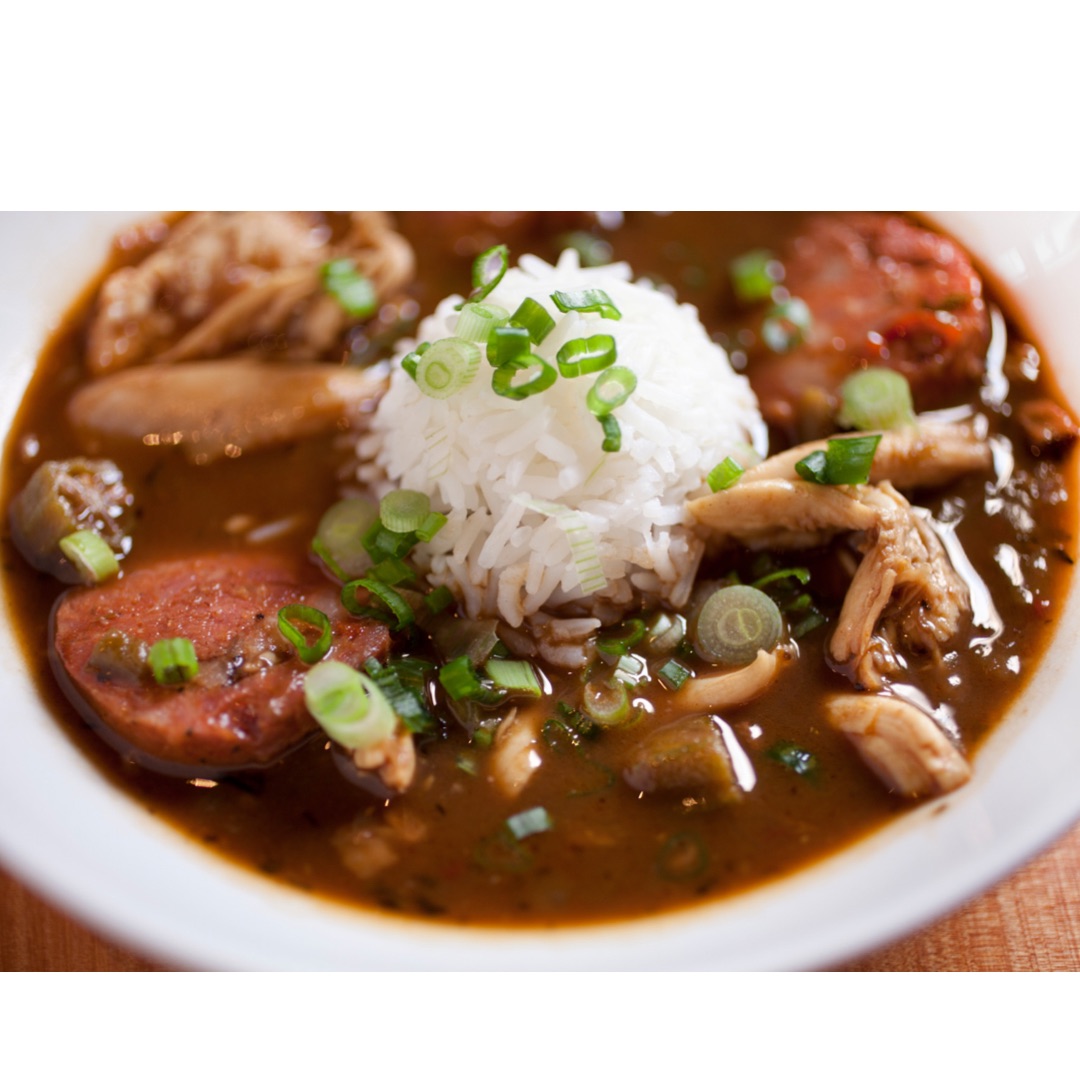 Favorite Stews Similar to Seafood Gumbo
Creole Seafood Gumbo Recipe with Okra
Creole Seafood Gumbo
A Creole seafood gumbo that includes okra as the thickener rather than a roux or file powder. Easier than making a dark gumbo roux and more available than a filet powder. A hearty delicious Louisiana stew to serve with rice.
Equipment
Measuring cups and spoons
Ingredients
2

Tablespoons

olive oil

1

onion

chopped

1

Large

bell pepper

can be green or red; chopped

2

Stalks

celery

chopped

3

Cloves

garlic

minced

14

Ounce

can of tomatoes

1

Pound

fingerling potatoes

or large potatoes cur into bite-size pieces

1

Cup

sliced okra

4

Cups

chicken stock

1

Cup

clam juice

2

bay leaves

5

Sprigs

fresh thyme

1

Tablespoon

creole seasoning blend

or to taste, depending on heat in blend

2

Tablespoons

worcestershire sauce

1 ½

Pound

cod

cut into 1-2 inch chunks

1

Pound

raw shrimp

with shells on

parsley and hot sauce

for the table
Instructions
The creole/cajun trinity: In a dutch over or large pot heat the oil over medium-high heat.

Saute the onion, pepper and celery in oil until softened (about 5-7 minutes). Add garlic and cook another 30 seconds.

2 Tablespoons olive oil,

1 onion,

1 Large bell pepper,

2 Stalks celery,

3 Cloves garlic

Add the tomatoes, potatoes and okra to the pot and stir. Add the chicken broth, clam juice, herbs and seasoning blend to the pot.

Cover and simmer over medium-low heat for 30 minutes.

14 Ounce can of tomatoes,

1 Pound fingerling potatoes,

1 Cup sliced okra,

4 Cups chicken stock,

1 Cup clam juice,

2 bay leaves,

5 Sprigs fresh thyme,

1 Tablespoon creole seasoning blend,

2 Tablespoons worcestershire sauce

Uncover the pot and add the cod and the shrimp. Cook, uncovered until shrimp is pink (about 4-5 minutes.

1 1/2 Pound cod,

1 Pound raw shrimp

Serve with parsley and hot sauce on the table. If you want rice, a classic way to serve is to mound the rice in the middle of the bowl and ladle the gumbo around it.
Notes
**DIY Cajun Spice Mixture:
makes about 1 1/3 cups
1/2 cup paprika
1 1/2 Tablespoons salt
2 Tablespoons onion powder
2 Tablespoons garlic powder
2 Tablespoons cayenne pepper
1 1/2 Tablespoons white pepper
1 1/2 Tablespoons black pepper
1 1/2 Tablespoons dried thyme leaves
1 1/2 Tablespoons dried oregano leaves
In a small bowl, whisk all ingredients together.
Nutrition
Calories:
536
kcal
Carbohydrates:
53
g
Protein:
53
g
Fat:
12
g
Saturated Fat:
2
g
Polyunsaturated Fat:
2
g
Monounsaturated Fat:
7
g
Trans Fat:
0.02
g
Cholesterol:
230
mg
Sodium:
1984
mg
Potassium:
1931
mg
Fiber:
7
g
Sugar:
15
g
Vitamin A:
2088
IU
Vitamin C:
98
mg
Calcium:
186
mg
Iron:
4
mg
Did you make this recipe?
If you tried this recipe, please give it a 5-star rating! To do this, just click on the stars above.