Although root vegetables are generally higher in carbohydrates than other vegetable choices, if you choose the right ones, and roast them or sauté them without adding sugar or sauces, you can still get high-flavor (and healthy) comfort food without going over your daily carb count. This "Ragù" recipe is a sauté of root vegetables on the stovetop.
Jump to:
RECIPE
Lowest in Carbs
Roasting without oil
Dehydrating
Storing Raw Root Veggies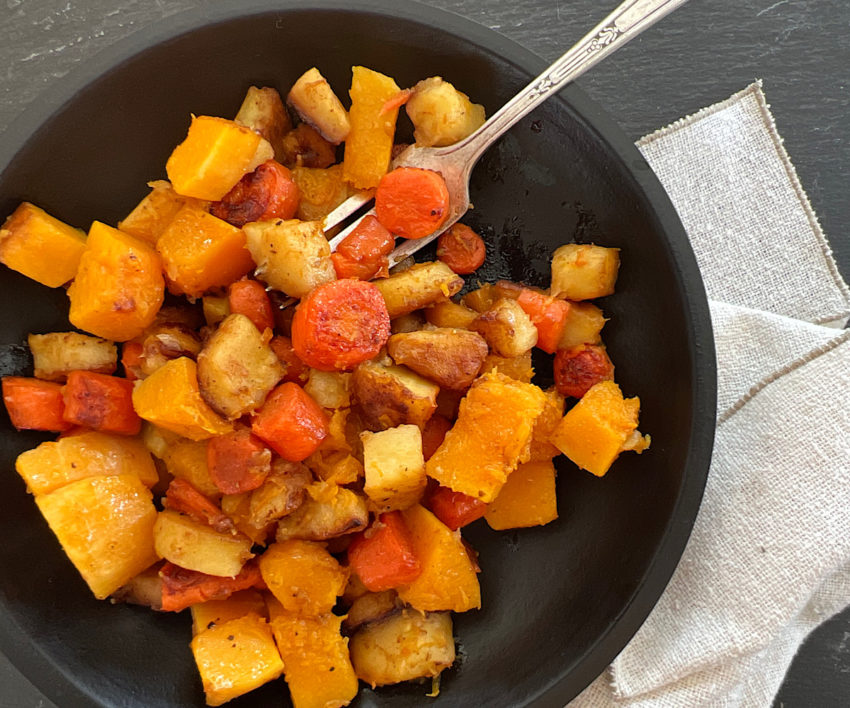 This post may contain affiliate links, and you can read our disclosure information here–
What are Root Vegetables Anyway?
Well, to put it simply they are the vegetables that develop under the soil instead of above. They may have edible greens that grow above ground, but typically the vegetable is thought of as the "tuber" part of the plant instead of the greens.
Generally root vegetables like potatoes, carrots and sweet potatoes are too high in carbs to include in a low-carb or keto diet, but they are still quite healthy and some of the carbs are mitigated by the amount of fiber in these vegetables.
Root vegetables are full of powerful antioxidants, fiber, and beneficial vitamins, so you really don't want to ignore them…..just don't make a whole meal out of them.
Lower carb options would include root vegetables like:
Onions,
Cabbage,
Radish,
Jicama, and
Rutabaga
Here is a list summarizing the carb level from lowest to highest (includes the fiber count):
List of Root Vegetables: Low Carb to High Carb
Analyses below are for 1 cup (cubed or sliced). Net carbs are typically calculated by subtracting the fiber from the total carb amount.
Radishes: 3.9 grams carbs; 1.9 grams fiber
Daikon radish: 4.8 grams carbs; 1.9 grams fiber
Fennel: 6.4 grams carbs; 3.6 grams fiber
Kohlrabi: 8 grams carbs; 5 grams fiber
Turnips: 8 grams carbs, 3.2 grams fiber
Jicama: 11 grams carbs; 6 grams fiber
Onions: 11 grams carbs; 2 grams fiber
Carrots: 11.7 grams carbs; 3.4 grams fiber
Rutabaga: 12 grams carbs; 3.2 grams fiber
Beets: 13 grams carbs; 3.8 grams fiber
Leeks: 13 grams carbs; 1.6 grams fiber
Celeriac: 14.4 grams carbs; 2.8 grams fiber
Parsnips: 24 grams carbs; 6.5 grams fiber
Potatoes: 11.78 grams carbs; 1.8 grams fiber
Sweet potatoes: 41.4 grams carbs; 6.6 grams fiber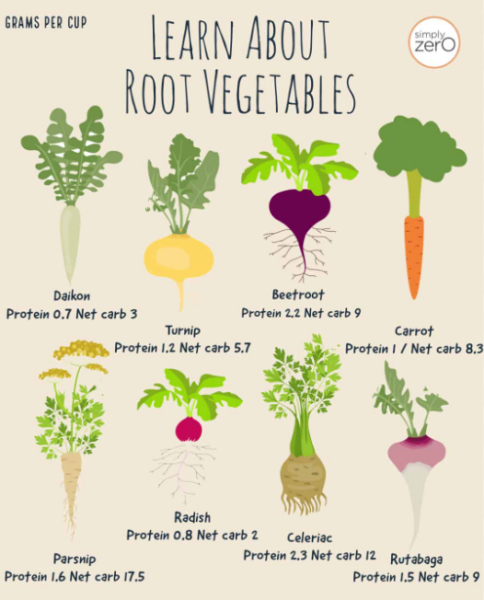 Getting the Most Flavor: Roasting or Dehydrating
Roasting is an extremely popular way to cook these firm vegetables, as it caramelizes them and brings out the sweetness that you don't get when eaten raw.
A simple sheet pan filled with root vegetables and placed in a 425 degree F oven for 30-40 minutes is a very easy and increasingly popular way to roast root vegetables. Just sprinkle them with your favorite spice and drizzle with olive oil before roasting.
The spices you choose will allow you to change up the flavor profile so as not to get bored.
Add some chicken or fish to the cookie sheet and you have what is referred to as a "sheet pan dinner", or as the Brits would say…."a traybake".
One of my favorite Fall dishes is this recipe for a sheet-pan roasted root veggies with a breaded pork chop. Of course the breaded pork chop is not low carb, but it's easy to modify if you want to comply with a low carb lifestyle (just cook without the breading!)
How to Roast Veggies without Oil
A drizzle of oil on the ingredients prior to roasting can certainly help to prevent the ingredients from drying out in the hot oven. Olive oil is my oil of choice, but if you prefer no oil at all, you can steam the veggies first and then finish in the oven.
Steaming works well, but it does add an extra step, so if it keeps you from cooking nutritious root veggies, just add a drizzle of oil and call it good.
Dehydrated Vegetable Chips
Root vegetables are the perfect foil for making a crunchy, crispy low carb snack. They are firm and not filled with water, allowing them to turn crispy in the dehydrator.
Just use a dehydrator that has temperature controls so that you can adjust based on the vegetable. We grow chile peppers and tomatoes and dry them for our online spices all Fall, and so I've gone through a lot of dehydrators.
If you plan to do much dehydrating of produce, this Gardenmaster dehydrator has been the most reliable workhorse for me.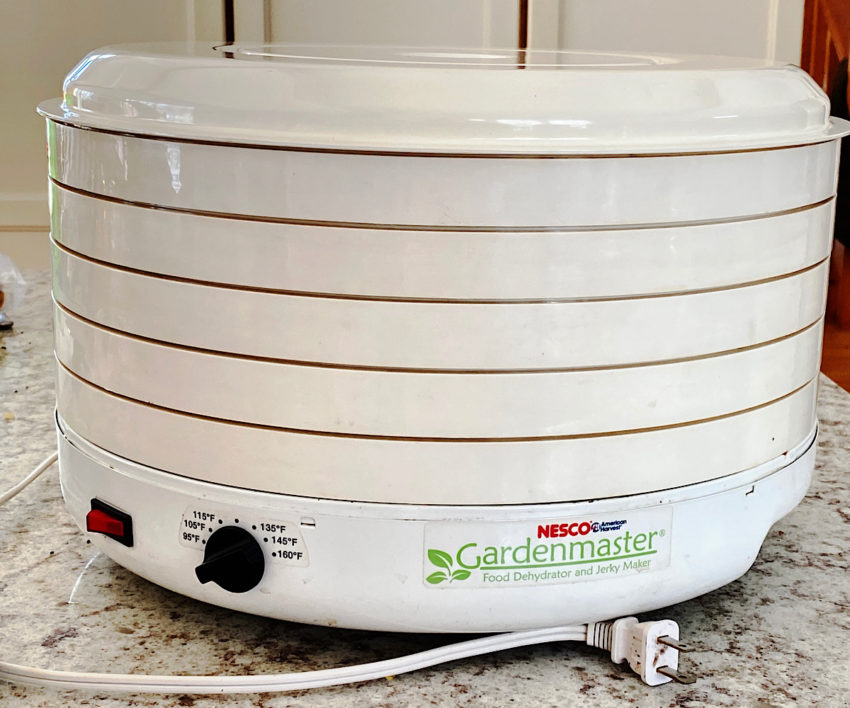 The best thing about making vegetable chips is the flexibility you have with the seasonings. You can give them a Mexican flair, a Moroccan taste, a Korean twist, etc. Here are some of my favorite ways to make vegetables in the dehydrator.
How to Store Raw Root Vegetables
Most root veggies can be stored one of two ways: wrapped and in the crisper drawer of the refrigerator, or in your pantry in a cool, dark, dry place. I store radishes, carrots, jicama and parsnips in the crisper drawer and then place onions and potatoes in a cool (55 to 60 degrees F) dark place that is dry.
Most of the root vegetables you get at the store have been cured and should keep for a month or more.
If you plan to keep your vegetables for a long time, this post from The Spruce gives you detailed instruction for each of the different root vegetables.
Popular Recipes with Root Vegetables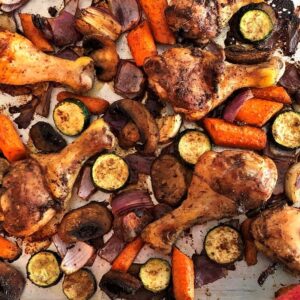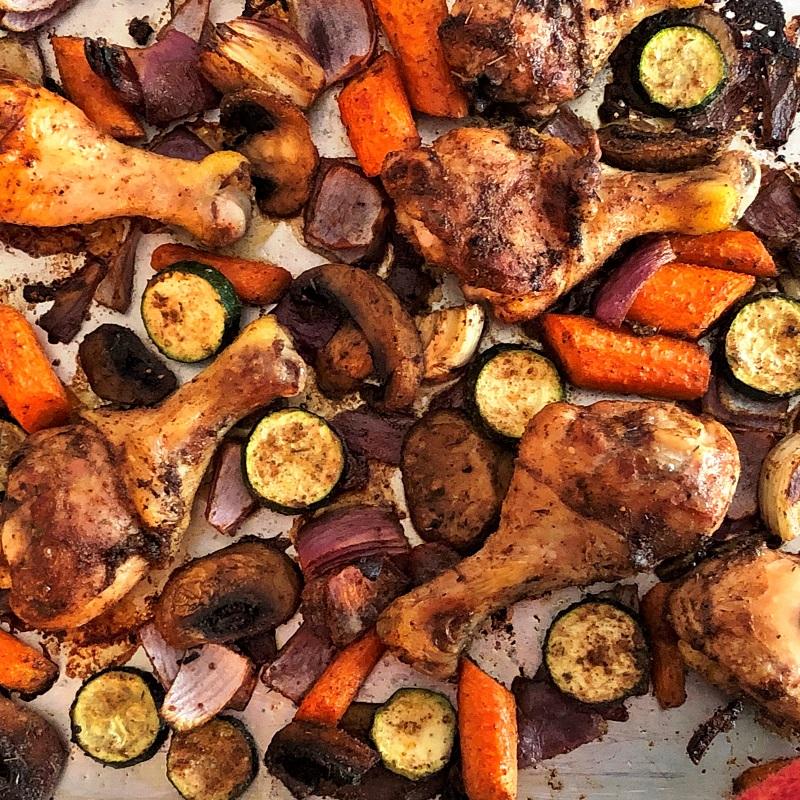 If you make and love this recipe, please leave a ★★★★★ review below and any comments others might find helpful. It means a lot to me when you try my recipes, and I'd love to know how it goes.
Vegetable Ragù: Squash, Parsnips & Carrots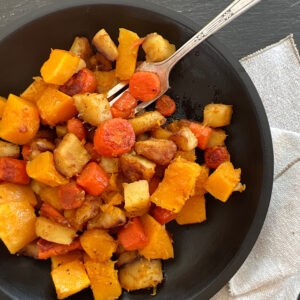 This is a vegetable comfort food that blends roasted squash with sauteed parsnips and carrots, making a high-flavor ragout that is not mushy.
Ingredients
1

tablespoon

olive oil

3

cups

butternut squash

cubed

1

teaspoon

salt

1 ¼

cups

chicken broth

can substitute vegetable broth

1

tablespoon

butter

2

cups

carrots

peeled & chopped into bite-size pieces

2

cups

parsnips

peeled & chopped into bite-size pieces

1

teaspoon

sugar

optional
Instructions
Preheat oven to 350° F. In an ovenproof pot, skillet or dutch oven, heat 1 tablespoon olive oil over medium heat. Add cubed squash, salt and 1/2 cup of the broth. Gently mix together and place the pot in the oven to bake for 15 minutes

1 tablespoon olive oil,

3 cups butternut squash,

1 teaspoon salt,

1 1/4 cups chicken broth

While the squash is baking, heat 1 tablespoon butter in a large skillet on the stovetop over medium heat. Add the carrots, parsnips, and sugar (and salt to taste). Cook until the vegetables are lightly browned (about 3 min).

1 tablespoon butter,

2 cups carrots,

2 cups parsnips,

1 teaspoon sugar

Add the remaining 3/4 cup broth, cover and simmer until tender (about 10 minutes).

When squash is fork-tender, remove it from the oven and add to the skillet of carrots and parsnips. Toss all ingredients together gently. Taste and adjust seasonings to taste.

Serve as a side dish to pork, fish or other protein for a low carb dinner
Notes
**Want more like this? Subscribe to our Sunday newsletter to get recipes, gardening guides and diet help. Let's go from Inspiration to Done!
Nutrition
Calories:
144
kcal
Carbohydrates:
24
g
Protein:
2
g
Fat:
5
g
Saturated Fat:
2
g
Polyunsaturated Fat:
0.5
g
Monounsaturated Fat:
3
g
Trans Fat:
0.1
g
Cholesterol:
6
mg
Sodium:
530
mg
Potassium:
660
mg
Fiber:
6
g
Sugar:
7
g
Vitamin A:
17553
IU
Vitamin C:
30
mg
Calcium:
79
mg
Iron:
1
mg
Did you make this recipe?
If you tried this recipe, please give it a star rating! To do this, just click on the stars above. Comments are always helpful also and I respond to all of them (except rude ones)
Online Diet/Health Coaching:
Although I am not currently taking clients for diet & health coaching, I have been a coach for many years with the online service called coach.me. It is a great platform for all kinds of coaching – anything from specific diets, writing a blog, getting up early, or getting rid of that pesky procrastination.
There are some wonderful coaches and the testimonials will tell you what you need to know. Contact me at [email protected] to get a referral to some of the tested, experienced online coaches on Coach.me
If you'd like to start with a plan for a low carb or keto lifestyle, check out this detailed guide in ebook form. It may be all you need to lose weight on this lifestyle. Or it may be used as a supplement to one-to-one coaching.