Natilla, a rich custard-like dessert, has several different variations depending on the country of origin. This recipe is for a Colombian natilla, which is similar to a vanilla natilla custard from Spain, but without the eggs. It is a simple dish traditionally enjoyed during the holiday season, and in Colombia it is typically served with buñuelos (deep fried cheese fitters)
Jump to Recipe
What is Natilla?
Natilla is a rich, custard-like Latino In Mexico, it is more like the drink Atole leche than a pudding or custard. In Costa Rica, sour cream is used in natilla. The Colombian version does not include eggs, and is similar to dulce de leche.
Colombian natilla is thickened with cornstarch and flavored with panela, a dark molasses-like sugar that is a by-product of sugarcane processing. (Dark brown sugar is a good substitute). Colombian-style natilla tends to be firmer and sliceable, though it can also be served in a creamier pudding form.
The recipe below is the creamier version of natilla, layered with chopped nuts and served with fresh raspberries. Many recipes for natilla include shredded fresh coconut, raisins, or nuts. I liked the crunchy texture of the nuts, and the sweet tang of raspberries with this rich creamy pudding.
A traditional Colombian natilla recipe calls for heavy cream, cornstarch, and panela (a by-product of sugarcane processing). I have used brown sugar rather than panela, and cut the amount of cornstarch by half to make a softer, creamier natilla, rather that the stiffer version that you can slice with a knife.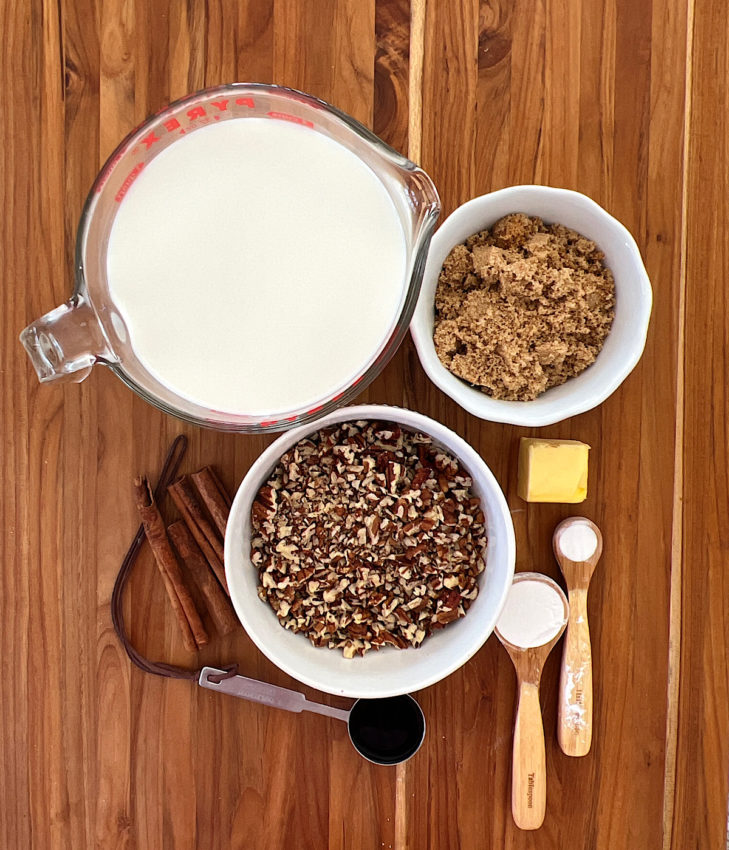 Food and Wine has a creamy version using egg yolks, which is more of a Spanish style natilla.
What is Traditionally Served with Colombian Natilla?
This dessert is often served with buñuelos. Buñuelos are made from a simple yeast dough that is thinly rolled and then fried. Often they are finished off with a sweet topping, but in Colombia they are typically filled with cheese instead of covered in sugar.
Buñuelos may be filled with a variety of things, sweet or savory. They can be round in ball shapes or disc-shaped. In Latin America, buñuelos are seen as a symbol of good luck, and are often served around the holidays.
Frequently Asked Questions (and Tips)
How long will natilla keep in the refrigerator?
The custard will keep for up to 3 days in the refrigerator.
How can Colombian natilla set up without eggs?
The Colombian version doesn't have eggs, but it does contain a large amount of cornstarch. This causes the mixture to set up firm enough that you can cut it into slices. If you want a more pudding like texture, cut back on the cornstarch
Why is my natilla lumpy?
When you use cornstarch it is important to continually stir it in to avoid clumping. I add the cornstarch and a bit of the warm milk together in a glass jar, shake it vigorously and then add to the mixture on the stove. Similar to making gravy.
What are good substitutes for the ingredients?
For the milk, many cooks will make natilla with a mixture of coconut milk, whole milk and sometimes sweetened condensed milk. Follow the recipe so that you get the ratios correct.

Colombian natilla recipes sometimes call for shredded panela or dark muscovado sugar. Since that kind of sugar may not be readily available, I substitute in dark brown sugar.

Regarding the spices: you may often see the addition of cloves, vanilla and ground cinnamon. I infused the cinnamon into the custard using cinnamon sticks and left out the cloves. Spices are really a preference and shouldn't change the texture of the custard.

Many natilla recipes also add raisins. I left out the raisings and added a layer of nuts and topped it with raspberries. As you can see, there are many variations to natilla!
Other Latino desserts you may enjoy
Mexican Spiced Cookies (low carb)
Mexican Chocolate Pots de Crème
Columbian Natilla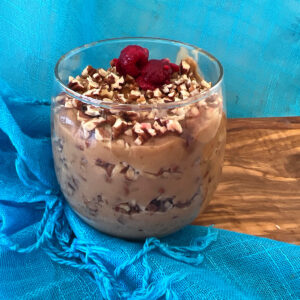 A rich, creamy custard -like dessert without eggs and layered with chopped nuts and topped with fresh raspberries
Equipment
Medium sized pot

whisk

heat proof serving glasses
Ingredients
4

Cups

whole milk

1

Tablespoom

vanilla extract

¼

Cup

cornstarch

4

Ounces

dark brown sugar

Light brown sugar is acceptable

½

Teaspoon

baking soda

4

cinnamon sticks

2

Tablespoons

butter

2

Ounces

Chopped nuts

walnuts, pecans, hazelnuts, almonds, etc.

¼

Cup

fresh raspberries

optional
Instructions
In a saucepan over medium-high heat, bring the milk and vanilla to a very low boil. While it is warming up, add the cornstarch and 1/8 cup water (or some of the warm milk) to a small glass jar. Cover the jar and shake vigorously.

When the milk and vanilla are hot (simmering), add the cornstarch slurry and stir constantly until cornstarch is completely dissolved.

Add the baking soda and cinnamon sticks to the pot. Stir constantly until mixture begins to thicken (this may take up to 20 minutes).

The color will change from milky white to caramel. The mixture should be thick enough that you can see the bottom of the pan for several seconds when you stir.

Stir constantly so that the cornstarch doesn't clump, and the mixture doesn't burn.

Remove from heat and remove the cinnamon sticks. Add in the butter, stirring until butter is melted.

Add a little custard to the bottom of a heat-resistant glass container, layer with some of the chopped nuts and repeat this layering to the top of your glass.

Cover the glass with plastic wrap, gently pressing the plastic onto the custard's surface so that a skin will not form. Allow to cool for 2-4 hours.

Remove the plastic wrap, sprinkle with cinnamon and garnish with fresh raspberries. I like to have a bowl of raspberries nearby to add to the custard
Nutrition
Calories:
290
kcal
Carbohydrates:
34
g
Protein:
7
g
Fat:
15
g
Saturated Fat:
6
g
Polyunsaturated Fat:
5
g
Monounsaturated Fat:
3
g
Trans Fat:
1
g
Cholesterol:
26
mg
Sodium:
201
mg
Potassium:
292
mg
Fiber:
2
g
Sugar:
26
g
Vitamin A:
389
IU
Vitamin C:
1
mg
Calcium:
233
mg
Iron:
1
mg
Did you make this recipe?
If you tried this recipe, please give it a 5-star rating! To do this, just click on the stars above.
¡Buen Provecho!