Have you ever wondered if it really makes a difference in flavor or texture to use cooked dried beans in recipes over canned beans? The answer seems to be…sometimes. It depends on 1) how old the beans are 2) what kind they are (i.e., garbanzo beans benefit more than smaller beans), and 3) what you are making (i.e., don't worry as much about it in stews). We did a taste comparison with a hummus recipe and the results were definitive.
Jump to Recipe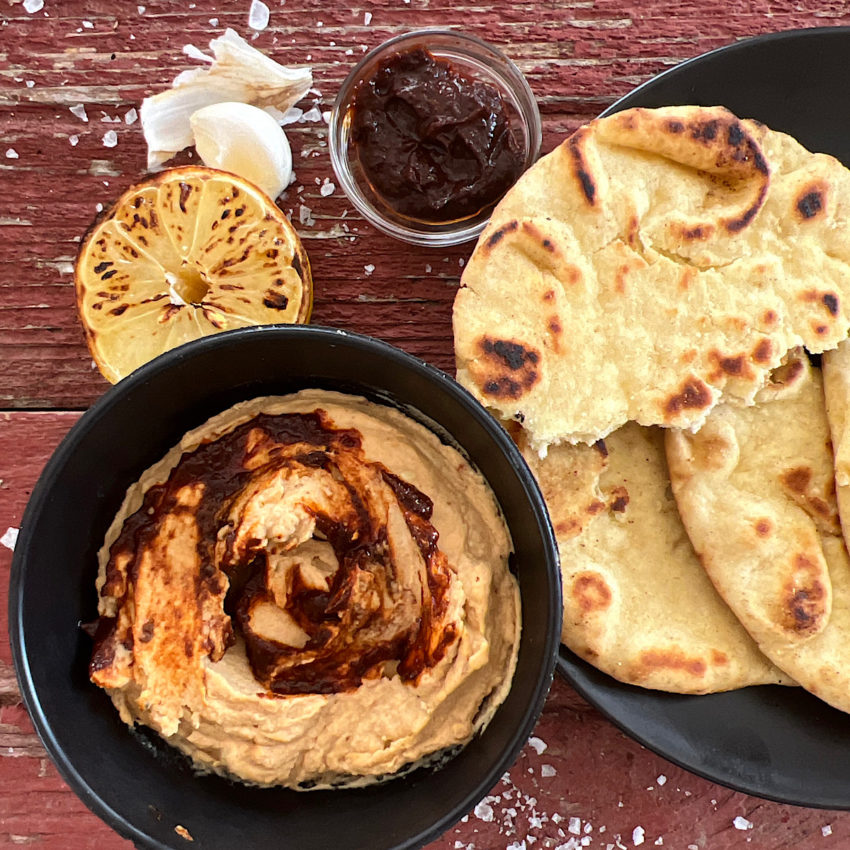 What is Harissa Hummus?
Hummus is a Middle Eastern dip (or spread) that typically includes cooked, mashed garbanzo beans (chickpeas) blended with varying amounts of tahini (sesame seed paste), lemon juice, and garlic. It is usually eaten as a dip, with pita bread.
Hummus is often garnished with olive oil, a few whole chickpeas, parsley, and paprika. In the recipe below I have garnished it with harissa. Garnishes are many and very flexible. I've seen people garnish hummus with mint leaves, garlic, roasted red peppers, pine nuts, and jalapenos or other chiles.
Harissa is a Tunisian hot chili pepper paste, the main ingredients of which are mixed red peppers (hot and mild), cumin, coriander, caraway and garlic. It also includes oil (olive oil) to carry the oil-soluble flavors.
Canned vs Dried for Hummus?
I had always heard that dried beans soaked and cooked at home were superior in flavor and texture to canned beans. I have been testing this out with a variety of different beans and have found that it is more true with some beans than others.
In the case of garbanzo beans, it really made a big difference. The soaked dried beans cooked in an instant pot made a hummus that was much fluffier and with a lot more flavor. The texture was more silky with the cooked dried beans and the flavor was much more robust.
If you do want to use canned garbanzos (chickpeas), just know that some brands can be quite salty. Be sure to rinse well before using.
Easiest Way to Cook Dried Chickpeas
Some think that using dried beans is labor intensive (I thought so also). With a little planning ahead however it is as easy as can be. I dumped a bag of garbanzo beans in a large bowl, covered with water and let them soak overnight.
The next morning while my coffee was brewing, I drained the beans in a colander, put them in the instant pot, covered with water and turned it on for 30 minutes.
My coffee finished brewing in the time it took me to get the beans cooking. No salt at this time. No additions. Just beans and water for 30 minutes.
Are Chickpeas Healthy?
Like all legumes, chickpeas contain a lot of fiber, and they're a good source of protein, manganese and folate. Canned chickpeas are also quite healthy, but like all canned food, they do have quite a bit of added salt as a preservative. Just be sure and rinse you canned beans.
When you cook chickpeas from scratch, you can use the water they are cooked in as a healthy broth for soups and stews. It is referred to as aquafaba, and it is the gelatinous liquid you'll see in the canned beans (again however, there is added salt).
What to do with leftover bean water (aka aquafaba)
Leftover bean water contains lots of proteins and is low in calories. The aquafaba left over from garbanzo beans is frequently used in vegan recipes because it is considered to have the most neutral taste.
Aquafaba is most often used to thicken soups or stews or sauces, but some people have used it to replace egg whites in baking.
Tips for Making the Best Silky Smooth Hummus
Some people like hummus with a chunky texture. I love a smooth, fluffy hummus, and have found the following tips really helped to get the best flavor and texture:
Start with home-cooked garbanzo beans that have been soaked for 10-24 hours. Canned beans are much harder to process into a silky texture
Use a very powerful blender or food processor. You need to really whip in a lot of air to get the smooth, fluffy texture
Overcooking the chickpeas a little bit will tive a creamier hummus. I cooked mine for 40 minutes in the instant pot and they were just right for hummus.
Use a good tahini and don't use it sparingly. It will add the nutty rich flavor that is so tasty in hummus
Run the blender or food processor long enough and add hot water as needed. I use a Vitamix blender and blend for about 5 minutes, adding water as I go until I get the right consistency.
What to Eat with Hummus?
Typically hummus is served as a dip with toasted pita bread as the dippers, but here are a few other ideas:
Add it to a bowl of cous cous and freshen up with parsley and Mediterranean herbs
As a side to kebobs
Spread over rustic bread (toasted) for a healthy breakfast
As a sandwich spread
As a dip for vegetable platters
Harissa Hummus
This is a silky smooth hummus, swirled with harissa paste. It can be made with cooked dried beans or canned beans
Equipment
Instant pot or large pot

blender or food processor

measuring spoons and cups
Ingredients
3

cups

home-cooked chickpeas plus ¼ cup

drained if cooked from dried; rinsed & drained if from canned

½

cup

tahini

stirred up thoroughly

1 – 1 ½

lemons

Juiced

1-2

cloves garlic

smashed and peeled

1

teaspoon

ground cumin

2

Teaspoons

Harissa paste

¼

teaspoon

paprika

optional

½

Cup

water

may need to add more to get to preferred consistency

Toasted pita bread for dippers

Alternatively use raw vegetable sticks
Instructions
For cooking with dried chickpeas: in a large bowl, cover 1 bag (about 2 cups) garbanzo beans with water and soak overnight. In the morning, drain the beans and add beans to Instant pot. Cover with water and turn Instant pot on to 40 minutes.

When Instant pot cools enough to open, drain beans (drain bean water into a large bowl for a different use). Set aside to cool.

In a heavy duty blender or food processor add cooled beans, and the rest of the ingredients (except the pita bread). Process for 4-5 minutes, adding more water if necessary to get to the preferred consistency.

To serve, drizzle olive oil to taste over the hummus. Add a swirl of harissa paste to garnish (can also add olive oil and/or pine nuts to garnish).

Serve with toasted pita bread or raw vegetables of choice.

Store leftovers in the refrigerator. Hummus will be even better the next day. Stir well before serving.
Nutrition
Calories:
292
kcal
Carbohydrates:
39
g
Protein:
14
g
Fat:
10
g
Saturated Fat:
1
g
Polyunsaturated Fat:
4
g
Monounsaturated Fat:
3
g
Sodium:
33
mg
Potassium:
590
mg
Fiber:
11
g
Sugar:
7
g
Vitamin A:
82
IU
Vitamin C:
3
mg
Calcium:
83
mg
Iron:
4
mg
Did you make this recipe?
If you tried this recipe, please give it a star rating! To do this, just click on the stars above. Comments are always helpful also and I respond to all of them (except rude ones)
You'll need to plan ahead and soak these the night before you want to make the beans. I suggest soaking a minimum of 10 hours and up to 24 hours. The baking soda helps to break down the bean. To get really thin strips of lemon peel without any of the bitter white pith, use a vegetable peeler.
Place 3 cups of the drained chickpeas, tahini, lemon juice, garlic and cumin into a blender, preferably a high powered one. Blend on high until smooth. Add the ice and blend again until smooth, light and fluffy. Taste and add salt or lemon juice to preference.
To serve, spread hummus on a plate, turning the dish to create a swirl. Place reserved 1/4 cup chickpeas in the center. Drizzle olive oil to taste over the hummus. Sprinkle the paprika on one side and the za'atar or spice of preference on the other. Serve with warmed bread or raw vegetables of choice.
Store leftovers in the refrigerator. Hummus will be even better the next day. Stir well before serving.