Chicken piccata is one of the most popular restaurant dishes arounds the world but it can be a very easy and inexpensive recipe to make at home. This version is a low carb version without the flour and it comes together very fast for a weeknight dinner. It is the perfect balance of creaminess from the butter and citrus from the lemon.
Jump to: Recipe | Ingredient Substitutions | Serving Suggestions | Common Questions
WHAT IS CHICKEN PICCATA?
Chicken piccata is a popular Italian chicken dish where the chicken is pounded thin and then usually dredged in flour, pan fried and finished with a sauce made of lemon and capers.
It is the epitome of simple elegance. It's easy enough to make in your own kitchen at home, yet it feels opulent.
There are many variations of chicken piccata, from sauces that feature tomatoes to heavy cream sauces. The recipe I have chosen to work with is a low carb variation that includes chicken pounded thin and then sauteed in a butter, lemon and caper sauce with a little sherry.
What you get with the recipe below is the essence of traditional piccata flavors, but without the addition of any flour or breading.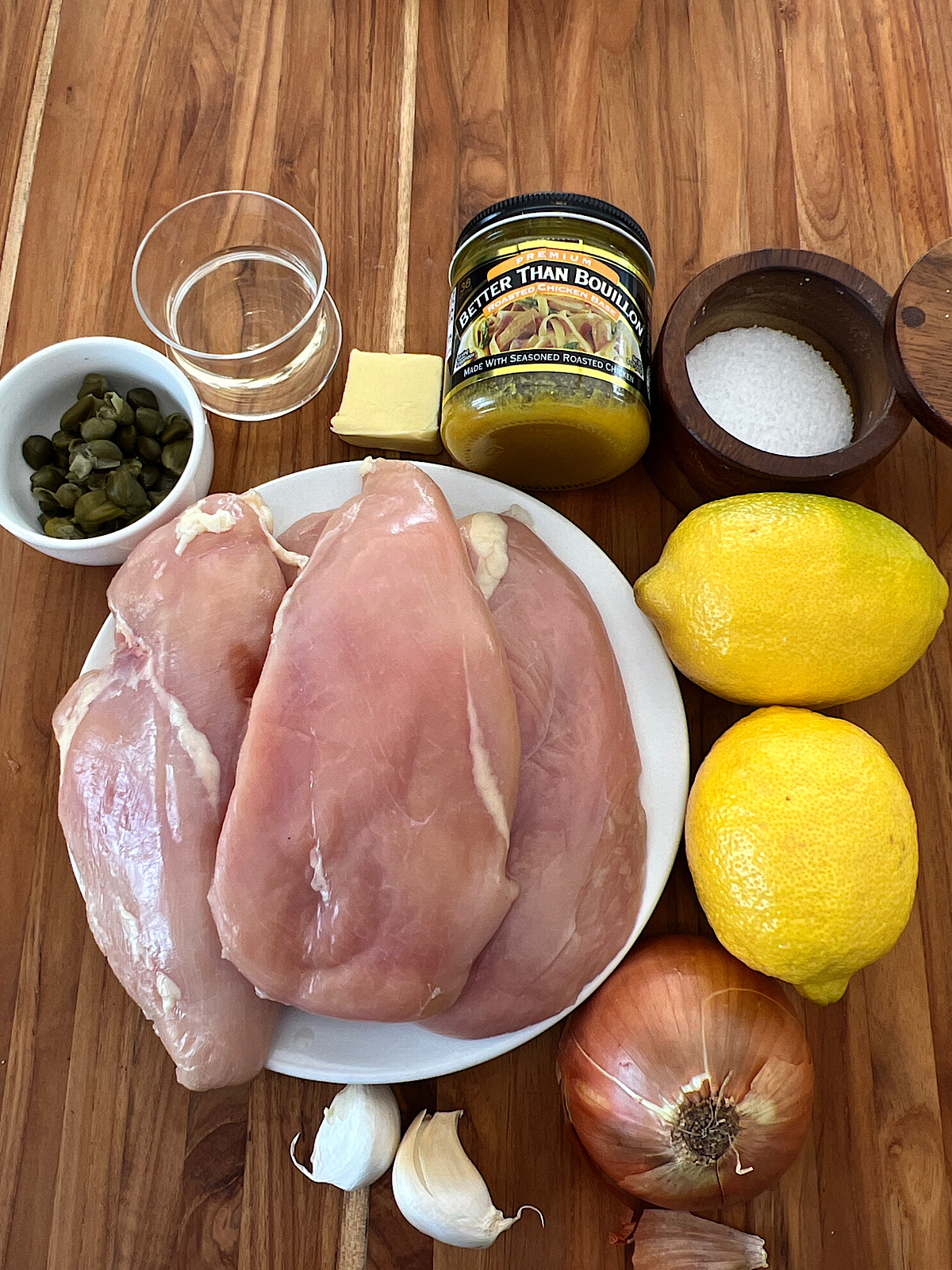 Non-Alcoholic Substitute the Sherry in the Piccata
If you don't have access to any wine whatsoever, or if you prefer to cook without alcohol, there are a few non-alcoholic sherry substitutes to try.
As a substitute for dry sherry, try apple cider vinegar. For small amounts, like a tablespoon or two, you can use it full strength, but if the recipe calls for more, it's a good idea to dilute the vinegar with water. For example, 1/2 cup of apple cider vinegar and 1/2 cup of water would substitute for 1 cup of dry sherry.
You could also use chicken stock or a fruit vinegar as a replacement. The more you substitute however, the further away you are moving from the traditional piccata flavors, so just be aware that your dish will still be wonderful, but slightly different.
Other Substitutes for Sherry
I was out of sherry when I made this dish recently but I did have some dry vermouth on hand. It made an excellent dish and was a good substitute.
Is it Healthy?
Very much so. Chicken is an inexpensive protein, butter is no longer shunned as unhealthy, and the lack of breading means it will be low in carbs. If you prefer to not have any alcohol in your cooking at all, you can substitute chicken broth or vinegars for the sherry or wine.
Where Is Chicken Piccata From?
Piccata is an Italian word meaning larded, but it may have a culinary translation of the French word pique (sharp, as in piquant from the lemon sauce).
Some say it originated in Italy, but as a veal dish rather than chicken. In the U.S. chicken has replaced veal as the more popular choice.
Other research indicates that the dish originated in the United States in the 1930s, it appears to have been created by Italian immigrants at the very least.
The word Piccata is an Italian word, sometimes spelled picatta or pichotta, and the culinary use of the Italian term means "to be pounded flat".
What Side Dishes Work Well?
If you are not practicing a low carb lifestyle, pasta or smashed potatoes are always a good side dish for chicken piccata. Here are some other ideas:
Pasta or buttered noodleS
roasted asparagus in Spring
fresh tomato slices in Summer
garlicky greens in Winter
sauteed spinach in Fall
What Wine to Serve with Chicken Piccata?
I personally love either Pinot Blanc or Sauvignon Blanc, but if you make your piccata creamier a Chardonnay or Pinot Grigio will work also.
Sauvignon Blanc is a high-acid wine that matches the high acid levels found in chicken piccata and will draw out the lemon flavor. Sometimes a high-acid food dish will mute a low-acid wine and make it almost flavorless, so stick with a medium to high-acid wine.
Pinot Blanc, a medium acid white wine, is crisp and has some citrus notes that complement the lemony piccata sauce.lemon sauce.
More Italian-Style Dishes you may Love
Frequently Asked Questions:
How do you thicken the sauce?
The sauce for chicken piccata is tradionally a thin butter sauce, allowing the capers and lemon to be the main flavors. If you want a thicker sauce, you could always add a cornstarch slurry to the sauce and whisk in thoroughly before adding the chicken back in.
Can it be made ahead of time?
Low carb Chicken Piccata can be made ahead of time, then refrigerated or frozen until ready to bake. It is so quick and easy to make however, that I would just make sure the chicken breasts are thawed out and then take the 15 minutes to put it together fresh.
Can you freeze it?
The chicken can be pounded out and frozen. I would make the sauce fresh.
This post may contain affiliate links, and you can read our disclosure information here–
Recipe for Low Carb Chicken Piccata
Chicken Piccata without Breading
Chicken Piccats can be easily modified to be low carb by sauteeing the chicken without the breading and covering it in a lemon-caper-butter sauce. Comes together quickly and easily for a weeknight dinner.
Equipment
mallet or something to pound chicken thin
Ingredients
4

chicken breasts

pounded thin

1

Teaspoon

salt

2

Tablespoons

olive oil

⅓

Cup

finely chopped onions or shallots

2

cloves

garlic

2

Tablespoons

capers

¼

Cup

sherry

see above post for substitutes

1

Cup

chicken broth

2

lemons

juiced

1-2

Tablespoon

butter

cold

1

Tablespoon

finely chopped parsley

optional

lemon wedges for garnish

optional
Instructions
With a mallet, pound the chicken breasts until thin. Season them with salt and pepper.

In a skillet add olive oil and heat over med-high heat. When oil is hot, brown chicken breasts until golden brown.

Remove chicken from pan and set aside.

4 chicken breasts,

1 Teaspoon salt,

2 Tablespoons olive oil

In the same pan, sauté onions, garlic and capers over medium heat (about 5 min)

When onions are tender, add sherry and bring to a low boil, then add the broth and reduce by half.

Add lemon jhuice and finish the sauce with cold butter.

1/3 Cup finely chopped onions or shallots,

2 cloves garlic,

2 Tablespoons capers,

1/4 Cup sherry,

1 Cup chicken broth,

2 lemons,

1-2 Tablespoon butter

Return chicken to pan with the sauce and garnish with parsley and lemon wedges if desired.

Serve with a green vegetable and a glass of Pinot Blanc or Sauvignon Blanc!

1 Tablespoon finely chopped parsley,

lemon wedges for garnish
Nutrition
Calories:
367
kcal
Carbohydrates:
2
g
Protein:
49
g
Fat:
16
g
Saturated Fat:
4
g
Polyunsaturated Fat:
2
g
Monounsaturated Fat:
8
g
Trans Fat:
1
g
Cholesterol:
152
mg
Sodium:
1086
mg
Potassium:
920
mg
Fiber:
1
g
Sugar:
1
g
Vitamin A:
157
IU
Vitamin C:
8
mg
Calcium:
24
mg
Iron:
1
mg
Did you make this recipe?
If you tried this recipe, please give it a 5-star rating! To do this, just click on the stars above.
Online Diet/Health Coaching:
Although I am not currently taking clients for diet & health coaching, I have been a coach for many years with the online service called coach.me. It is a great platform for all kinds of coaching – anything from specific diets, writing a blog, getting up early, or getting rid of that pesky procrastination.
There are some wonderful coaches and the testimonials will tell you what you need to know. Contact me at [email protected] to get a referral to some of the tested, experienced online coaches on Coach.me
If you'd like to start with a plan for a low carb or keto lifestyle, check out this detailed guide in ebook form. It may be all you need to lose weight on this lifestyle. Or it may be used as a supplement to one-to-one coaching.