Spicy, warming turmeric root makes a perfect addition to herbal tea blends, but can be too overpowering on its own. Learn which flavors go well with turmeric so you can create your own delicious turmeric tea blends!
Jump to:
Spicy Turmeric Tea RECIPE
Why Drink Turmeric Tea?
12 Turmeric Tea Blend Ideas
This post may contain affiliate links, and you can read our disclosure information here–
Why is Turmeric So Popular Now?
Turmeric supplements, turmeric latte, turmeric-based juices, and, indeed, turmeric tea – what is it with this yellow root lately? Although it has been a staple in South Asian countries for literally thousands of years, it was little more than a spice to use in Indian curries here in the West until recently.
The reason this spice has recently gone through such a boom is that more and more evidence is appearing that points to it having certain health benefits.
Although I want to underscore that there's also a lot of nonsense out there. Turmeric isn't going to magically make you super-healthy or cure you of diseases. That said. having some on a regular basis may be beneficial.
Because researchers definitely don't agree yet on the degree to which turmeric (and particularly curcumin, the chemical component that colors it bright yellow) can support our immune system and overall health, I'll wait for the research to become more definitive before promoting it as a health tonic.
What's most important right now is that turmeric is a popular ingredient for herbal teas, and for good reason. It's spicy, earthy and lightly (pleasantly) bitter.
Although its flavor profile on its own can be a bit too much, there are loads of wonderful tea blends you can create by mixing it with other ingredients.
Below, let's have a look at 12 delicious turmeric tea blend ideas that'll help you take your daily warming cup of turmeric tea to the next level.
FAQ: Can you drink turmeric tea daily? Sure! There's nothing wrong with having one or two cups of turmeric tea on a daily basis.
12 Turmeric Tea Blends to Boost Flavor
Lemon Ginger Turmeric Tea
Often touted as a "detox" tea recipe, lemon ginger turmeric tea isn't a wonder drink. It is however, great for your digestion and possibly your immune system – and it tastes much nicer than plain turmeric tea.
You can make lemon ginger turmeric tea with both fresh and dried ingredients. I prefer going for fresh, making a big batch and then freezing it in individual portions.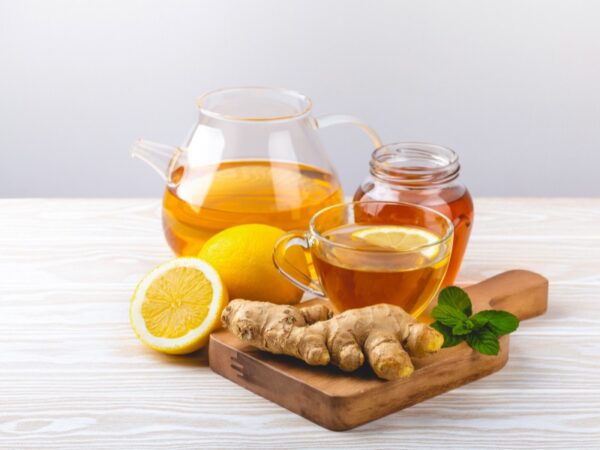 For 10 cups, you'd need:
10 cups water
1/4 cup fresh grated turmeric root
1/2 cup fresh grated ginger root
1 cup lemon juice
Optional: honey to taste
Simmer the ingredients together in a saucepan for up to half an hour or until you're happy with the flavor.
Cinnamon Ginger Turmeric Tea
As you'll notice as you explore these turmeric tea blend ideas, turmeric and ginger go together like peanut butter and jelly. Both belong to the ginger family, Zingiberaceae, so it's not surprising they complement each other so well.
Cinnamon is a good addition to this dynamic duo. It adds warmth and a spiced flavor, plus it's good for you!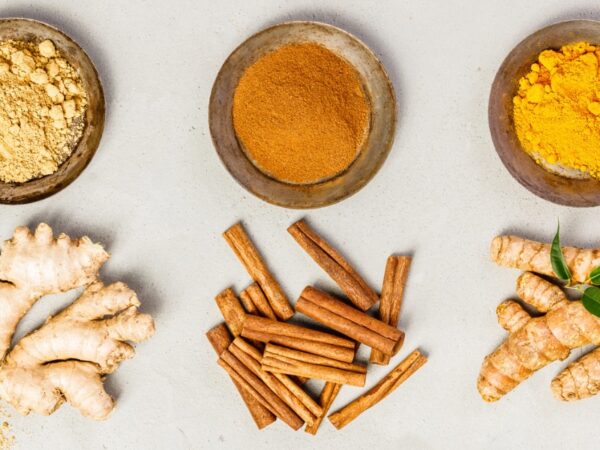 For 10 cups turmeric ginger cinnamon tea, you'd need:
10 cups water
1/4 cup fresh grated turmeric root
1/2 cup fresh grated ginger root
3 cinnamon sticks
1/2 cup lemon juice
Optional: honey to taste
Simmer the ingredients together in a saucepan for up to half an hour.
Ginger Peach Turmeric Tea
Unlike the two turmeric tea blends above, which taste best when you use fresh ingredients, ginger peach turmeric tea is usually made with dried ingredients. This makes it easier to brew an individual cup, plus the ingredients themselves last for ages in your pantry.
I really like how the sweetness of peach complements ginger's spice and the earthiness of turmeric root.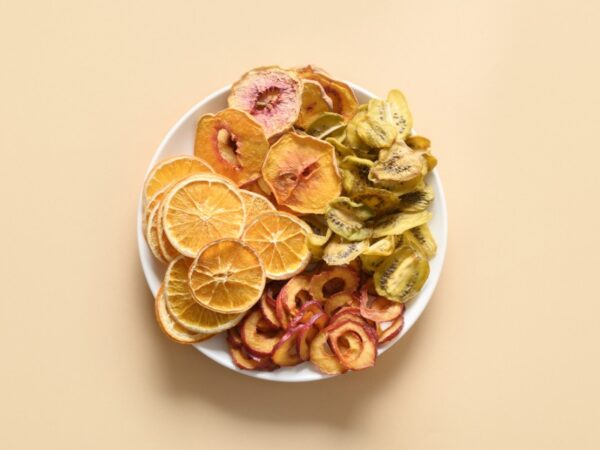 For one cup turmeric ginger cinnamon tea, you'd need:
1 cup hot water
1/2 teaspoon dried turmeric root
1 teaspoon dried ginger root
1 teaspoon dried peach
This blend will be quite naturally sweet, so it isn't usually necessary to add honey. Place the ingredients in a tea infuser, pour over the hot water, and let steep for up to five minutes.
Turmeric Green Tea
If you like a cup of green tea, adding some turmeric is a great way to get that extra potential health boost while still maintaining great flavor. Green tea is grassy and almost floral, which is perfect to balance out turmeric's somewhat bitter earthiness.
You can make this blend with as little as two ingredients:
2 teaspoons green tea leaves
1/2 teaspoon dried turmeric root
Optional: slice of lemon
Optional: honey to taste
Green tea is also touted for its health benefits, and it has much less caffeine than black tea. My favorite green tea is this green tea with pomegranate that you can purchase online at our sister site (HeathGlen)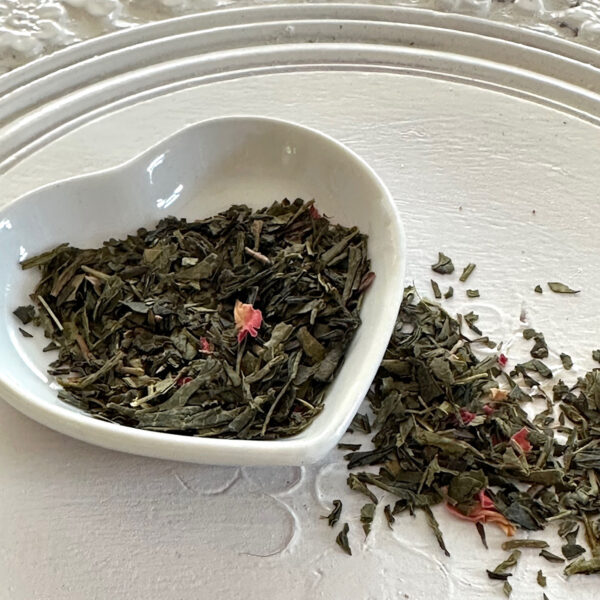 Turmeric Milk Tea (Golden Milk Latte)
Turmeric milk tea, also known as a golden milk latte, isn't quite the same as regular turmeric tea. Turmeric milk tea offers the benefits of turmeric, and the milk fat actually helps your body absorb the curcumin (the stuff that is supposed to offer all the health benefits) more effectively.
Known in its home country of India as Haldi ka Doodh, golden milk tea was traditionally used in Ayurvedic medicine. It's made with dried turmeric, usually powdered, and various other spices. Warming and healthy!
As this tea is a little more work to make, let's make 10 cups at a time, shall we? It keeps for three days in the fridge.
7 cups whole milk (or plant-based milk)
3 cups water (omit if using plant-based milk)
5 tsp turmeric powder
10 cloves
10 smashed green cardamom pods
1 small cinnamon stick
Optional: a few smashed black peppercorns
Optional: honey to taste
Combine the ingredients in a saucepan and simmer on low for up to 10 minutes. Strain to remove the spices and enjoy!
You can also purchase the turmeric golden chai blend and add steamed milk to it for an easier version of golden milk latte.
FYI: Golden milk latte is a daily drink in Okinawa, a "Blue Zone" region in the world. Often called the "elixir of the Gods"
Turmeric Matcha Tea
A traditional East Asian staple, you're sure to have heard of matcha at some point: it went through a huge popularity surge here in the West recently. Not surprising, as it's ultra-versatile, tasty, and good for you (loads of antioxidants!).
Traditionally, matcha tea is made by simply whisking matcha powder and hot water together. For our turmeric matcha tea, though, I like to add a splash of whole milk.
As mentioned earlier, after all, the curcumin in turmeric is more easily absorbed by your body when accompanied by some kind of fat.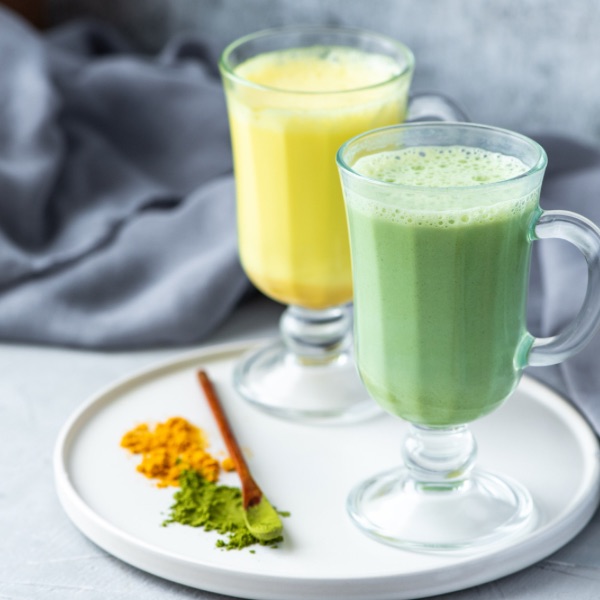 Here's how you make a turmeric matcha tea with milk:
1 cup hot water
1/2 tsp matcha powder
1/4 tsp turmeric powder
2 tbsp whole milk
Optional: honey to taste
Place the powdered ingredients in the bottom of a mug. Top with some hot water and whisk vigorously. Then, top off with the rest of the water and milk.
Turmeric Black Pepper Tea
It's clear by now that adding a splash of milk (or even a little coconut oil or ghee) to your turmeric tea can help your body better absorb all the good stuff that turmeric has to offer. But did you know it's not just fat that assists in the absorption of curcumin?
The piperine in black pepper can also help absorb curcumin. And that's good news for us tea lovers, because black pepper and turmeric go fantastically together anyway!
I know it can sound odd, but try it: pepper's heat totally helps balance out turmeric's earthiness.
Here's how you make turmeric black pepper tea:
1 cup hot water
1/2 tsp dried turmeric
3 smashed peppercorns
Optional: lemon slice
Optional: honey to taste
Place the turmeric and peppercorns in your tea egg and pour over the hot water. Steep for up to five minutes.
Chai Turmeric Tea
Another drink that has recently surged in popularity here in the West is masala chai, an Indian tea blend that combines black tea, cardamom and ginger with a whole range of different warming spices. Traditionally, it's made with milk and sugar (or jaggery, a type of unrefined cane sugar).
For today's chai recipe, let's add some turmeric, shall we? We'll also include peppercorns, which complement the other spices perfectly.
As with golden milk latte, the ingredients here need to be simmered together, so let's make 10 cups at a time. You can keep the rest in the freezer for three days or turn it into amazing homemade popsicles.
5 cups water
5 cups whole milk
10 tsp loose leaf black tea
5 green cardamom pods
3 tbsp grated ginger
1.5 tbsp grated turmeric
5 cloves
1 large cinnamon stick
10 black peppercorns
1.5 tbsp sugar
Smash all the spices to release their flavor and then simmer all the ingredients together in a saucepan. Strain and serve.
Tip: Don't have all these spices in your cupboard? You can get a delicious turmeric chai blend online at HeathGlen.
Moringa Turmeric Tea
Moringa tea, made with leaves of a tree called Moringa olifeira, is popularly drunk for its scientifically proven health benefits. But why not boost your morning cup of moringa with a little added turmeric and kill two birds with one stone?
Moringa tastes similar to green tea: subtle and with grassy notes. It's easily overpowered, so don't add too much turmeric to your blend.
Here's how you make one cup of moringa turmeric tea:
1 cup hot water
1 tsp dried moringa leaves
1/2 tsp dried turmeric
Optional: slice of lemon
Optional: honey to taste
Add the ingredients to a tea infuser ball (sometimes referred to as a "tea egg" and pour over the hot water. Steep for up to 5 minutes.
Orange Ginger Turmeric Tea
Lemon isn't the only type of citrus that plays nice with turmeric! Orange is another great option, and a popular addition to turmeric tea blends. It can be made with dried ingredients, but it's also commonly prepared fresh.
Since this is another recipe with fresh ingredients that need to be simmered together, let's make 10 cups, shall we? It keeps well in the fridge, or you can opt to freeze the excess.
Here's how you do it:
10 cups water
2 fresh oranges
1 tablespoon fresh grated ginger
1/2 tablespoon fresh grated turmeric
Optional: 2 lemon slices
Optional: maple syrup to taste
Halve and squeeze the oranges. Use a spoon to remove all the flesh. Place this, plus the other ingredients, in a saucepan and simmer on low for up to five minutes. This blend also tastes great as an iced tea!
Tip: If you're a tea lover, don't forget to have a look at Farm to Jar's other tea blends and recipes.
BONUS RECIPE: Spicy Turmeric Tea
If you make and love this recipe, please leave a ★★★★★ review below and any comments others might find helpful. It means a lot to me when you try my recipes, and I'd love to know how it goes.
Spicy Turmeric Tea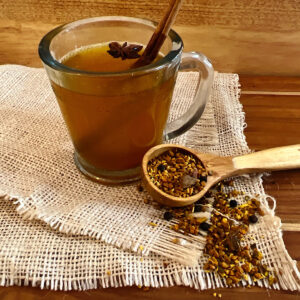 Add a warming twist to your daily cup of turmeric tea with a homemade blend using spicy chili pepper and ginger.
Ingredients
5

tsp

dried shredded turmeric

10

tsp

dried shredded ginger

2

tsp

crushed dried chili pepper

or to taste; see notes

5

peppercorns

smashed or ground
Instructions
Run the peppercorns and the dried chile pepper through a spice grinder. Blend all the ingredients together and store in an airtight jar.

5 tsp dried shredded turmeric,

10 tsp dried shredded ginger,

2 tsp crushed dried chili pepper,

5 peppercorns

To make a cup of tea: add 1-2 teaspoons to a tea infuser. Pour over boiling water and let steep for up to five minutes. Enjoy!
Notes
Standard red pepper flakes are usually cayenne, which is in the mid to high spice range. Want to make your own? Try ancho or mulato for a mild tea, chipotle if you've got some spice resistance, or chile de arbol if you like things nice and fiery.
You can easily dry all these ingredients yourself, but you can also opt to buy them pre-dried for tea: ginger, turmeric, and chili pepper.
Nutrition
Calories:
6
kcal
Carbohydrates:
1
g
Protein:
0.1
g
Fat:
0.1
g
Saturated Fat:
0.03
g
Polyunsaturated Fat:
0.04
g
Monounsaturated Fat:
0.02
g
Sodium:
1
mg
Potassium:
35
mg
Fiber:
0.4
g
Sugar:
0.3
g
Vitamin A:
174
IU
Vitamin C:
0.4
mg
Calcium:
2
mg
Iron:
0.3
mg
Did you make this recipe?
If you tried this recipe, please give it a star rating! To do this, just click on the stars above. Comments are always helpful also and I respond to all of them (except rude ones)
Singletary, K. (2010). Turmeric: an overview of potential health benefits. Nutrition Today, 45(5), 216-225.