A tenderloin cut wrapped up in a foil packet and baked for 25 minutes in the oven is one of the easiest ways to get tender slices of pork. Add a mustard sauce in the packet and make a couple of quick side dishes (I did acini di pepe and broccoli) and you have an easy feast for the family or company. Quick and easy but elegant at the same time!
Jump to:
RECIPE
Pork Loin vs Tenderloin
Illustrated Step by Step
Acini vs Orzo Pasta
This post may contain affiliate links, and you can read our disclosure information here–
Pork Loin vs Pork Tenderloin
It is sometimes confusing as to which cut of pork you want in the grocery store, as they "sound" similar. They are actually quite different and getting the wrong cut can be disastrous for your meal. One is better suited for quick, high-temperature cooking while the other benefits from lower, slower heat.
The most obvious difference between the two is the size and the amount of fat. Pork tenderloin is much smaller than a pork loin and has very little visible fat. A pork loin is wide and weighs around 5 pounds and has a dominant "fat cap".
Here are a few other distinctions:
Pork Loin:
Pork loin is also known as a center loin roast. It is large and wide and has a fat cap running along the top. It has a mild flavor, and the fat cap keeps the meat tender and juicy, even when cooked at longer temperatures.
Pork loin is often seared first and then roasted at low temperatures in the oven. Using the slow cooker is also a popular way to cook pork loin. For the most tender meat, use a thermometer and pull the loin when it reaches 145°
Some of the pork loin prep work can also be done in advance. The pork loin roast can be tied up, rubbed with garlic paste, and refrigerated one day prior to cooking. Allow to come to room temperature for 30 minutes on the counter before searing.
A good way to cook pork loin is this one-pot dinner of pork loin in the slow cooker with vegetables and a a tangy sauce using apple butter.
Pork Tenderloin:
Pork tenderloin is narrow and usually weighs about 1 lb., with little to no visible fat. It is always sold as a boneless cut and is frequently sold in pairs.
Pork tenderloin is very tasty but it is quite lean as it doesn't have the fat to keep it juicy as it cooks. It is important therefore not to overcook it and dry it out. It does have a membrane that looks a bit like fat, but it actually a silver skin that does not tenderize as it cooks. Many cooks remove this skin before cooking to provide a better texture.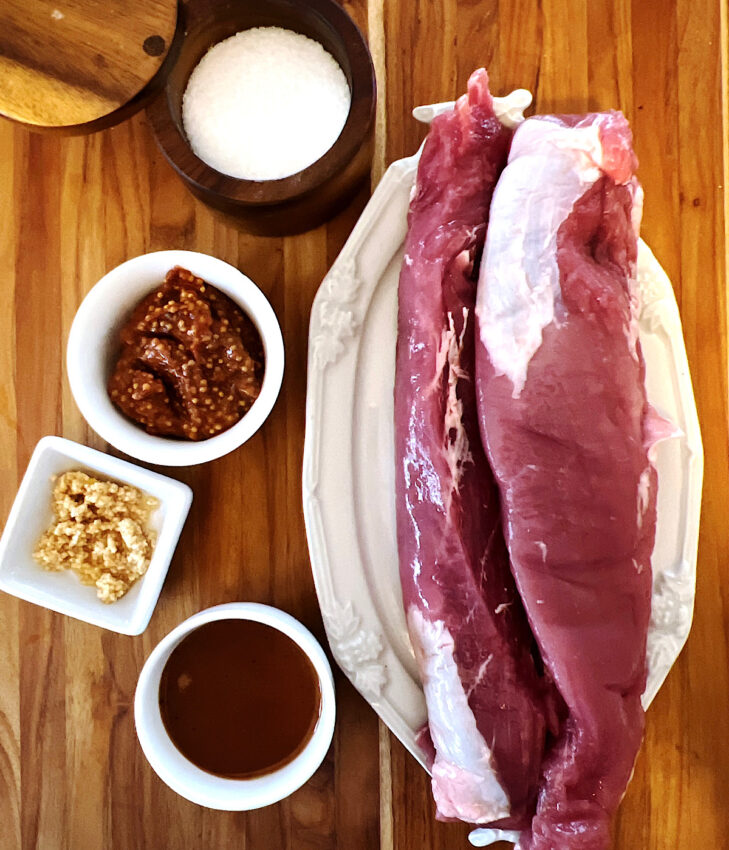 It is best to cook the tenderloin with a quick cooking method. You can give it a quick sear and then grill it over direct heat. Alternatively you can cut the tenderloin it small pieces and saute it with vegetables.
This recipe for pork tenderloin with mustard sauce wraps it in foil and then bakes it for about 20 minutes. The foil and sauce seals the moisture in.
Illustrated Step by Step: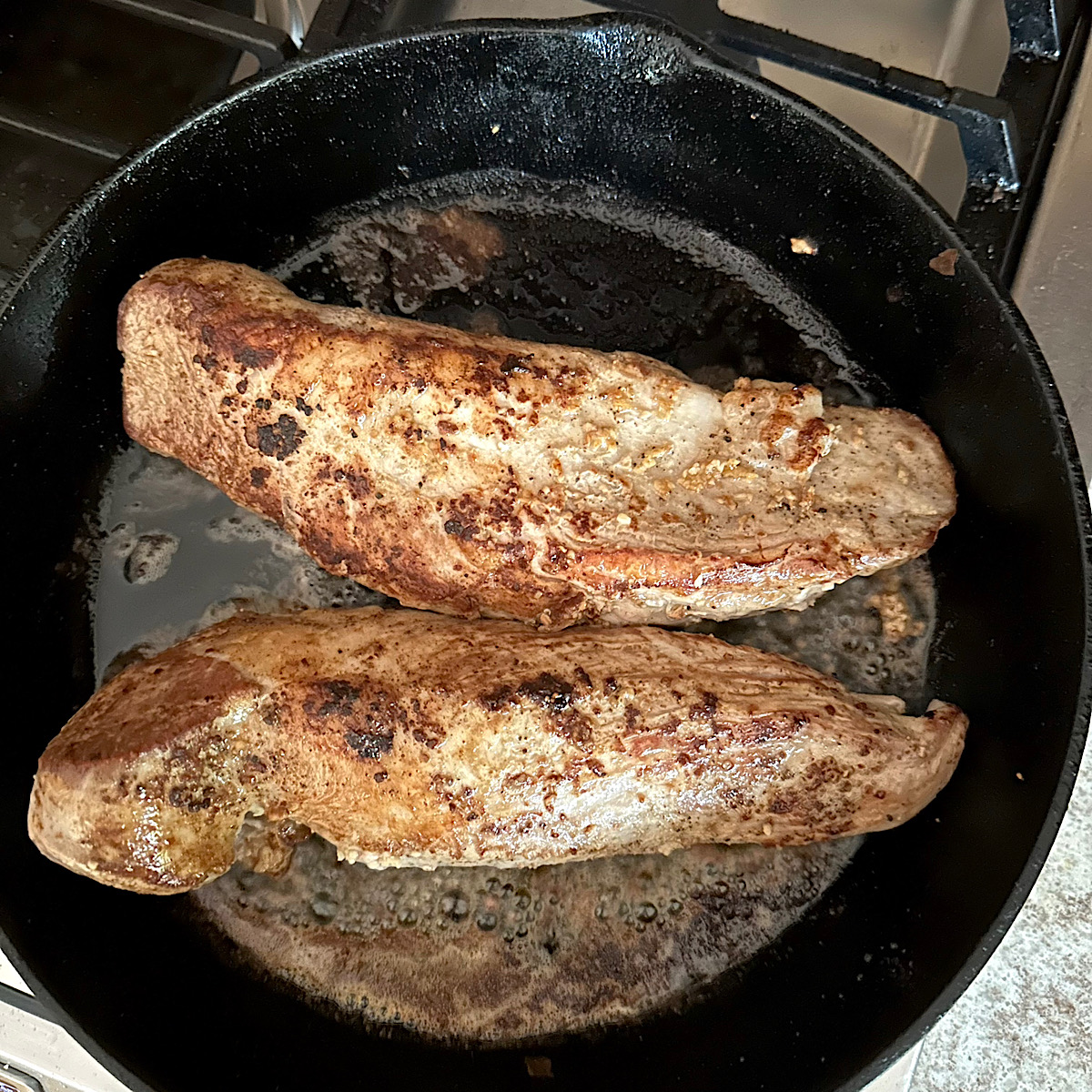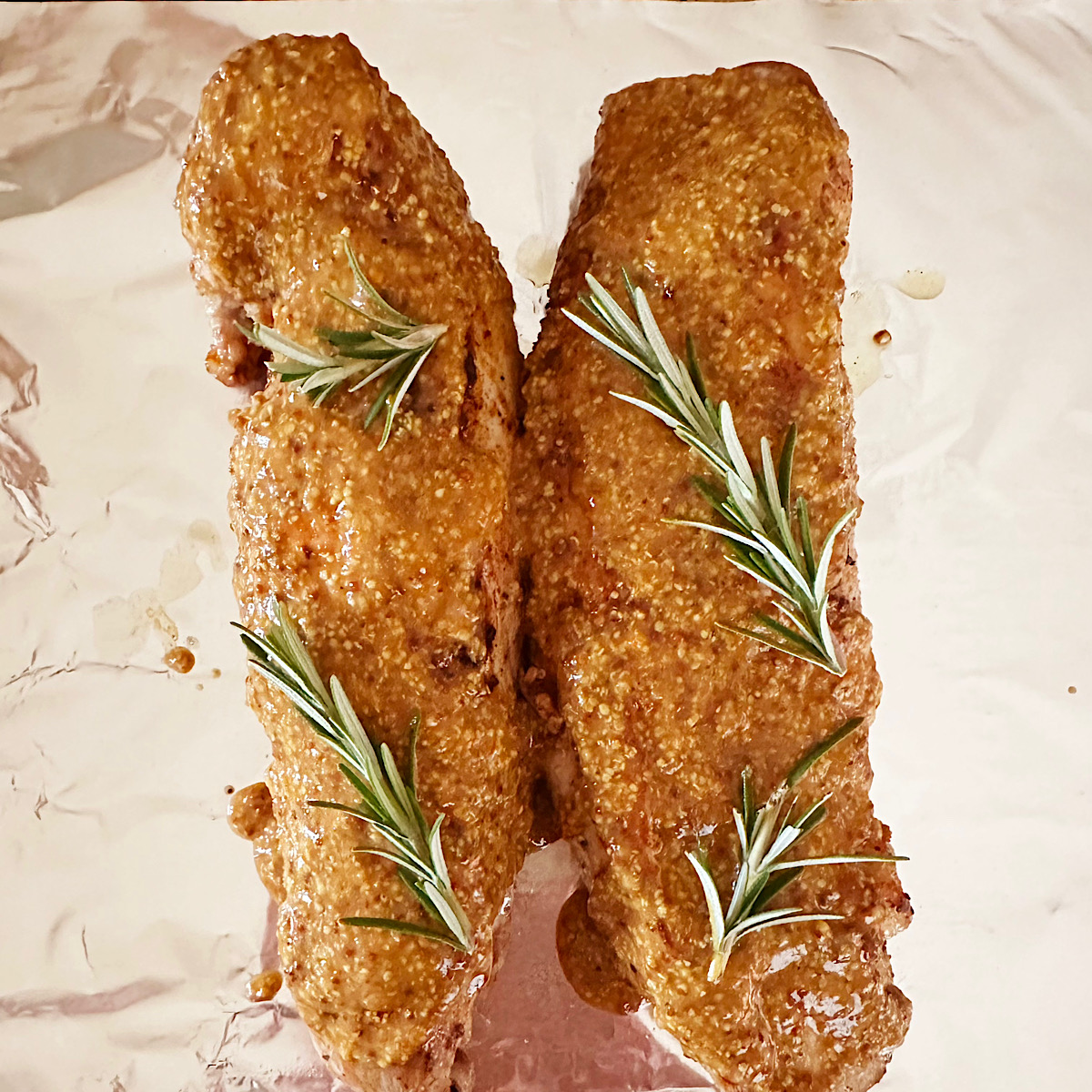 **Tip: Don't overcook the pork. Overcooking pork can lead to a dry texture and you want tender, juicy pork loin for this recipe. Using an instant read thermometer ensures that you remove the pork from the oven at just the right time (145 F).
The mustard sauce can be made a day or two in advance. Just combine the ingredients and keep it refrigerated.
How Many Servings from Pork Loin vs Tenderloin?
Pork loin is great for feeding a crowd. Most boneless loin roasts weigh 4-5 pounds, allowing you to feed 8-10 people at about a half-pound per person.
Pork tenderloin is generally sold in pairs, each tenderloin being around 1 lb. A 1-pound tenderloin will generally feed 2-3 people, especially if sliced thin and served with some side dishes.
Acini di Pepe vs Orzo?
Both orzo and acini di pepe are small pastas that cook up very quickly. They make a great bed for meats and sauces as they soak up the juices and add texture to the dinner.
They are both small, with acini di pepe being a round shape and orzo being rice grain shaped. Both are Italian pasta made from semolina. The main difference for cooking is that acini di pepe are a bit smaller than orzo and therefore will cook up quicker.
Orzo is often cooked in oil and used as a sort of rice substitute. They both make wonderful "beds" for meat or vegetables with sauces. Alternatively they can be served as a side dish with a generous dose of butter, salt and pepper.
What can I Substitute for Acini di Pepe?
Pearl barley
Fregola
Cauliflower rice
Ditalini pasta.
Israeli-style couscous
Arborio rice
Orzo pasta
Pastina
Angel hair pasta
Frequently Asked Questions
Can this be made in advance?
The mustard sauce can be made a day or two in advance of cooking the pork loin; simply keep it refrigerated.

The pork loin can be tied up, rubbed with garlic paste, and refrigerated one day prior to cooking. Remove from the refrigerator 30 minutes prior to preheating the skillet and oven.
Can this be frozen?
Yes, you can freeze leftover pork loin as well. Allow to cool then transfer to a freezer ziploc bag. Freeze for up to 2 months. Thaw in the fridge before reheating.
How long can it be stored?
Leftover pork loin will last for up to 4 days in the fridge.
More Popular Pork Recipes:
Recipe for Pork Tenderloin with Mustard Sauce (in Foil Packet)
Pork Tenderloin with Mustard Sauce in Foil Packet
This easy, low carb dinner takes the inexpensive cut of pork tenderloin, coats it with a mustard sauce, and wraps it in a foil packet to bake for 25 minutes. I served it with easy side dishes of orzo and broccoli.
Equipment
Aluminum foil

small bowl

mesh drainer
Ingredients
2

lbs

pork tenderloin(s)

2

Tablespoons

minced garlic

can used jarred garlic in oil

2

Teaspoons

salt

2

Tablespoons

Olive oil

¼

cup

coarse mustard

I used HeathGlen's tomato mustard, but any coarse mustard with seeds is fine

¼

cup

mustard-based BBQ sauce

Famous Dave's makes a good "Georgia mustard"

1-2

tsp

minced rosemary

1 ½

cup

Acini di pepe

or other small pasta like orzo (see post for other alternatives)

3

cups

broccoli florets

I used frozen, but make sure the florets are included

2-3

Sprigs

rosemary for garnish
Instructions
Preheat oven to 350 degrees F. Generously season tenderloin with salt and garlic.

2 lbs pork tenderloin(s),

2 Tablespoons minced garlic,

2 Teaspoons salt

Heat oil over med-high in a large skillet. When oil is almost smoking place tenderloin in skillet and brown on both sides. It should take 2-3 minutes per side. Using tongs, turn the tenderloin so the edges can also get browned.

When tenderloin is browned, remove from skillet and place on a piece of foil laid out on a baking sheet. Mix the all of the mustards together in a bowl. Spread the mustard over the tenderloin, covering all sides, and then sprinkle with minced rosemary.

1/4 cup coarse mustard,

1/4 cup mustard-based BBQ sauce,

1-2 tsp minced rosemary

Pull foil up around tenderloin and wrap securely. Place in the oven and cook for 20 -27 minutes. If you have a meat thermometer, it should register 145°F. If it is not up to temp yet, open the foil and cook another 5-10 minutes. Please do not overcook or the meat will be dry rather than juicy.

While the meat is in the oven make the acini de pepo and the broccoli. Both acini and acini cook very quickly. Just put a pot of water on to boil, add the small pasta, cook about 4 minutes and drain.

Broccoli: I use quality frozen broccoli florets (not stems). I just microwave these while pasta and tenderloin are cooking and everything gets done at the same time.

If you want to use non-frozen broccoli, just cook it in your favorite way. Steaming is a good method for broccoli, as it preserves the dark green color.

Slice the tenderloin and serve it with the pasta and broccoli. Collect any juices that have rendered within the foil packet and serve on the side as a sauce.

Garnish with fresh rosemary.

2-3 Sprigs rosemary for garnish
Notes
Pork tenderloin is generally sold in pairs, each tenderloin being around 1 lb. A 1-pound tenderloin will generally feed 2-3 people, especially if sliced thin and served with some side dishes.
Nutrition
Calories:
405
kcal
Carbohydrates:
36
g
Protein:
39
g
Fat:
12
g
Saturated Fat:
3
g
Polyunsaturated Fat:
2
g
Monounsaturated Fat:
6
g
Trans Fat:
1
g
Cholesterol:
98
mg
Sodium:
1098
mg
Potassium:
780
mg
Fiber:
4
g
Sugar:
3
g
Vitamin A:
301
IU
Vitamin C:
42
mg
Calcium:
49
mg
Iron:
4
mg
Did you make this recipe?
If you tried this recipe, please give it a star rating! To do this, just click on the stars above. Comments are always helpful also and I respond to all of them (except rude ones)