Rajas is a Spanish term which literally translates to "strips" or "slices". But for lovers of Mexican cuisine, rajas usually refers to roasted poblano chile strips cooked with onions and cream (often sour cream) and white cheese (often jack or asadero cheese). It can be served as tacos or simply in a bowl if you want a low carb dish.
Rajas can make a wonderful side dish, a vegetarian main dish or a filling for some of the best tacos you've ever laid lip to. And to top it all off, rajas are keto and low carb (without the tortillas of course)!
Jump to Recipe
Rajas are Simple, but Need Perfect Ingredients
Rajas depend primarily on poblano chiles, which have a rich distinctive flavor. On a scale of 1 to 10, these chiles are a considered around a 4 in terms of heat. That can vary, of course, depending on where and how they are grown. In the grocery store, look for glossy, dark green Poblano peppers (they are sometimes mis-labeled as Pasilla peppers).
How to Roast & Skin the Poblanos
Preheat the broiler in your oven to 450 degrees. Alternately, you can roast over an open flame on a gas burner.
Place your poblano peppers on the heat source. For the oven, place them on a sheet pan then directly under the broiler. Allow the peppers to roast about five minutes and then turn to char the other side. The skin will blister and darken and you may hear some popping sounds. If using an open flame, use tongs to hold the pepper over the flame, turning to get it charred on all sides.
Remove the pepper from the heat source. Place the peppers in a zip-top bag or bowl with a lid. Allow the peppers to cool about 10 minutes or until they are cool enough to handle. The steam collects and helps release the skin from the pepper making them easier to peel.
Peel the bubbled skin off of the pepper with your fingers. Sometimes it's easier to use a paper towel. You will need to experiment here.
Next, using a sharp knife, cut the pepper open and remove the seeds and discard.
Using Low Carb Rajas Poblano in Tacos:
Rajas con queso (Pronounced ra-HAS con KAY-so) is often used to reference using rajas as a taco filling. We had the rajas alone as a side dish one night and then added pulled pork and cotija cheese to a low carb tortilla.
Speaking of low carb tortillas, I found a convenient one that is pretty good at Target. It is called La Banderita Carb Counter wraps. For a run-down on low carb tortillas (store bought and home made), click here. Here is a photo of the low carb tortilla/taco with pork and rajas filling:
Low Carb Rajas Poblano (with cheese and sour cream)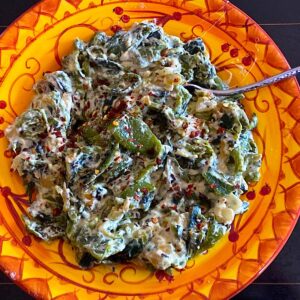 A classic Mexican dish made with Poblano peppers, onions and cream or cheese. Rajas can be used as a side dish or as filling for tacos.
Ingredients
10

peppers

Poblano peppers

roasted, peeled and sliced 2″ x 1/4″

1

medium

onion

coarsley chopped

3

cloves

garlic

minced

1

tsp

salt

more to taste

1

tsp

oregano

Mexican oregano if available

½

cup

sour cream

¾

cup

jack cheese

shredded
Instructions
Roast & peel the peppers (see post for techniques)

Saute onion over medium heat in large skillet (I used 2 Tbs olive oil to saute); saute for 5-7 min or until slightly carmelized or translucent; add garlic for last 30 seconds.

Add peppers to the onion mix and cook about 4 minutes or until the entire mixture heats up and flavors meld together

Turn off heat and add the sour cream and cheese and gently mix together.
Video
Low carb Mexican Rajas - Rajas de Poblanos con Queso y Crema
Watch this video
on YouTube
.
Watch the Step by Step Video for More Details
Nutrition
Calories:
100
kcal
Carbohydrates:
3
g
Protein:
4
g
Fat:
8
g
Saturated Fat:
5
g
Sugar:
1
g
Did you make this recipe?
If you tried this recipe, please give it a 5-star rating! To do this, just click on the stars above. And don't forget to tag me at @dorothy_stainbrook_heathglen, if you share a picture on Instagram! You can also tag me at #heathglen!