This creamy Mexican comfort food can be used in quesadillas or just eaten on it's own. There are always nuanced versions of classic regional dishes, but the poblanos and crema are key ingredients in all versions of this dish. This recipe is from the Bajío region of Mexico and it includes mushrooms, corn and chicken bouillon, all wrapped up in a cheese filled tortilla.
Jump to:
RECIPE
What is Rajas con Crema?

What is Rajas con Crema?
Rajas (rah-Has) translates to "strips" in English, and Rajas con Crema refers to sliced poblano peppers strips in cream sauce.
Rajas con Crema is a super simple, vegetarian Mexican dish made from strips of roasted poblano peppers combined with onions, cream, and melted cheese. The recipe below is a version from the Bajío region, which adds corn and mushrooms.
This is another similar version this rajas dish, called Rajas con Queso. It is a low carb version made by the "White Tia"
Are Poblanos Spicy?
Poblanos are the star of rajas con crema and they have their own distinctive chile pepper flavor, sometimes referred to as "earthy". They are what I would consider "moderately" spicy, given a 4 on a heat scale from 1 to 10.
The heat varies with chile peppers, depending on where and how they are grown. The heat of chile peppers increases when they are grown under stress (i.e., hot dry conditions), so the microclimate will determine the exact heat index.
In the grocery store, look for glossy, dark green Poblano peppers (they are often mis-labeled as Pasilla peppers).
**Tip: If you like your Mexican food spicier, add a few jalapeños to the skillet when cooking the rajas mixture
How to Serve Rajas con Crema
The rajas mixture itself is served hot, but there are a ton of different ways to serve the mixture. If you are low carb you might want to serve it just on it's own without any type of tortilla, and excluding the corn and mushrooms.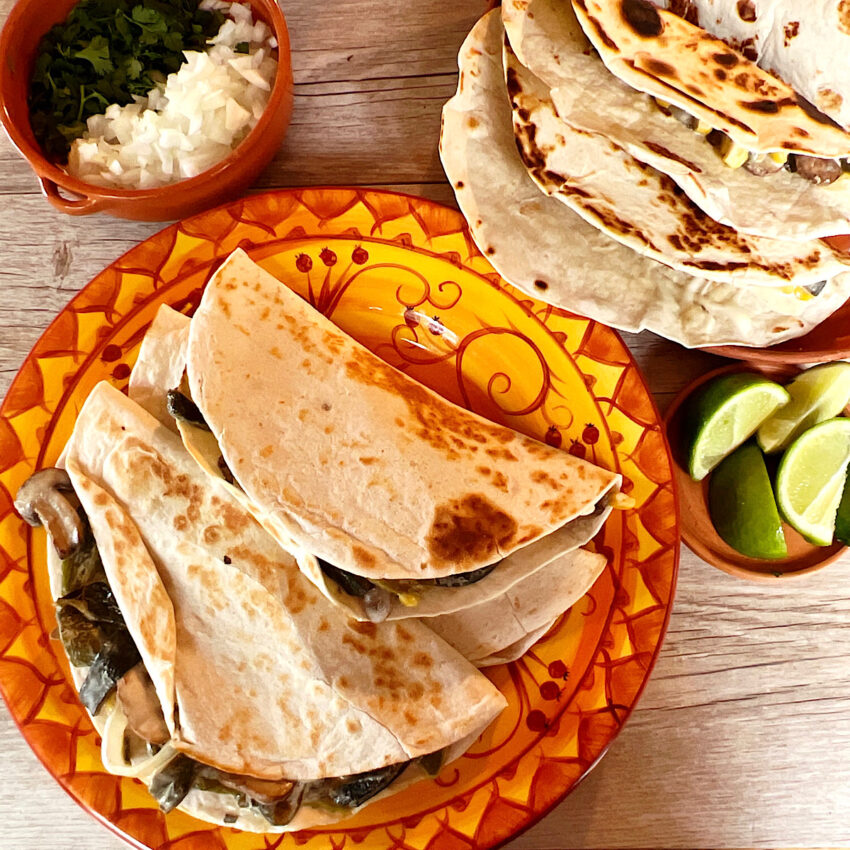 The recipe below serves the mixture folded into quesadillas. Here are some other suggestions for serving:
As a filling for flour tacos
in a burrito bowl
as a topping for rice
as an appetizer with crispy corn tortillas
with added shredded chicken or pork
Frequently Asked Questions:
How long will the rajas mixture keep in the refrigerator?
The rajas mixture will keep in the refrigerator for up to 5 days (in an airtight container).
To reheat, place the leftovers in a skillet on the stove and heat on medium heat. You can also place them in the microwave and heat at 30-second intervals until warmed through.
How do you reheat it?
Place the leftover mixture in a skillet on the stove and heat on medium heat. Alternatively place in a microwave and heat at 30-second intervals until warmed through. The tortillas should be made fresh each time.
Can the mixture be frozen?
Not very well. The sour cream will become quite runny and break up. The vegetables will turn out quite mushy.
Recipe for Quesadillas Rajas con Crema
Quesadillas Rajas con Crema
The rajas filling is made with poblanos, corn, mushrooms and crema. It is then folded in to a tortilla with melted cheese for a luscious quesadilla
Ingredients
12

Large

poblano peppers

1

Large

onion

12

Ounces

string cheese

16

Ounces

mushrooms

14

Ounces

canned corn kernels

(not creamed corn)

16

Ounces

Mexican sour cream

We used the LaLa brand available at Walmart

16

flour tortillas
Instructions
Place poblanos on a baking sheet and char under the oven broiler. Turn when the first side is charred. This usually takes about 5-10 minutes per side, but keep an eye on them and turn when skins are charred

Slice onion, reserving a little of it to chop for garnish. Heat oil in skillet and sauté onions about 5 minutes

Pull apart string cheese strands and set aside.

1 Large onion,

12 Ounces string cheese

Add corn, mushrooms, and crema to skillet and heat up, stirring together until well mixed. Keep skillet at a simmer while fixing tortillas.

16 Ounces mushrooms,

14 Ounces canned corn kernels,

16 Ounces Mexican sour cream

While rajas mixture is cooking, place tortillas on a griddle or comal with some string cheese on one side of tortilla to melt.

Spoon the rajas mixture into the cheese tortillas and fold over into a quesadilla
Nutrition
Calories:
534
kcal
Carbohydrates:
59
g
Protein:
21
g
Fat:
26
g
Saturated Fat:
13
g
Polyunsaturated Fat:
2
g
Monounsaturated Fat:
4
g
Cholesterol:
56
mg
Sodium:
805
mg
Potassium:
892
mg
Fiber:
8
g
Sugar:
14
g
Vitamin A:
1400
IU
Vitamin C:
204
mg
Calcium:
207
mg
Iron:
4
mg
Did you make this recipe?
If you tried this recipe, please give it a 5-star rating! To do this, just click on the stars above.