Puttanesca was once considered a humble Italian dish, made with common pantry ingredients. The sauce is typically made by combining tomatoes, capers, garlic and olives, with optional ingredients like red pepper flakes or anchovies into a bold, robust "gravy". This briny sauce is typically served over pasta (often spaghetti), but it also pairs beautifully with proteins, as in this recipe for smothered pork chops.
Jump to:
RECIPE
What is Puttanesca
Ingredients & Substitutions
Illustrated Step by Step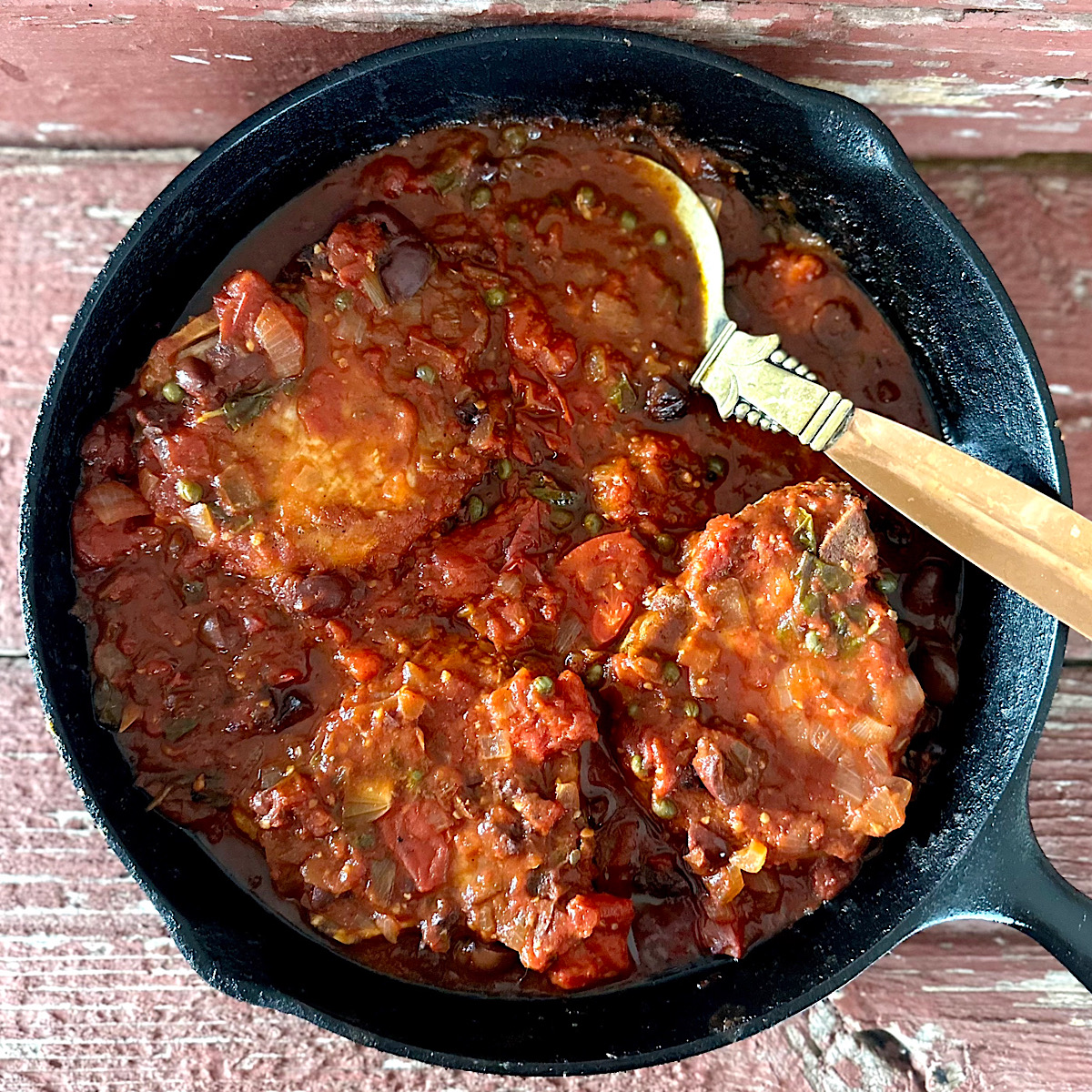 What is Puttanesca Sauce?
Food historians agree that puttanesca was created in Naples in the mid-20th century. The story on exactly "how" it came to be a classic Southern Italian dish is debated (of course), but the history of puttanesca is interesting if you want to read more and maybe even take a side.
A classic puttanesca sauce combines anchovies, olives, garlic, chile flakes, tomatoes, and capers and I use all of those ingredients in the recipe card below. If you don't care for anchovies, just leave them out. You will still have a very robust, flavorful sauce.
It comes together quickly and can be prepared in the time it takes to brown the pork chops. Cook the chops and sauce all together for 10 minutes and you have an exquisite, hearty low carb dinner.
Ingredients & Substitutions
The key ingredients are tomatoes, capers, olives and garlic. Frequently you will see puttanesca made with anchovies, basil, onions and a little vinegar. These are the puttanesca sauce ingredients in the recipe below, followed by the addition of four pork chops.
Substitutions:
Olives: I love kalamata olives but be sure to get them pitted. Regular black olives can be used also but they are not as briny and full-bodied as kalamata
Tomatoes: Get the best canned tomatoes you can find and add a couple of homegrown tomatoes if they are in season. If fresh tomatoes are not in season, add a little bit of sugar to the sauce
Pepper flakes: Red pepper flakes are not very spicy, but they add a touch of spice to the sauce. If you like the heat, opt for some powdered chipotle peppers or powdered cayenne
Capers: These come in small and large sizes. Both work, but the small ones are more concentrated in flavor and are usually preferred
Anchovies: Many people say they don't like anchovies, but the umami flavor they add is important to the dish. The fishy flavor is hidden and most people have no idea what the secret savory ingredient is! I use anchovy paste out of convenience, but chopped tinned anchovies are fine.
Parmesan: This is optional but will add to the savory, umami taste of the sauce. It is particularly important to use if you don't use the anchovies or have access to fresh basil
Pork chops: Opt for the thick chops with the bone in. Thin pork chops just get overwhelmed in the hearty sauce. If you do use thin chops, decrease the cooking time as they will cook very quickly and become tough.
Illustrated Step by Step
Here are the six steps to bringing this low carb dinner together in 30 minutes. Detailed directions and measurements are in the recipe card below: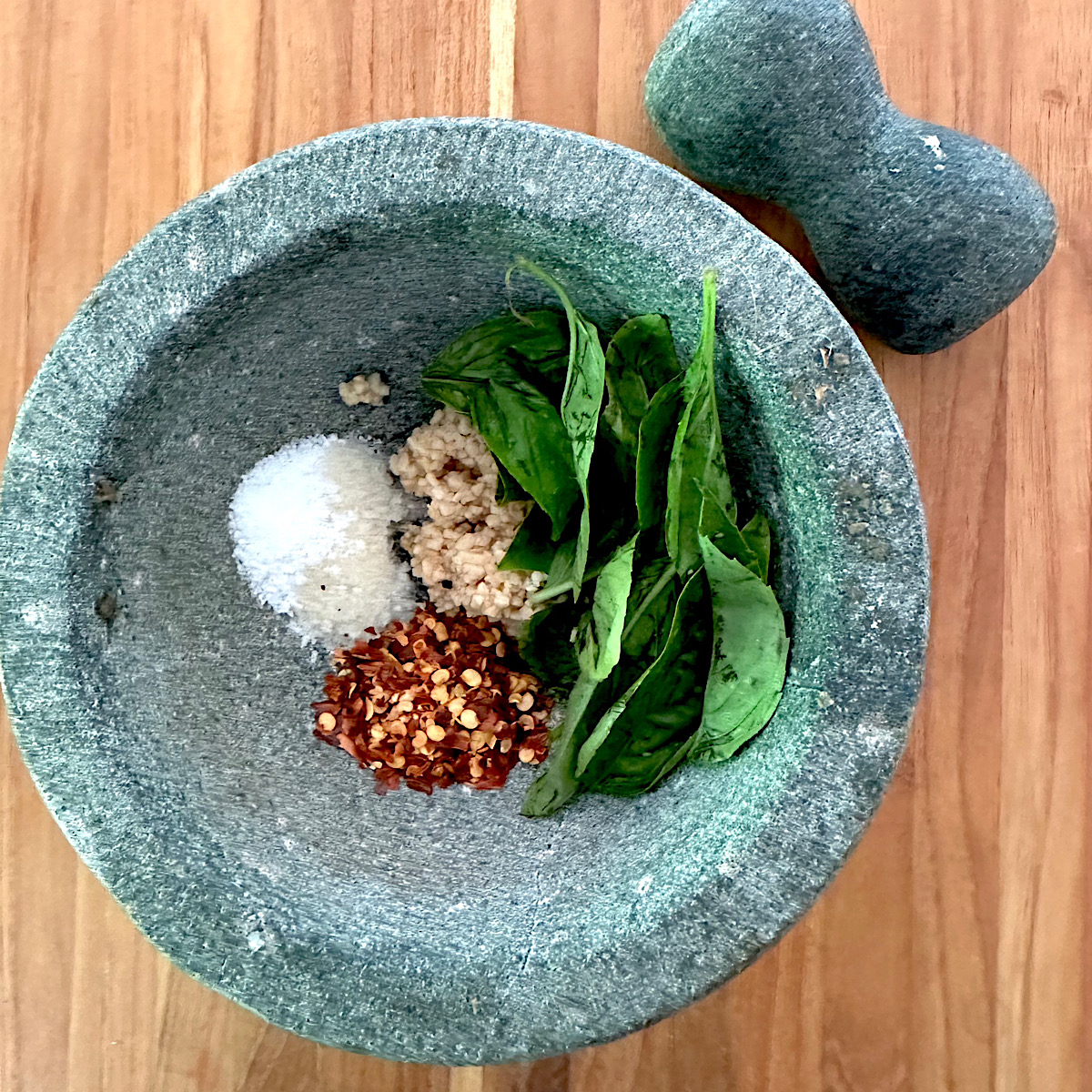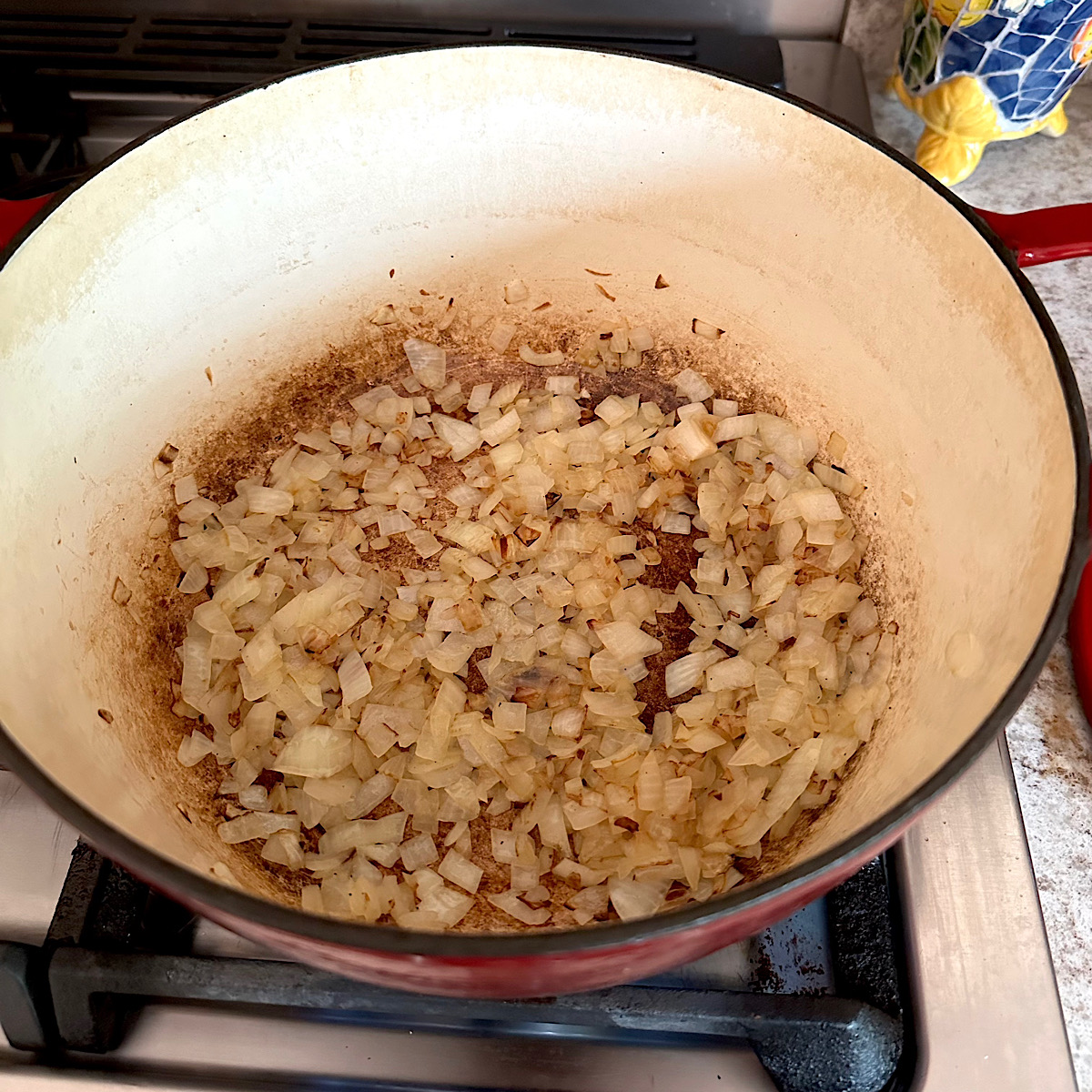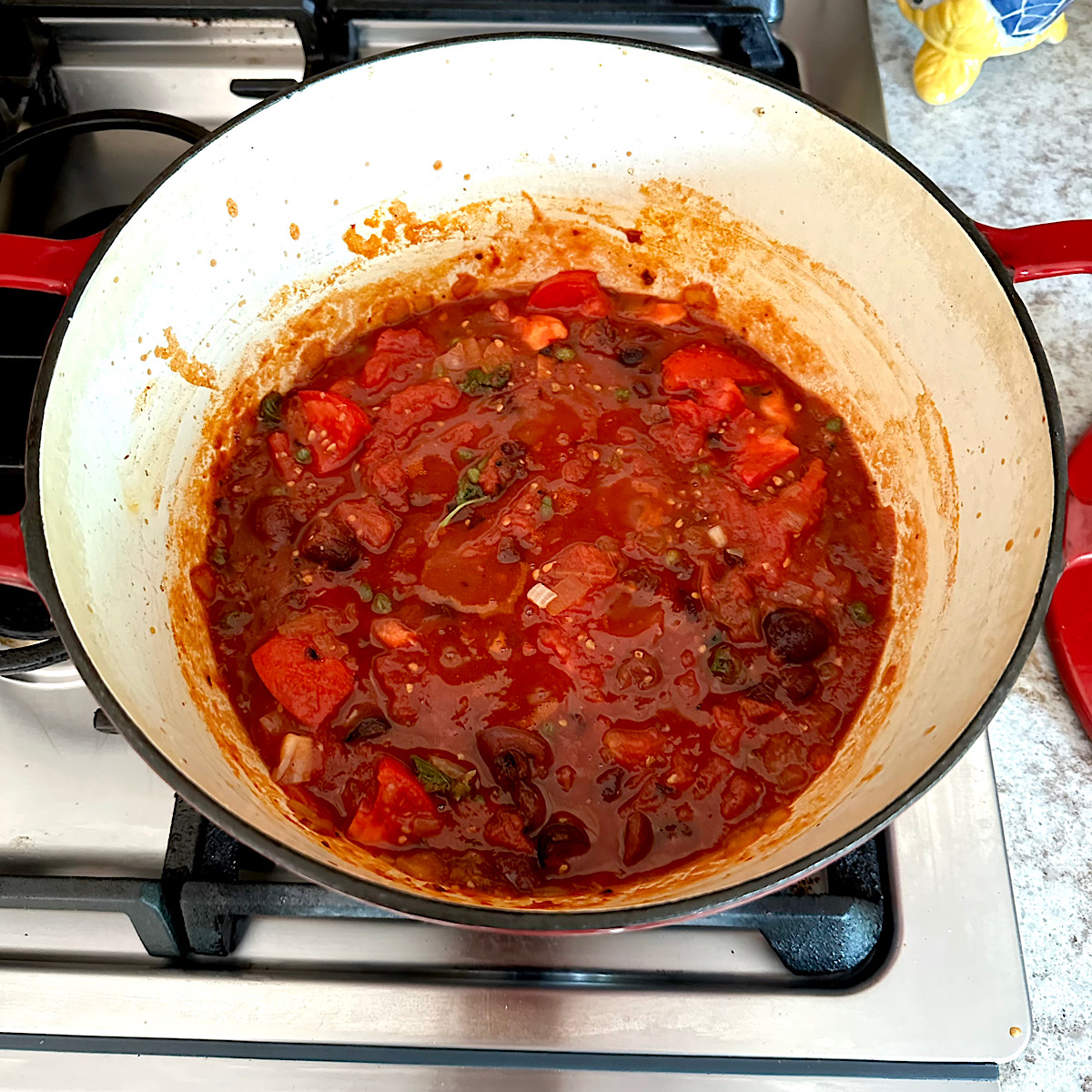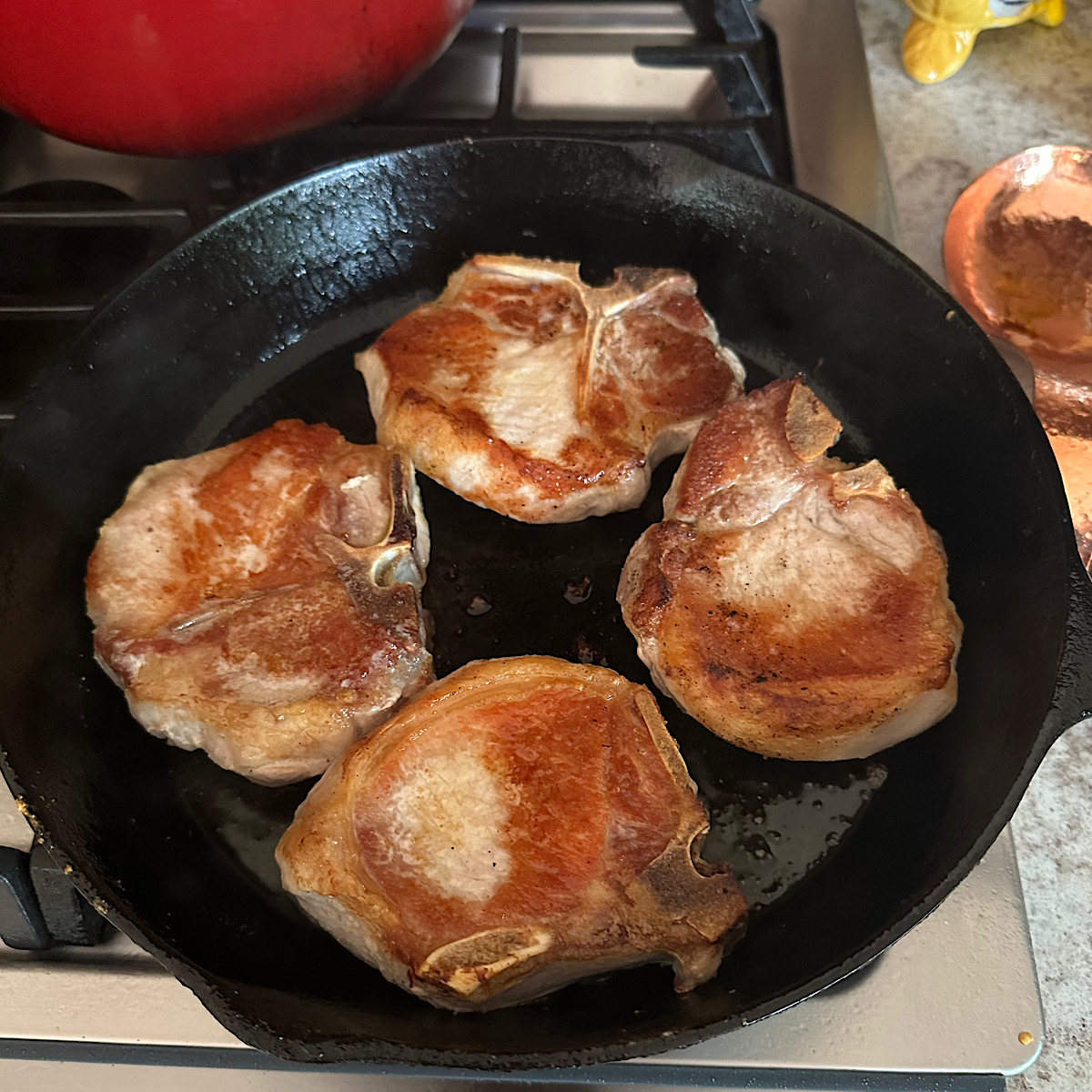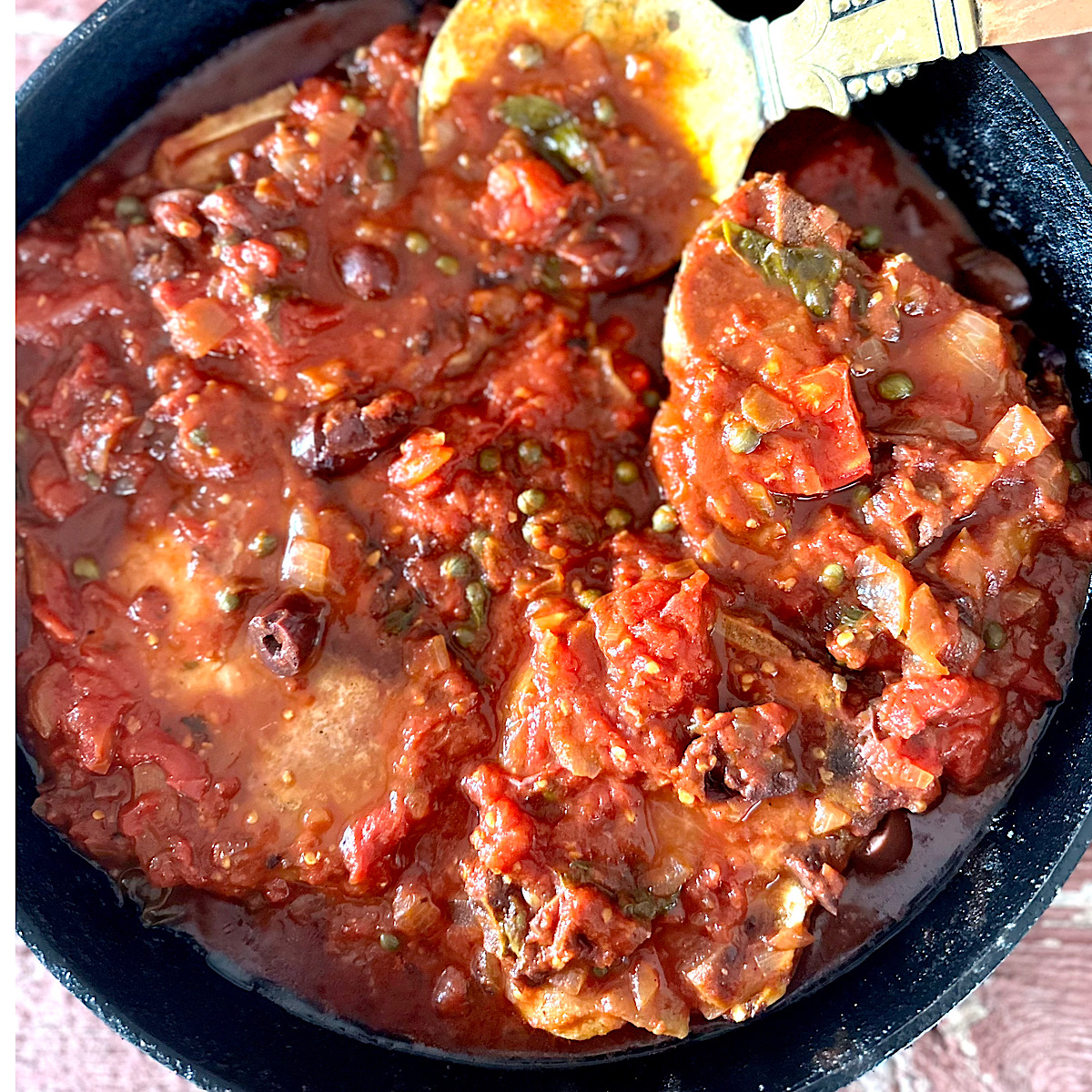 While you're in the Italian frame of mind, try this other breathtaking, colorful sauce of pepperonata (stewed sweet peppers) on pork chops.
If you make and love this recipe, please leave a ★★★★★ review below and any comments others might find helpful. It means a lot to me when you try my recipes, and I'd love to know how it goes.
Pork Chops Smothered in Puttanesca Sauce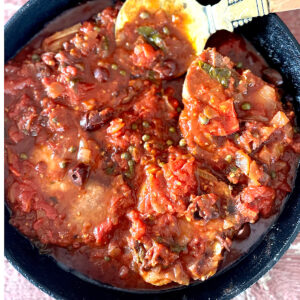 Italian puttanesca is a hearty, robust sauce paired with braised pork chops for a perfect Fall dinner.
Ingredients
¼

cup

fresh basil leaves

tightly packed

1

teaspoon

red pepper flakes

3

cloves

garlic

1

teaspoon

coarse salt

2

Tablespoons

olive oil

1

medium onion

chopped

28

oz

plum tomatoes

canned San Marzano

2

fresh tomatoes

if available

2

teaspoons

anchovy paste

or two anchovy filets, chopped

½

cup

kalamata olives

pitted & coarsely chopped

2

Tablespoons

capers

3

teaspoons

red wine vinegar

or a homemade tomato vinegar

1

Tablespoon

tomato paste

1

teaspoon

freshly ground black pepper

4

thick

pork chops

I like bone-in and thick

½

cup

parmesan cheese, grated

optional
Instructions
With a sharp knife, mince together the basil, garlic, and hot pepper flakes with the coarse salt and set aside

(Alternatively, mash together with a mortar and pestle)

¼ cup fresh basil leaves,

1 teaspoon red pepper flakes,

3 cloves garlic,

1 teaspoon coarse salt

In a large skillet or dutch oven heat the olive oil over medium high heat. Add the onion and saute until soft and lightly caramelized, about 6- 10 minutes.

Add the garlic-herb mix and cook an additional 2 minutes.

2 Tablespoons olive oil,

1 medium onion

Add the tomatoes and the remaining 6 ingredients through the pepper and simmer until the sauce is thickened and slightly reduced (about 15 – 20 minutes). This can simmer while baking the pork chops are cooking

28 oz plum tomatoes,

2 fresh tomatoes,

2 teaspoons anchovy paste,

½ cup kalamata olives,

2 Tablespoons capers,

3 teaspoons red wine vinegar,

1 Tablespoon tomato paste,

1 teaspoon freshly ground black pepper

In a couple of tablespoons olive oil, brown the pork chops over medium-high heat until golden (about 3-5 minutes). Flip them and brown on the other side.

When chops are browned, add the puttanesca sauce to the skillet with the pork chops, cover and simmer for about 5-10 minutes, or until pork chops are cooked through.

Taste for seasoning, and garnish with some chopped basil and grated parmesan or romano cheese and serve.

Place small bowls of extra sauce, and extra cheese to pass around for individual tastes.

1/2 cup parmesan cheese, grated
Nutrition
Calories:
100
kcal
Carbohydrates:
15
g
Protein:
4
g
Fat:
4
g
Saturated Fat:
1
g
Polyunsaturated Fat:
1
g
Monounsaturated Fat:
2
g
Cholesterol:
3
mg
Sodium:
1011
mg
Potassium:
755
mg
Fiber:
5
g
Sugar:
9
g
Vitamin A:
2525
IU
Vitamin C:
40
mg
Calcium:
61
mg
Iron:
1
mg
Did you make this recipe?
If you tried this recipe, please give it a star rating! To do this, just click on the stars above. Comments are always helpful also and I respond to all of them (except rude ones)