Pairing chutneys with cheese around the holidays is a classic, but they are also wonderful with savory dinner dishes. The recipe below pairs a cranberry chutney with a South African meat pie recipe known as bobotie. Traditional bobotie might use an apricot jam rather than a chutney, but bobotie is flexible enough to be made with a range of different fruit based preserves.
Jump to: RECIPE | What is bobotie? | Key Ingredients | Step by Step Photos | Why add Chutney? | What to Serve with?
This post may contain affiliate links, and you can read our disclosure information here–
What is Bobotie?
Many regions claim Bobotie as their own, and there are strong opinions on its origins, as well as what ingredients and techniques make it the most "authentic" bobotie.
Bobotie was declared the national dish of South Africa by the United Nations women's organization in 1954, but some maintain that its origins are Indonesian or Dutch. It seems that the Dutch are credited with introducing the ground meat part of the dish to South Africa, and the Indonesian are given credit for the chutney and spice ingredients.
Acknowledging that there is debate on origins, I'm sticking with the United Nations and calling it South African.
Key Ingredients to Traditional Bobotie
I first made this recipe at the beginning of my cooking/ blogging adventures. I tried several different recipes, ranging from a pastry encrusted meat pie with ground lamb to a ground beef casserole with a very thin layer of custard on top.
The common ingredients of Bobotie recipes include:
ground meat (either lamb or beef),
a topping of either custard or dough,
fruit (either apricots, cranberries, apples – mostly fall fruit),
spices (usually curry),
bread soaked in milk.
Just stay true to the meat, bread and custard proportions to get a successful recipe. Mix and match the spices and fruits at will, and it will be delicious.
Step by Step Preparation:
Step #1: Prepare the meat filling and the custard separately as detailed in the recipe
Step #2: Pour the custard over the meat filling and bake at 350 F for 50 minutes
What Bobotie looks like after baking: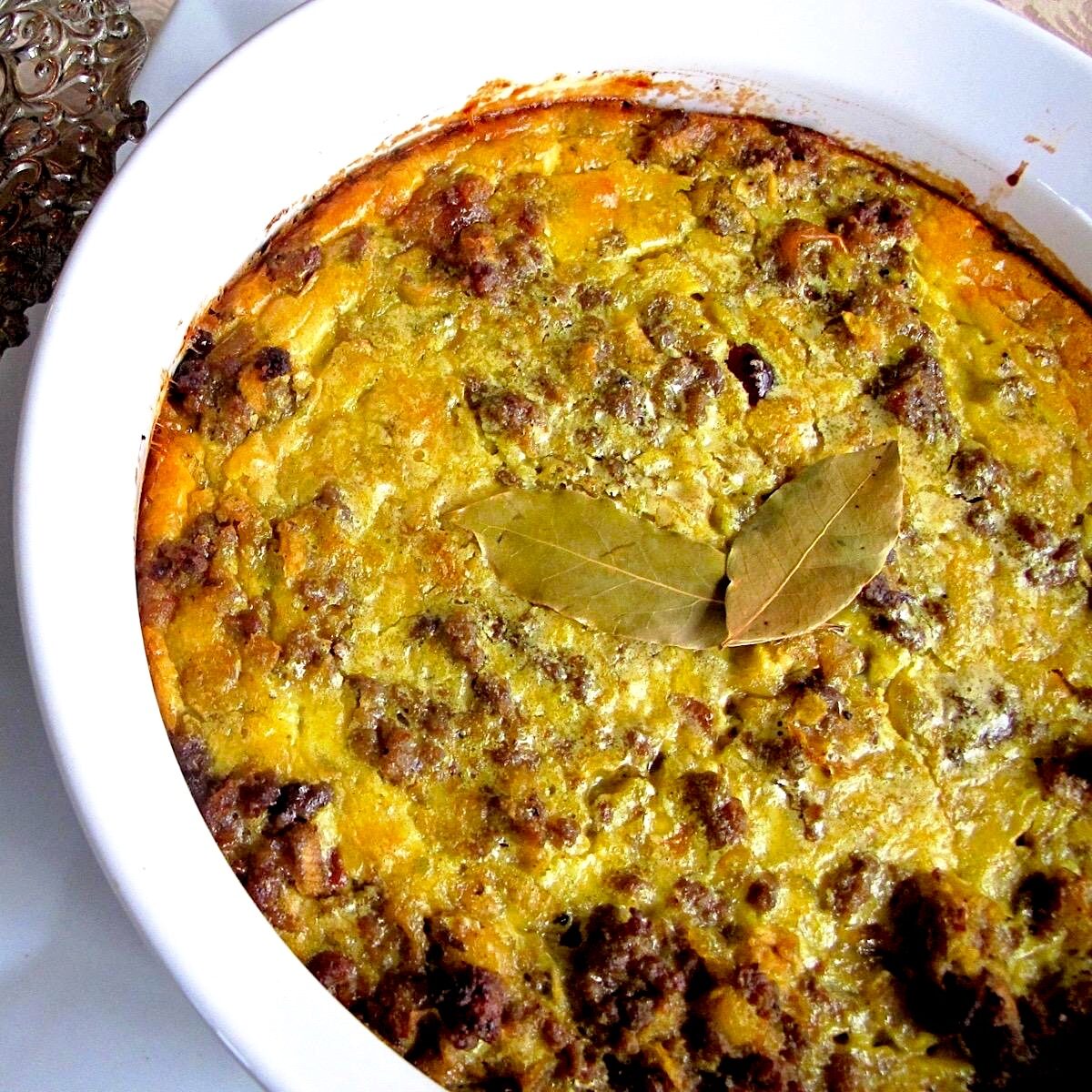 Bobotie Version with Puff Pastry Crust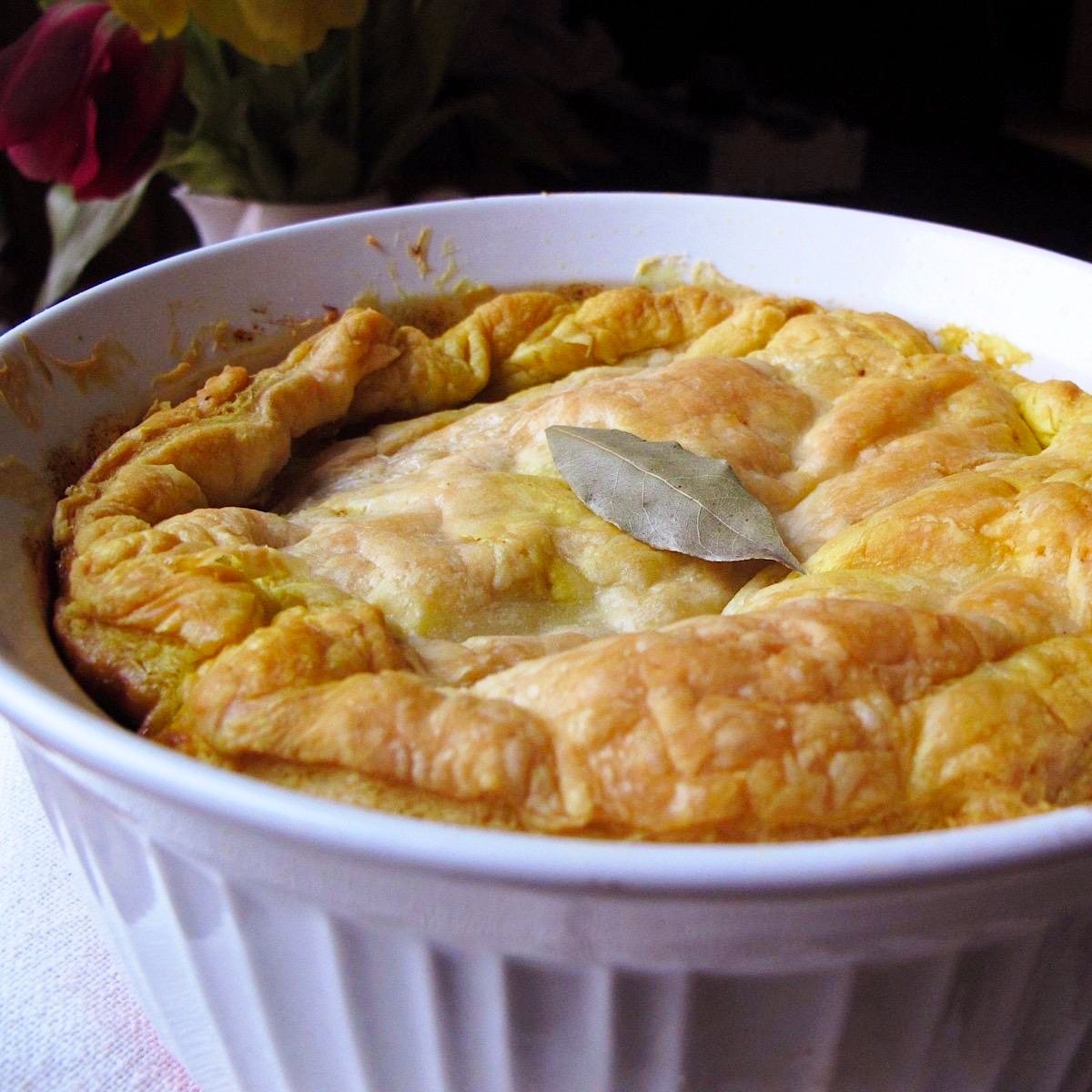 Why Add Chutney?
After testing several recipes I got from online sources (Taste.com.au was one), I gleaned what I thought was the best of these recipes and developed a recipe that I feel showcases the uniqueness of adding a chutney to a dish.
I am really happy with this recipe and it got five stars from the "discerning husband", so I hope you enjoy it also. Of course, after serving his role as the official taste tester of each version of bobotie, the husband started to get a little overwhelmed with the thought of another version!
Can Bobotie be Frozen?
Most recipes I looked at compared bobotie to a lasagna or moussaka. Both of these dishes freeze well, and bobotie would be a similar freezing method. I have not tried freezing the bobotie yet, but if you are freezing it you will want to let it thaw before reheating and then reheat it at 300°F.
What Is Bobotie Served with?
The traditional accompaniment for Bobotie is yellow rice, cooked with turmeric, raisins and a cinnamon stick. I don't care for raisins (which many of the Bobotie recipes called for also) so here are some other options to serve alongside the bobotie:
Tomato/ onion salad (otherwise known as sambal salad)
any fresh green salad
Boereboontjies- a more traditional South African dish consisting of green beans and potatoes
Although not a traditional accoutrement to bobotie, I think pickled onions give the bobotie a crisp zing
A variety of chutneys and jams or a blatjang (a mix between a chutney and a jam)
Savory sauces or pastes like harissa chimichurri or romesco sauce
In the recipe below, I used a cranberry chutney for a Winter version. I have also tried it with red bell pepper chutney and with an apricot jam. Any fruit based chutney or low sugar jam will work though.
Similar Recipes You'll Love
Recipe for South African Meat Pie (Bobotie)
Bobotie Topped with Custard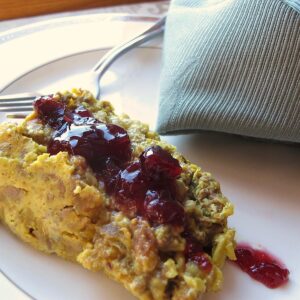 This South African dish is a robust meat pie filled with sour dough bread, African spices, chutney and apricot jam and topped with a creamy custard
Equipment
9" pie pan (or oven-safe dish)

mixing bowls
Ingredients
Ingredients for filling
2

Tbsp

olive oil

1

large onion

finely chopped

2

cloves

garlic

crushed or finely chopped

1 ½

lb

ground chuck or sirloin

many recipes use ground lamb

2

slices

sourdough bread

soaked in milk and squeezed out before using

1

Tbsp

curry powder

1

tsp

turmeric

1

tsp

sea salt

½

tsp

ground ginger

dash pepper

1

granny smith apple

peeled and grated (I used box grater)

2

Tbsp

apricot jam

4

Tbsp

chutney of your choice
Ingredients for custard
1

cup

milk

I used 1/2 cup 2% and 1/2 cup heavy cream

½

tsp

sea salt

¼

tsp

freshly ground nutmeg

3

large eggs

room temp

1

Tbsp

brandy

½

tsp

freshly ground pepper

2

bay leaves for garnish
Instructions
Soak the bread in a bowl of milk

Heat oil in large skillet and add onions. Saute onions until golden brown over low heat, about 5-10 minutes. Add garlic for last minute of saute, so as not to burn garlic

2 Tbsp olive oil,

1 large onion,

2 cloves garlic

Add meat to the skillet and sauté until nicely browned and no longer pink. Turn off burner and drain any excess grease after it is browned.

1 1/2 lb ground chuck or sirloin

Remove pan from the burner, add remaining ingredients, including soaked bread (before adding bread, use your hands to wring out the milk from the bread). Stir everything together until well-combined and place mixture in greased pie pan or ovenware dish.

2 slices sourdough bread,

1 Tbsp curry powder,

1 tsp turmeric,

1 tsp sea salt,

1/2 tsp ground ginger,

dash pepper,

1 granny smith apple,

2 Tbsp apricot jam,

4 Tbsp chutney of your choice

Make the custard: Whisk alll custard ingredients together with wire whisk, except bay leaves, and pour over the beef mixture. Arrange the bay leaves in the center of the meat pie.

1 cup milk,

1/2 tsp sea salt,

1/4 tsp freshly ground nutmeg,

3 large eggs,

1 Tbsp brandy,

1/2 tsp freshly ground pepper,

2 bay leaves for garnish

Bake at 350 F for approximately 50 minutes. Cool five minutes or so before cutting and serve with additional chutney on the side.
Notes
FREEZING: Most recipes compare bobotie to a lasagna or moussaka. Both of these dishes freeze well, and bobotie would be a similar freezing method (cool, tightly wrap in airtight container and freeze for 2-3 months). Let it thaw before reheating and then reheat it at 300°F.
Nutrition
Calories:
764
kcal
Carbohydrates:
40
g
Protein:
40
g
Fat:
48
g
Saturated Fat:
17
g
Cholesterol:
250
mg
Sodium:
1490
mg
Potassium:
751
mg
Fiber:
3
g
Sugar:
14
g
Vitamin A:
736
IU
Vitamin C:
8
mg
Calcium:
151
mg
Iron:
6
mg
Did you make this recipe?
If you tried this recipe, please give it a star rating! To do this, just click on the stars above. Comments are always helpful also and I respond to all of them (except rude ones)
Online Diet/Health Coaching:
Although I am not currently taking clients for diet & health coaching, I have been a coach for many years with the online service called coach.me. It is a great platform for all kinds of coaching – anything from specific diets, writing a blog, getting up early, or getting rid of that pesky procrastination.
There are some wonderful coaches and the testimonials will tell you what you need to know. Contact me at [email protected] to get a referral to some of the tested, experienced online coaches on Coach.me
If you'd like to start with a plan for a low carb or keto lifestyle, check out this detailed guide in ebook form. It may be all you need to lose weight on this lifestyle. Or it may be used as a supplement to one-to-one coaching.