Are the tomato plants you started this spring looking a little… spindly? Sad? You're probably dealing with leggy tomato seedlings, one of the most common issues when starting tomato seeds. Legginess can affect the health of the plants, but don't worry: it's fixable.
Jump to: | Why Legginess Is Bad | Leggy Tomato Seedlings: Causes | Easy Fixes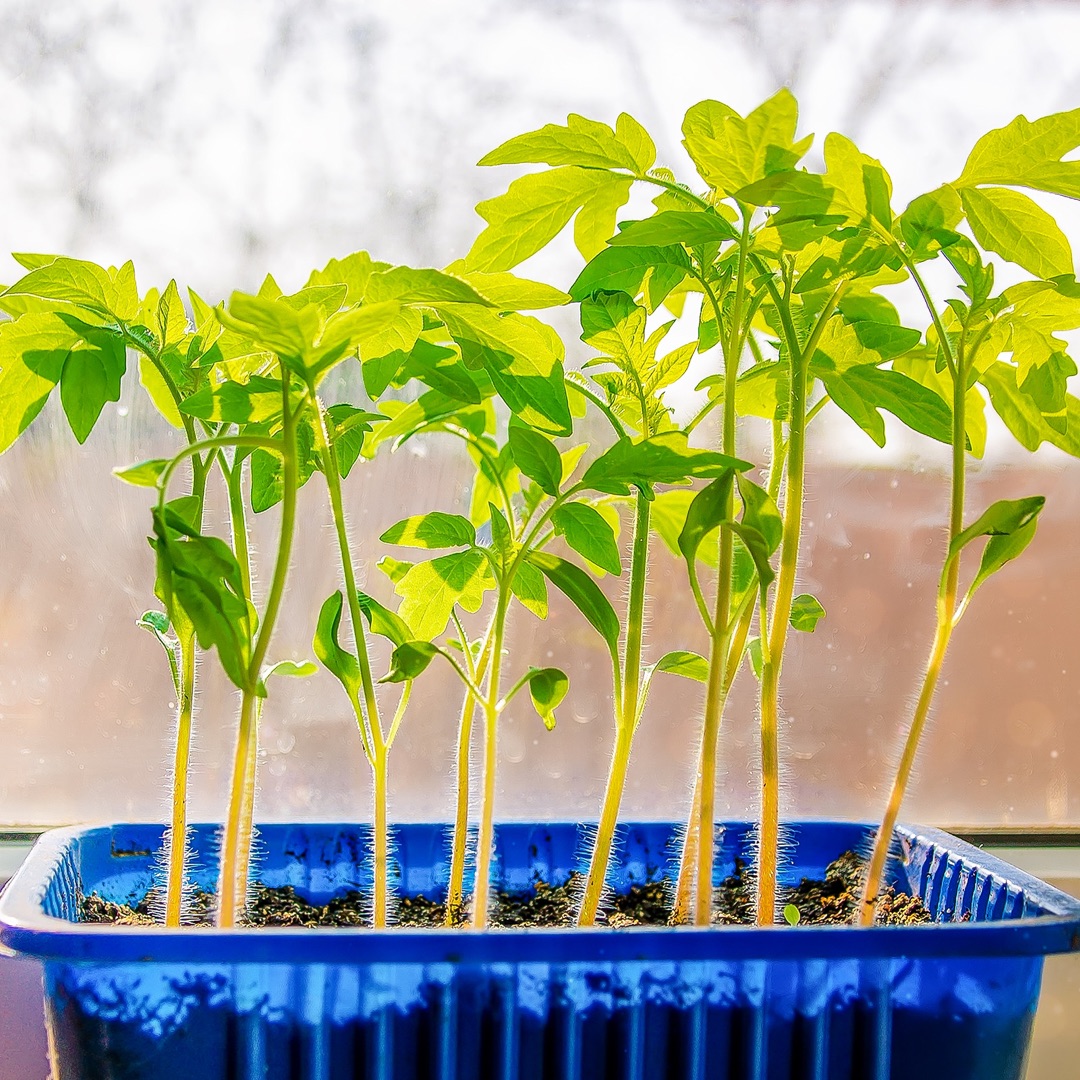 Is Legginess A Problem?
Unfortunately, yes. If you don't correct leggy tomato seedlings, they can get in trouble later. Their weak stems can snap clean in half once you start hardening them off or plant them outside! A good gust of wind or a heavy rainstorm can really do a number on leggy plants in these vulnerable stages.
Aside from this, the plants' subsequent growth can be slower, and since they're less healthy, pests can make easy work of them if given the chance. But worry not: they can be fixed.
Let's start off by discussing a few of the main causes of leggy tomato seedlings. After that, we'll move on to having a look at what you can do to get your baby plants back on track.
Leggy Tomato Seedlings: Why Does It Happen?
If your seedlings are compact and not leggy, have green leaves, and a short distance between each set of leaves (short internodes), you're good to go. They'll do fine once you move them outside (after you've gradually hardened them off).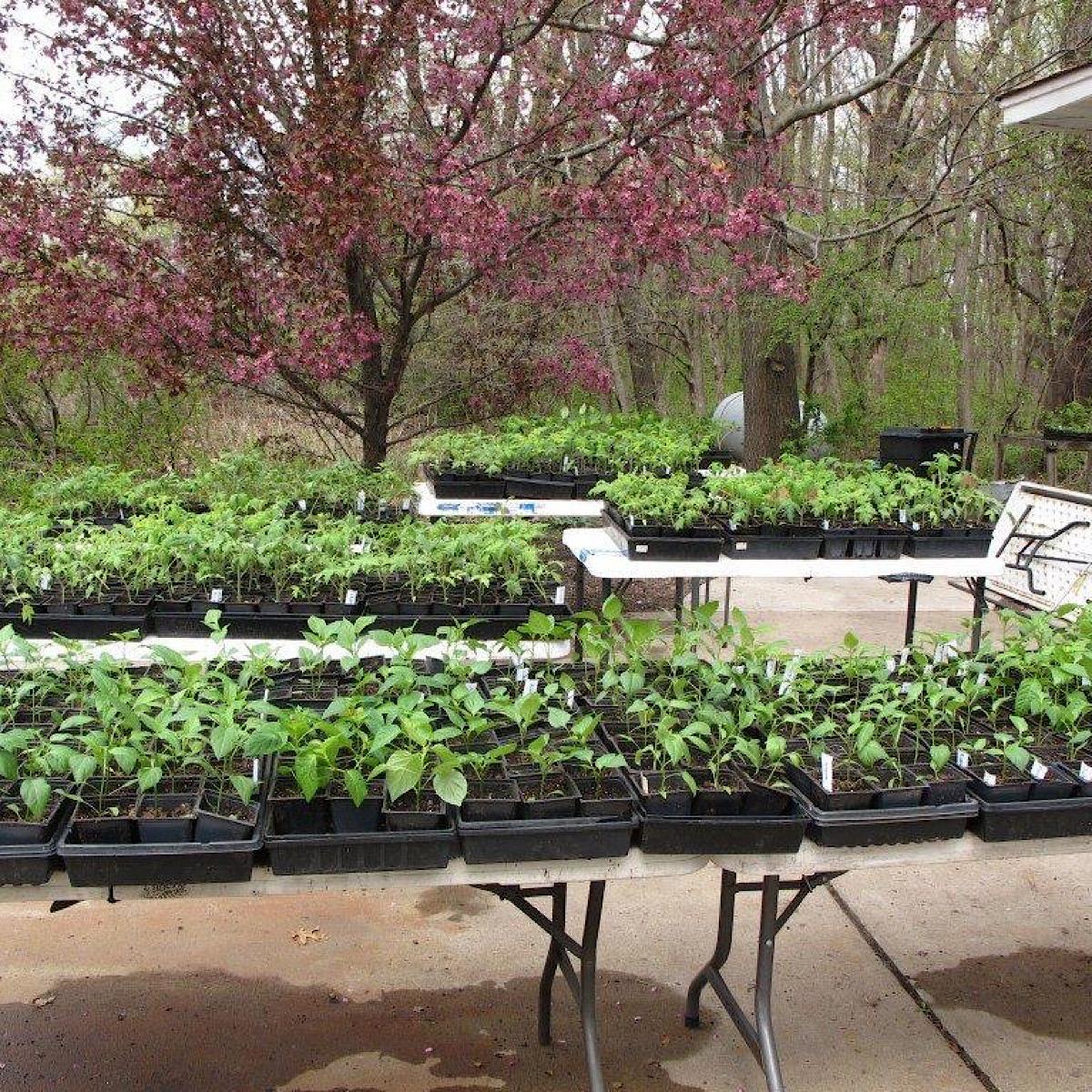 But what if leaves are growing further apart and the seedlings are looking spindly rather than stout and strong? Where did you go wrong?
Not Enough Light
If you grow houseplants, you'll know that for many plant species, the light they receive on a windowsill is enough to allow them to thrive. You may also know that for other plants, this is not the case. Tomatoes fall into this category: they need more light than you can offer them on a windowsill for long-term survival.
"But…", I hear you say. "My South-facing window is so bright!" This may be true, but can it compete with a sunny, unobstructed outdoor spot? In all likelihood, it unfortunately just can't. This especially applies in early spring, when daylight is not as strong as Summer rays and the duration of daylight is shorter.
You can actually easily test yourself why indoor light isn't enough for your tomatoes. Get a cheap light meter and point it at your window. Even the brightest windows won't yield more than a couple thousand foot candles (a popular measure of light intensity used in horticulture). Now go outside on a sunny day and point the light meter to the sky: it's not unusual to hit 10,000 FC or more! Quite the difference.
If you started your tomato seedlings indoors and they're not ready to place outside yet but are already growing spindly, it may be a good idea to invest in a grow light or two. Placing a light just a few inches above the seedlings (and moving it up as they grow) will make a huge difference in their health.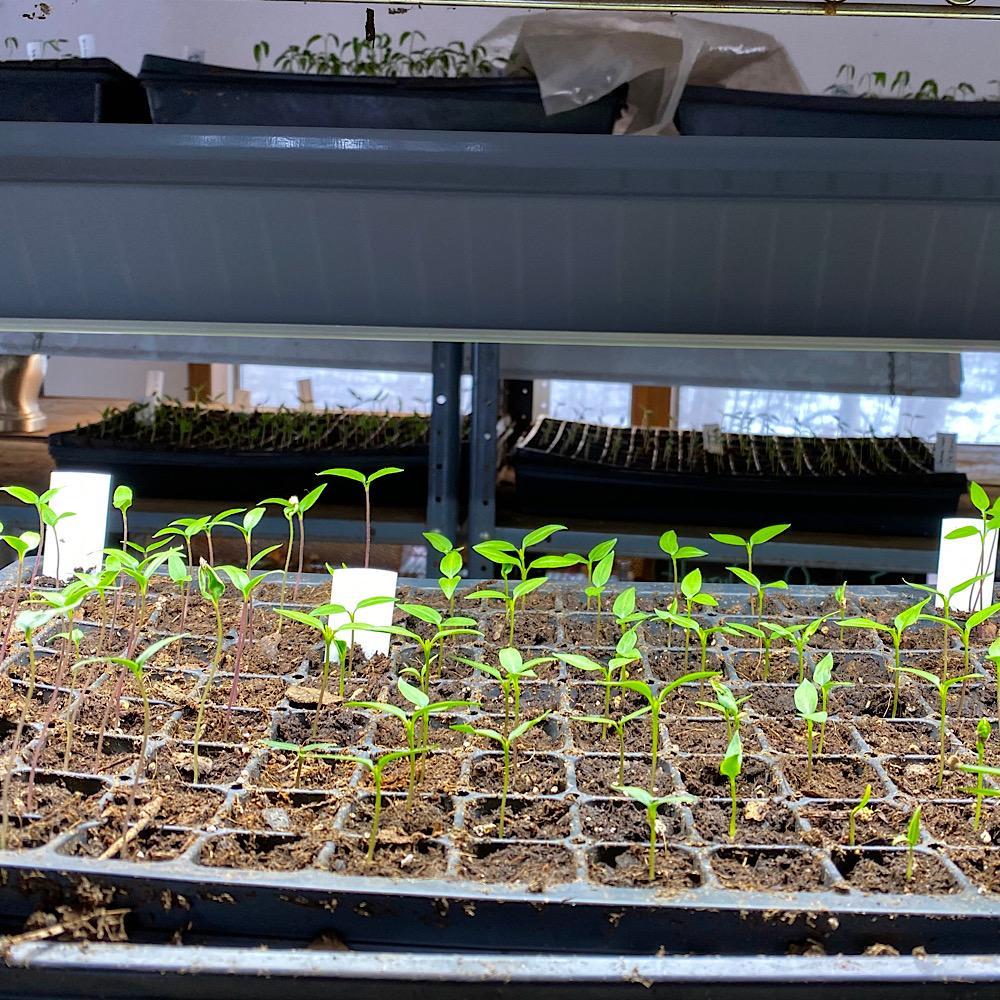 Overcrowding
How many tomato seeds did you sow, and how many have germinated? A good germination rate is always great, but there is such a thing as too much. Essentially, this issue is also related to light: too many seedlings means one can start shading out the other, leading to spindly growth on a lot of them.
This is why it's important to thin out the seedlings if you were a bit too generous while sowing. When germinating tomato seedlings in small celled pots, leaving no more than one per cell is a good rule of thumb.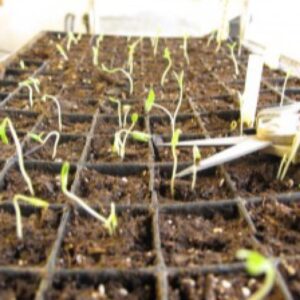 Too Hot
Some growers like to use a heat mat while germinating tomato seedlings. After all, these plants originate from toasty Central and South America, so they do grow best when provided with plenty of warmth. However, if you have the heat mat cranked up and maybe also a grow light above the plants emitting warmth, things can become a bit too much.
I have a low-tech bottom heat system that involves placing 1000 watt light bulbs under the trays and covering the top of the tray with plastic. It requires daily monitoring and shifting the trays around a bit, but it works like a charm.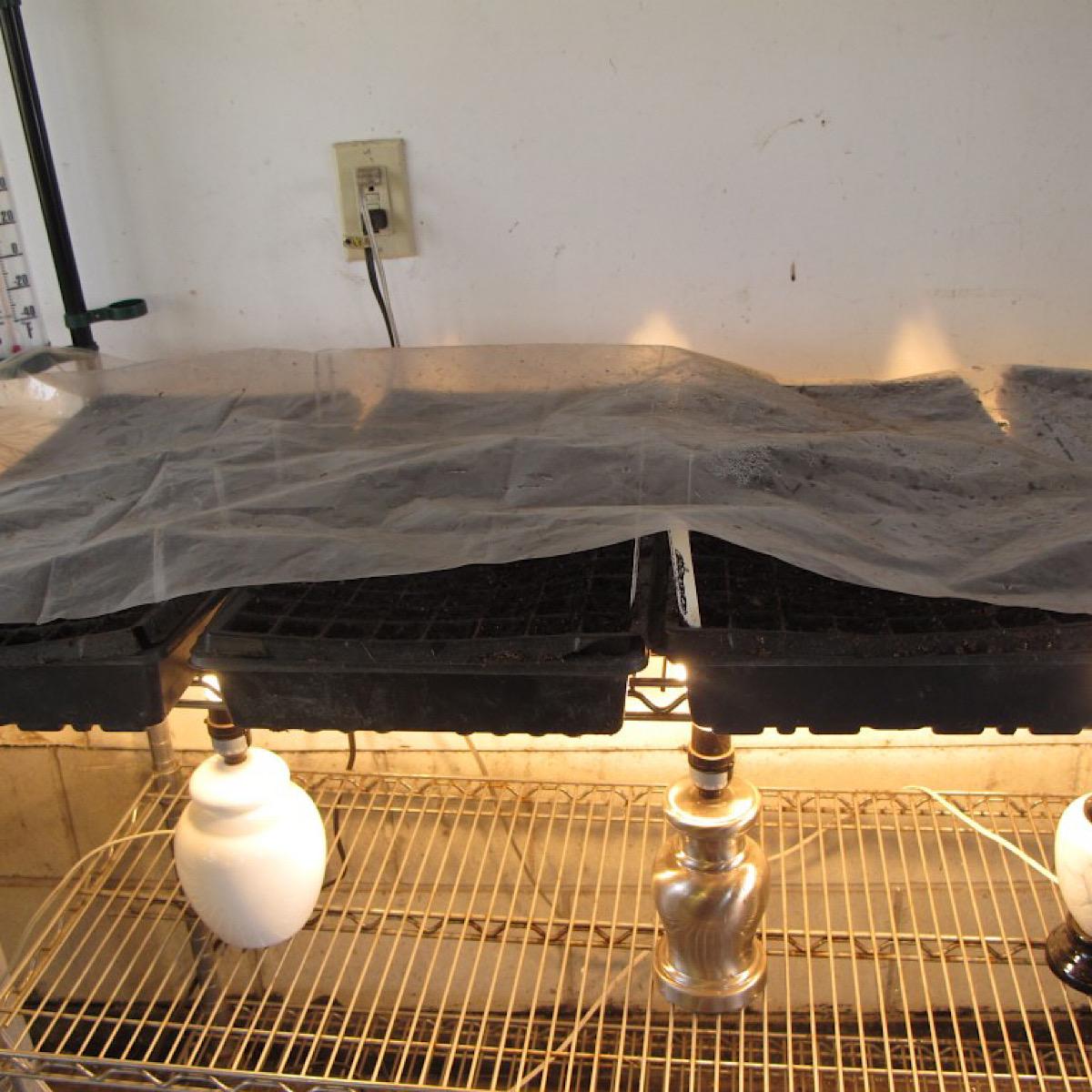 Although temperatures of up to 80 °F can be great for germination, it's best to tone things down a little once the seedlings have appeared. Otherwise, they can start shooting upwards at an unhealthily fast pace!
It's best to limit the temperature to around 70 °F to avoid legginess due to excessive heat. Read more on this and other details on starting tomatoes from seed to seedling to garden.
Excessive Nitrogen
Are you dosing fertilizer? In some cases, excessive nitrogen application, especially combined with lack of light, can cause leggy tomato seedlings.
Remember, if the soil you used already has added nutrients, it's generally not necessary to use much in the way of extra fertilizer at the seedling stage. The goal is to move the seedlings outside as soon as possible anyway!
You Just Started Your Seeds Too Early
As noted in a 2022 paper on tomato disorders: ""Legginess" often occurs in winter and early spring when starting seeds too early, especially indoors. During this time the days are shorter, so seedlings planted on windowsills may not receive the optimal duration of sunlight they require."
We already learned in the section on lack of light that seedlings need bright conditions. Because things become lighter the closer we get to summer, starting seeds too early without a grow light can lead to very leggy tomato seedlings. This article will help on the kinds of grow lights that work best and the distance from seedling to grow light.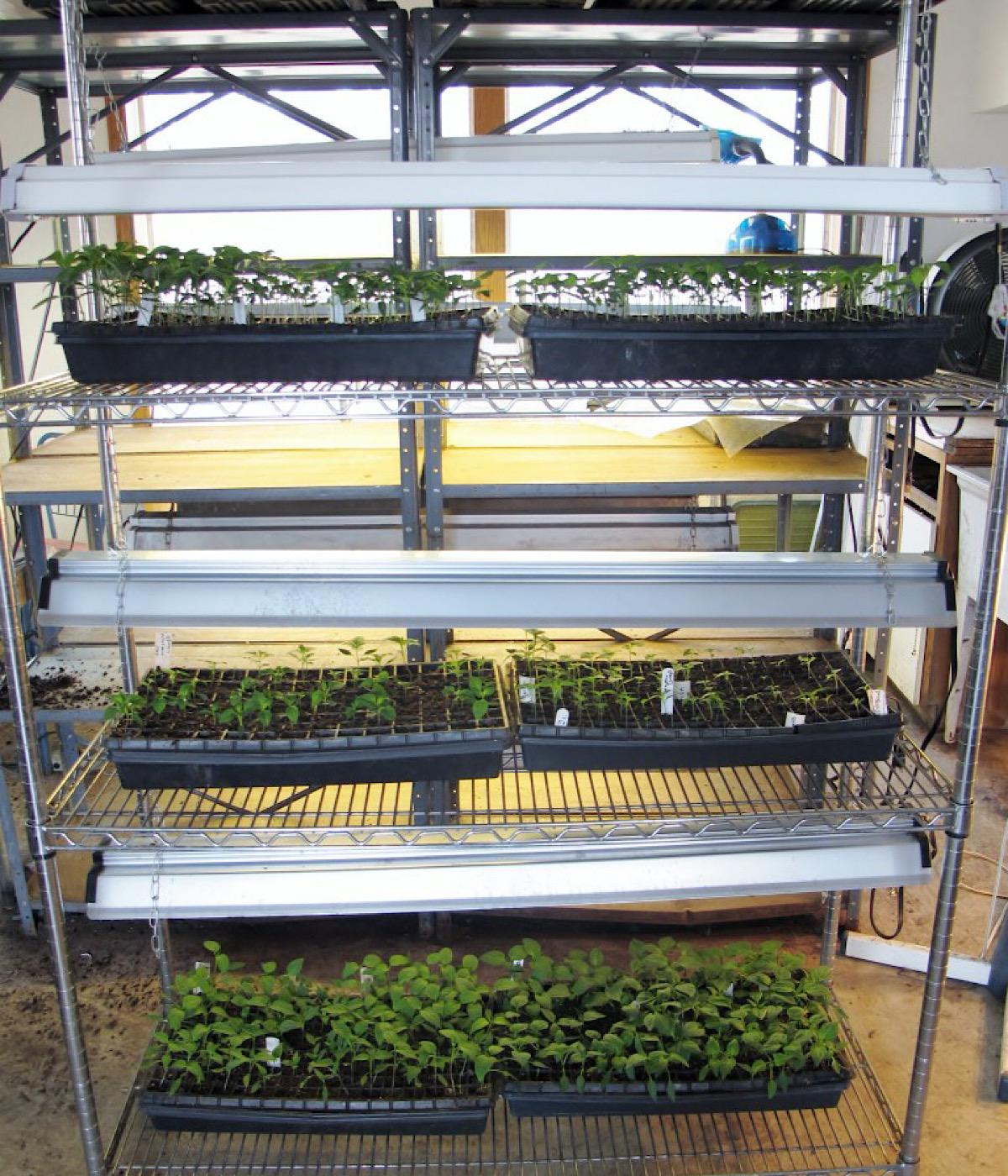 Add to the above the fact that you can't move seedlings outdoors quickly enough if you start them too soon due to the risk of frost in many areas, and it becomes clear how important it is to properly calculate when you should sow your tomato seeds!
Remember: they will germinate in about 5 days and will be ready for planting outside in anywhere between 4-6 weeks. Count backwards from your estimated last frost date before starting your seeds.
For me in Minnesota, this means starting tomatoes in mid-March. Planting them outside in MN too early is a recipe for failure: the weather always gets warm in April, but then we get a cold snap and everything dies.
TIP: Really eager to start those tomatoes? There is one solution: growing them in pots. This way, you can place them outside to enjoy the spring sun earlier than usual, as it allows you to bring them back in for a bit if things get to chilly. Do keep a very close eye on the weather forecast if you'd like to go this route, though!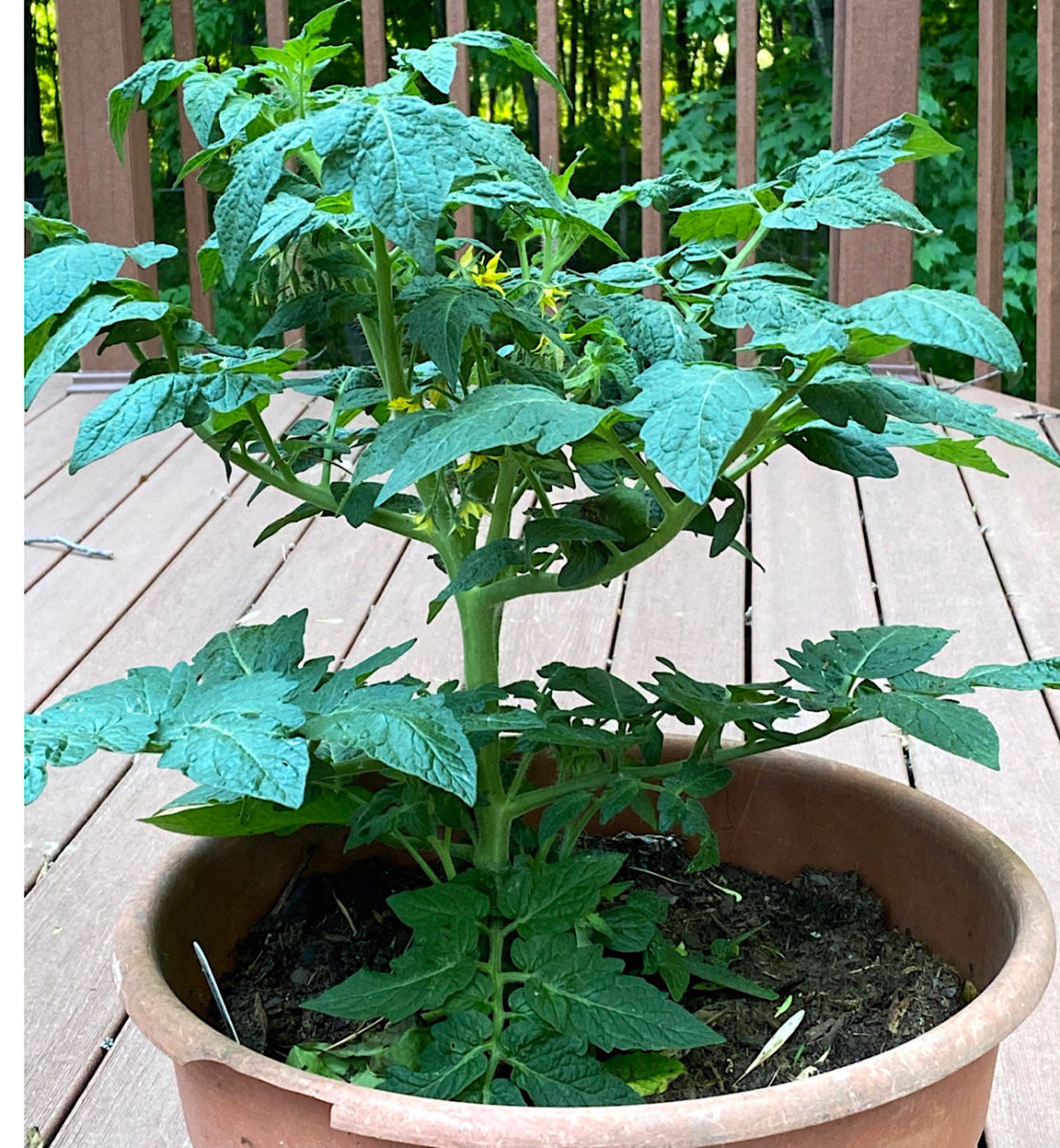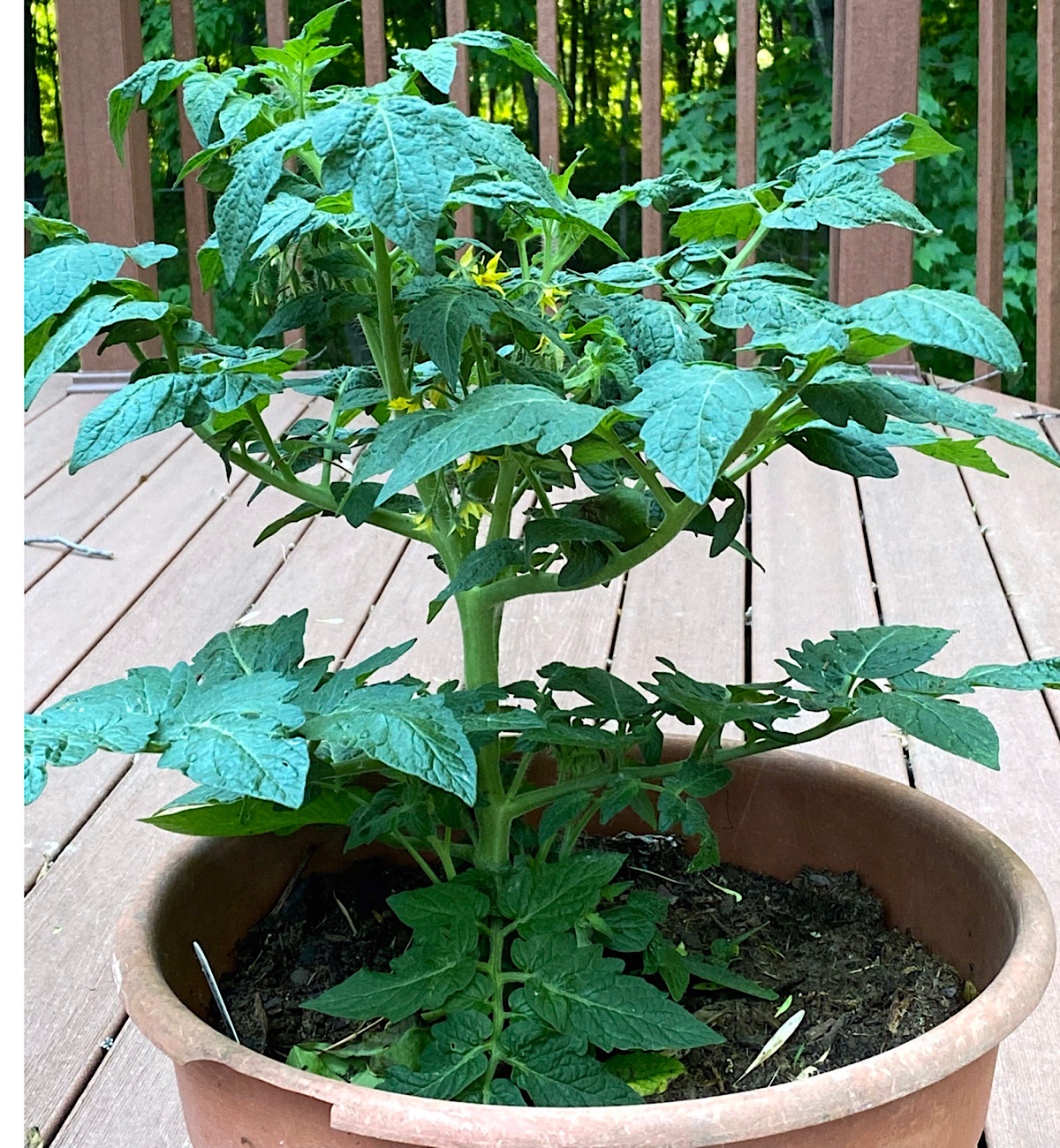 You're Waiting Too Long
Unless you've set up a dedicated indoor garden structure, tomato plants just belong outside. If temperatures allow outdoor planting (ie. you didn't start the seeds too early), what are they still doing inside?! Be sure and harden those babies off as soon as you can. Hardening off means getting them outside in the shade with no wind for a few hours a day before planting them in the ground.
You can start the hardening off process once the seedlings have about 4 real leaves, usually 20-30 days after you sow. This gives them less time to grow leggy and weak.
Tip: Are you seeing other issues with your plants aside from just legginess? Have a look at the full post on problems with tomato seedlings to help you diagnose and fix them.
How To Fix Leggy Tomato Seedlings
If your seedlings start to show signs of trouble before you're ready to plant them outside, treating it right away will often save the health of the plant over the Summer. Your best bet is to crank up the lighting (though not too much in one go, or they'll burn because they're not used to it!).
You may also find it helpful to add an extra in-between stage by potting them up into larger pots when they have 2 leaf sets. Later, you can replant them again into full-size pots or into full soil. When potting, make sure you plant the leggy seedlings extra deep, essentially removing the extra stem space.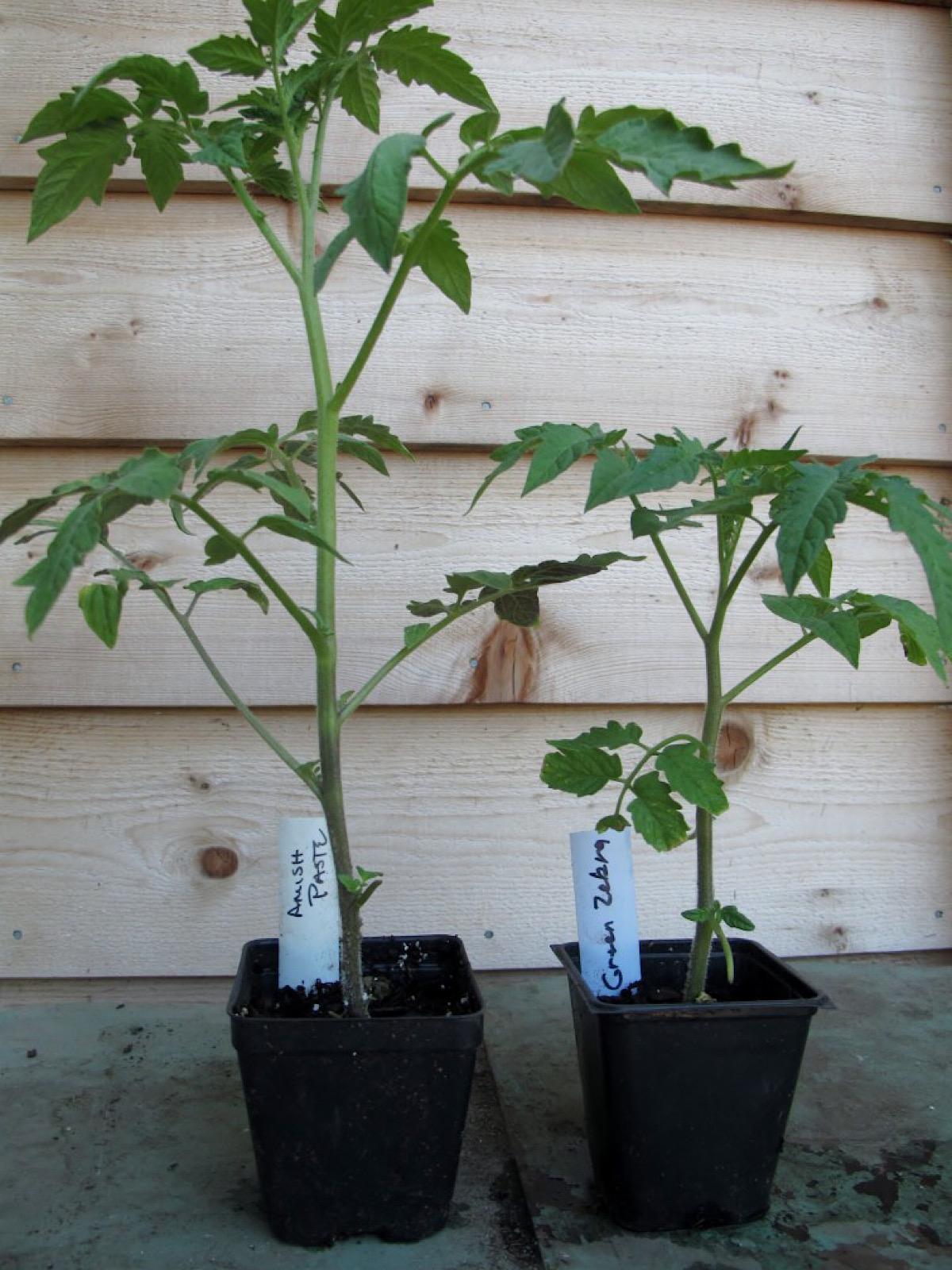 The reason planting leggy seedlings quite deep works well is that they simply don't care. This is because tomatoes and other nightshades, like peppers, can grow roots from their stems. As such, deep planting is a great way to fix legginess, encourage root growth and strengthen leggy specimens. Don't bury the bottom leaves; just remove them instead.
If your leggy tomato seedlings already have 4 real leaves and temperatures are adequate, just work on getting 'em outside as soon as possible. When you move them to full soil after hardening them off, you can also plant them extra deep to make up for the long stem (which protects the plant against wind). If the stems are pliable, you could even gently bend them like in the image below to avoid having to dig very deep.

Sources & further reading
Jett, L. W. (2004). Production of tomatoes within a high tunnel. Small Farm Today, 21(6), 36-40.
Lin, L. J., Luther, G. C., & Hanson, P. (2015). Raising healthy tomato seedlings. AVRDC–The World Vegetable Center publication, 15-795.
Volesky, N., Murray, M., Hansen, S. M., & Lewis, M. A. (2022). Abiotic Disorders of Tomatoes.