Chile Verde stew is a tangy, smoky Mexican dish, frequently made with chicken as the protein. I have made it with pork shoulder, and another time with chuck roast, both of which added to the richness of the stew as they have more fat than chicken. Whichever protein you choose, it is a great comfort food to enjoy in cold weather. The refreshing crunch of a jicama tomatillo slaw is the perfect side dish.
Jump to:
RECIPE
Slow Cooking Adds Flavor
Ingredients and Substitutions
Illustrated Steps
Ideas for Leftovers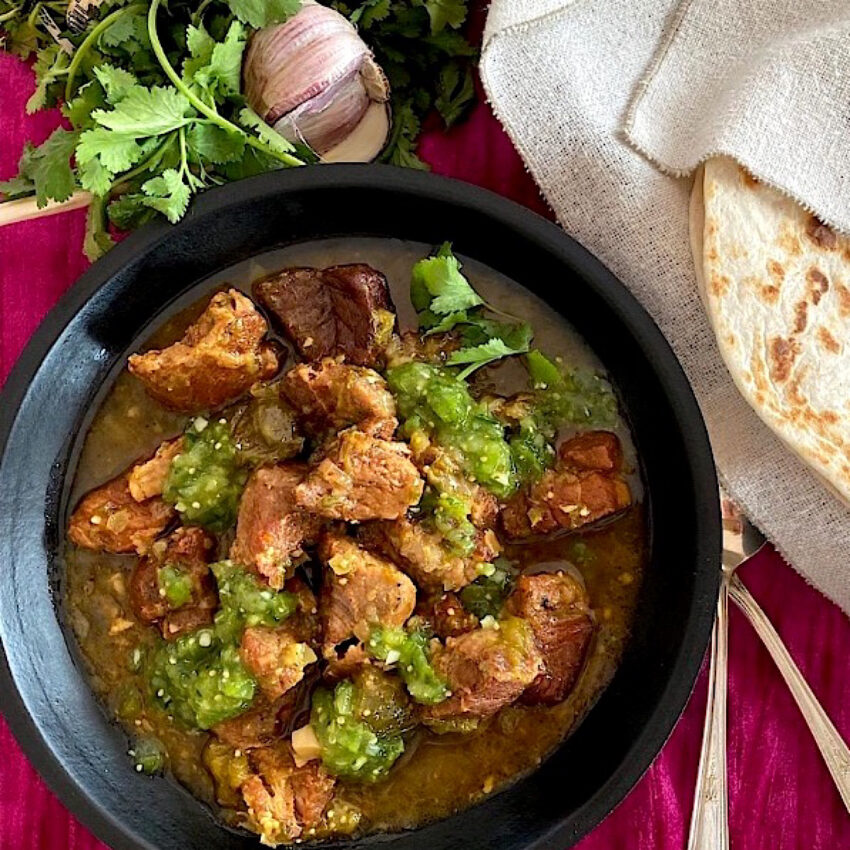 This post may contain affiliate links, and you can read our disclosure information here–
The Flavor Benefits of Slow Cooking the Stew
In Mexico the pork version is known as Carne De Puerco En Salsa Verde (pork in green sauce). And in Mexico cooks tend to take the time to slow cook this stew with available fresh ingredients. Sadly, in the Mexican-American version of this dish found in many restaurants, canned chiles are often used along with cooking leaner cuts of pork for shorter periods of time.
Slow cooking this dish at home with fresh ingredients is definitely going to give you a surprising taste treat if you haven't had a home-made version before.
Slow cooking this stew as a slow braise, and using a pork shoulder or a chuck roast with plenty of fat allows the meat to remain incredibly juicy. The pungent, spicy sauce mellows out as it cooks and you end up with a dish that is pretty incredible.
Just give yourself some time to let the flavors of the sauce develop while rendering the meat tender. Take a Sunday and watch a movie, play a card game with the family, or take a nice long nap.
Ingredients and Substitutions
The key to a memorable chile verde stew is cooking the meat low and slow. Here are some tips for pulling the most flavor out of your stew ingredients:
The Meat
Whether you are using a pork butt or a chuck roast the key is to look for a fatty cut that is evenly marbled, which means the animal was well-fed but also had a chance to exercise.
It should have a healthy pink color with no smell when it is raw.
Verde Sauce
It is possible to achieve depth of flavor with a pre-made chile verde salsa, as long as you add a few key spices and cook the dish for several hours to blend the flavors.
If you have the time and the ingredients available, you can pretty easily make your own homemade chile verde sauce.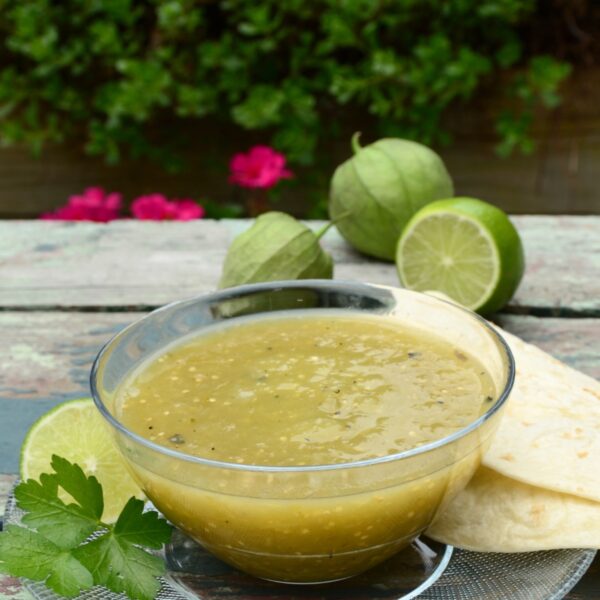 Flavor Additions
The slow cooked meat and the chile verde sauce are the keys to this recipe. From there, most cooks tend to improvise. A few ingredients I have used that worked well in this stew include:
Shredded carrots
A range of different chile peppers from poblano to habanero
Here are the ingredients below for a beef version using a pre-made chile verde sauce.
Illustrated Steps for Beef Chile Verde Stew
Here is a visual summary of the recipe steps. For details and ingredient amounts, see the recipe card below:
These steps would be the same for the pork version of this stew. Just use a pork shoulder (butt roast) for the meat instead of a chuck roast.
Step #1: Cut the roast into 1-inch pieces
Step #2: Sear the meat in oil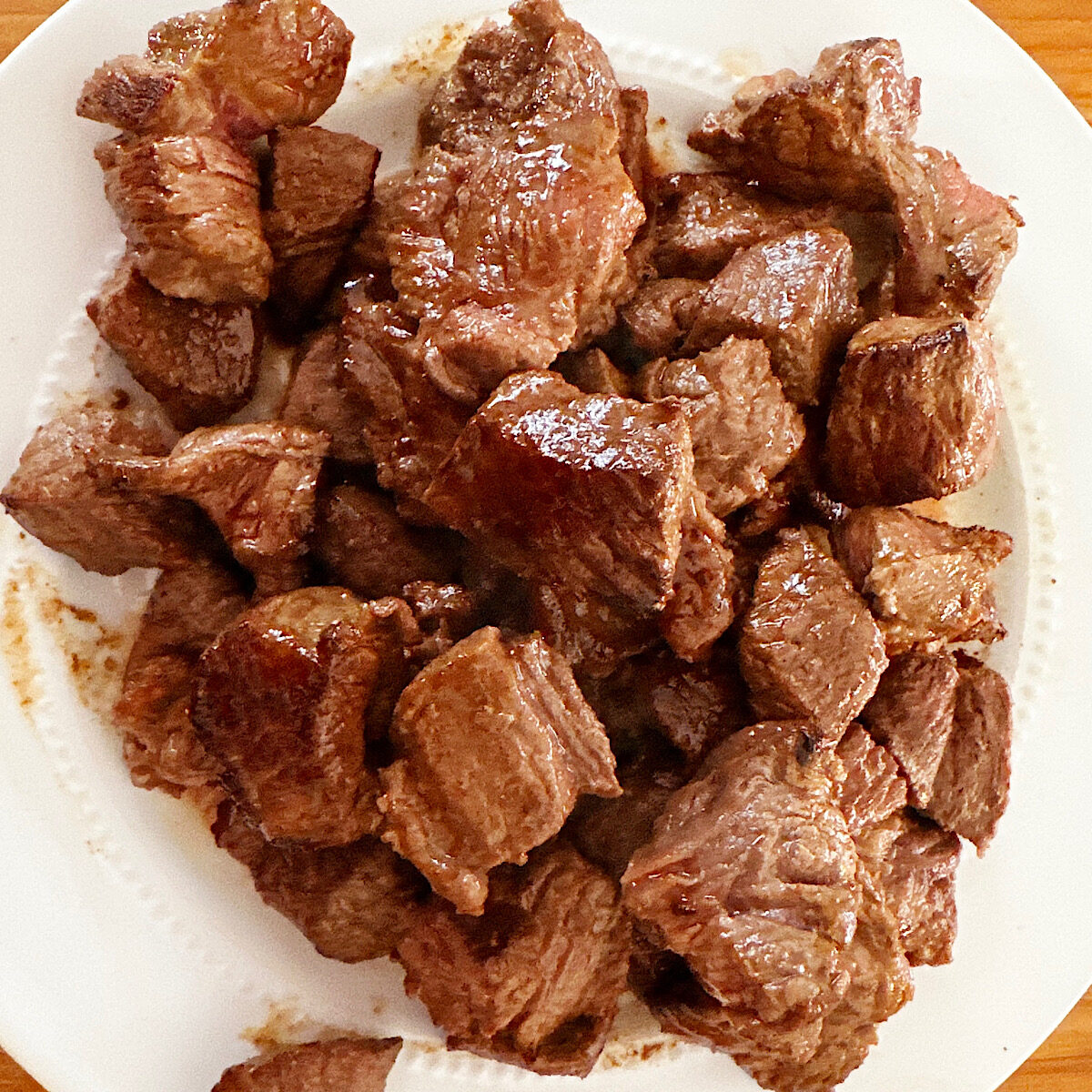 Step #3: Saute onions until caramelized
Step #4: Simmer meat, salsa verde and stock for 2 1/2 hours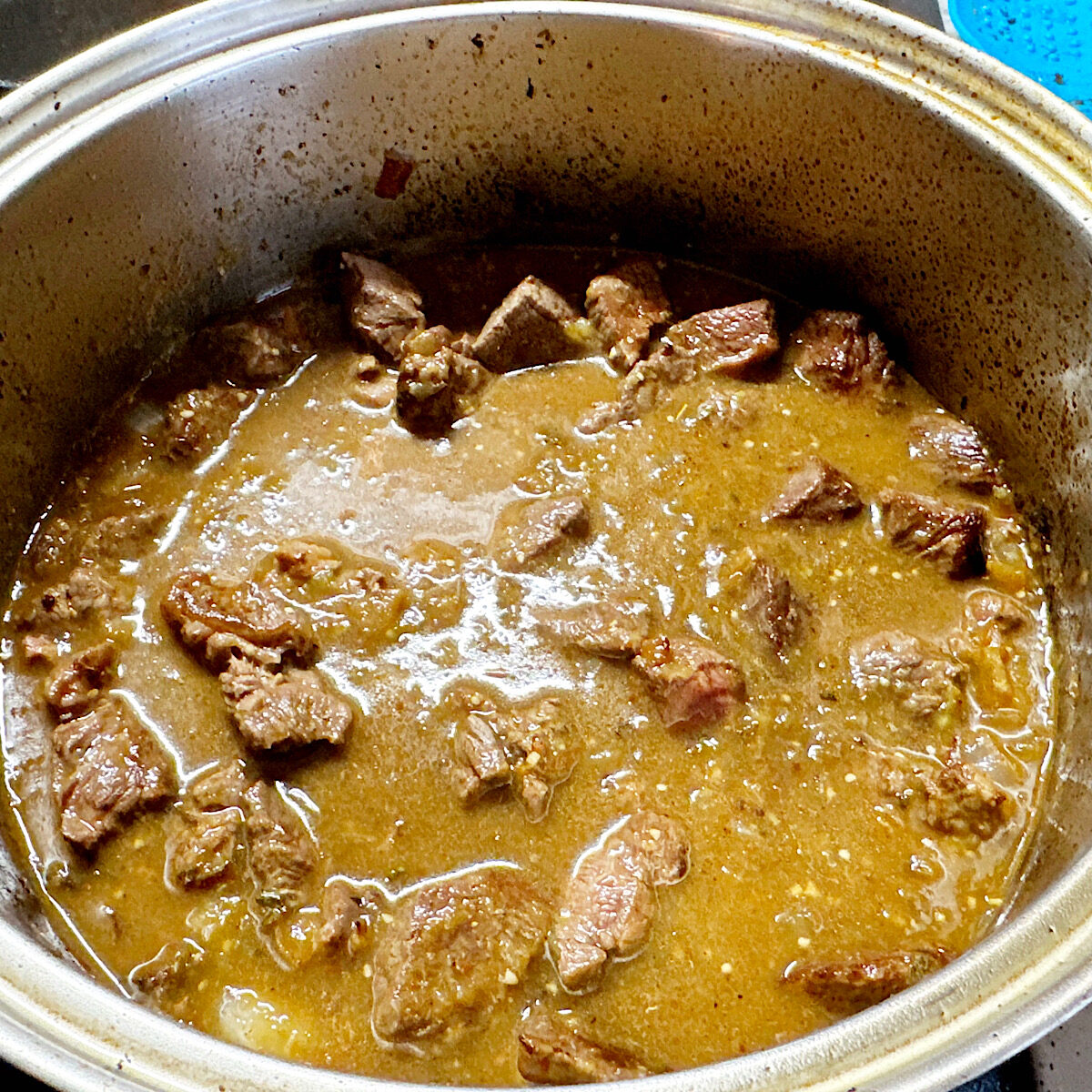 Ideas for Leftovers
Tacos: One batch of this should be enough to feed 6-8 people. In our household there are only the two of us now, but I am a big fan of using these leftovers for a high protein breakfast or lunch. The easiest way to use the leftovers of this stew is in chile verde tacos.
Soup: Leftovers can also be turned into a great soup by adding some chicken stock and whatever vegetables you have in your refrigerator. Heat it up and add a soft-boiled egg on top and you have an amazing breakfast or lunch. (or dinner actually).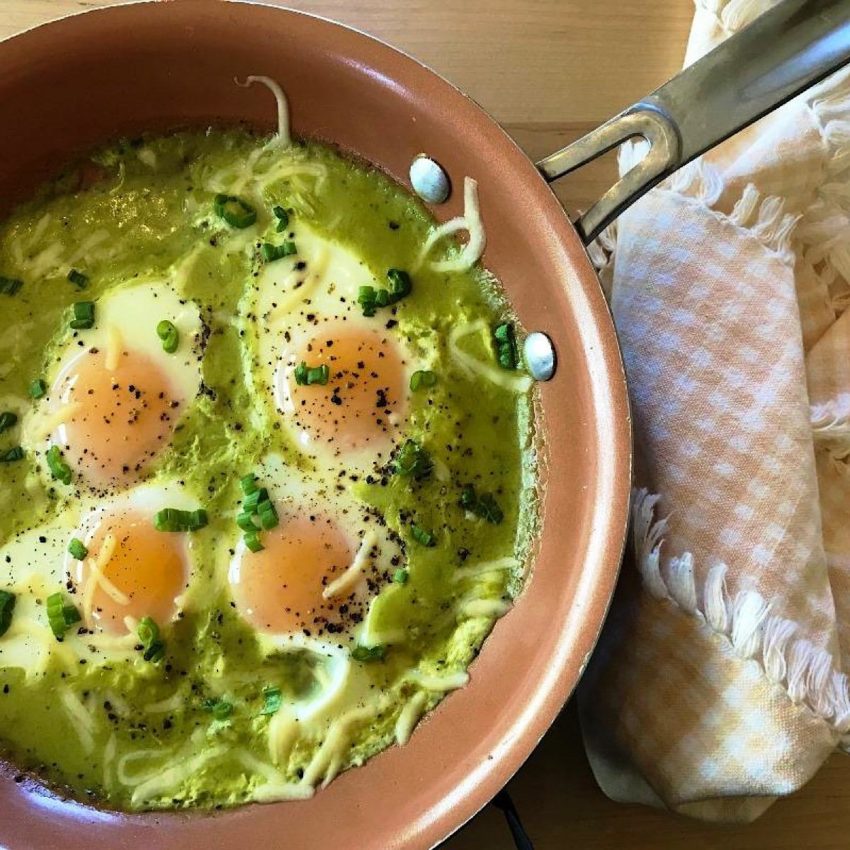 Heat it up! I'm pretty lazy with my leftovers actually and have been known to eat the same dish three days in a row. When it is as good as this, it is certainly not a problem!
If you enjoy all types of Mexican food, check out this category of ALL Mexican recipes, where you will find over 40 Mexican recipes, from casual, to low carb, to fancy.
See this post to learn more about the similarities and differences between Low Carb, Slow Carb and Keto diets.
If you make and love this recipe, please leave a ★★★★★ review below and any comments others might find helpful. It means a lot to me when you try my recipes, and I'd love to know how it goes.
Low Carb Chile Verde Stew
Mexican Chile Verde stew can be made with chicken, pork or beef and can be spicy or not. The roasted tomatillos in the homemade chile verde sauce add the semi-tart, delightful flavor common to verde sauces, but this can be made with store-bought chile verde sauce also.
Ingredients
Homemade Chile Verde Sauce (can sub in pre-made)
1.5

pounds

tomatillos

husked, rinsed and coarsely chopped

5-6

cloves

garlic

peeled

1

bunch

cilantro

reserve some for garnish if desired

1

bunch

green onions

2-3

green chiles

mild or medium- I used 1 Anaheim and 2 poblanos

2-3

cups

unsalted chicken broth

divided, can add more if needed
For the Stew:
2

tablespoons

olive oil

or lard

3

pounds

pork shoulder or chuck roast

cut into fairly large cubes (about 1 1/2 inches)

1

large

onion

coarsely chopped

1

tablespoon

cumin seeds

or 1 teaspoon dried cumin

1

teaspoon

smoked chipotle spice

I used HeathGlen's chipotle spice but you could use your favorite

1

teaspoon

cinnamon

1

teaspoon

oregano

1.5

teaspoon

salt

1

cup

chicken broth
Instructions
To Make Verde Sauce:
Heat the oven to broil. Half the tomatillos and place them, along with 6 unpeeled garlic cloves, on a baking sheet and broil for 5-6 minutes

1.5 pounds tomatillos,

5-6 cloves garlic

In a food processor or a blender add 1/2 of the pan of the roasted tomatillos, all of the roasted garlic cloves, cilantro, coarsely chopped green onions and peppers, and 1 cup chicken broth. Puree until chunky or smooth, depending on your preference. This is the salsa verde. Set aside.

**Note: if you want to skip this step you can use prepared salsa verde.

1 bunch cilantro,

1 bunch green onions,

2-3 green chiles,

2-3 cups unsalted chicken broth
For the Pork Stew:
Cut the meat into 1-2 inch pieces, removing some of the fat if it is really fatty. Heat 2 tablespoons olive oil in a dutch oven or a large skillet over high heat. Sprinkle meat with salt while waiting for the oil to heat (can sprinkle with pepper also if desired).

2 tablespoons olive oil,

3 pounds pork shoulder or chuck roast

Add pork or beef pieces to the heated pot, working in batches (don't crowd, 3 pounds of meat will need to be divided into 2 batches). Cook until each side is browned, turning to brown the other side also.

Remove meat to a plate with a long slotted spoon or long tongs (the oil splatters) and cook the next batch.

When all meat is browned and removed from pot, lower the heat to medium and add the chopped onion to the leftover oil in the pot and cook about 5 minutes or until translucent.

Add the garlic and spices, stir in and cook 1 minute. Return pork to the pot, along with any juices on the plate. Add 2 cups of the salsa verde (either purchased or the chile verde salsa made earlier), 1 cup of broth, stir and bring to a gentle boil.

1 tablespoon cumin seeds,

1 teaspoon smoked chipotle spice,

1 teaspoon cinnamon,

1 teaspoon oregano,

1.5 teaspoon salt,

1 cup chicken broth

Reduce heat to low, cover pot and simmer over medium-low heat about 2 to 2 1/2 hours. Check occasionally and thin with chicken broth if needed.

Serve with accompaniments, which could include sour cream, cilantro sprigs, avocados and limes.
Nutrition
Calories:
471
kcal
Carbohydrates:
11
g
Protein:
47
g
Fat:
28
g
Saturated Fat:
12
g
Polyunsaturated Fat:
3
g
Monounsaturated Fat:
14
g
Trans Fat:
2
g
Cholesterol:
156
mg
Sodium:
999
mg
Potassium:
1123
mg
Fiber:
3
g
Sugar:
5
g
Vitamin A:
266
IU
Vitamin C:
14
mg
Calcium:
81
mg
Iron:
6
mg
Did you make this recipe?
If you tried this recipe, please give it a star rating! To do this, just click on the stars above. Comments are always helpful also and I respond to all of them (except rude ones)
Online Diet/Health Coaching:
Although I am not currently taking clients for diet & health coaching, I have been a coach for many years with the online service called coach.me. It is a great platform for all kinds of coaching – anything from specific diets, writing a blog, getting up early, or getting rid of that pesky procrastination.
There are some wonderful coaches and the testimonials will tell you what you need to know. Contact me at [email protected] to get a referral to some of the tested, experienced online coaches on Coach.me
If you'd like to start with a plan for a low carb or keto lifestyle, check out this detailed guide in ebook form. It may be all you need to lose weight on this lifestyle. Or it may be used as a supplement to one-to-one coaching.