Thumbprint cookies are iconic around Christmas time and no other cookies can compete with the simplicity and amount of flexibility in flavors they offer. These ginger-spiced thumbprint cookies can be filled with endless possibilities, but using a jewel-toned champagne jelly makes them shimmer and sparkle for the holiday cookie tray.
Jump to: RECIPE | Best Fillings for Thumbprint Cookies | Pro Tips for Success | Common Questions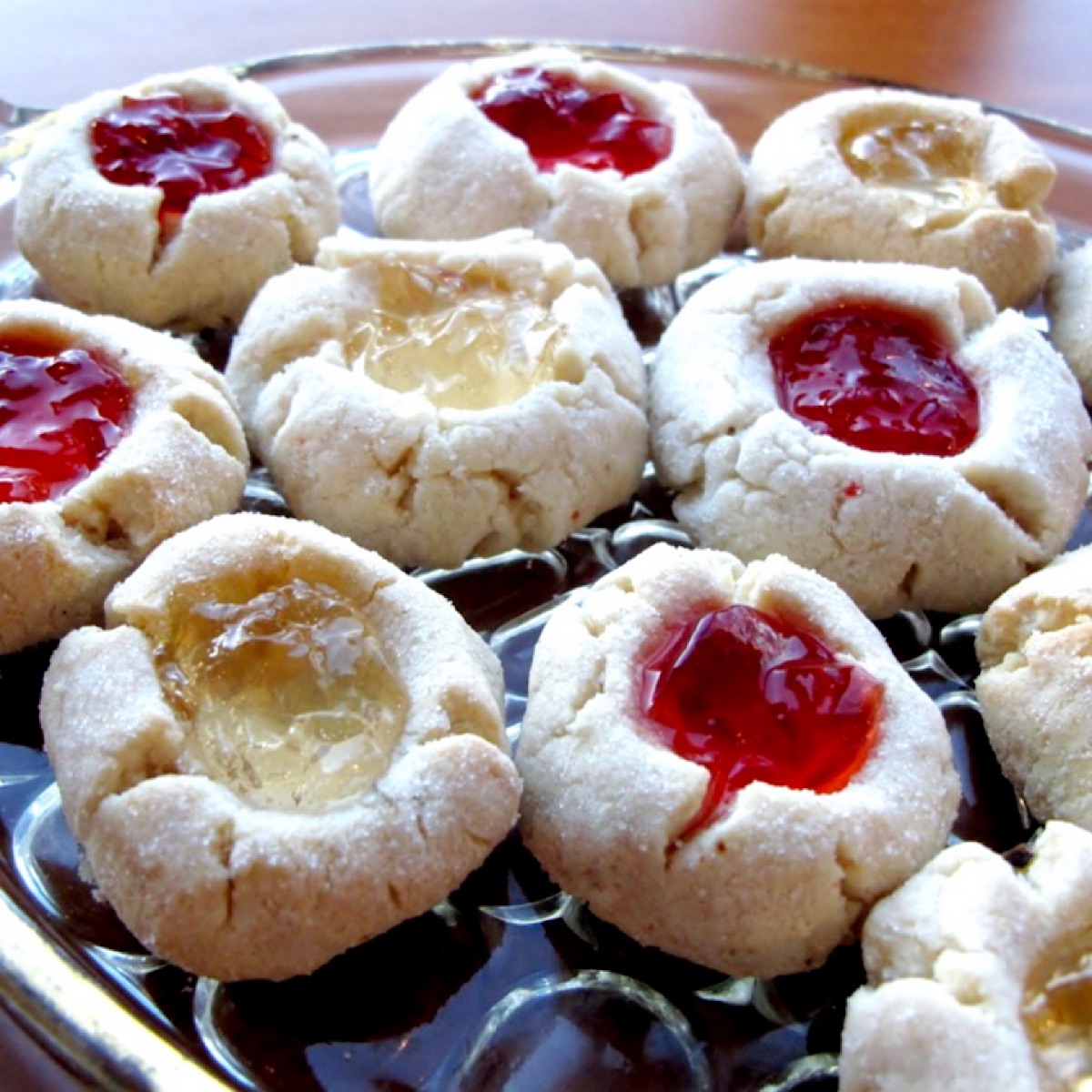 This post may contain affiliate links, and you can read our disclosure information here–
The cookie itself is a soft and buttery shortbread cookie spiced with ground ginger. Crystalized ginger can then be used to sprinkle over the champgne jelly if you want even more of the ginger flavor (picture above does not show the crystalized ginger garnish on top)
The Best Fillings for Thumbprint Cookies
I used a jelly rather than a jam or marmalade with these particular thumbprint cookies, as a translucent jelly sparkles and adds a festive air to the cookies. The champagne jellies I used (Pear Champagne and Rosemary and Strawberry Champagne) further added to the festive appeal.
Of course you can use any type of preserve you want in thumbprint cookies, which is why they are so wonderful. Please a variety of palates and make your cookie tray beautiful with any of the following flavors:
Pro Tips for Thumbprint Cookies
Measure the dry ingredients carefully, especially the flour. If the flour is off, the cookies will flatten upon cooking and it will be difficult t maintain an indentation for the filling. This will cause the filling to run off the sides.
Do not cook two trays at once. The recipe(s) usually make enough dough for two trays, but baking one tray at a time will result in much more success
Don't worry if your cookies crack a little when you put the indentation in them with your thumb (or the back of a spoon). If you don't like the cracks, smooth them out by dipping your fingers in warm water and then running your fingers along the cracks.
Frequently Asked Questions:
Do you need to store thumbprint cookies in the refrigerator once they are made?
Not really. They can be easily be stored either at room temperature or in the refrigerator for 3-4 days as long as they are in an airtight container.
How do I prevent thumbprint cookies from spreading?
Two main things to consider here:

1. If you are using the same tray to bake the second batch, make sure it is cool. Remove the cookies from the first batch, turn the tray over and run cold water on it before placing second batch of cookies on it
2. Make sure they are well chilled before baking. If you don't have time to thoroughly chill them in the refrigerator, place them in the freezer for about 15 minutes before baking. This will firm up the butter and help the outside to set before it melts and spreads the cookie out.

What is the best way to freeze thumbprint cookies
The dough will freeze fine for up to a month. I don't think the finished cookies with the filling in them freezes that well, but of course it depends on what your filling is. This is the safest way to freeze thumbprint cookies:

1. Make the cookie dough and form them into thumbprints. Freeze individually on a tray and once frozen, transfer the the unbaked cookies to an airtight container and freeze.
2. When ready to bake, let them thaw just a little but not to room temperature. Place on a baking sheet and bake, checking to see if they need another minute or two if they were still semi-frozen.
Recipe for Ginger-Spiced Thumbprint Cookies
Ginger-Spiced Thumbprint Cookies with Champagne Jellies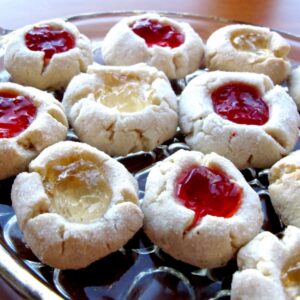 The dough for these cookies are a classic shortbread dough with some ground ginger added. The ginger flavor can be enhanced by sprinkling the cookies with minced crystalized ginger after baking. I used clear jellies for the filling, but any of your favorite preserves will work fine.
Ingredients
4

Ounces

Unsalted butter

Softened

2

Ounces

Confectioners' sugar

2/3 cup

2

Teaspoons

Ground ginger

¼

Teaspoon

salt

sea salt if possible

1

Egg yolk

3

Tablespoons

Crystallized ginger

finely chopped

½

Teaspoon

Vanilla

6

Ounces

All-purpose flour

For rolling:

3

Tablespoons

Granulated sugar

optional; for rolling the outside edges in

½

cup

Clear jellies

I used Pear Champagne & Strawberry Champagne
Instructions
Heat the oven to 350°F. Line one large or two medium cookie sheets with nonstick liners or parchment paper

In stand mixer, beat together the butter, confectioners' sugar, ground ginger and salt until smooth and blended, about 1 minute.

4 Ounces Unsalted butter,

2 Ounces Confectioners' sugar,

2 Teaspoons Ground ginger,

1/4 Teaspoon salt

To the mixer, add the egg yolk, chopped crystalized ginger and vanilla extract and beat until blended. Save a little of the crystalized ginger for garnishing

1 Egg yolk,

3 Tablespoons Crystallized ginger,

1/2 Teaspoon Vanilla

Add the flour and beat on medium-low speed until just blended, about 1 minute.

6 Ounces All-purpose flour

Using a mini ice cream scoop (1 tablespoon size), scoop out the dough and roll dough into 1-inch balls.

Place the granulated sugar on a plate and roll the balls in the sugar to cover. Place them on the cookie sheet about 1 1/2 inches apart.

Using your finger or the back of a small spoon, make a indentation where the filling will go, pressing down almost to the bottom but not all the way. Don't worry if the edges are slightly cracked.

3 Tablespoons Granulated sugar

Bake 12-14 minutes, or until the tops look dry and light golden brown. If the indentation has puffed up too much, you can lightly press it down again before they are cool.

Let the cookies sit for 5 minutes and then transfer them to a rack to cool completely.

Once cooled, use a small spoon to fill the indentation (the thumbprint) with your preferred filling. Sprinkle with a little of the reserved minced crystalized ginger.
Notes
NOTE:
It is really important to weigh the flour (or sift it, spoon it into the cup and level it off with a knife, rather than pack it into cups). The dough is slightly dry but it should hold together as you roll into balls. If it doesn't hold together you can try adding a slight bit of milk.
Nutrition
Calories:
64
kcal
Carbohydrates:
17
g
Protein:
1
g
Fat:
0.3
g
Saturated Fat:
0.1
g
Polyunsaturated Fat:
0.1
g
Monounsaturated Fat:
0.1
g
Cholesterol:
9
mg
Sodium:
30
mg
Potassium:
18
mg
Fiber:
0.3
g
Sugar:
6
g
Vitamin A:
12
IU
Vitamin C:
1
mg
Calcium:
4
mg
Iron:
0.5
mg
Did you make this recipe?
If you tried this recipe, please give it a 5-star rating! To do this, just click on the stars above.