It's June again and Father's Day is right around the corner! If you still haven't found anything to gift to your Dad this year, fear not. The list below contains 9 great Father's Day gift choices for gardener Dads that he's sure to love.
1. High-quality gardening gloves
There is nothing more annoying while doing gardening work than having to wear uncomfortable or low-quality gloves. When in the flow, weeding or pruning away, the last thing you need is for your hands to become sweaty, blistery and slippery. So why not gift Dad a set of Atlas nitrile gloves?
These seamless and breathable gardening and work gloves are pretty much industry standard. They're less bulky but just as sturdy as leather, offer freedom of movement and are machine washable. There are different sizes available and you get a pack of 4, which will last your Dad for years to come.
2. Japanese weeding sickle
When Father's Day rolls around in June, so does prime weeding season, and weeds have probably popped up with a vengeance in his garden at this point. So why not gift him a tool that makes battling them so easy it's actually fun? This nejiri kama (weeding sickle) is designed and made in Japan by Hounen-Kouzansaku and is a huge favorite for manual weeding. The quality level is truly very hard to beat.
Other gardeners love their Japanese weeding sickle for its sharpness, ease of use and extremely resistant blade. It stabs right into the roots and pulls them up without issue. There are even different versions available for left- and right-handed folks!
3. Stirrup hoe
Another fantastic addition to Dad's weeding arsenal, this heavy-duty stirrup hoe (also sometimes known as a hula hoe) is perfect for removing annoying small weeds from a variety of surfaces. No bending and no manual pulling! The stirrup design with a loose fit makes it suitable even for the more stubborn weeds. They'll come up no problem with an easy push-and-pull motion. Just cart 'em off and enjoy garden beds looking as good as new.
Clearing large areas is a breeze and the tool is available in different lengths, with an adjustable handle to make sure it's always long enough and won't bother Dad's back.
4. Felco hand pruning shears
I've seen the Swiss Felco brand described as the "Cadillac of garden trimmers" and, well… I'm inclined to agree. Their $60+ price point may seem intimidating given the fact that some other brands sell for less than a tenner, but this way, you're buying for life. With Felco hand pruners, Dad will never have to search for another pair again. No more broken, blunt or uncomfy trimmers!
Tried and tested by thousands of gardeners, the classic model comes out on top every time. It's lightweight, perfect for light trimming work and extremely comfortable to use. There are also different models and sizes available, and you even get a lifetime warranty.
5. Compost tumbler
If your Dad is an avid gardener but doesn't have a composter yet, I promise this is the best Father's Day gift you can buy him. A compost tumbler allows him to use kitchen or garden scraps and turn them into homemade garden magic: there really is nothing better for his plants than fresh compost.
This composter's tumble function ensures there's no need to manually turn and dig through the compost, which can be a bit of a yucky job. It has two well-aerated compartments to ensure there's always fresh compost available and is high-quality and durable.
6. Personalized garden sign
Let there be no doubts about who maintains this little patch of paradise! This fun, wall-mounted metal sign is perfect for a shed door or garden fence and can be personalized to include Dad's name. It's sturdy and made of aluminum, meaning it can be hung outdoors just fine without the risk of rust. Pre-drilled holes will make putting it up a breeze.
All you have to do is choose your preferred size (there are four different options), personalize and add to cart. According to other buyers, these signs ship very quickly, making them a great option if you're scrambling to find a last-minute Father's Day gift.
7. Robotic lawnmower
Dads and their lawns… it can be a special kind of love-hate relationship! If your Dad is sick of spending his weekends mowing or his back is having trouble keeping up, a robotic lawnmower may be the perfect Father's Day gift. All he has to do is set up the included boundary wire and the robot will zoom off to keep his lawn in perfect shape.
This Landroid system comes with an app that lets him schedule and control his robot, and even includes a built-in anti-theft system that will send a notification if it's moved from its mowing area. It can cut up to 1/8 acre, including narrow passages and edges, and has no trouble with uneven terrain.
8. Gardener t-shirt
Dads can never have enough funny t-shirts, so why not get him one for Father's Day to emphasize his status as a plantaholic? The Ann Arbor T-Shirt Co. Store has loads of different designs for your favorite gardener. I especially love their "Lawn Enforcement Officer" and "Lawn Warrior" shirts for Dads that take their grass a little too seriously at times! You just know he'll wear it every time he goes out to mow.
They've also got "Compost Happens", "Plant Manager" and other funny t-shirts for gardening Dads and Dads in general. All t-shirts come in various sizes and are printed in the US.
9. Mini greenhouse
Has your Dad done a particularly good job this year on his fatherly duties? It's not a cheap choice, but the holy grail for many gardeners, especially in areas that get cooler winters, is a small greenhouse like those made by Palram. Perfect if he wants to start the season early, cultivate fantastic veggies and keep growing until much later in the year.
Gift him a respectable 8 x 8 footer or go nuts with a larger version of up to 8 x 20 ft. You can even include shelves and a shade cloth to complete the package! The greenhouses don't come assembled, so you could gift him a case of his favorite beer along with it and put it up together.
Bonus: Blueberry bourbon BBQ sauce
In need of a nice extra to throw into your Father's Day gift pack? If your Dad loves to use his garden for grilling and BBQ in summer, he'll definitely be a fan of Heathglen Farm's Blueberry Bourbon BBQ sauce. Made from organic blueberries grown on a small farm, this is the perfect sweet and savoury combination and ideal to take pretty much any protein to the next level.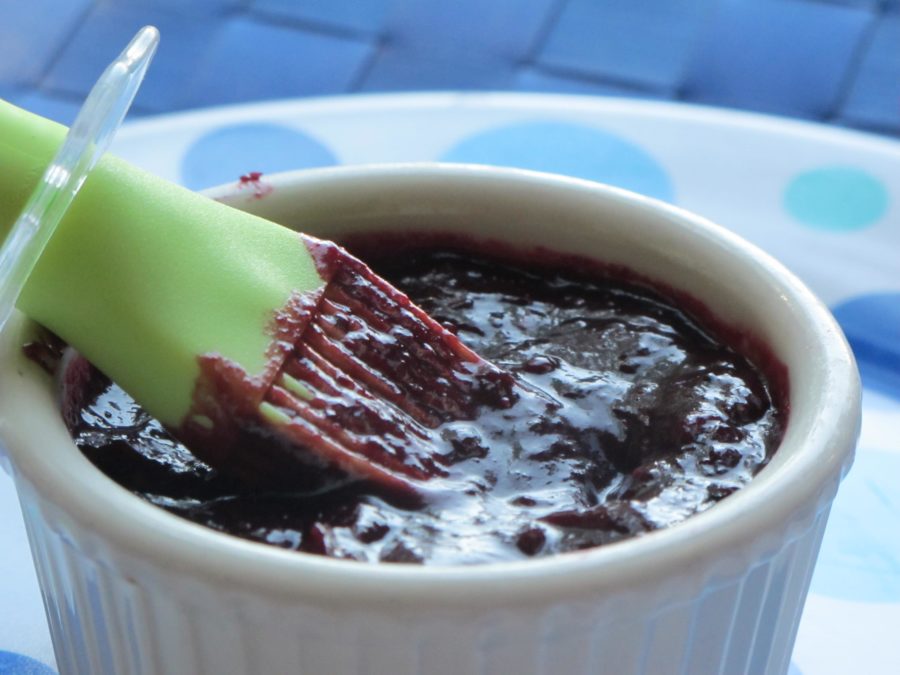 You can shop Blueberry Bourbon BBQ sauce and many more farm-grown, small-batch preserves and spices in the Heathglen online shop.