Pair blueberries with a high protein spread like peanut butter or cottage cheese and you have the healthiest, tastiest breakfast ever! Blueberries are not only intensely flavor packed, but they are also low in sugar and high in antioxidants, which makes them one of my favorite breakfast ingredients. Here are 10 ideas for blueberry toast, with a recipe template that allows you to mix and match.
Jump to:
RECIPE TEMPLATE
Ingredients and Substitutions
Blueberry Toast Pairings

Blueberries are one of the healthiest, tastiest fruits of all time in my opinion. That is why I started our farm in Minnesota with 600 blueberry plants back in 2000. As those plants matured I have had the lucky opportunity to test all kinds of recipes made with blueberries.
These blueberry breakfast toasts below are some of my favorite ways to use the blueberries from our farm as they ripen. We make sure and freeze as many blueberries as possible to enjoy these blue jewels year-round.
Key Ingredients, Substitutions and Assembly
Basically you need some sturdy bread to toast, a creamy spread as the first layer on top of the toast, the blueberries as the second layer, and garnish with herbs or something crunchy. Easy!!
The Toast:
Choose bread that has some heft and texture to it. White enriched bread (like Wonder bread) will work in a pinch, but it doesn't support the heavier ingredients as well. Not to mention nutrition of white enriched bread.
My favorite is a seeded whole wheat bread, the more rustic styles the better. If you are on a low carb lifestyle, opt for Ezekiel bread which you can usually find in the cooler section of your grocery store.
The Creamy Spread
There are many, many options that work for this first layer. You can pick gluten free spreads, high protein spreads, or low sugar spreads. Here are some ideas:
Cream cheese
Cottage cheese
Yogurt
Peanut butter
Almond (or other nut) butter
Jam or jelly
Fruit spreads (like a curd or chutney)
Mashed avocado
Goat cheese
Other soft cheeses
Blueberries
Blueberries make up the second layer. Fresh or frozen, large or small, cultivated or wild….they all work.
The sweeter the blueberry the less honey or other sweetener you will need to use. Nice to have so many options, right?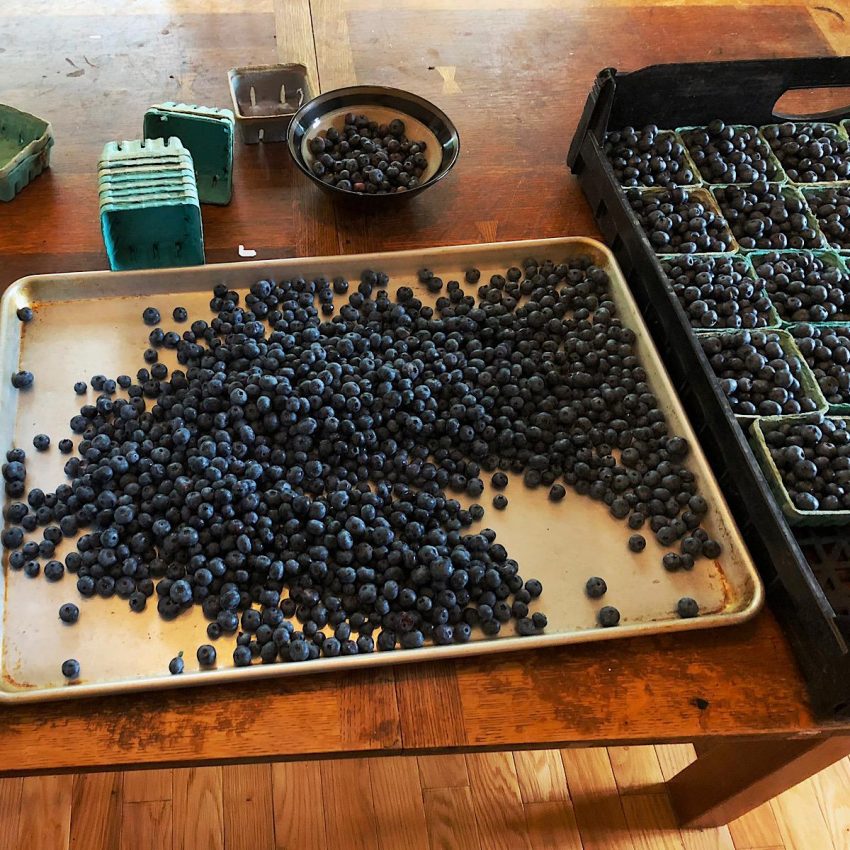 Sweeteners
Speaking of sweetness, not that many blueberries are overly sweet. If you want to enhance the sweetness, drizzle the blueberries with one of these sweeteners:
Honey
Maple syrup
Simple syrup (infused with various flavors)
Cocoa-cinnamon powder
Herbal Garnishes, Zests, or Crunchy Toppings
The topping you choose add the final touch, taking the blueberry toast to new heights. If it's Summer, you may want to add some fresh herbs. In the Winter, some minced candied ginger, citrus zest or nuts can really enhance both the flavor and texture.
Here are a few ideas that I have tested with great results:
Citrus zest (lemon, lime or orange)
Minced candied ginger
Small dried cranberries (craisins)
Nuts of all kinds
Mint, sage, or your favorite herb
Pumpkin seeds (could try chia seeds)
Chile peppers (like Chile Crisp)
My Favorite Combinations for Blueberry Toast
The following ideas for blueberry toasts are just the combinations I have tested and loved. Be sure and customize flavors and nutritional aspects to your own preferences.
Blueberry-Ricotta-Sage-Honey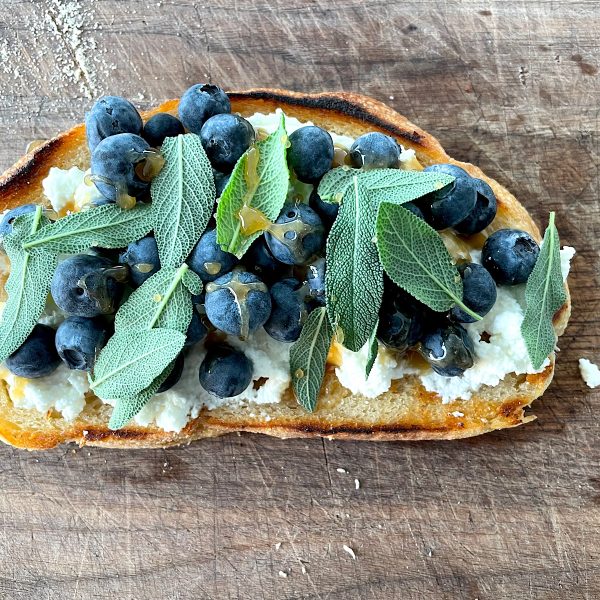 Blueberry-Lemon Marmalade-Mint Leaves
Blueberry-Cottage Cheese-Avocado-Pumpkin Seeds-Lime Zest
Blueberry-Lemon Yogurt-Candied Ginger-Lemon Zest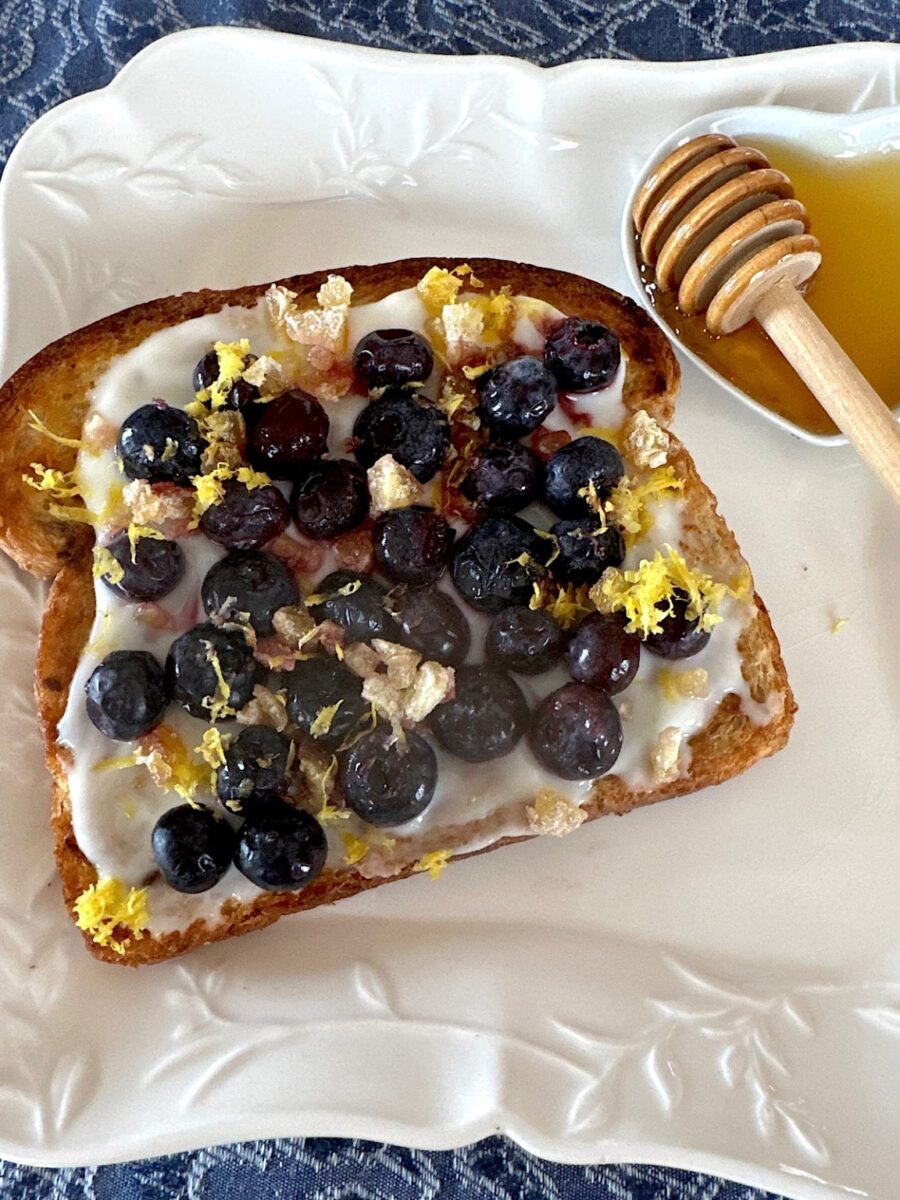 Blueberry-Peanut Butter-Cocoa & Cinnamon-Maple Syrup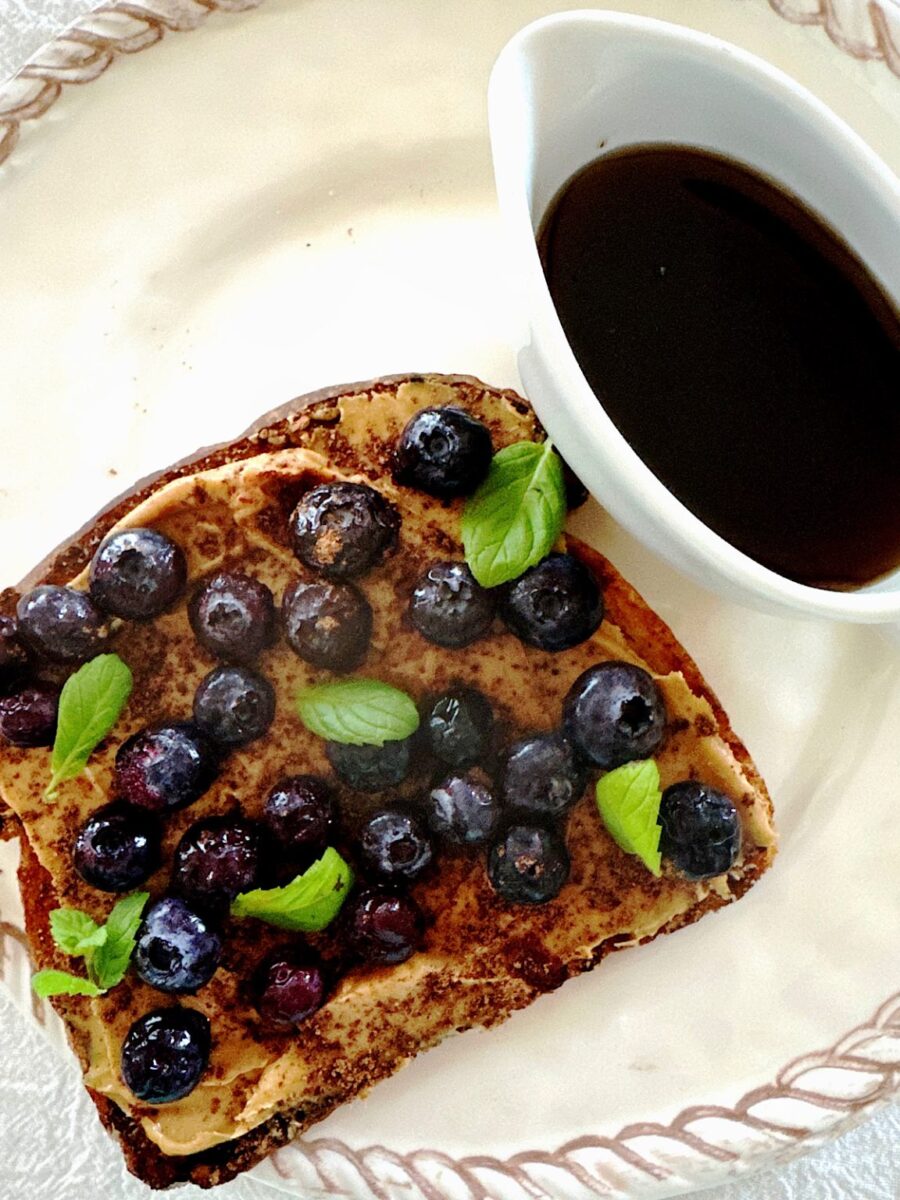 Blueberry-Almond Butter-Mint Leaves
Frequently Asked Questions:
Can you use frozen blueberries?
Absolutely! Either let them thaw all the way and then dry off with paper towels, or use slightly still frozen for the cool crunch.
Template for blueberry toast ideas
Blueberry toast is easy, but for a seamless assembly that layers of texture that work well together, follow these simple steps.
Equipment
butter knife

toaster or griddle

Can also use broiler
Ingredients
¼

Cup

a creamy spread

1

Slice

bread

A sturdy, rustic type of bread is best

¼

Cup

blueberries

fresh or frozen

1-2

Teaspoon

zest

lemon, lime or orange

1-2

Teaspoon

Herbal topping

Mint, basil, anise hyssop, etc.
Instructions
top with berries and garnish with zest or herbs or seeds

1/4 Cup blueberries,

1-2 Teaspoon zest,

1-2 Teaspoon Herbal topping
Nutrition
Calories:
150
kcal
Carbohydrates:
21
g
Protein:
9
g
Fat:
4
g
Saturated Fat:
1
g
Polyunsaturated Fat:
1
g
Monounsaturated Fat:
1
g
Trans Fat:
0.01
g
Cholesterol:
9
mg
Sodium:
298
mg
Potassium:
126
mg
Fiber:
2
g
Sugar:
7
g
Vitamin A:
95
IU
Vitamin C:
6
mg
Calcium:
83
mg
Iron:
1
mg
Did you make this recipe?
If you tried this recipe, please give it a star rating! To do this, just click on the stars above. Comments are always helpful also and I respond to all of them (except rude ones)