This winter, warm up with a hot cup of tea prepared using a simple homemade cranberry apple syrup (and, of course, an optional splash of rum or vodka). This spiked cranberry apple tea is easy to make in a crock pot for a crowd, or just for yourself – for the holidays and beyond!
Jump to: RECIPE | Ingredients and Substitutions | Homemade Cranberry Simple Syrup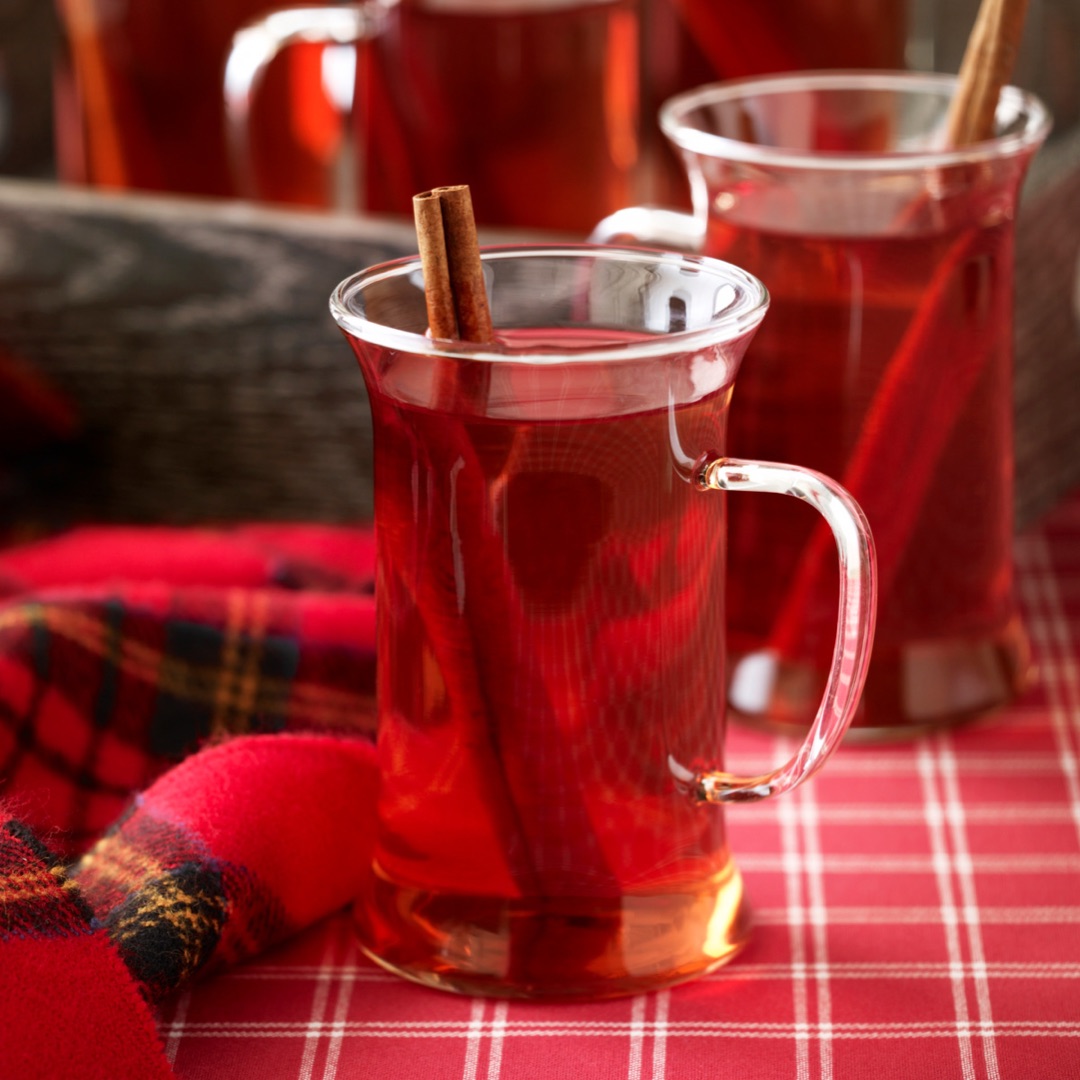 This post may contain affiliate links, and you can read our disclosure information here–
Ingredients and Substitutions for Cranberry Apple Tea
Looking for something to serve family or friends while playing games or doing puzzles over the holidays? Maybe something to drink in front of the fireplace on a cold winter day?
Tangy cranberries, sweet apples and warming spices combine beautifully with a neutral tea for a comforting holiday pick-me-up, with or without a bit of extra added rum. Made in a slow cooker, this tea is great for a crowd, or for multiple servings for a few!
To take this cranberry apple tea to the next level, we're going to prepare a quick homemade flavored drink syrup: it looks luxurious, tastes great and takes very little effort, making it perfect if you're entertaining.
The ingredients for this warming drink are simple, and easy to substitute or tweak to your own preferences:
Tea: just a few baggies of any favorite you have on hand. I like using something neutral like white, green or simple lemon, as it'll really allow the cranberry apple syrup to shine. Or blend your own tea!
Cranberry apple syrup: crisp and sweet apples forms the perfect counterpart to the acidity of cranberries in the syrup we'll be making. There are hundreds of apple varieties to choose from. Avoid the granny smith and opt for some of the sweeter varieties.
Lemon: or go for a few orange slices if you like a less tangy drink. Add limes for a Mexican touch.
Spices: cinnamon sticks are the typical choice for winter, although ginger, star anise, cloves and cardamom are popular holiday spices.
Rum: or vodka or gin if you prefer something more neutral. Of course, you can also omit the booze entirely. A white rum gives a more neutral flavor, while dark rum is more complex.
Have a look at the cranberry apple syrup recipe below to find out how to make the versatile syrup that we'll be using to prepare this tea drink. If you want to do a deeper dive on making your own syrups, I've detailed the "how-to" in this post on Mixology and DIY drink syrups.
Aside from this, all you'll need are some nice cups and a few extra cranberries, lemon slices and/or cinnamon sticks to use as a garnish.
Homemade Cranberry Apple Syrup
I know it sounds like a hassle to have to prepare a syrup just to make some tea drinks, but I promise it's easy and really takes the final result to the next level. Additionally, it's not like you'll only be able to use the syrup for this recipe: try the leftovers in your regular cup of tea, an Italian soda drink or in some cranberry margaritas.
You can find more detailed instructions in the posts on homemade drink syrups, but basically, you'll only need a few different ingredients:
Sugar: without it, you'd just be making flavored water. Brown sugar has more depth, but white yields a more neutral syrup color.
Cranberries: fresh or frozen. Even dried probably works, although you may have to boil your syrup for a bit longer.
Apple: opt for sweeter varieties and keep the peels on.
Water: to dissolve the sugar and carry the flavors.
Once you've gathered the ingredients, start by heating the water. Once it boils, stir in the sugar and keep stirring until it dissolves. Add the cranberries and apple and simmer for 10-20 minutes so the flavors can mingle. You'll notice it turning a beautiful jewel red.
Once the cranberries have popped, you can strain and let the syrup cool for use in a tasty cranberry apple tea drink or any of your favorite fruity cocktails!
Recipe for Holiday Cranberry Apple Tea in Slow Cooker
Crock Pot Cranberry Apple Tea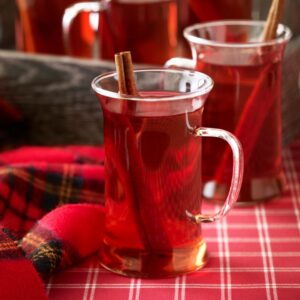 This warming drink, prepared with a homemade cranberry apple syrup, is perfect to sip in front of the fireplace on a gloomy winter day. Perfect with or without added spirits.
Equipment
1 mesh strainer

1 bottle or mason jar

heat-proof cups
Ingredients
For the Drink Syrup
12

ounce

cranberries

fresh or frozen

1

large

apple

sliced

1

cup

water

1

cup

sugar

white works best
For the Cranberry Apple Tea
4

cups

water

6

bags

tea

try something light like white tea

2

large

lemons

sliced, alternatives would be oranges or limes

8

cinnamon sticks

plus more for serving

4

whole

cloves

1

thumb-sized piece

ginger

optional

1.5

cup

dried cranberries

optional

1

cup

rum

optional; or vodka/gin
Instructions
For the Drink Syrup
Heat the water in a saucepan. Once boiling, add the sugar and stir until it has dissolved.

Add the cranberries and sliced apple. Let simmer for 10-20 minutes, until the syrup takes on a bright red tone and the cranberries pop.

12 ounce cranberries,

1 large apple

Let the mixture cool a bit and strain into a bottle or mason jar. Your cranberry apple syrup is now ready to use!
For the Cranberry Apple Tea
Bring water to a boil on the stove top. Place the tea bags in a 6 quart pot (or crockpot) and pour the boiling water over tea bags. Cover and let the mixture steep for 5-10 minutes (shorter for black teas and longer for herbal teas).

Remove the tea bags and add 12 oz. cranberry apple syrup, lemon slices, cinnamon sticks, whole cloves, ginger and dried cranberries, stirring just to combine. Cover and cook on a low heat setting for up to 2 hours (taste occasionally). Add rum in the last half hour.

2 large lemons,

8 cinnamon sticks,

4 whole cloves,

1 thumb-sized piece ginger,

1.5 cup dried cranberries,

1 cup rum

Serve by ladling hot tea into cups and garnishing with a fresh lemon slice and/or a cinnamon stick.
Notes
If you don't have a crock pot, slow cooking on the stove is also an option. Just make sure not to bring the ingredients to a boil.
A quick version of this recipe can be made by just preparing a cup of tea and then adding some cranberry apple syrup plus (optionally) a splash of rum or even some orange juice. However, the crock pot version really is a lot more spectacular.
I always like to save the fruit I've strained out of a syrup to turn into a jam or compôte. It goes well with cheese or just with some yogurt and granola.
For summer, this drink can also be served chilled in a flute, topped off with a splash of sparkling wine or club soda.
Please note: The nutritional information listed here is only for the tea drink, not for the syrup.
Nutrition
Calories:
100
kcal
Carbohydrates:
27
g
Protein:
0.1
g
Fat:
0.1
g
Saturated Fat:
0.03
g
Polyunsaturated Fat:
0.03
g
Monounsaturated Fat:
0.01
g
Trans Fat:
0.001
g
Sodium:
32
mg
Potassium:
38
mg
Fiber:
2
g
Sugar:
25
g
Vitamin A:
9
IU
Vitamin C:
0.1
mg
Calcium:
42
mg
Iron:
2
mg
Did you make this recipe?
If you tried this recipe, please give it a 5-star rating! To do this, just click on the stars above.