This is an impressive dish that comes together in 20 minutes and is deceptively easy to cook. Adding a rub of ground fennel to the scallops before searing gives a subtle anise crust to the scallops, which are then served on a bed of lemony orzo. Nothing melts in your mouth like tender buttery scallops accompanied by a nutty, creamy orzo. Perfect dinner for any celebration!
Jump to:
RECIPE
Orzo vs Risotto
Tips for Perfect Scallops
Step by Step for Scallop Orzo Dinner
Substitutions
More Scallop Recipes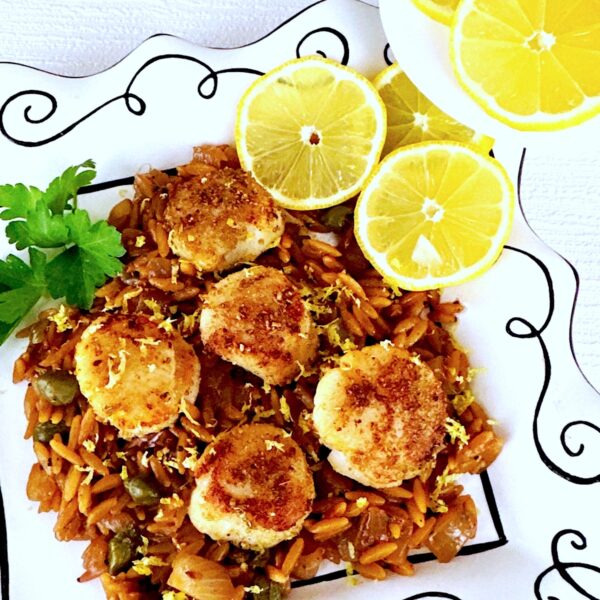 What is Orzo?
Orzo is a small, rice-shaped Italian pasta (it means barley in Italian). I love cooking with orzo and often prefer it over rice. It cooks quickly, soaks up seasonings and flavored broths, and has a wonderful texture.
I use orzo primarily as a bed for different proteins, with my favorite protein being fish or seafood. It is also a great addition to soups and salads however.
Orzo vs Risotto
Risotto: Risotto is made with a short-grain rice called Arborio. It can be an intimidating dish for cooks because it typically requires a lot of stirring or hands-on time to get it just right.
"Perfect" creamy risotto is slow-cooked in a broth until it is al dente. It is typically cooked by first caramelizing onions and then simmering the Arborio rice with the onions, broth, wine, butter and often parmesan. It is traditionally served as a porridge-like savory dish, often as a side dish that stands alone.
Orzo: Creamy orzo is a pasta dish that is quite similar to a creamy risotto in texture. Like risotto it is best toasted a bit before adding the broth. It cooks quicker than risotto and does not require as much hands-on time.
Orzo is usually not a dish unto itself like risotto, but rather it is used as an "addition" to a Mediterranean dish. Examples of this would be as a bed for fish (recipe below), as an addition to soup, as a toasted addition to salads.
Risotto originated in Italy and remains a classic Italian dish, while many dishes of the broader Mediterranean region incorporate orzo.
Tips for Perfect Pan-Seared Scallops
Scallops are fairly expensive and you don't really want to mess them up. Many home cooks are intimidated by cooking seafood and tend to eat scallops primarily in restaurants, but with a few key tips to keep in mind you can cook them anxiety-free.
Here are the key things to know when cooking scallops that will give you a luscious restaurant-quality treat:
Chances are you'll be using frozen scallops. This is fine, but they will be quite wet. Drain them, and then place on a tray with paper towels. Pat them as dry as possible with paper towels. Repeat the process several times until they are as dry as absolutely possible. If you have the time, get them even drier by chilling them in the refrigerator after patting dry, for two hours and then let stand at room temperature 30 minutes before cooking.
Season one side of the scallops with salt and a spice. This will give you a sear that has some golden brown color to it. I have used, salt and ground fennel or smoked paprika to great success.
Heat an oiled skillet or pan until it's sizzling or smoking. If you don't know when it is sizzling, drop a tiny bit of water on the skillet and you'll hear the sizzle immediately. The first scallop should sizzle as soon as it is placed in the oil. If not, then wait a little bit longer to add the other scallops
Use a large pan to avoid over crowding, or cook in batches. They should be at least 1-inch apart.
Place the scallops in pan seasoned side down and sear them without moving them for about 2 minutes on seasoned side, turn over with tongs and cook another 1-2 minutes or until side is no longer translucent. Done!
**Pro Tip: How do you know when scallops are done? I have had great success with 2 minutes on the seasoned side and 1 minute after turning over, but the real test is opaqueness. When they are no longer translucent, they are done.
Illustrated Step by Step: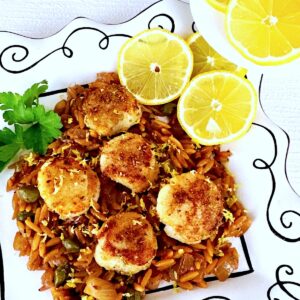 Ingredients and Substitutions
All of the ingredients for this recipe are readily available. The key to making this dinner perfect is to follow the cooking method for the scallops. Here are a few of the substitutions that you could use to customize the dish to your preferences:
Seasoning: I like the pairing of ground fennel with scallops. Smoked paprika is my second choice of seasoning. Any rub of your choice will work, but be sure to add some salt and ground spice to get that golden-brown sear
Orzo: As mentioned above the typical substitution for creamy orzo would be a creamy risotto. Other small pasta that would work might include acini or even alphabet pasta for a fun take on an elegant dish.
Capers: Capers add the briny bold taste to the orzo. You could use green olives instead but it won't be quite as tangy.
Stock: Feel free to add vegetable broth or just water if that is your preference. You just need some liquid to develop the creaminess of the orzo.
Wine: Wine can be omitted if desired. You might want to add a touch of vinegar or a little more lemon juice to replace the wine.
Recipe for Seared Scallops with Lemon Orzo
Seared Scallops with Lemon Caper Orzo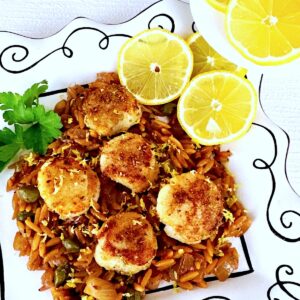 Buttery rich pan-seared scallops top a nutty, piquant bed of orzo made with lemon zest and capers. An impressive 20-minute dinner.
Equipment
Measuring cups and spoons
Ingredients
1

Pound

large scallops

thoroughly dried

2

Tablespoons

ground fennel

or other rub

2

Teaspoons

salt

2

Tablespoons

oil

refined olive oil or oil with high smoke point

1

Tablespoon

oil

1

onion

3

Cloves

garlic

minced

1

Cup

orzo

½

Cup

white wine

2 ½

Cups

chicken stock

1

Teaspoon

salt

optional

1

Teaspoon

lemon zest

1-2

Tablespoons

lemon juice

3

Tablespoons

capers
Instructions
Prepare scallops: pat scallops dry with paper towels (repeat drying process until thoroughly dry) and if you have the time chill them for 2 hours to dry further (bring to room temp before searing).

After drying scallops, season with salt and preferred seasoning rub.

1 Pound large scallops,

2 Tablespoons ground fennel,

2 Teaspoons salt

Heat oil in large skillet until smoking. Add first scallop seasoned side down to skillet. If it sizzles, add the rest of the scallops clockwise, about 1" apart.

Cook for 2 minutes or until crust forms (it will come away from the pan easily). Starting with first scallop you put in, use tongs to turn each scallop individually, moving clockwise

By the time you get all the scallops turned over the first ones are most likely done. When they are opaque rather than translucent they are done.

Remove to a plate, tent with foil to keep warm.

Once the scallops are removed, add a little more oil to the skillet and cook onion for about 5 minutes, or until softened. Add garlic and orzo and toast orzo about 2 minutes. Add wine and cook another minute or so to evaporate wine.

1 Tablespoon oil,

1 onion,

3 Cloves garlic,

1 Cup orzo,

1/2 Cup white wine

Add chicken stock and simmer over medium heat about 15 minutes for al dente. Taste and adjust for salt.

When orzo is texture you prefer, turn off heat and add lemon zest, lemon juice and capers and stir all together.

Serve orzo on a plate topped with 4-5 scallops. Garnish with parsley if desired.

2 1/2 Cups chicken stock,

1 Teaspoon salt,

1 Teaspoon lemon zest,

1-2 Tablespoons lemon juice,

3 Tablespoons capers
Notes
**NOTE: How do you know when scallops are done? I have had great success with 2 minutes on the seasoned side and 1 minute after turning over, but the real test is opaqueness. When they are no longer translucent, they are done.
Nutrition
Calories:
415
kcal
Carbohydrates:
43
g
Protein:
23
g
Fat:
14
g
Saturated Fat:
2
g
Polyunsaturated Fat:
4
g
Monounsaturated Fat:
8
g
Trans Fat:
0.05
g
Cholesterol:
32
mg
Sodium:
2412
mg
Potassium:
600
mg
Fiber:
3
g
Sugar:
5
g
Vitamin A:
13
IU
Vitamin C:
6
mg
Calcium:
70
mg
Iron:
2
mg
Did you make this recipe?
If you tried this recipe, please give it a star rating! To do this, just click on the stars above. Comments are always helpful also and I respond to all of them (except rude ones)