Low carb diners often avoid restaurants other than steak houses because many dishes are accompanied by rice, breads and various forms of "fillers". The other thing to watch for in restaurants is a high percentage of sugar in the sauces. This low carb stir fry is as good as any that I've had in a restaurant and doesn't need the rice to be a satisfying dinner full of robust flavor.
Jump to Recipe
Changes that Happen with Slow Carb Diets:
I was at a Thai restaurant in Portland, Oregon with a friend and ordered one of my favorite curry bowls and it wasn't until we left that I realized I didn't even "see" the bowl of rice on our table. It was a memorable meal, both in flavor and in companionship and the lack of rice with my curry bowl did not diminish the meal one iota!
I'm convinced that tastebuds do in fact change after being low carb for a long time. Sweets are sweeter, a plateful of carbs is unappealing as you envision the bloat and lethargy of tomorrow, and red wine stands in just fine for cocktails. I haven't lost the taste for a good beer, but you get satiated so much faster that one beer every so often on your cheat day is a reward that feels like Christmas rather than a given.
Keys to a Good Stir Fry:
For some reason I've always been intimidated by stir frys and cooking in a wok. For some people it's baking pies or breads, for some it figuring out how to cook fish or game correctly….for me it is the stir fry. Thank goodness for the husband who is a low carb stir fry pro!
Following a great stir fry the other night I asked him to repeat the recipe for me. Well, as with many good chefs and cooks, a "recipe" is not something he was able to relay with total accuracy. I pushed and asked questions and the recipe below should be pretty close to the wonderful low carb stir fry he made.
Generally speaking, these are the components that make a good stir fry:
get the wok (or pot) smoking hot
have all the veggies and proteins chopped up into bite size pieces ahead of time
use some overall combination of: oyster sauce, dry sherry, fish sauce, vinegar, and chile pepper
work fairly fast (make sure everything you need is laid out – the mise en place as they say)
Low Carb Stir Fry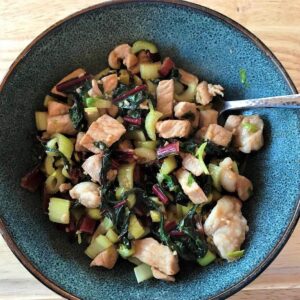 Easy, quick low carb stir fry with pork that was a food memory for years!
Ingredients
½

cup

Sesame oil

1 ½

lb

pork loin

cubed (about 2 cups cubed)

1

tsp

chile pepper of your choice

2

Tbsp

minced garlic

1 ½

Tbsp

oyster sauce

2

cups

celery chopped

not minced

1

small bunch chard

coarsely chopped

3

Tbsp

fish sauce

2

tsp

apple cider vinegar

¼

cup

dry sherry
Instructions
Prepare all ingredients (mise en place)- make sure all chopping is done and ingredients are laid out.

Add sesame oil to the wok and get it smoking hot.

Once the oil is smoking hot, add pork and chile pepper and cook 5-6 minutes, or until no longer pink, stirring constantly.

1 tsp chile pepper of your choice,

1 1/2 lb pork loin

Add garlic and stir for 30 seconds; then add oyster sauce and stir occasionally for a couple of minutes until it thickens a bit.

2 Tbsp minced garlic,

1 1/2 Tbsp oyster sauce

Add celery and stir in for about 1 minute; then add chard, fish sauce, vinegar and sherry and cook for about 2 minutes, or until chard leaves are wilted.

2 cups celery chopped,

1 small bunch chard,

3 Tbsp fish sauce,

2 tsp apple cider vinegar,

1/4 cup dry sherry
Nutrition
Calories:
504
kcal
Carbohydrates:
5
g
Protein:
40
g
Fat:
34
g
Fiber:
1
g
Sugar:
2
g
Did you make this recipe?
If you tried this recipe, please give it a star rating! To do this, just click on the stars above. Comments are always helpful also and I respond to all of them (except rude ones)
Online Diet/Health Coaching:
Although I am not currently taking clients for diet & health coaching, I have been a coach for many years with the online service called coach.me. It is a great platform for all kinds of coaching – anything from specific diets, writing a blog, getting up early, or getting rid of that pesky procrastination.
There are some wonderful coaches and the testimonials will tell you what you need to know. Contact me at [email protected] to get a referral to some of the tested, experienced online coaches on Coach.me
If you'd like to start with a plan for a low carb or keto lifestyle, check out this detailed guide in ebook form. It may be all you need to lose weight on this lifestyle. Or it may be used as a supplement to one-to-one coaching.